When I saw the title of Tricia Goyer's newest novel, I knew I wanted to review it.  Five and a half years ago, my husband and I visited Glacier Bay twice on our honeymoon, so it seemed both fun and ironic to read Love Finds You in Glacier Bay, Alaska.  When Tricia sent out an email asking for bloggers to join her fiction launch team, I literally begged.  And when I found out that I'd made the team, I did a happy dance in my computer chair.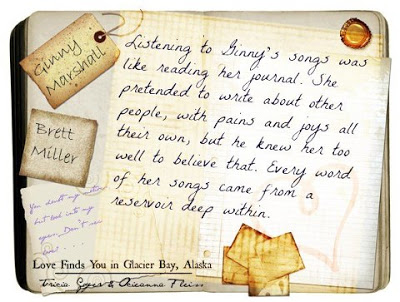 When Danny offers Ginny a beautiful diamond necklace and a stupendous recording contract, it seems as if all Ginny's dreams are coming true.  But something makes her hesitate and ask Danny for a week to consult with an old friend before signing the contract.  Ginny flies to Glacier Bay to track down her ex-fiance Brett, whom she left two years earlier to pursue her music.
In Glacier Bay, Ginny is welcomes warmly by Brett's grandmother and finds out that Brett is out of town on a kayaking trip.  Before Ginny can book her flight back to LA, Grandma has a heart attack.  Ginny agrees to stay and take care of her while waiting for Brett to return.  While she waits, she reads a series of letters Grandma has saved… letters written by Ellie in 1929 as she also faced love and loss and tough life decisions.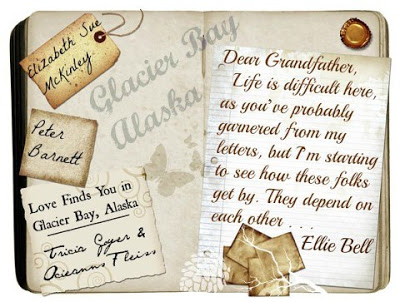 Love Finds You in Glacier Bay, Alaska
kept me turning pages from the very beginning.  I wanted to find out more about Ginny and Brett, and then about Ellie and Clay.  Their stories twisted together, drawing me in as each faced their problems and learned more about faith and love.  Both must wrestle with their pasts before they can face their futures.
One of my favourite parts of the novel was Glacier Bay itself.  Tricia and Ocieanna bring this small town in Alaska to life.  I loved the camaraderie between the townspeople, how each person knows what their neighbour is doing and wants to help out.  That small-town warmth attracts both Ellie and Ginny and is a big contrast to the cities we live in today.  The descriptions of the glaciers and the Bay itself brought back memories of our trip there and how I'd told my husband that I wanted to come back someday to hike and kayak there.
Love Finds You in Glacier Bay, Alaska is Tricia and Ocieanna's third novel together in the Love Finds You series.  These novels take readers to various historical small towns across the United States with various authors.  You can find Tricia on her website, Facebook and Twitter or check out Ocieanna's website, Facebook and Twitter.  Plus, if you let Tricia know that you bought her book, she'll send you a signed bookplate!
For more about Glacier Bay, Ginny and Brett, check out the Pinterest board compiled by Tricia, Ocieanna and members of the launch team.
This book was provided for review courtesy of the publisher; all opinions expressed are my own.  Post card photos were created by Launch Team Member Renee Smith.