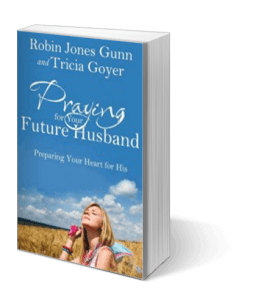 Praying for Your Future Husband: Preparing Your Heart for His by Robin Jones Gunn and Tricia Goyer caught my attention for a couple reasons.  One, I've read other books by both the authors and especially enjoyed Tricia's book for moms, Blue Like Play Dough.  Two, I prayed for my husband before I met him, at first at my dad's suggestion and later with ideas from Eric and Leslie Ludy (When Dreams Come True), Josha Harris (I Kissed Dating Goodbye), and Elizabeth Elliott (Passion and Purity).
stories of finding True Love
In this book, Trica and Robin share their stories of finding their true loves—including a few heartaches along the way.  Tricia had an abortion and then became a single teen mom before meeting her husband.  Robin went through a broken engagement.  Through the pain, they found God reaching out for them, wanting to fill their desire for love.  As each of them deepened their relationship with Him, He led them to the man He had chosen for them.
Each chapter includes "She Prayed… God Answered" (stories from other women who prayed for their husbands before they met them), "A Prayer for My Future Husband," "A Prayer for Me," journal space to reflect on the chapter, and "Discussion Questions" to journal about or discuss with a friend or study group.  There are also Bible verses throughout the chapters, providing more food for thought and study.  Each chapter deals with a different theme, such as patience, trust, or intimacy.
Robin and Tricia urge girls to think about their own relationships with God as they pray for their future husbands.  In chapter 6, Robin asks, "Do you see the triangular relationship that is formed through prayer?  You, your future husband, and God.  God is at the top of the triangle, while you and your future husband are at the corner points at the bottom.  The closer each of you becomes to God, the shorter the distance between the two of you.  By praying for the man you will marry one day, you are drawing closer to God.  You, God, and your future husband—the three of you already are being braided together at the heart level through the invisible realm of prayer.  Cool, isn't it?"
Practical and Honest Advice
If there's a young woman in your life who is dreaming about her "someday" husband, consider giving her this book.  Tricia and Robin provide practical, honest advice on faith and love while sounding like older sisters or close friends who just sat down to chat with you.  The stories they share are both inspiration and insightful and this is a book that will bless many young women—and their husbands.
Tricia Goyer is the best-selling author of over thirty-five books, including A Christmas Gift for Rose and Love Finds You in Glacier Bay, Alaska.  She has written over 500 articles for various publications and is the force behind the Not Quite Amish website, a place for lovers of all things Amish to hang out online.  Tricia leads a Teen MOPS group in her city and has six children (three of whom are adopted).  Drop by Tricia's website to find out more about her.
Robin Jones Gunn is the best-selling author of 82 books.  She and her husband have been married for thirty-five years and have two children.  She is a sought-after speaker around the world and currently lives in Hawaii.  To find out more about Robin, visit her website.
I received this book for free from WaterBrook Multnomah Publishing Group for this review.