Today is Thanksgiving Day here in Canada. Many of us are celebrating with our families and expressing gratitude for the good things in our lives over the past year. Since I've been thinking about my marriage a lot this month, the thought that popped into my head when I reflected on Thanksgiving was, "Have I thanked my husband lately?"

More than once, when we've had a fight, he's said, "You're not thankful for everything I do!" And he's right.
Too often, we take our spouses for granted. We are so used to what they do for us on a day-to-day basis that we fail to see it anymore. Of course hubby gets up at 6 am to catch the bus to work and doesn't get home until 6 pm—and while he's gone, I've cleaned the house and done the laundry and driven the kids to their lessons and gotten supper on the table.
It's easier to see what I'm doing, and to begrudge the fact that he doesn't see it all, than to stop and say, "Thanks for doing what you do for our family."
Thank Your Husband Verbally
I'm thankful he is my friend.
I'm thankful for the time he took to fix my washing machine when it stopped draining, even though that meant tearing it apart at 10 pm because that's when he got home from work and classes.
I'm thankful he takes the bus to work so that I can have the truck to get groceries, take Lily to preschool and Sunshine to violin lessons, and visit my friends.
I'm thankful he has worked unrewarding jobs to provide for our family, and that he now has a job he enjoys. I'm thankful for the school he has pursued to open up better job opportunities for himself, so he can provide more for our family.
I'm thankful that he supports my writing and blogging endeavors, including three-day international conferences and four-year writing degrees.
I'm thankful he chose to spend his life with me and tells me I'm beautiful even when I don't feel beautiful.
I'm thankful for his sense of humour, his love, his date night ideas.
I'm thankful that he's learned which gifts I'll appreciate (Reese's not roses).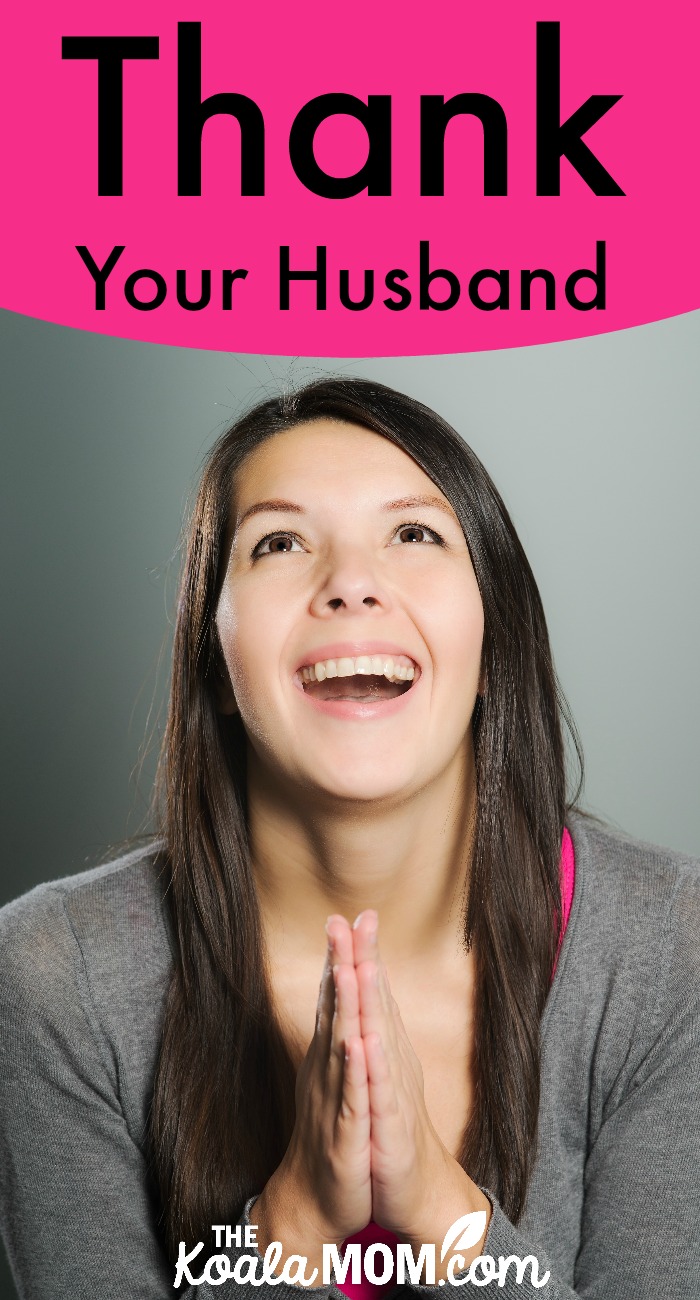 Thank Your Husband in Other Ways
While words of appreciation are great (especially if that is your husband's love language), there are other ways we can show them our appreciation as well.
Sometimes I leave my husband a note on the whiteboard on our fridge, thanking him for something (especially if he gets home after I go to bed). If your husband packs a lunch to work, sneak a thank-you note into it.
Text or email him with a message of gratitude when you think about it, instead of waiting to tell him later.
Get him a small gift to express thanks for something he did or do something for him you know he'll like.
So this Thanksgiving, I want to say a huge THANK YOU to my husband—and to remind myself to appreciate him year-round, and not just on special holidays.

"I thank my God every time I mention you in my prayers. I'm thankful for all of you every time I pray, and it's always a prayer full of joy. " ~ Philippians 1:2-4 CEB
How do you thank your husband for everything he does for your family?