I am always seeking to learn and grow. For every question, there must be an answer; for every problem, there must be a solution. Usually, I turn to books for these answers—surely someone else has faced what I've faced and can help me get through it. Parenting has been no different.
Since early in my first pregnancy, I've bought, borrowed and read parenting and birth books. My bookshelf is lined with my favourites, but I never expected to learn how to be a mom from the Old Testament prophet Nehemiah. The Passionate Mom by Susan Merrill gave me a new perspective on Nehemiah's life and my own life as a mom.

"Mom. Was there ever a job that encompassed so much, prompted so many questions, and created so many doubts in the minds of women?" ~ Susan Merrill
I received this book courtesy of the publisher; all opinions expressed are my own. This post contains affiliate links; as an Amazon Associate, I earn from qualifying purchases.
The Passionate Mom: Dare to Parent in Today's World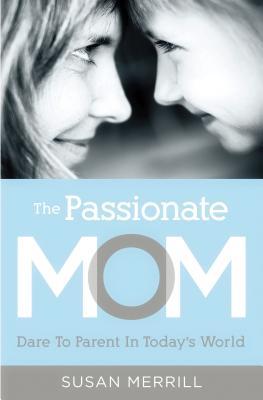 As Susan Merrill points out, the job of "mom" is a difficult one. In The Passionate Mom: Dare to Parent in Today's World, she shares some of her own struggles as a mom and how she found inspiration in an unlikely source: Nehemiah. She says, "Nehemiah had a passion for the people he loved, just as we moms have a passion for the children we love." Using Nehemiah's life as an example, she shows us how we can use that passion for good in our children's lives.
Merrill gives moms ten P's to help them in their parenting: perception, pondering, passion, prayer, patience, preparation, purpose, planning, problem solving, and perseverance. She calls these the "bricks" we need to build a wall of protection around our children as they grow.
As she says, "Our children need walls. That's why God gives them moms." In each chapter, Merrill looks at the "brick" to build these walls, as well as character qualities or "mortar" that help hold each "brick" in place.  She includes practical suggestions and personal confessions.
While Merrill gave me new perspective both on the story of Nehemiah and on my role as a mom, her book didn't really grab me. I appreciated her honesty about her own struggles and how she learned and grew as a mom, but I found most chapters were a bit long and repetitive. That's not to say The Passionate Mom won't speak to you; if you like Bible studies and in-depth Scripture lessons, then I recommend it. I don't think I'll ever look at Nehemiah's story the same again.
More about Susan Merrill
Merrill is the mom of five children (including two adopted children) and the director of iMOM.com. She and her husband, Mark Merrill, live in Florida with their children. She has a variety of free resources for moms available on her website, including prayer printables and the 30-day Passionate Mom Dare (very handy for moms like me with short memories).
What people or books have inspired you as a mom?