Writing is like art class. Every word, every colour, mixes together to create a message that can never be duplicated. However, many students are drawn to art while finding writing hard. Here are ten tips for teaching young writers, especially if they're a bit reluctant to put words on paper.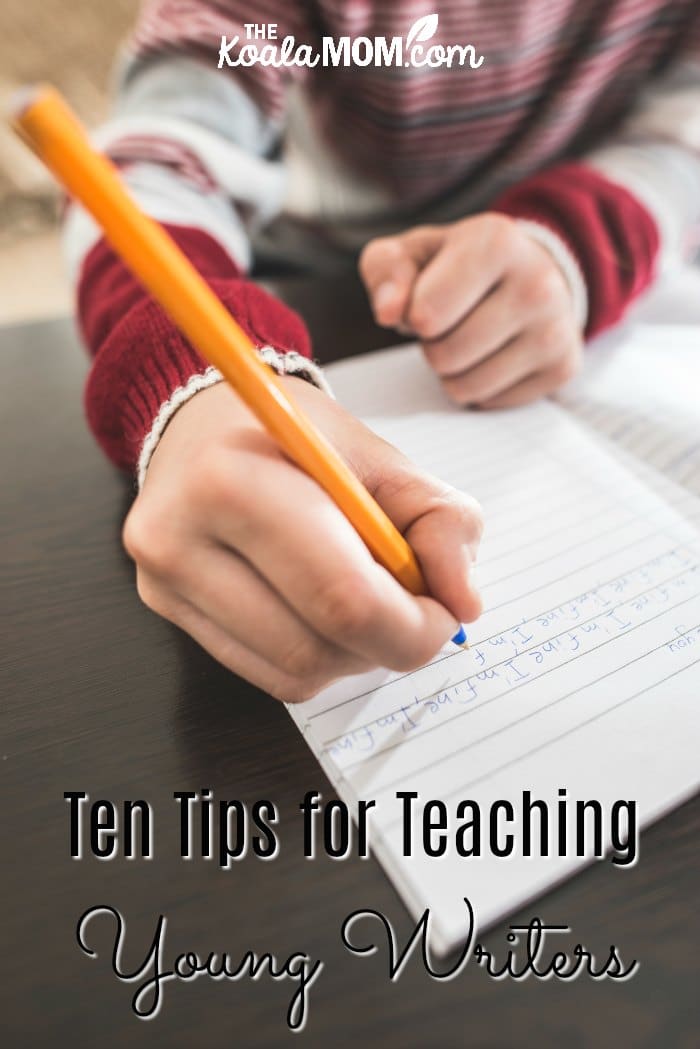 Ten Tips for Teaching Young Writers
1. Find out why your child thinks he/she struggles with writing. This may be tricky to ask based on age, but the reflection process must begin for both of you. This can be asked by you, a teacher, or a peer!
If your child doesn't want to talk about writing, give them an easy questionnaire. This list would include questions that could be answered with smiley faces, sad faces, or check marks.  (For example: Is spelling easy, hard or okay? What about getting the ideas? Moving your hands?).
2.  Send a clear message that your child's writing is important to you. Take the time to read their writing! Let them see you writing letters or emails to family or friends. Have a grandparent or other relative write to your child and request that they write back. Talk about why building writing skills is important.
You could also start a mother-child journal. This can be a great way to communicate with your child about what's going on in their life (and about things that may be difficult to discuss). This is not a place to correct your child's writing, but it does give them practice at expressing themselves via words and lets you show that you value their writing.
3. Respect privacy. Some children do not want their writing to be shared or posted for all to see. Other children may be more motivated to write if they know their work will be shared. Find out what your child is comfortable with.
4. Provide alternatives! Brainstorming and drafting ideas can be done by talking into a tape recorder or computer dictation program, then playing it back and typing/writing it. Or you can child can dictate while you type or write for them.
If your child struggles with fine motor skills or spelling, dictating lets them express their ideas. (As a writer with carpal tunnel syndrome, I have my ideas typed for me.)
5. Use a camera to tell a story. Have children take pictures of actions, events, or scenes. Real life photos can lead to great descriptive pieces or a great kick off to an imaginary story. Your child could even tell a story using stopmotion animation.
6. Don't worry about the grammar or spelling first. Writing is about the message. Editing can be done later…just like touch up paint. A child who is a perfectionist may be frustrated by poor spelling or correction. Let them finish their story or essay, and then start teaching spelling for any incorrect words.
7. Provide the environment for writing your child needs. I need peace and quiet, and a laptop as it is faster for me to type than to write. If I'm writing letters, I like pretty stationary or nice cards and a pen with ink that flows easily. Whatever works!
8. Teach your child to think like a writer. Have your child explain what he/she is doing or wondering!!!
9. Read books about writers. Children may be inspired by others' creative processes. For example, Anne Frank's diary has now become a classic book read by millions. The Dear Canada novels are all epistolary—fictional letters or diary entries written by young girls in various historical eras across Canada.
10. Make writing fun. Look for excellent resources that help ignite your child's imagination. For example, Building Writing Skills helps kids make their writing more interesting. 642 Big Things to Write About gives kids fun writing prompts. Maybe your child would like to write a story with a friend. Perhaps they'd like to start a blog or meet a penpal.
BONUS: When teaching young writers, ask the patron saints of writing professionals to help you! You can also tell your child about these saints and have them chose one saint to intercede for them as they write.
What tips would you share for teaching young writers?