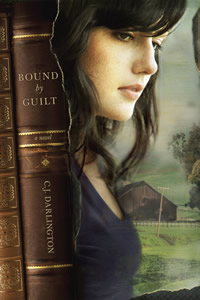 Last year, I had the privilege of reviewing C.J. Darlington's debut novel Thicker than Blood and chatting with C.J. about writing it.  This year, she released the long-anticipated sequel, Bound by Guilt.  The novel continues the story of Christy and Hunter, the main characters in Thicker than Blood, though they are secondary characters now.  Roxi Gold is the new heroine, a sixteen-year-old homeless girl who steals the hearts of Jan and Keith Mercer—and the readers.
Roxi became a ward of social services when she was eight, and she's seen enough of foster and group homes to know a good thing when she finds it.  So when her mother's cousin Irene takes her in, Roxi will do anything to make Irene love her—even help Irene steal priceless books.  Irene plans the heists, while her son Diego and Roxi help her carry them off.  Then one day, Irene decides it's time not just to sneak a few books out of the store, but to break in and steal a lot.
When the robbery goes bad, they hit the road, hoping no one finds them.  Burdened by guilt, Roxi decides that her only choice is to run.  Taking a few of the valuable books with her, she hits the road, hitchhiking as far from Irene as she can get.  She ends up in Elk Valley, Colorado, hungry and broke and trying to find a job.  When Jan Mercer catches her stealing protein bars at the Safeway, Roxi is sure she's going to juvenile prison… until Jan offers Roxi a job on her ranch.
Hunter's sister Abby is a cop who, along with Christy, is determined to find out who robbed her father's Book Barn.  When Roxi and Diego each try to sell some of the books they stole, Abby finds their trail.  As she catches up with them, Roxi and Diego must deal with the choices they've made… and Abby must decide to put justice before revenge.
I liked the way that the characters from Thicker than Blood played roles in this book, even though it's about a completely new character.  When Roxi ran into Jan, I was just waiting for Christy's sister May to show up, knowing that she was also a rancher, and I wasn't disappointed.  I also liked the way that ranches and rare used books were part of the plot and setting in this book, as in the first.
I really found myself pulled into Roxi's story, wanting to know what happened to her next.  Her character shone in the novel as a young girl trying to make the right choices, desperately wanting to be loved, yet so hurt by her mother and how her life has been thus far.  While faith plays a strong role in the novel, it didn't seem false.  Both Roxi and Abby struggle with questions about God and why bad things happen in our life, and there are no easy answers.
If you haven't read Thicker than Blood, don't worry—Bound by Guilt stands on its own, with enough explanations of what happened before for the reader to understand the story (yet not get bore).  Every page in the novel kept me turning to the next one, thinking Bravo!, C.J.  I can't wait to see what she writes next.
Drop by C.J.'s website for more information, including the first chapter and other reviews.
If you enjoyed this book, you may also like Lion Cubs, another book by a young author about a homeless girl in the foster care system.