I couldn't wait to get my copy of Thicker Than Blood because it's another book (like Bonnie Grove's Talking to the Dead) that I'd heard lots about through the blogosphere. Author C.J. Darlington won the Christian Writers' Guild Operation First Novel Contest for Thicker than Blood, which she says she's been working on since she was about 14 (nice to know I wasn't the only introverted 14-year-old hammering away at a keyboard).
This book was provided for review courtesy of the publisher or publicist; all opinions expressed are my own. This post contains affiliate links; as an Amazon associate, I earn from qualifying purchases.

Thicker than Blood Plot Summary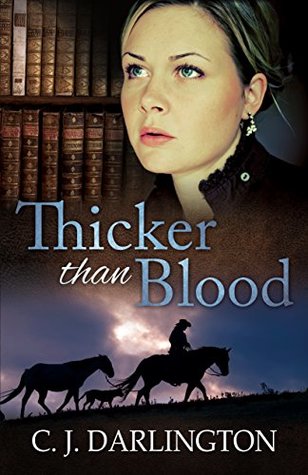 Christy hasn't talked to her younger sister May since she left May at their great-aunt's place following their parents' death. Now she's ashamed to face her sister, fearful that May will hate her for abandoning her—and for some other actions from Christy's past that continue to haunt her. Christy's life is finally going good—until a jealous ex-boyfriend starts causing problems.
May is living her dream life on a ranch, but the bank has threatened to foreclose on the ranch unless she can pay the entire mortgage. She hasn't forgotten about Christy, hoping always that her older sister will someday return. When Christy does show up, May isn't prepared for the anger she feels—or the trouble that Christy brings with her.
As the sisters get to know each other again, they'll learn that there are connections thicker than blood.
My Thoughts on Thicker than Blood
One thing that intrigued me immediately about Thicker than Blood was Christy's job in a bookstore and her work in acquiring valuable books for the store. I was surprised to learn what made a book more valuable (first edition, dust cover, autographs, etc) and what the value of some of those books was. C.J.'s own background in this showed up in the details that she was able to provide for Christy's profession.
Readers looking for romance in this book may be disappointed. Other than Christy's ex and a hint of romantic interest from another fellow, there is no love story; instead, the story focuses on the sisters' relationship. I liked that. Too often, our society is obsessed with romance, including love stories in plots for no other reason than that audiences like love stories, and the Christian fiction market is seldom better.
Thicker Than Blood was another good read from another debut author.
More about C. J. Darlington
C. J. Darlington's love of reading began when she was a kid dragging home bags of books from the library. At age 12, she started dreaming about becoming a published author. That dream came true when Thicker than Blood won a national writing contest. It became the first book in the Thicker than Blood series, which also includes Bound by Guilt, Ties that Bind, and Running on Empty.
C. J. has compiled an ebook for wanna-be writers, 112 Christian Authors and Publishing Professionals Share Their Best Advice for Novelists
. Her children's fantasy Alison Henry and the Creatures of Torone has also been well received.
C. J. lives in Pennsylvania with her whippets, two tabby cats, and a Paint mare named Sky. For more about C.J. and her books, drop by her website. You can also read my interview with C.J. to find out more about her homeschooling background and how she started writing.

If you like Thicker than Blood, you may also like: