Sing is the second book in author Lisa T. Bergren's series The Homeward Trilogy, which follows the fortunes of three siblings: Nic, Odessa, and Moira St. Clair. I haven't read the first book, but Bergren provided enough background—without overwhelming the reader—that it was easy to follow the story to guess at what had transpired to the siblings in Breathe.
I received this book for review; all opinions expressed are my own. This post contains affiliate links; as an Amazon Associate, I earn from qualifying purchases.
Sing Plot Summary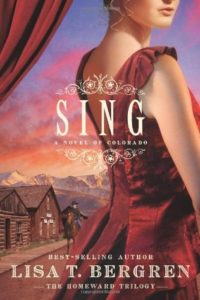 Nic is fighting for his living in South America when he gets shanghaied onto a ship. It soon becomes apparent that God is chasing him and using any means to get his attention, from shipwrecks to a preaching seaman. Nic, however, is on the run, angry at God for the loss of his younger brothers.
Moira is at the top of her career as an opera singer in France—until her manager steals all her money and her opera house closes its doors. Left broke, with no prospects in Europe, she catches a ship for America and a new audience. On the way, she meets Gavin, a charming, cunning man who promises her a new stage and a new fortune. As they work their way across America, it seems that all of Gavin's promises are coming true… until they reach Colorado and everything falls apart.
Odessa is happily settled on a ranch in Colorado with her husband and her baby son, but troubles are facing the ranch. As Odessa and her husband Bryce differ on what to do about their problems, Bryce's brother arrives at the ranch to help—and causes problems of his own.  Then the St. Clairs' arch-enemy arrives at the ranch, bent on revenge against the family that put him in prison for four years.
My Thoughts on Sing
Bergren spins a good story, with realistic characters and rich settings. I found myself wondering what would happen with each of the siblings and how they would be reunited. All three of them face struggles, emotionally, physically, and spiritually, and Bergren gives them no easy answers. While faith is real for Odessa, both Nic and Moira have cast it aside, and Bergren allows them to struggle with their tough questions about faith.
Overall, Sing was a quick, easy read that leaves a few questions to be tied up in Claim, the last book of The Homeward Trilogy.
More about Lisa T. Bergren
Lisa Tawn Bergren is the best-selling, award-winning author of over 50 books, with more than 3 million copies sold. Lisa's time is split between managing home base, writing, consulting and helping Tim with his business. Her husband Tim is a sculptor of ducks-out-of-fenceposts, graphic designer and musician. They have three big kids–Olivia (who just got married), Emma (who just got back from Europe) and Jack (who is about to start high school). The Bergrens make their home in Colorado Springs, Colorado.
For more about Lisa, follow her on Goodreads or Twitter.
If you like Sing, you may also like: