(My 13-year-old, known as Lily here on theKoalaMom, is writing this review of a comic book for me.) 
One challenge that Catholic parents face is finding ways to get their kids interested in the faith. It can be hard to compete with video games, friends, schoolwork, sports, or any other interest children may have. Books are a great way to get kids of all ages learning about the Church. Digital Disciple: Carlo Acutis and the Eucharist is a great story to teach kids about the saints and the Eucharist by introducing them to a protagonist they can relate to, with vibrant illustrations to catch their attention and an easy-to-follow narrative to give them all the information they need about the story.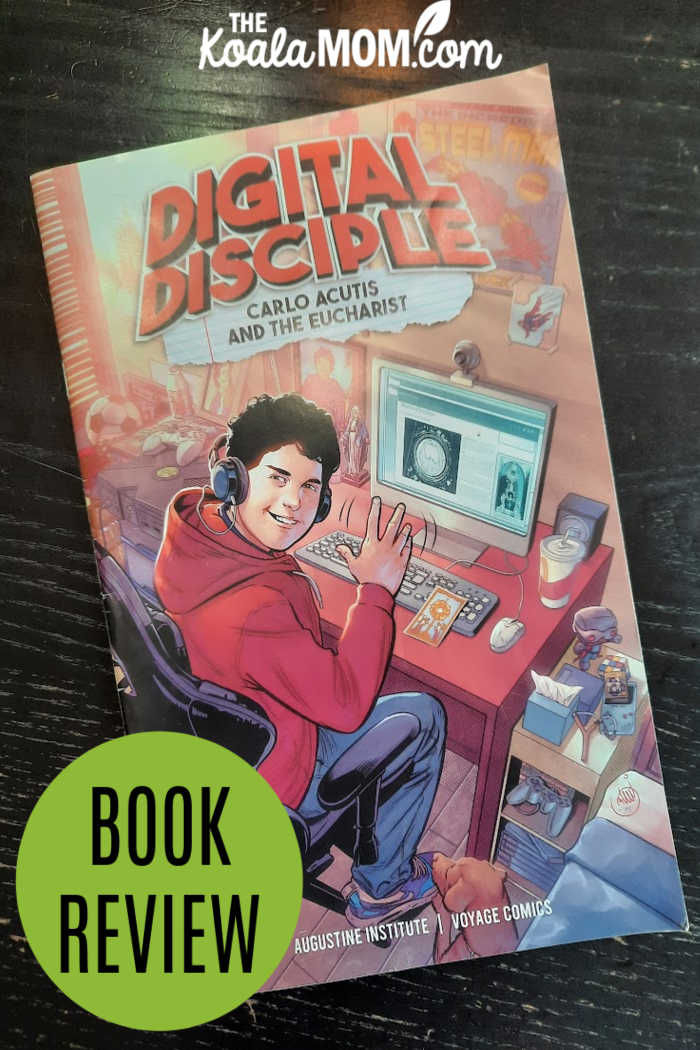 I received a copy of this comic for review; all opinions expressed are my own.
Who Was Blessed Carlo Acutis?
Carlo Acutis was born on May 3, 1991 in London, England, and later moved with his parents back to Milan, Italy. From a young age he was devoted to the faith, bringing both of his parents, especially his mother (who grew up in a secular family), closer to Jesus through his example and questions. His life was fairly normal, as he went to school, watched TV, played soccer, and enjoyed videogaming.
When he was eleven years old, he began an online project cataloging the 150+ Eucharistic miracles, often visiting the sites where they occurred. He finished the project two years later, in October of 2006. However, he never got to see it displayed, as he went to the hospital and was diagnosed with a rare form of Leukemia just days after finishing it.
On October 11, 2006, Carlo Acutis died of M3 acute Leukemia. Many people, including his friends, family, and homeless people he had befriended, attended his funeral. His case for sainthood was opened in 2012 and he was declared venerable six years later. He was beatified  by Pope Francis on October 10, 2020.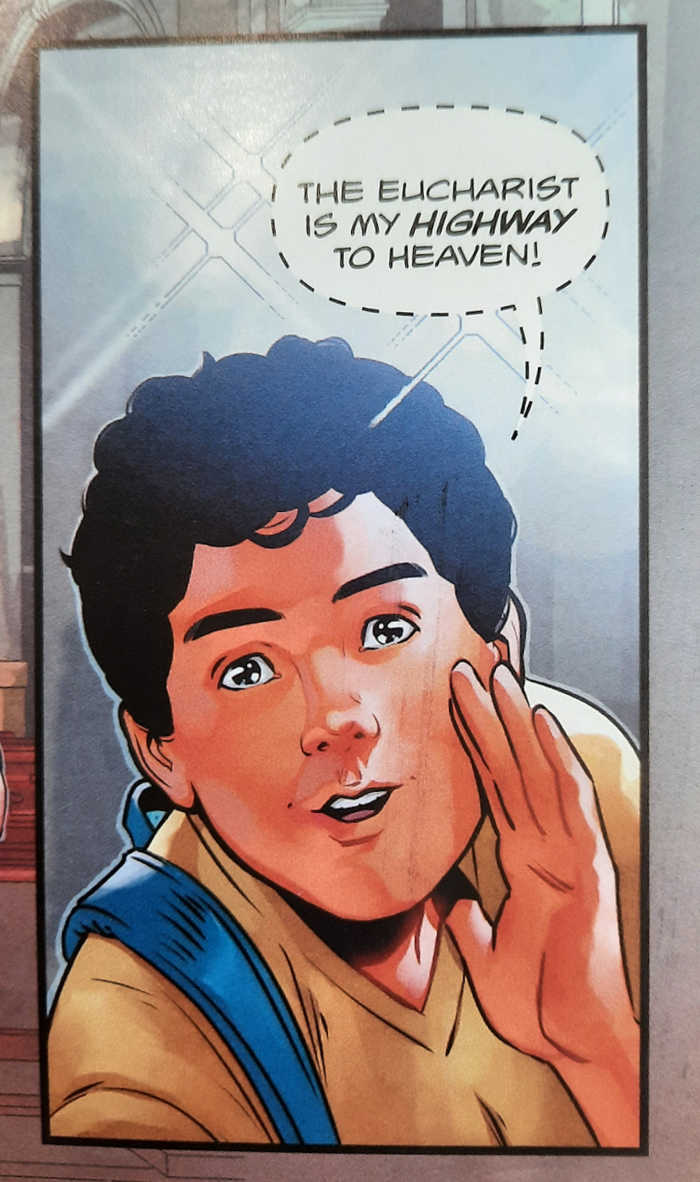 The Story
The comic begins with a short introduction to Carlo before transitioning to a scene of him teaching a catechism class. He struggles to get the kids interested in the Mass, and when he asks his priest for help, Father Antonio introduces him to the Eucharistic miracles. He heads home and researches online, becoming inspired by what he finds.
The story then moves to Carlo's school, where the students are playing a game of soccer. Carlo stands up for one of his classmates, Michele, when one of the boys makes fun of him for his stutter, then invites Michele to his house to play video games. That night, Carlo prays about finding balance between technology and the Eucharist. There, he gets the idea to combine the two by using technology to teach others about the Miracles of the Eucharist.
The comic highlights various scenes from Carlo's life, such as attending daily Mass, bringing soup and a spare jacket to a homeless man, playing soccer, hiking, picking up litter, and helping injured animals. It also shows his devotion to Saint Francis of Assisi.
As the comic ends, Carlo is almost finished his Eucharistic miracles project. He shows his friends the website he's designed and sets up his presentation at school—but he's interrupted by a fit of coughing and ends up going to the nurse. A few days later, while people are seeing the Eucharistic Miracles presentation for the first time, Carlo is diagnosed with leukemia. He chooses to offer up his suffering to God, hoping to go straight to Heaven.
Carlo Acutis died on October 11, 2006, when he was only fifteen. The comic ends by telling of his beatification, and then includes some timelines of his life and journey to beatification. For kids unfamiliar with the process of canonization, there's a graphic to explain that, along with a prayer for Carlo's canonization.
About the Book
Digital Disciple: Carlo Acutis and the Eucharist has an inviting cover, with warm colours and an image of a smiling Carlo. Throughout the comic, there's a consistent soft art style that is realistic without being too detailed for younger readers. The text is easy to read, and while each page has plenty of information, it never feels overwhelming or crowded.
The story, while mainly lighthearted, does include plenty of information for readers to discuss and reflect on, such as the importance of the Eucharist, Catholic habits to get into, the negative affects of technology or playing videogames too long, and even Heaven and death. It also has a rather heavy ending—Carlo is cheerful and accepting of his death, but Carlo's parents are still very emotional.
Blessed Carlo Acutis is an inspiring example of what a saint can accomplish in only a few years. He's a trendy teen who lived an average life of going to school and playing sports and video games, yet he also had a deep love for God and the Eucharist. Young Catholics will find it easy to identify with this cool young saint. His feast day is celebrated on October 12 and he is the patron saint of youth and computer programmers.
Teens interested in his life can also check out his website.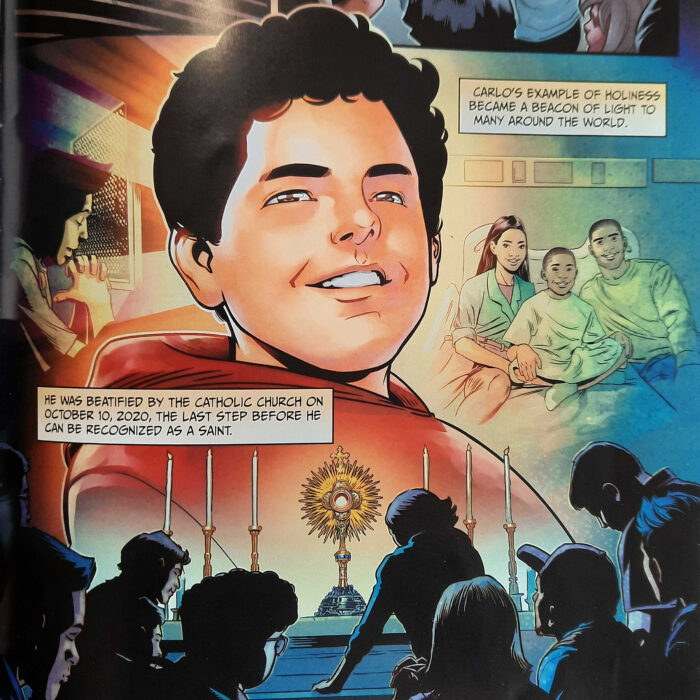 How to Get a Copy
Digital Disciple: Carlo Acutis and the Eucharist is available on the Voyage Comics website, along with other great saint stories like The Mission of Joan of Arc. You can preview more of the artwork there and read the other rave reviews from parents. You'll also want to check out the other books and comics available from Voyage Comics, especially if your kids love superheroes and fantasy stories as much as mine do.