Nurses provide invaluable service to patients and are the backbone of the healthcare industry. To be successful in this field, nurses must possess a wide range of skills, including empathy, attention to detail, team-building, and communication.
They must also remain calm under pressure and have the technical knowledge necessary to give quality care. With proper education and training, these essential skills can be developed, allowing nurses to provide safe and effective care. Many of these skills overlap with those required as moms, so it can be a good career to consider if you are looking at going back to work after raising children.
In this blog post, we'll explore the necessary skills needed to become a successful nurse in the US and how these skills can be developed. So let's dive right into it!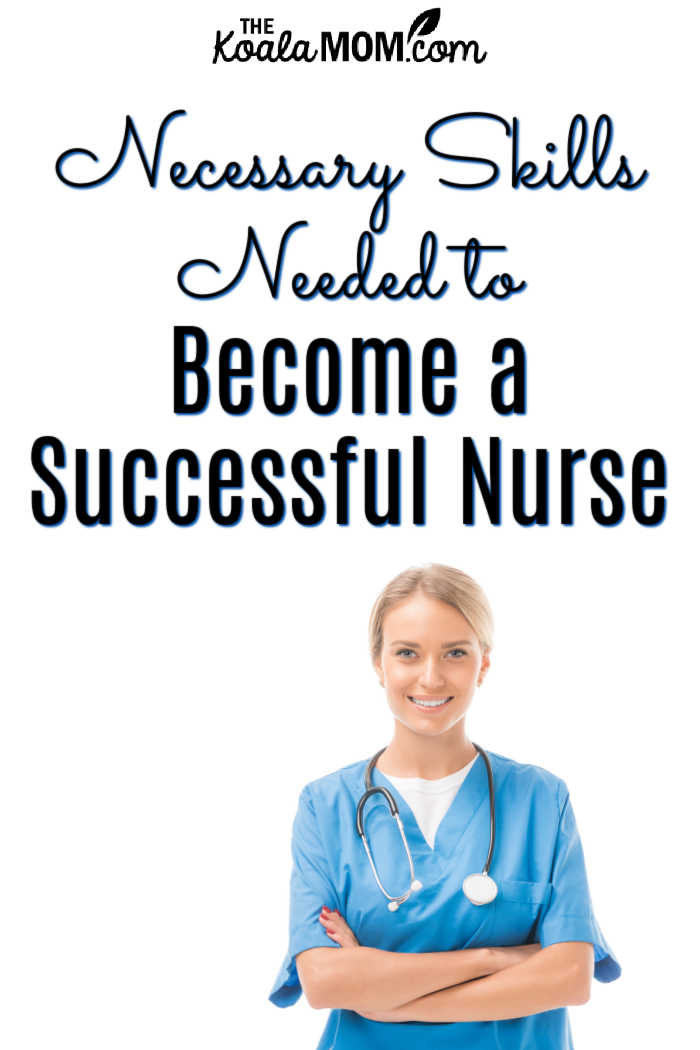 Moms, does your child exhibit these skills or strengths? Perhaps a career in nursing is a good option for them to consider. Consider ways you can help them see and work on these skills in their life, and ways they could explore nursing as a future career option.
Compassion and Empathy
As a nurse, you will work with patients of various backgrounds and conditions as a nurse. You must understand their feelings and support them in their times of need. Compassion and empathy can create a stronger bond between you and your patients, and they will more likely trust you.
Being able to show compassion and empathy may also increase job satisfaction and make you a more successful nurse. If you feel particularly drawn to certain groups of people, then consider a nurse practitioner specialty that allows you to work with, for example, children or seniors.
Interpersonal Communication
Effective communication with patients, doctors, and other healthcare professionals is the foundation of successful patient care. Nurses must communicate effectively to provide patients with the best possible care.
They must listen attentively to patients and understand their needs, as well as be able to explain medical procedures and answer questions. Nurses must also collaborate with other healthcare professionals to coordinate care and ensure the best outcomes for their patients. Interpersonal communication is essential for nurses to be successful.
Critical Thinking
As a nurse, it is essential to have strong critical thinking skills to make informed decisions within the field. Critical thinking is a systematic approach to evaluating and addressing complex issues, making it an invaluable tool for nurses.
It requires analyzing and assessing situations, gathering evidence, and making sound judgement. Nurses must also be able to think logically and form arguments based on evidence. Nurses with strong critical thinking skills are better equipped to make accurate diagnoses, create effective treatment plans, and provide better patient care.
Ability to Multi-Task
Nursing is a fast-paced, busy profession where things can change instantly. Nurses must handle various tasks at once, think on their feet, and make quick decisions. A nurse must juggle patient care, communicate, and handle administrative tasks simultaneously while staying calm and composed.
Nurses must be able to focus and prioritize tasks to provide the best patient care. The ability to multi-task is essential for any nurse looking to succeed in her career.
Problem Solving Skills
The topmost skill to acquire while working as a nurse is problem-solving ability. Nurses must be able to identify and resolve issues that arise in their practice quickly. They should also think critically and work with other healthcare professionals to improve patient outcomes.
Problem-solving skills are developed with experience but can also be honed through practice and education. Nurses who focus on developing their problem-solving skills will be well-prepared to take on the challenges of a modern healthcare system.
If you are an aspiring nurse or trying to explore more, consider connecting with international healthcare recruitment agencies USA.
Final Word
The necessary skills to become a successful nurse in the US are unique and dynamic. Professional nurses must be willing to educate themselves in science, technology, and humanities to ensure optimal patient care.
They must possess an aptitude for problem-solving, communicate effectively, and be able to provide compassionate care to their patients. With the right skills, nurses can become successful and make a huge difference in society.