If you're a mom and you already work as an RN, you might be considering a career as a nurse practitioner. Depending on the specialty you choose and your eventual work environment, nurse practitioner career options can allow you to have a more traditional schedule, so you can spend more time with your family than you might be able to as an RN.
To become an NP, you choose an area of specialty. The following are some of the more popular nurse practitioner specialties for moms.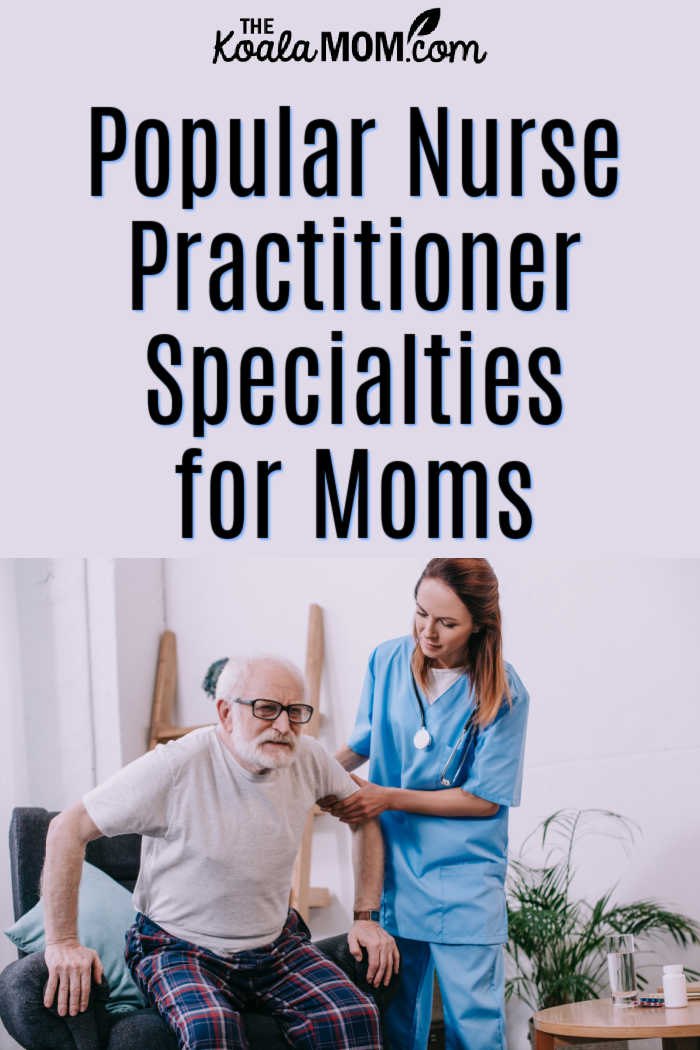 1. Family Nurse Practitioner (FNP)
For women with families, an FNP can be an excellent focus area because you might have the opportunity to work in a clinic that follows traditional business hours. The experience and skills you have as a mom is also an added bonus as you work with other families.
Family nurse practitioners provide primary care to people of any age. They develop long-lasting, strong relationships with patients, which helps them deliver the best care possible.
The type of care you would provide as an FNP is basic primary care. This might mean you treat injuries that are mild or non-complex, perform diagnostic testing, and prescribe medications. If a patient has a chronic or more complex illness, you might also work toward creating strategies for long-term care that meet their unique needs.
Along with working in a private healthcare practice, you could also work in a hospital, or depending on your state, you could run your own practice, although you might need to have a supervising physician. Family nurse practitioners have the opportunity to practice almost entirely independently, which isn't true of other specialty areas.
2. Adult-Gerontology Primary Care NP (AGPCNP)
The certification for adult-gerontology primary care prepares you to provide services to adult patients. This could mean that you're working to treat minor injuries or illnesses, performing preventive procedures, or counseling patients on the management of chronic or acute illnesses.
You might work in a long-term facility or nursing home with elderly patients if this is your area of specialty.
3. Adult-Gerontology Acute Care NP (AGACNP)
The difference between this role and the role above is that you would be focusing on care for people with acute illnesses or injuries, so your training would focus on emergency treatment. This means you might work to stabilize patients quickly when they're in an acute treatment setting, like an emergency department.
You might also follow a patient to monitor them from the time they're first admitted to a healthcare facility until they're discharged. You could also be the person to decide whether the patient is ready to transition to outpatient care.
As an AGACNP, you are ultimately a provider of critical care services. You might work in very busy environments that are highly demanding, like a trauma unit.
4. Pediatric Nurse Practitioner (PNP)
Pediatric nurse practitioners provide care to children, and understand the unique implications of medicine for younger populations. Treatment approaches in pediatric medicine emphasize a holistic healing practice that's appropriate for the patients age group, and this holistic view is what informs many of the differences between pediatrics and adult medical care.
You also learn how to communicate with children when you're providing care to them. You have to be a strong communicator because you're going to be breaking down potentially complex topics and working to make sure not only the patient but their parent or family understand too.
5. Psychiatric Mental Health NP (PMHNP)
It's pretty common for registered nurses to encounter things like anxiety and depression, but advanced mental health disorders require more expertise. Psychiatric mental health nurse practitioners learn during their studies and training to manage mental health conditions, and they can work on creating intervention strategies.
A mental health NP might learn how to perform therapies, such as behavioral therapy. They can work in psychiatric facilities and prescribe medications.
Some psychiatric NPs will focus on emergency psychiatric care, but most work in an inpatient setting.
6. Women's Health (WHNP)
Women's health NPs will provide care to women from their teen years into adulthood, and they might work in any number of settings like private clinics, health departments, hospitals, and community care centers. Training can cover gynecology, sexual reproduction, menopause transition, and post-menopausal care.
7. Subspecialties
Finally, NPs can also study and train in subspecialties. For example, one subspecialty is acute care. There are also cardiac NPs that provide care to people with heart and blood-related conditions. Dermatology NPs treat conditions related to the skin. They can treat anything from simple conditions like acne to complex things like skin cancers.
Gastroenterology NPs will work to provide care and treatment related to the digestive system, and some go further in their area of specialty; for example, they might specialize in inflammatory bowel disease or diseases affecting the pancreas.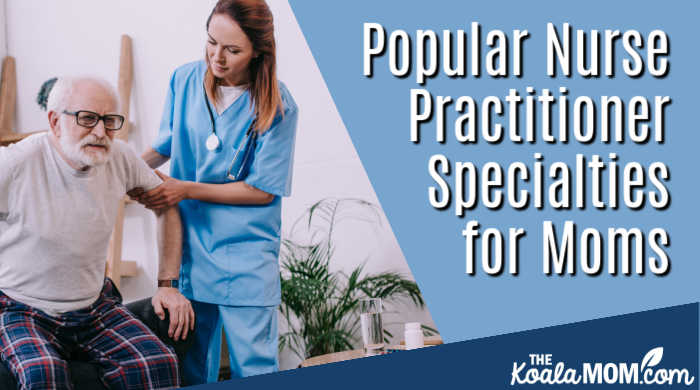 If you are considering a career shift or trying to find a nursing career that fits better with your family life, one of these nurse practitioner specialties may be the right fit. Take some time to research local job opportunities and what training is required to to begin working in one of these nurse practitioner specialties for moms. You may be able to complete the necessary certification part-time or through online courses while your children are napping or at school.
Photo credit: Depositphotos.