All of my children enjoy colouring, drawing, and painting. Over the years, they've dabbled in numerous types of art as the whim strikes them (and the materials are convenient). This year, my teen tried out a paint-by-number kit from Craft-Ease and had a lot of fun creating her own artwork for her wall.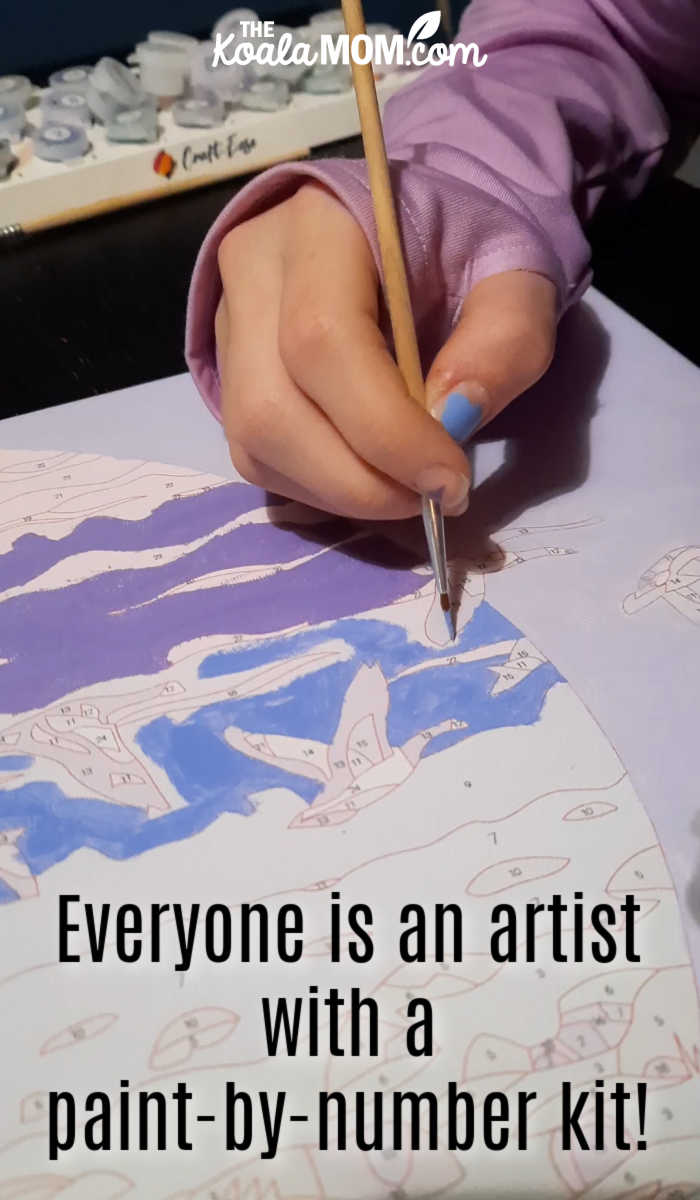 I received this paint-by-number kit in exchange for this review; all opinions expressed are my own.
Choosing a Paint-By-Number Kit
Craft-Ease has a huge selection of paint-by-number and diamond painting kits for fun, relaxation, and art therapy. We browsed the paint-by-number kits as this is what Sunshine wanted to do. It was really hard to pick a favourite painting to create! There were cute animals, amazing landscapes, funky designs and more.
She finally narrowed her choices down to a handful that she liked, and then consulted with me and her siblings and choose her favourite. We ordered the painting of geese flying across a setting sun. Her favourite colour is purple, so I wasn't surprised that this painting, with its strong purple hues, caught her eye.
The kit arrived in the mail not long afterward. Sunshine opened it up and began to paint. The kit was carefully set up so that she was able to use the box as an easel. Brushes and all the paints needed were included so she was ready to get to work right away. Instructions and tips were included with the kit and are also available on the website. Craft-Ease really works hard to ensure that each person has a great painting experience.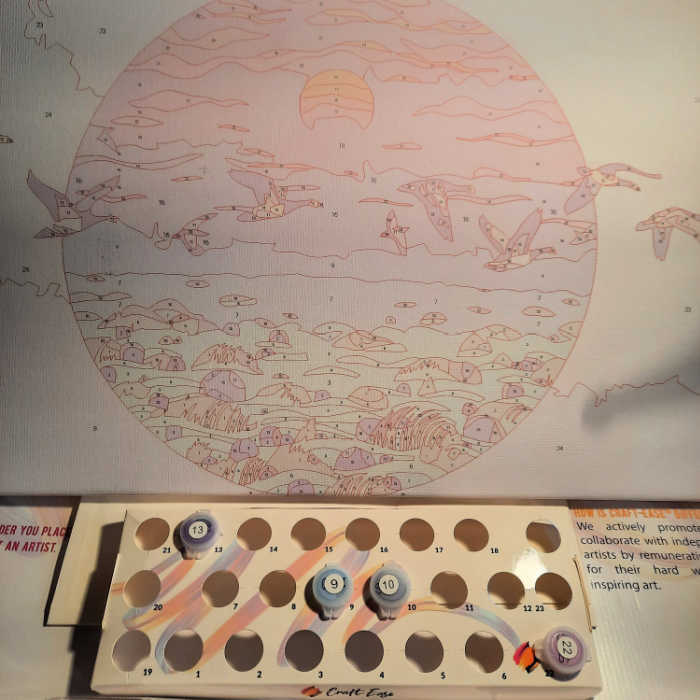 Painting By Number
Sunshine often worked on her paint-by-number while I was reading aloud to them. We spent a year reading through The Lord of the Rings, and while I spun stories of hobbits and wizards, Sunshine painted and her siblings did their own art projects. It was fun to see the colours of her painting come together slowly to form the picture, from splotches of blue and purple here and there to the sunset colours blending beautifully across the sky.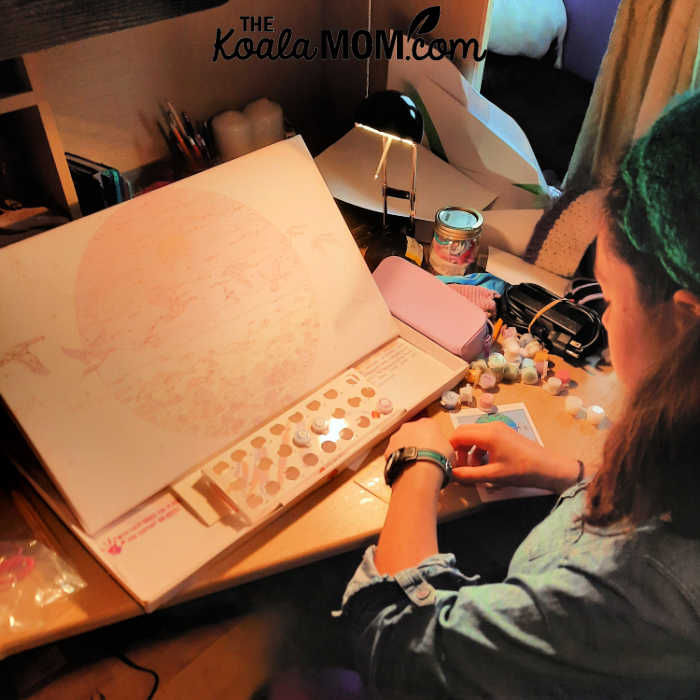 The paints are acrylic, so it was easy to clean them up when Sunshine was done working. (I had a paint-by-number kit when I was a kid but it was oil-based paint and I remember it being such a headache both to paint and to clean up afterwards!) In some places, she had to paint a couple layers to cover the numbers underneath the paint and get the look she wanted. There was more than enough paint for her to finish the entire canvas.
(Notice how her painting matches her sweater and nail polish. Did I mention that her favourite colour is purple?)
Although Sunshine really enjoyed painting and was excited to hang her new artwork on her wall, she got this project just before she started high school for the first time. The demands of Grade 8 put her painting on the back shelf (literally) for most of the year. I was glad that having everything in one box did make it relatively easy for her to pull out when she wanted to paint. Even if we were only reading one chapter together for twenty minutes before bed on a busy evening, she could spend that time painting because her kit was ready to go.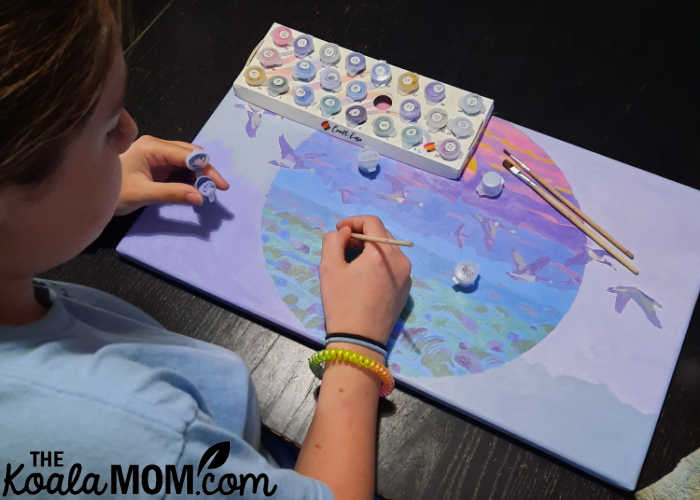 It was really exciting to see her painting get closer and closer to being ready to hang on the wall. Once Sunshine had finished all the numbers, and touched up any places she wasn't happy with, she applied the varnish to the entire canvas. Then we added a picture hook to the back and hung it up! Now she has a beautiful, relaxing painting in her favourite colour to decorate her room.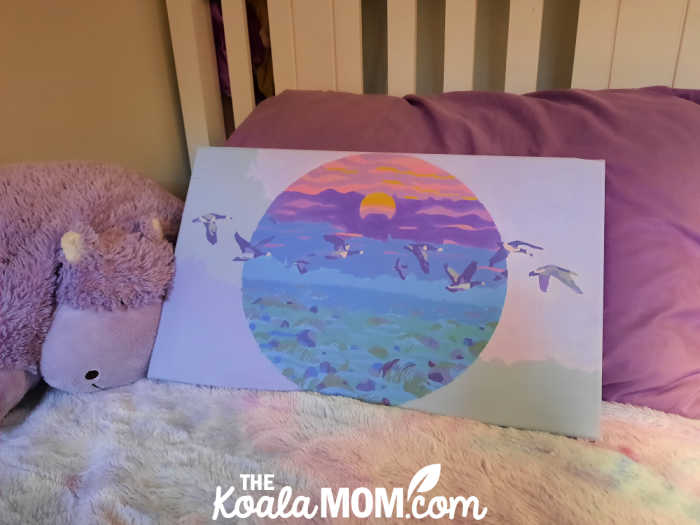 Meet the Paint-by-Number Kit Artist
Craft-Ease works with independent artists, licensing their art and promoting them online, and the quality of the artwork shone through every painting on the site. Sunshine's paint-by-number was created by Lex Zooz, an artist from Haapsalu, Estonia. He works as an urban mural freelancer, illustrator and designer of various projects. Lex has participated in many exhibitions and international projects.
He says, "I am most inspired by various natural phenomena, as well as changes in weather conditions in nature such as the northern lights, dawn, sunset, fog, rain… Therefore, I often turn to topics with trees, with the sea, stones and rocks, where these states can be seen." Five of his paintings are available as paint-by-number kits on Craft-Ease and one is available as a diamond painting kit.
Start Your Own Paint-By-Number Kit!
If you're looking for a fun gift idea for your teens, an art project for your homeschool students, or a relaxing hobby, check out the art kits at Craft-Ease.
Have you ever done a paint-by-number kit?