Perhaps it was inevitable with three girls that they'd be in to all the "girly girl" stuff—purses, headbands and hair accessories, bracelets and necklaces, shoes, and, of course, nail polish. All the things I didn't have as a girl with two brothers.
I'm thoroughly enjoying the girliness now and having fun watching Sunshine and Lily (and even Jade) develop their own personal styles. Which includes multi-coloured fingers and toes as often as they can convince me to help them paint their nails.
I received these nail polishes in exchange for this review; all opinions expressed remain my own. This post contains affiliate links; as an Amazon associate, I earn from qualifying purchases.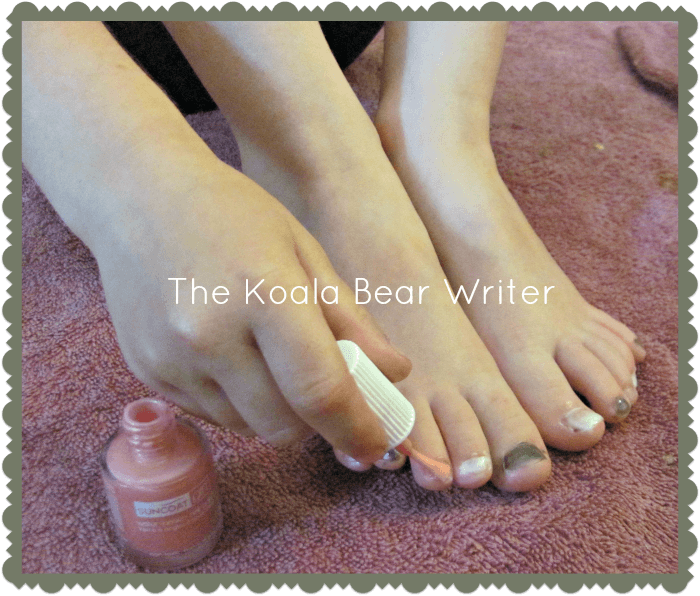 I'll admit that I let them use nail polish with a bit of fear and trepidation. Sunshine wants to paint her own nails, and I insist upon doing it because I don't want nail polish all over the place. Then I found Suncoat Girls, a line of water-based, odourless, kid-friendly nail polishes.
The girls were so excited when I said they could do their nails and I pulled out four new colours for them. (For my girls, I've learned that surprises are best. I could have let them look online with me and pick their nail polish colours themselves, but then I'd hear about nothing but the nail polish for the week or two until it arrived. If you have more patient girls, they might enjoy picking their own colours—or you can just surprise them with mom-approved colours like I did.)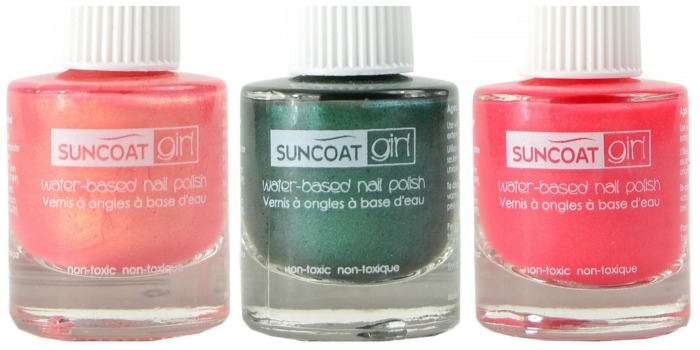 I chose Eye Candy, Apple Blossom, Sparkling Snow, and Going Green for them. I was a little bit uncertain about how green nail polish was going to look, but it's my favourite colour and, hey, we were trying things out, right? As I expected, the girls wanted multi-coloured nails, and so we painted an alternating pattern of all four colours across their toes and fingers. Sparkling Snow seemed more like a glaze to me than white nail polish, but their fingers were sparkly and so they were happy.
Sunshine was really excited when I let her paint her nails herself. She managed to do her toes but then needed help with her fingers. Lily still wanted help. And Jade, watching her sisters, decided to sit down and hold out her own toes, and so got her very first "pedicure." I was amazed that she sat still while I painted all ten of her toes, but she likes doing whatever her sisters do and is very observant of what they do.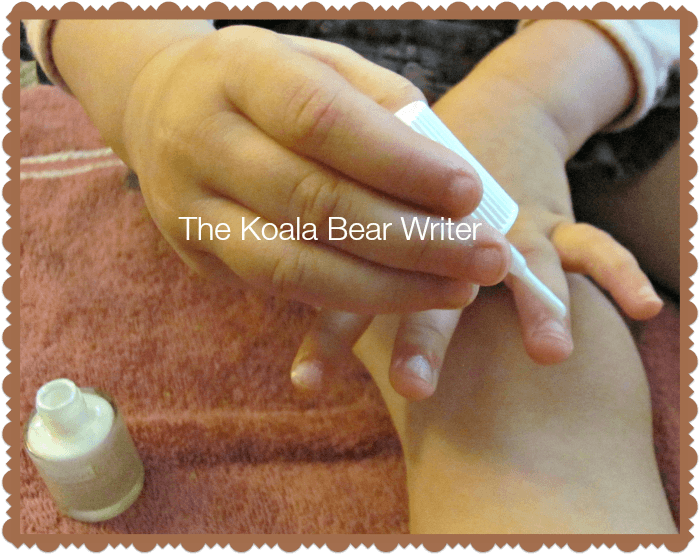 I thought the Suncoat Girls nail polish took a bit longer to dry than other nail polish. Once they dried, they were smooth and pretty, not sticky like other kids' nail polishes we've tried. And instead of chipping off like normal nail polish, when they started to come off my nails, they peeled off in one nail-sized piece. So it was easy to peel off all our nail polish after a day or two and put on new colours.
Sometime soon, I want to have a spa day with the girls and do our nails. With summer here, we're also having fun showing off colourful toes in our sandals. I love the way that something as simple as nail polish gives us a bit of bonding time—whether it's between mother-daughter or sisters—in the few minutes that it takes us to paint our nails together.