Now that summer is winding down and we're getting earlier, cooler evenings, this is an excellent time to experience family movie nights in the comfort of your backyard. Outdoor movies are a cozy, immersive experience that's fun for the entire family. Today, I'm going to let you know what you need to make a backyard movie theater that everyone is sure to love.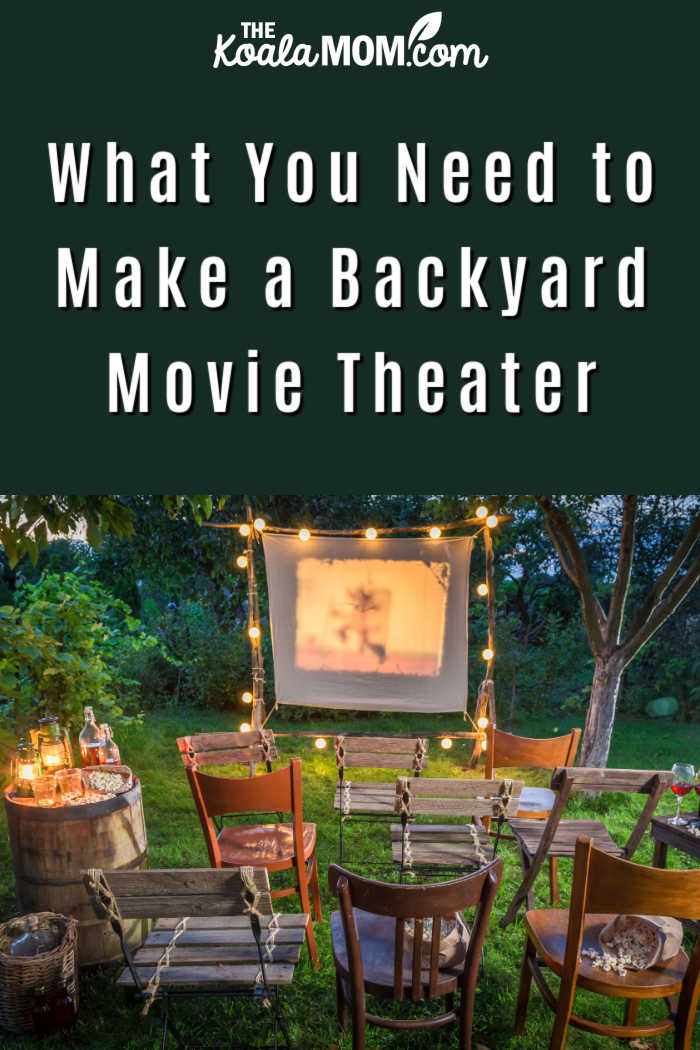 This post contains affiliate links; as an Amazon associate, I earn from qualifying purchases.
Projector and Screen
A projector is the most important thing you need when setting up a backyard movie night. Many cost-effective projector options hook up to several devices, such as DVD players, laptops, and tablets. We just bought a projector which we connect to my daughter's Chromebook for watching movies.
TIP: for watching movies in the backyard, look for a projector that has Bluetooth connectivity so you need less cords laying around.
Depending on the layout of your backyard, you may also want to get a screen to display the video. Many homeowners make their own out of a large sheet or project the video onto a wall of their home. If those options aren't available, there are many collapsible projector screen options on the market.
Sound System
For that authentic theater experience, you want to invest in a quality sound system with speakers and soundbars to capture the movie's audio experience. When you're not using the backyard for movie night, an outdoor sound system is excellent for entertaining or other outdoor events where you and your friends can relax with some tunes.
Seating Options
One thing you need to make a backyard movie theater experience is enough seating for everyone. One advantage of hosting a movie night in your yard is that it's up to you if you want to try and recreate an authentic movie seating experience or have some fun with it. Whether you use lawn chairs, beanbag chairs, or even dig out the air mattress, you can make your backyard theater a place of comfort.
Don't forget to have plenty of blankets too, as the temperature tends to get cooler when the sun goes down. I love my Mozy wrap for events like this.
Snacks
You have your movie picked out, the projector is ready, and everyone is getting comfortable, but there's just one thing to remember to make it an authentic theater experience: SNACKS. Popcorn is always a classic, but I usually let the kids pick a flew flavours of chips too (salt and vinegar for me and my teen, ketchup for the younger ones) and some of their favourite candy. You can make whatever movie snacks you want when the "lobby" is your kitchen.
One of my pet peeves about movies is kids rustling in their chip bags or opening candy wrappers during the movies. Setting out those cute movie popcorn containers not only helps create that movie vibe, they also make the snacking a lot more quiet so nobody is annoying their guests (or mom) with their nibbling.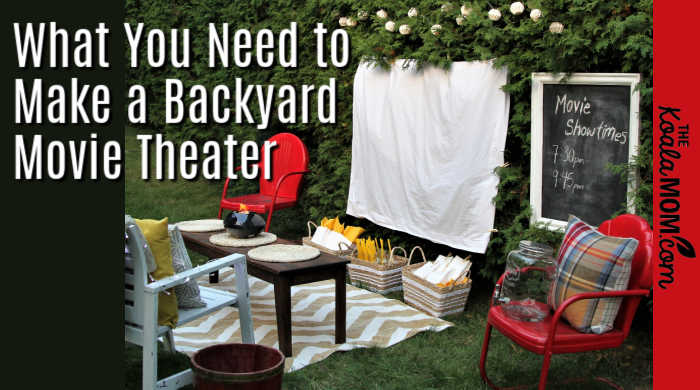 Pick Your Movie!
Now for the fun part… picking a movie everyone will love! Are you gathering together to watch the latest summer release? Or maybe the movie is planned for a special occasion. Host a back-to-school movie party and watch some classics to get the kids in the mood. Or have a father-daughter movie party for Father's Day or a mother-daughter movie party for Mother's Day.
Another advantage of a backyard movie theatre… you could put the kids to bed inside the house and then have your mom friends over to watch a movie outside! There are really so many ideas for your backyard theatre.
Photo credit: Depositphotos.