I love taking pictures. I'm the one with my smartphone in my back pocket, whipping it out to snap pictures of my kids flying ahead of me on their bikes, flopping half-off the couch while reading their books, or burying themselves in the sand at the beach. I snap selfies and scenery and text pictures to my mom and brothers and make photo books of our favourite memories from the year. So when I discovered Custom Envy, I was stoked to have yet another way to show off my favourite pictures!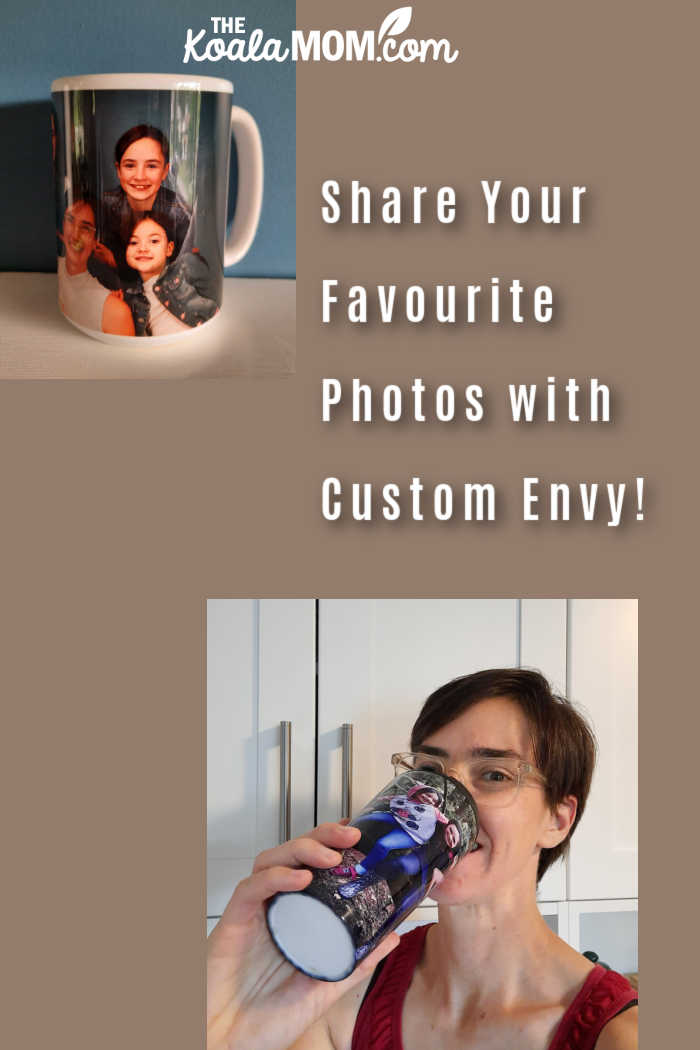 I received these products for review courtesy of Custom Envy; all opinions expressed are my own.
Custom Envy lets you put your photos on phone cases, mugs, blankets, notebooks, clocks and more. These photo products make great gifts for everyone and every occasion—or just a fun way to spoil yourself. You'll know which mug is yours at the office when your kids are smiling at you while you drink your coffee.
Enjoy Your Coffee and Your Kids
I browsed the Custom Envy website, debating what to order, and finally settled on a new tumbler for myself. Both my tumblers have broken lids and I've been watching for a new one for a while, as I like to take my coffee with me on the go. I picked a fun, recent photo of my kids just hanging out and being silly together. We were on a hike and I snapped the photo on my phone. I love the way it captures their personalities.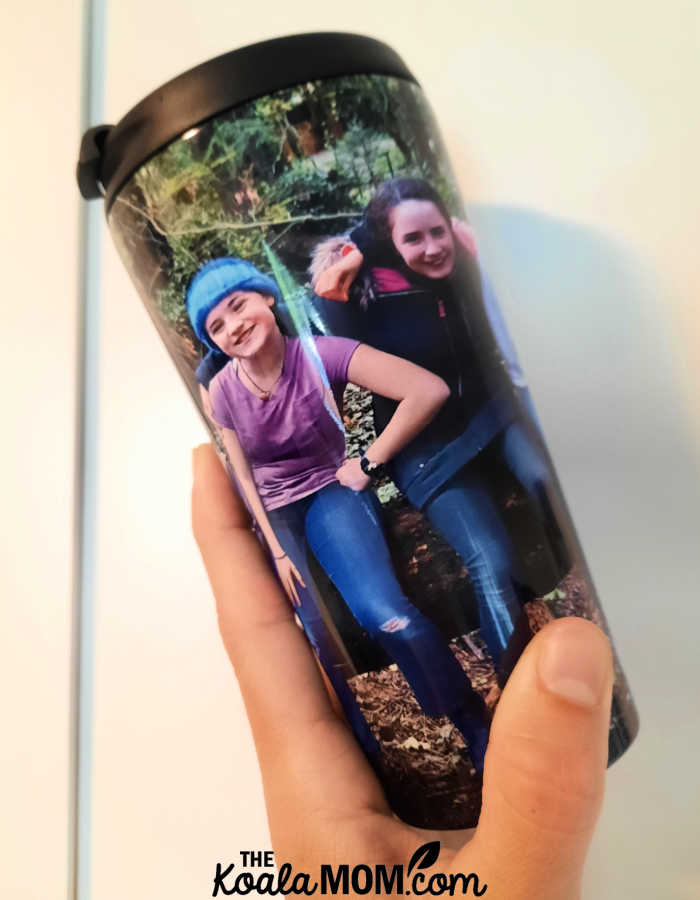 I also LOVED the way it looked on the tumbler. I've seen DIY photo tumblers before, where you slide a photo into the tumbler. That's not what Custom Envy photo tumblers are like. The photo is printed right on the outside of the tumbler. It was slightly stretched at the top to accommodate the shape of the tumbler, but the printing itself was bright and clear. (The photo above doesn't do it justice—the glossy surface and curve of the tumbler made it difficult to take good photos!)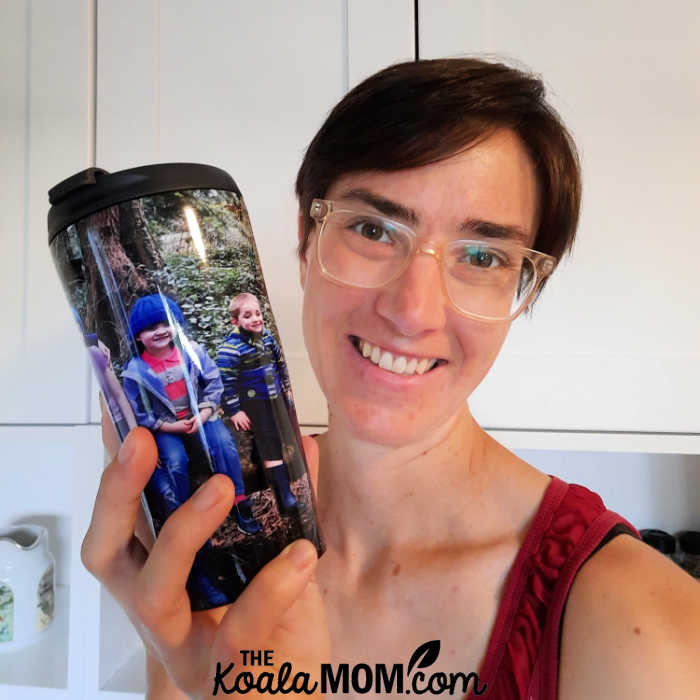 Send a Photo Gift
While I was ordering photo products, I also picked a coffee mug for my mom. She's a coffee addict who drinks her coffee dark and strong. For her mug, I chose a family photo that a friend of mine shot for us back before Christmas. We all dressed in denim and white for the photo shoot and my friend brought her DSLR and lights. I love the photos that we got from this shoot and so putting them on a mug for my mom was the perfect way to share them.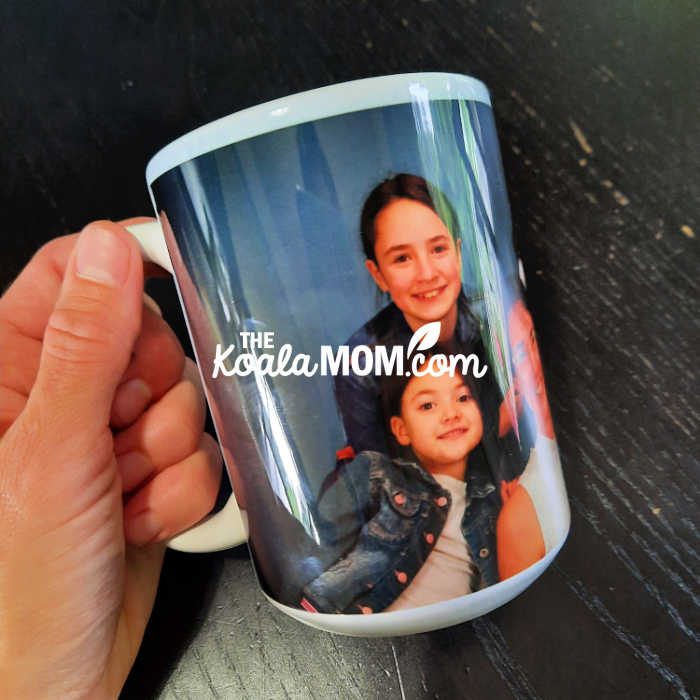 This 15 oz mug provides a nice, big cup of coffee (perfect for Monday mornings!) with a comfortably large handle to hold it. Again, I was super impressed at how well the photo looked printed on the mug. The printing is bright, crisp and clear and the photo wraps neatly around the whole mug. I picked a landscape photo for this mug, so it fit the space well. I wondered how the dark photo would look on the white mug (and if I should remove the background), but I like how it turned out.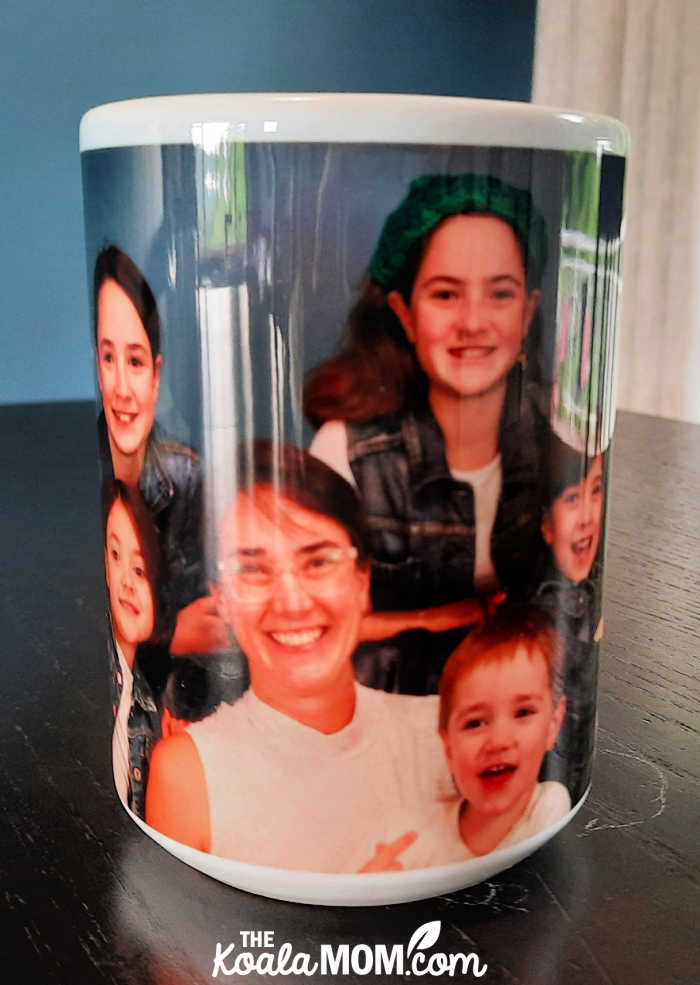 I can't wait to give this mug to my mom when she comes to visit us this summer. She lives in Alberta so we only see her a couple of times a year. That's one reason why I try to send her a lot of photos of the kids, as it helps us feel connected despite the distance between us. Now, she'll have us all smiling at her every day as she drinks her coffee.
Share Your Favourite Photos Today!
If you also love snapping photos at every opportunity, I encourage you to check out Custom Envy and print some of your photos! Think beyond photo albums and framed pictures… coffee mugs and blankets with photos on them are pretty cool! Browse their website for great gift ideas for yourself and your friends and family.
How do you share your favourite photos with friends and family?