Are you in the process of planning your next vacation? If so, make sure to read these 6 tips! Planning a vacation can be a lot of work, but it's definitely worth it when you finally get to relax and enjoy yourself. These tips will help you stay organized and make the most out of your travel experience.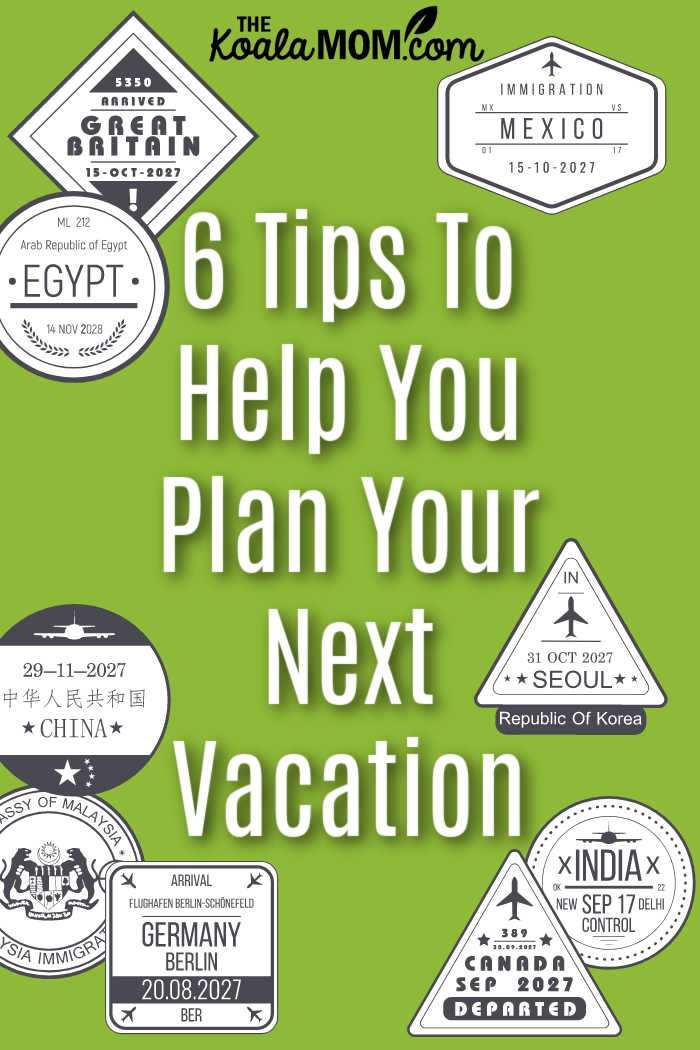 1. Make A List Of The Places You Want To Visit
If you're not sure where you want to go on your next vacation, make a list of the places you've always wanted to visit. This will help narrow down your options and make it easier to plan your trip.
A good way to narrow your list is by considering your travel budget, the time you have for vacation, and your interests. For example, if you're interested in history, you may want to visit a place like Italy or Turkey. If you love the outdoors, then somewhere like Yellowstone National Park might be a good option.
Once you've made your list, do some research on each of the places to see if they're actually worth visiting. Read travel blogs, look at photos online, and talk to friends who have been there before. You can even just Google something like, "Fun things to do in Rome," and you'll get great results. This will help you further narrow down your options and choose the perfect destination for your next vacation trip.
2. Research Your Travel Options And Find The Best Deal
When you're planning your next vacation, it's important to do your research and find the best deal possible. There are a lot of travel websites and resources available, so take advantage of them! Compare prices, read reviews, and look for any special deals or discounts that might be available.
Don't forget to also check with airlines, hotels, and rental car companies directly. They may have offers or promotions that aren't listed anywhere else. And once you've found a good deal, book it right away! Prices can change quickly, so you don't want to risk losing out on a great deal by waiting too long.
3. Pack Light
This may seem like an obvious one, but you'd be surprised how much stuff you can accumulate when traveling. Try to stick to the essentials and pack clothing that can be easily mixed and matched. The best clothes to pack are:
Breathable fabrics
Layers
Neutral colors
Another way to save space in your suitcase is to roll your clothes instead of folding them. This method not only saves space, but it also helps prevent wrinkles.
4. Plan Out Your Activities For Each Day
Planning your activities for each day will help you make the most of your trip and ensure that you see and do everything that you want to. Use travel websites and guidebooks to figure out how much time each activity requires, and where it will fit in your travel itinerary. You should also try to plan activities in close proximity to each other—you don't want to be spending all your travel time getting places!
When it comes to planning your activities, be sure to factor in some downtime as well. This is important for two reasons. First, so that you can rest and recharge. Second, so that you have time to explore and stumble upon new and exciting things.
A good rule of thumb is to plan for two or three activities per day. Any more than that, and you're likely to get overwhelmed and tired! Of course, this will vary depending on the type of trip you're taking. If it's a beach vacation, for example, then chances are your days will be more low-key.
5. Take All Of The Necessary Documents And Visas
Depending on your destination, you may need a passport and/or a visa. Make sure to check the requirements well in advance so that you have plenty of time to obtain the necessary documents.
Most countries require:
a valid passport
a visa, if necessary
proof of onward travel
Some countries also require:
proof of sufficient funds
vaccination certificate
Make sure to check the requirements for your specific destination well in advance so that you have plenty of time to obtain the necessary documents. Depending on your nationality, you may be able to apply for an eVisa or Visa on Arrival, which can simplify the process.
If you're traveling with children, be aware that some countries have special requirements, such as birth certificates and/or notarized parental consent forms. Again, it's best to check in advance so that you have all the required documents.
6. Relax And Enjoy Your Vacation!
Now that you have all the tips to plan your next vacation trip, it's time to relax and enjoy your well-deserved break! After all the planning and preparation, sit back, put your feet up, and enjoy some rest and relaxation. You've earned it!
Have you ever gone on vacation and wished you had planned it better? Maybe you didn't research your options enough, or you packed too much and ended up being weighed down by all your stuff. By following our simple tips, you'll be able to relax and enjoy your holiday without any worries.