With the warmer, sunnier days approaching, I'm ready to get out and explore the lower mainland! I've been planning small "staycations" for my kids—daytrip adventures to various attractions and places near us. Our first adventure was to Richmond, where we biked, played, and dined for an afternoon. If you're looking for a family-friendly adventure in the lower mainland this summer, here's a few days to spend a day in Richmond, BC.
Bike the West Dyke Trail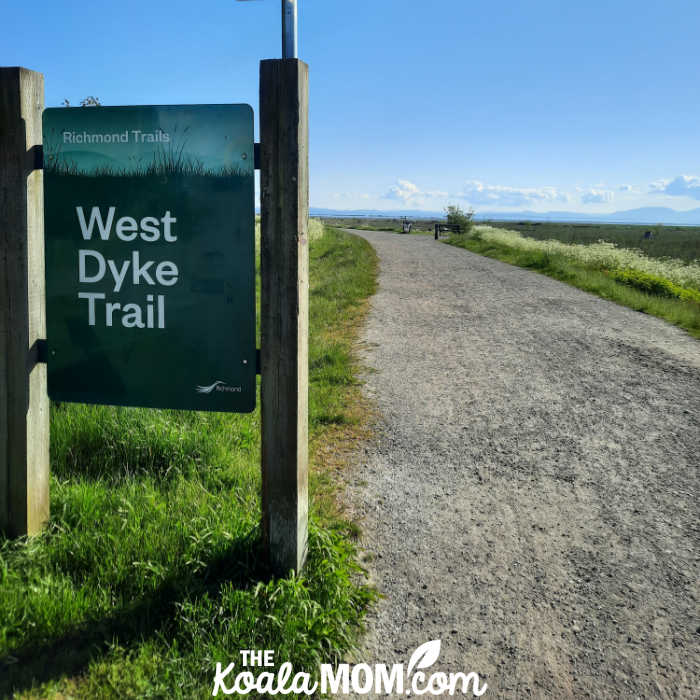 Richmond offers many easy, scenic bike trails. Most of the city is located in the flat delta beside the ocean, so its an excellent place to cycle as a family. The West Dyke Trail follows the coastline on the west side of Richmond. You'll be able to watch planes take off from the airport and enjoy excellent views of Vancouver Island across the Strait of Georgia.
We parked at the north end of the West Dyke Trail, near the Terra Nova Playground. Thankfully the playground itself was somewhat hidden by trees, so my kids didn't realize it was there. I told them we'd go on a bike ride to a playground. We unloaded the bikes, used the washroom beside the trail, and then set out south.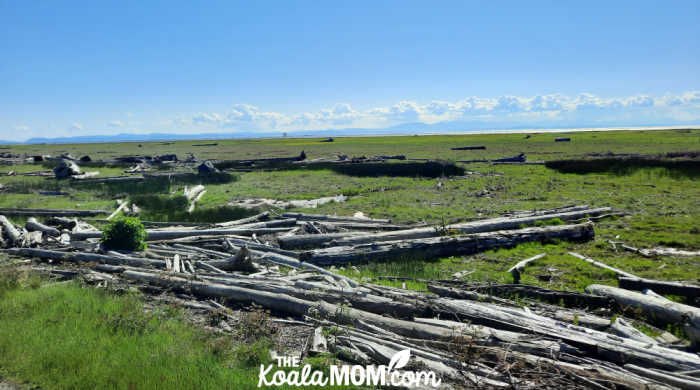 On a Saturday afternoon, the trail was busy with other cyclists, joggers and walkers. It's definitely a popular area of Richmond. There are benches and picnic tables along the trail if you'd like to stop and admire the view or have a snack. There was also a washroom a couple of kilometers along, which we stopped to use again.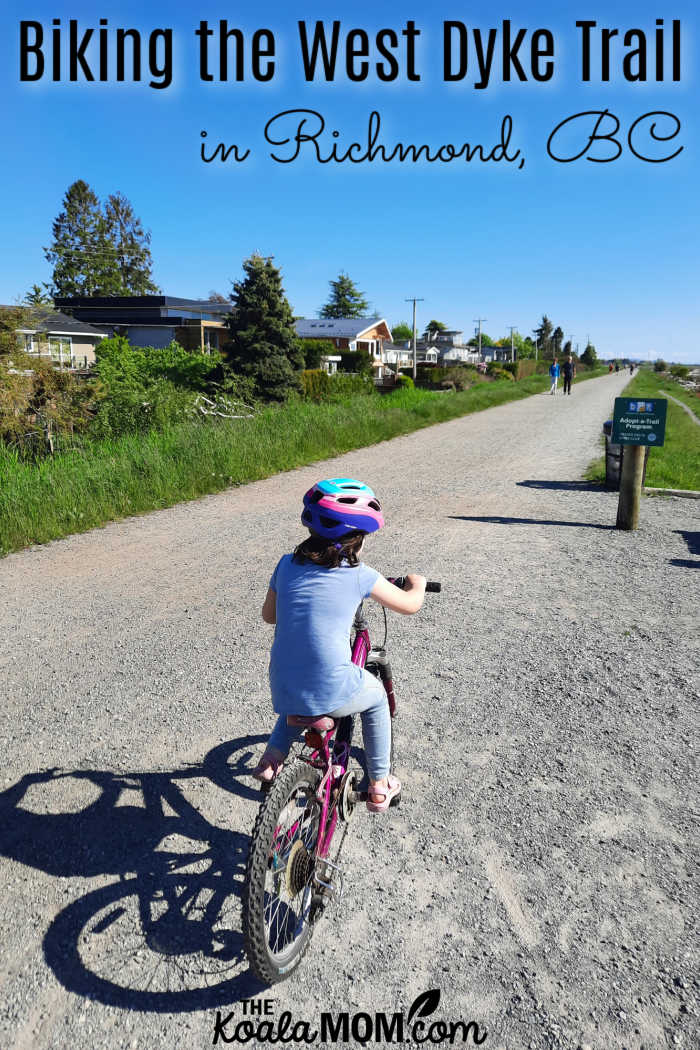 Each km was marked by a sign post, so we knew exactly how far we'd ridden. The kids wanted to turn around at km 3, but I convinced (bribed) them to one more km. We turned back at 4 km. For the last km back to the playground, Pearl was biking a lot more slowly and Joey had gotten tired of riding on his trail-a-bike behind me, so he'd gotten off to run.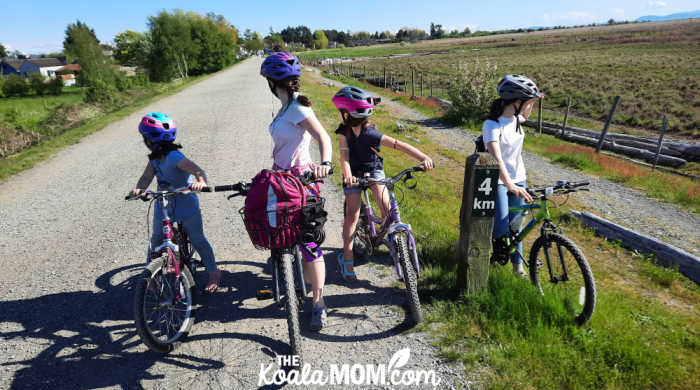 Play at Terra Nova Playground
Back at the start of the trail, I loaded our bikes back onto my truck and then we walked over to Terra Nova Playground. This is a newer playground that sprawls across quite a bit of area, with a giant climbing structure and a tunnel slide, a zip line, sand feature, and much more. I followed Joey around and let the other girls explore as they wanted, knowing they'd come back to find me when they needed something. I was so busy chasing kids that I didn't get any pictures of them running around having fun.
Explore Steveston
Sunshine, Lily and I have been watching ABC's Once Upon a Time (now available for streaming on Disney+) and thoroughly enjoying it. When I told Sunshine we could see some of the places where the show was filmed, she jumped at the opportunity. After playing at Terra Nova Adventure Park, we found our way to Steveston, a little village within Richmond, to look for any familiar landmarks from OUAT (as it's affectionately called around here).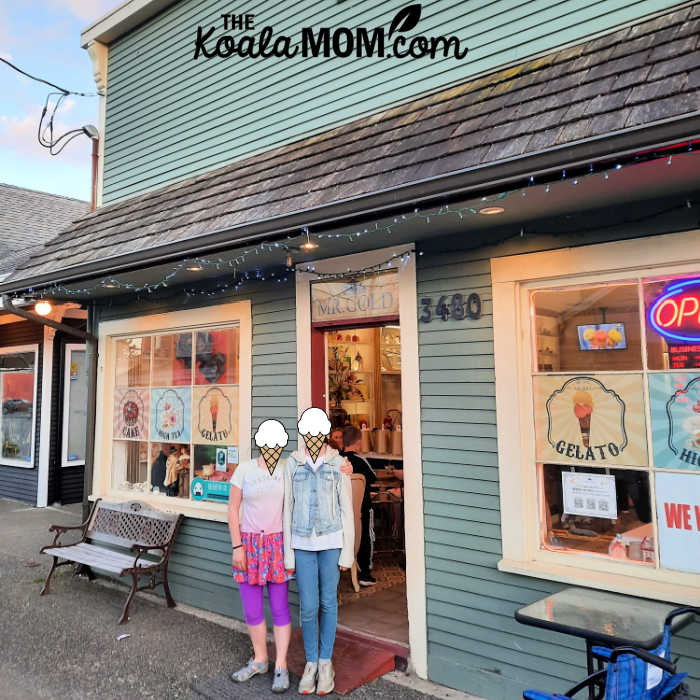 As we circled through Steveston, we soon caught sight of the clock tower, Granny's (aka the Cannery Cafe), and Mr. Gold's (now an ice cream shop rather than a pawn shop). We found parking (after several laps around the block) and walked the few blocks between each location, taking the obligatory tourist pictures at each.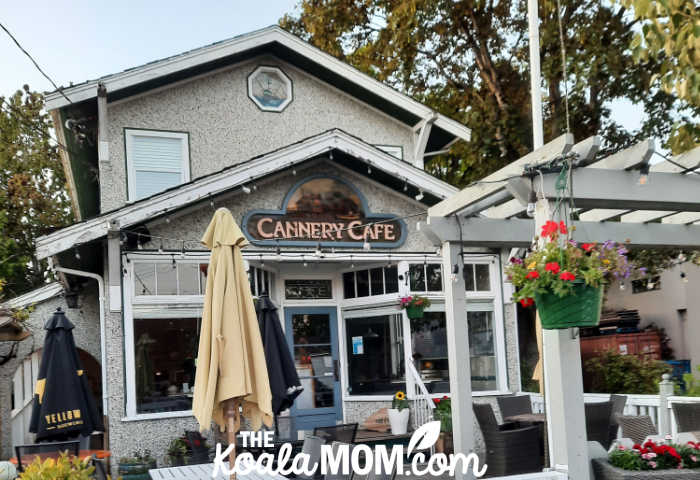 Dining out in Richmond
I'd hoped to take the kids for dinner at Granny's the Cannery Cafe, but it was unfortunately closed by the time we got to Steveston (around 7 pm). We debated between a few other local restaurants and then went across the street to Dave's Fish & Chips.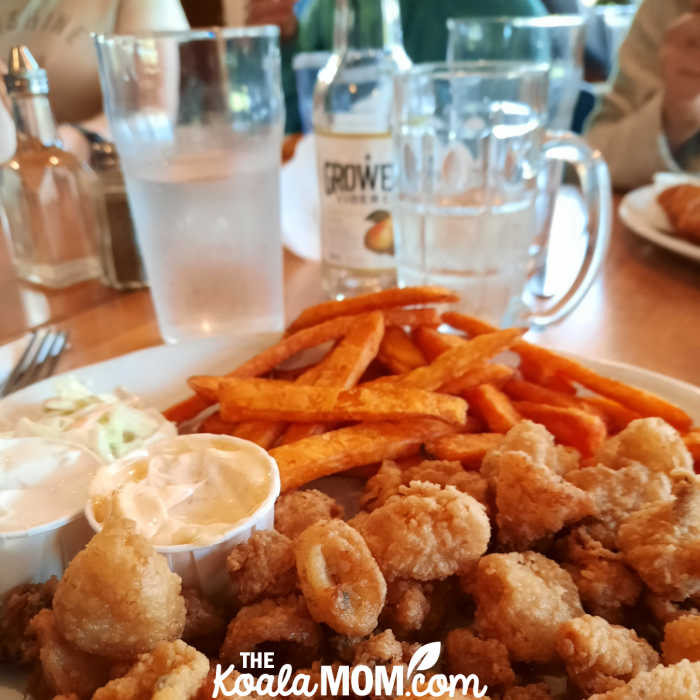 It was one of our first times eating out again after the pandemic and it felt amazing just to be sitting in a restaurant again. Our waiter was friendly, quick and very helpful and the food was delicious. A hearty, delicious meal in a welcoming family restaurant was the perfect ending to our summer day in Richmond.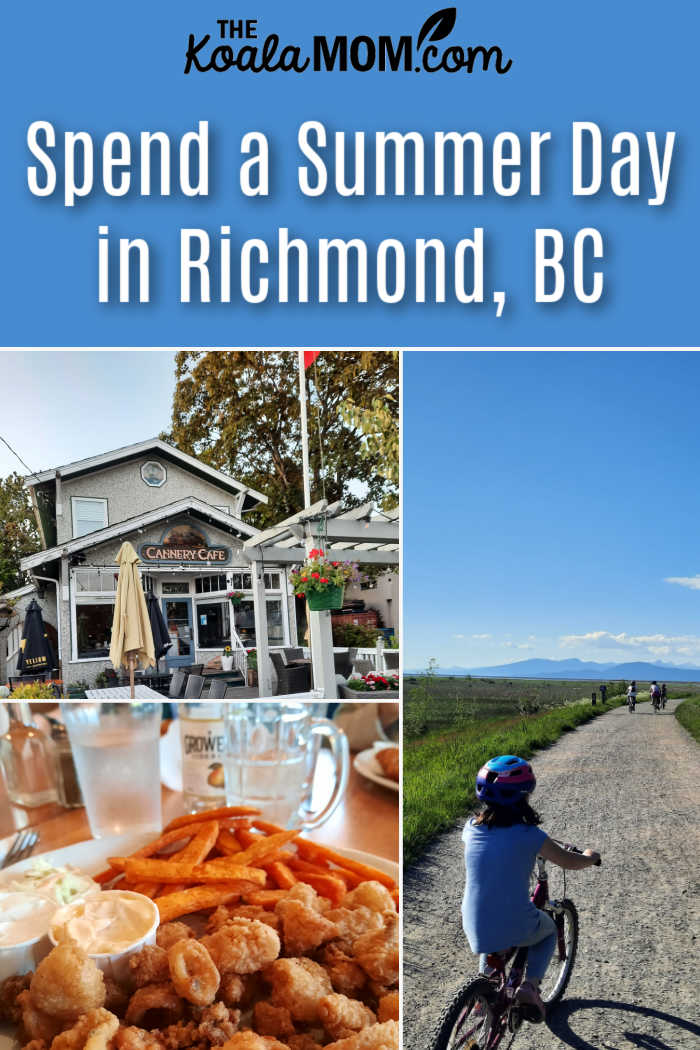 Other Places to Explore in Richmond, BC
There are many other great places to explore in Richmond, BC. Here are a few other ideas to spend a day in Richmond:
The Gulf of Georgia Cannery is a national historic site located in Steveston. They host various cultural and historical events throughout the year but also offer tons to see and do on a regular visit.
Richmond Olympic Experience lets kids learn more about the Vancouver 2010 Olympics. There are simulators here where kids can try out different sports, as well as interactive exhibits and video highlights of the games.
Watermania is a fun sports and entertainment complex with a wave pool and two waterslides including other amenities.
We've visited some of these Richmond attractions in the past with our KidsWorld Summer passes, which are not only an affordable way to experience all that the lower mainland has to offer but also eliminate the planning because a new event is planned for you each weekend!
Use the map below to start exploring ideas around Richmond for your own staycation:
What's your favourite way to spend a day in Richmond?