Language arts can be a lot of fun as a homeschooler, because there are so many great books to read. However, it can also be difficult to teach the nitty grit details of English grammar (gerunds, anyone?) and if your child doesn't like writing, then anything from comprehension questions to essays can feel like climbing a mountain. Here's a list of awesome language arts resources that we've used in our homeschool at various times. Hopefully some of them will inspire your homeschool students with a love of reading and writing!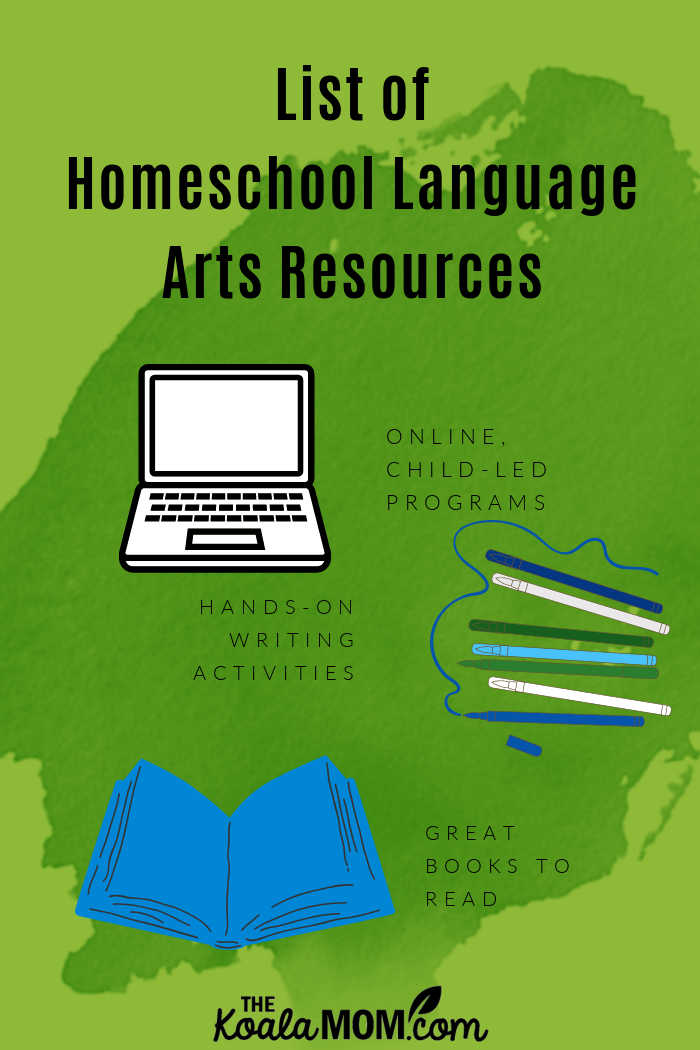 Night Zookeeper
Night Zookeeper is a fun, safe writing community for kids. They offer exciting and engaging games to increase children's vocabulary and improve spelling, puzzles and challenges to increase grammar skills, and interesting writing prompts to get kids putting it all together and creating their own stories. Kids draw magical or mythical animal to travel through the Zoo with. As they explore the Zoo, they encounter different challenges, puzzles and games that help teach them various writing skills. They get instant feedback on their writing, which helps them improve and keep going.
Age range: 6 to 12
Course type: online (child lead)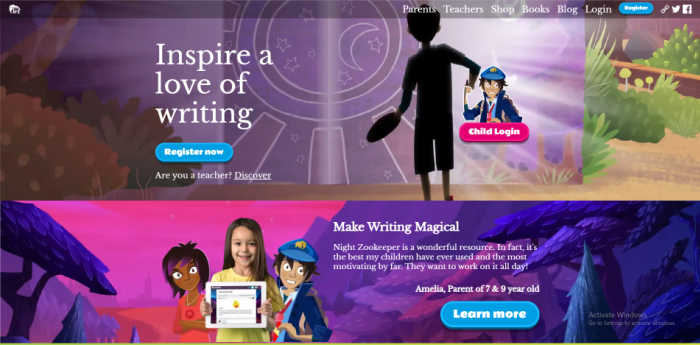 Homeschool Navigator
Home School Navigator is a literature-based online program that teaches grammar, reading, writing, and vocabulary. Children learn about different types of literature and stories, discuss the elements of each, and think more about what they read. Each week usually has one or two read-aloud stories, an instructional video, and some activities. Students are also encourage to write in a journal, read a "just-right" book by themselves, and do a poetry extension. There are master book lists (to take the library) and detailed lesson plans for the parent, as well as fun literature-based crafts for the kids.
Grade range: K to 5
Course type: online with videos and printables (parent lead)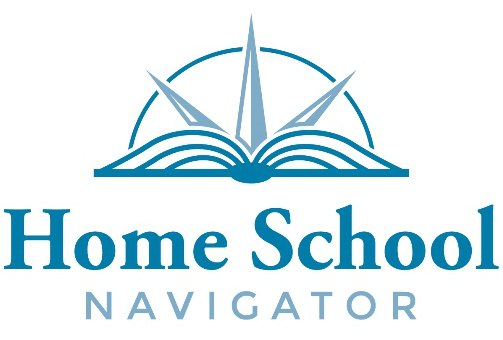 WriteAtHome
WriteAtHome offers online writing and literature courses for middle and high school students. The Middle School Narrative Writing Course is one of the 8-week writing workshops offered, where students can pick a specific topic (such as narrative writing, expository writing, creative writing, literary analysis, etc) to focus on. WriteAtHome also offers annual online writing courses that run from August to April, semester writing courses (for fall or spring semesters), and the Wasko Lit courses (which focus on reading great books).
Grade range: 4 to 12
Course type: online (teacher lead)

PACE
Program for Achieving Character Education for Catholic Schools and Homes (PACE) is an in-depth curriculum that helps parents instill strong character in their children. Based upon William J. Bennett's classic Book of Virtues and other recommended books, PACE covers self-discipline, work, perseverance, faith and trust, compassion, friendship, courage, loyalty, responsibility, honest, and prayers. Based on short, interesting stories, this program invites children to internalize and think about each character quality and how they can apply it to their own lives.
Grade range: K to 6
Course type: books and workbooks (parent lead)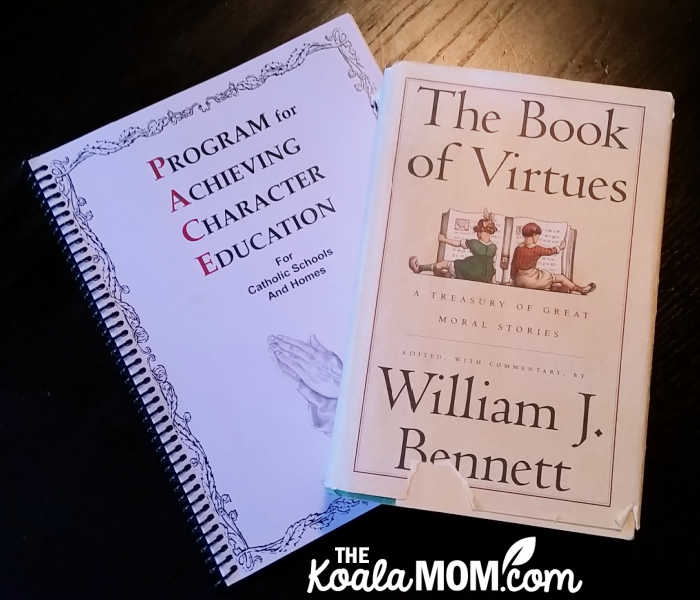 Reading Eggs Workbooks
200 Essential Reading Skills is based on the multi-award-winning reading program, Reading Eggs. These workbooks give kids pen-and-paper exercises to help boost their reading comprehension, spelling and grammar. My kids have used the online Reading Eggs program since preschool. The Reading Eggs workbooks coincide with what your child is learning online. Each lesson is intended to take only 15 minutes a day, making it easy and fun to complete. Each week's learning is organized over five days—two days for reading comprehension, two days for a spelling lesson, and one day for grammar. Every 9 weeks there is a comprehensive review. Over 36 weeks, your child will learn 200 essential reading skills, one skill at a time!
Grade range: K – 5
Course type: online plus workbooks (child lead)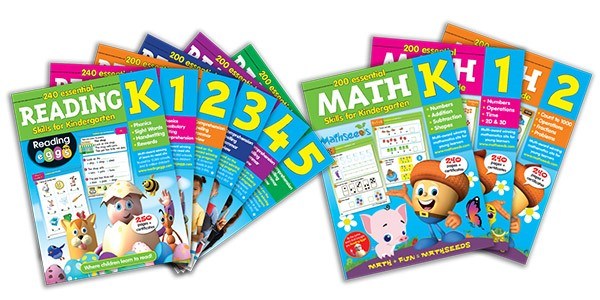 Night of the Cossack
Night of the Cossack is historical fiction for middle school children that includes 10 lesson plans. It's perfect for a reluctant reader or a fun summer unit study. This novel is a literature-based curriculum guide and lesson plan. Students are invited to highlight, underline and write in the book as they read it and work their way through the ten lesson plans. Lessons cover language arts, math, science, social studies, and moral dilemmas. Students will need access to the internet for many of the activities.
Age range: 12+
Course type: novel (child lead)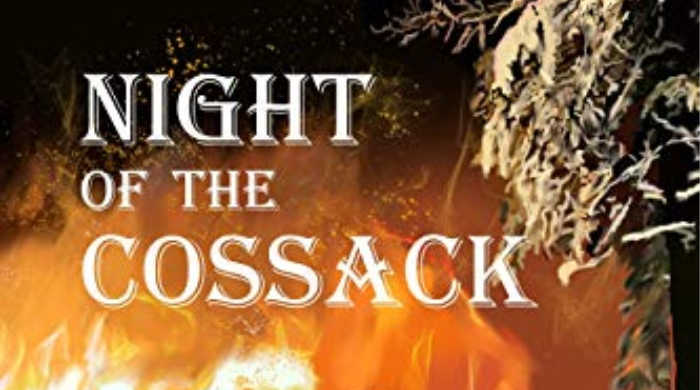 Building Writing Skills for kids
Building Writing Skills – Essential Tips & Techniques seeks to "equip students with the tools they need to strengthen their writing skills." This hands-on workbook has brief lessons and examples, then space for students to apply what they've learned. This writing skills workbook is available as either a paperback or an ebook. It includes 88 pages of activities for children. The workbook teaches kids about specific grammar such as vivid verbs, specific nouns, strong adjectives; practical writing tips such as unnecessary describing words and active voice vs. passive voice; and much, much more!
Grade range: 6 – 12
Course type: printable workbook (child lead)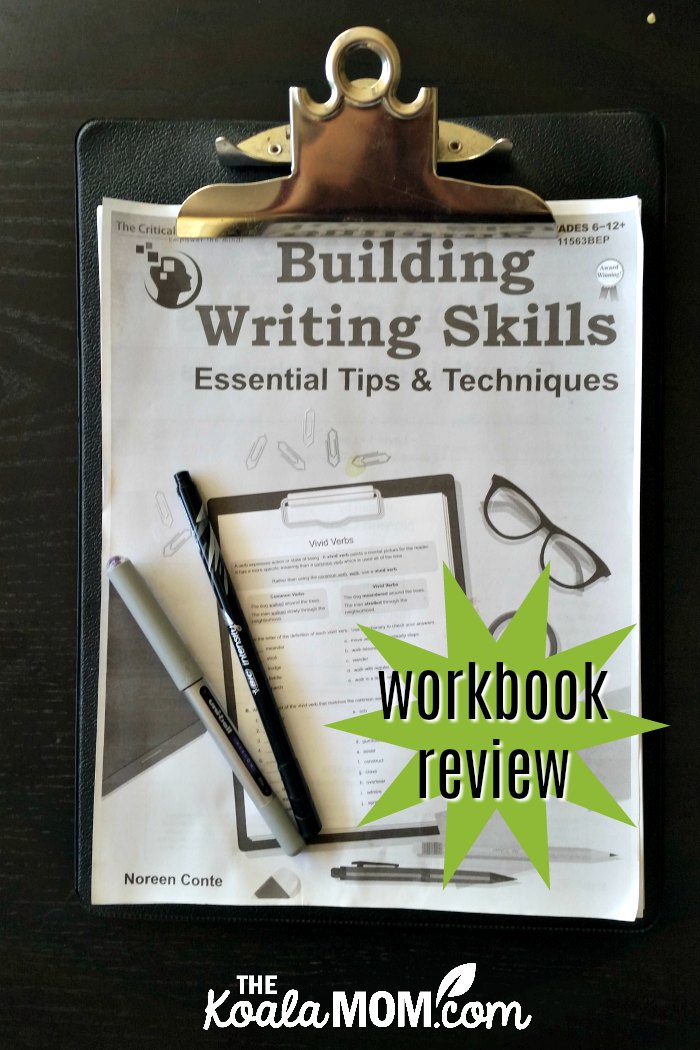 GrammarPlanet
GrammarPlanet is an online grammar program that helps kids learn about grammar, from gerunds to adjectives and beyond. The direct, repetitive grammar instruction helps children understand and remember different sentence parts. Each online grammar unit includes an instructional video and printable notes. After students watch the video in each unit, they work through the practice questions. Here they mark the nouns, articles, pronouns, etc. in a series of sentences. It's easy to click on each word and select the term that applies. Once they've completed each sentence, they click "submit" and get instant feedback on their work.
Age range: 10+
Course type: online (child lead)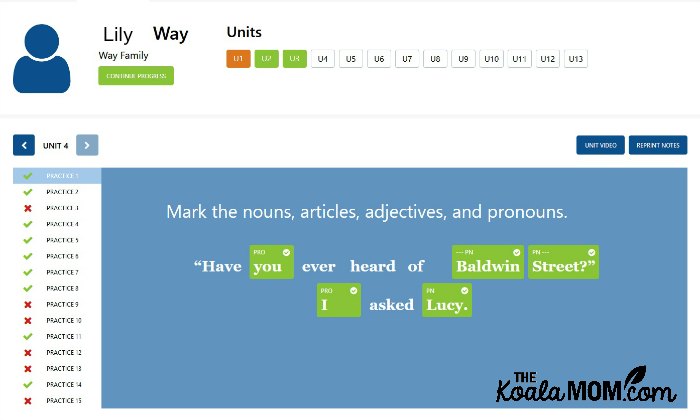 Check out my other homeschool resource lists: