"What are you working on?" my husband asks, glancing at the computer in front of Lily. Typed words fill her white screen. "Is that for school?"
"No, this isn't school," she answers, leaning towards the screen. "This is a fun writing course Mommy found for me."
I smile as I turn back to my own computer screen, also filled with rows of typed words. For most kids, the online writing courses offered by WriteAtHome would be considered schoolwork. For Lily, my budding author and illustrator, it's a fun, after-school excuse to write another story and get some feedback on it. Read on to find out more about the online literature and writing courses for homeschoolers from WriteAtHome.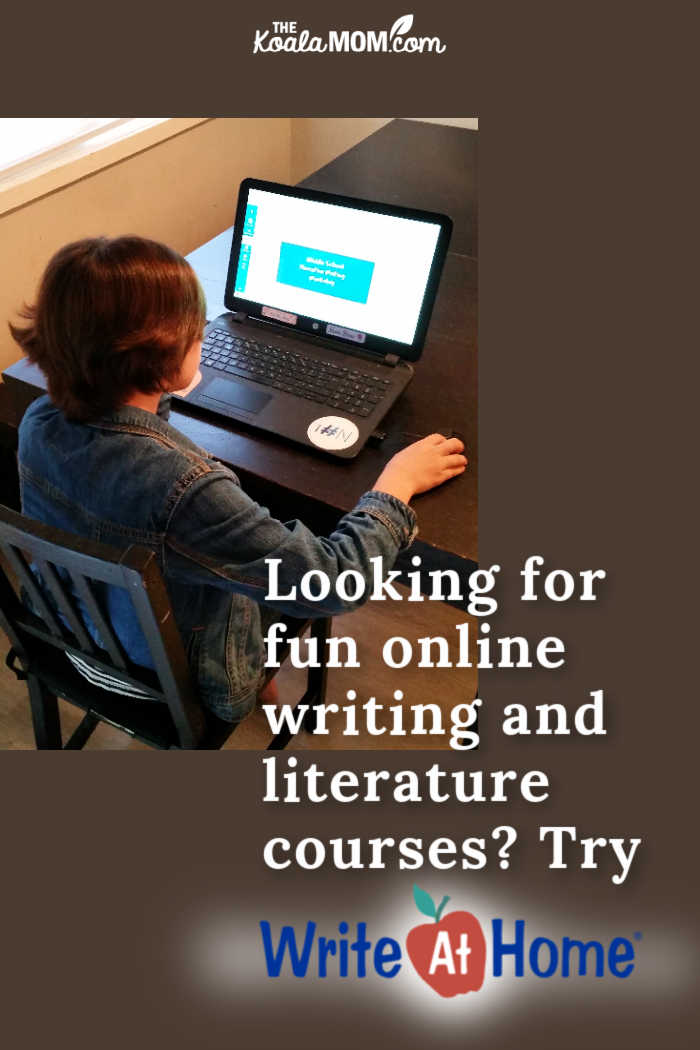 I was compensated for my time in writing this review; all opinions expressed remain my own.
Teaching Homeschool Writing
As a homeschool mom with a background in English and writing, you might expect that this would be my favourite subject to teach. Math and science aren't really my thing, but I love playing with words. However, teaching writing has proven to be a bit more difficult. I've discovered that sometimes there's a big gap between knowing how to do something myself and being able to teach my kids how to do it.
I have no problem helping my daughters with their grammar assignments; it's very clear what's a noun or what's a preposition (kinda like the black-and-white easiness of marking math). When it comes to teaching them how to write essays and short stories, however, I begin to doubt myself. I've been through university writing classes, so when I'm reading Lily's short stories, I have to be careful not to rewrite it too much or push her too far. When Sunshine needs to write a science report, I'm unsure what's appropriate for a Grade 7 student. Should it be one page or five?
WriteAtHome takes all the questions out of teaching writing, because they have experienced teachers who can give Lily solid, practical feedback (without overwhelming her). She's been able to work through her online writing course at her own pace, without my help. She's always scribbling stories on scraps of paper or in notebooks; with WriteAtHome, she has a reason to write and someone to read her stories, and she's thriving on that.
An Overview of WriteAtHome's Online Courses
WriteAtHome offers online writing and literature courses for middle and high school students. Lily has been working on the Middle School Narrative Writing Course. This is one of the 8-week writing workshops offered, where students can pick a specific topic (such as narrative writing, expository writing, creative writing, literary analysis, etc) to focus on.
WriteAtHome also offers annual online writing courses that run from August to April, semester writing courses (for fall or spring semesters), and the Wasko Lit courses (which focus on reading great books).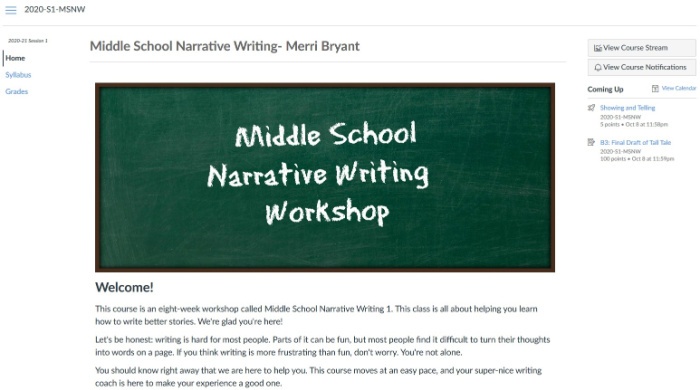 Course costs range from $500 for the annual writing class to just under $200 for the 8-week workshops. There are discounts offered for students who enroll in multiple classes (such as taking a literature and a writing course at the same time). They have a 100 % Satisfaction Guarantee: You get your money's worth or you get your money back. WriteAtHome gives parents and students 100 days to evaluate an annual course. If it doesn't meet expectations, they'll withdraw the student and provide a full refund.
Middle School Narrative Writing Workshop
In the Middle School Narrative Writing Workshop, Lily logs in weekly to see her lesson and assignment. There are deadlines for each quiz and assignment, and a real teacher is marking her work. However, there are no live lessons or specific meeting times for this online writing course. This has worked well with our blended homeschool this year, as Lily is in classes on Tuesdays and Thursdays and can work on her writing workshop in her free time on Monday and Friday afternoons.
Lily's teacher sent us a friendly, welcoming email just before the course started:
Welcome aboard our new WriteAtHome course where we will learn together while enjoying the process! I'm Merri Bryant (mom of seven – grandmom of five) and I'm thrilled to be your writing coach! Consider this an open invitation to email me any time with your writing thoughts, ideas, questions, and suggestions. I've enjoyed the works of hundreds of young writers in my 30-year writing/teaching/editing career, and your writings will surely be uniquely special to me.
The WriteAtHome courses are hosted on Canvas, a web-based application that was super easy to navigate. Lily figured it out quickly and needed no help completing her lessons. When I logged in as the parent / observer to see what she'd been working on, I also found it easy to take a look at her grades and syllabus. There's an inbox for communication between participants / parents and the teacher, a calendar which shows the course deadlines, the course syllabus, and the student's grades.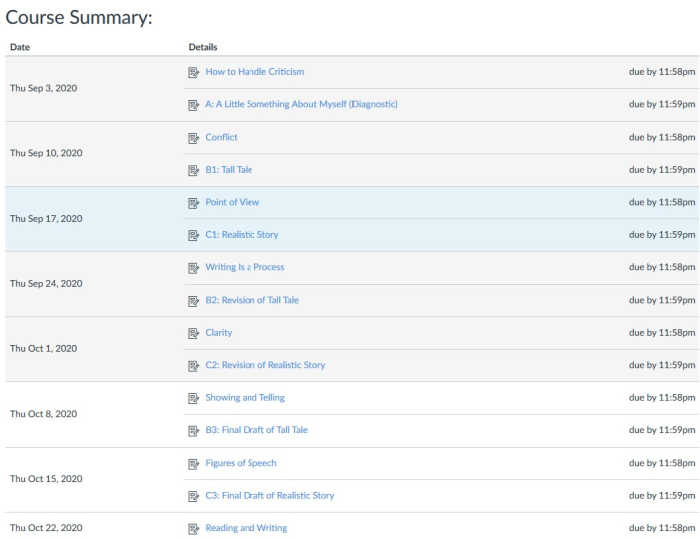 The Middle School Narrative Writing Workshop covered topics such as handling criticism of your writing, the process of writing, building conflict in your story, and figures of speech. Students write two types of stories during the course: a Tall Tale and a Realistic Story. (Lily was sad when she look at the calendar and realized her online writing course is almost done and she "only" gets to write two stories!)
Lily's teacher wrote encouraging comments that gently nudged Lily to do more with her writing, such as, "Aren't Tall Tales fun? It's especially fun to imagine it as truth. You wrote an imaginative Tall Tale all packed with actions. I've added ways to expand these ideas to create even more story-lines." She complimented Lily's punctuation and suggested that she add more details to her descriptions.
She gave Lily specific things to work on for her second draft, but also left it up to Lily how much she wanted to add to the story. At the end of Lily's story, she wrote, "Hmmmm….good ending, but with your expert writing skills, I feel you could boost this quite a bit with a rollicking story of how this thief was caught. But it's your paper—YOUR choice!"
Overall, Lily had a great experience with this 8-week writing course and I'd definitely look into the longer courses for her (and for Sunshine, who needs the help with her writing skills!).
A Student's Perspective on WriteAtHome
I asked Lily to tell you in her own words what she thought of her online writing course. Here's what she says:
WriteAtHome has been a fun experience. I've always liked to write, and this course has given me a fun way to expand those skills. A week or two before the course started, I got a welcome email with all my login information, and a link to the WriteAtHome website. Soon after, a course appeared in my student dashboard titled "Welcome to WriteAtHome." This mini course had more information about how Narrative Writing worked and about how Canvas is used during the course.
I then got a welcome email from my writing coach and another mini course explaining things like submitting assignments and how the grading rubric worked. After that I jumped right in. Each week starts with a lesson on writing, with a quiz at the end and a new assignment. I submitted my first "Diagnostic" assignment, which doesn't get graded, but simply gives your writing coach a perspective on your writing skills. After I submitted my assignment, and while my writing coach was looking at it (or grading or sending feedback on it, in later assignments), I worked on my next quiz and assignment.
Viewing feedback was easy, and my writing coach used bright colors and encouraging statements, making it seem like I was getting feedback from a friend and not a teacher. Overall it's been a fun, educating experience that I can't wait to complete.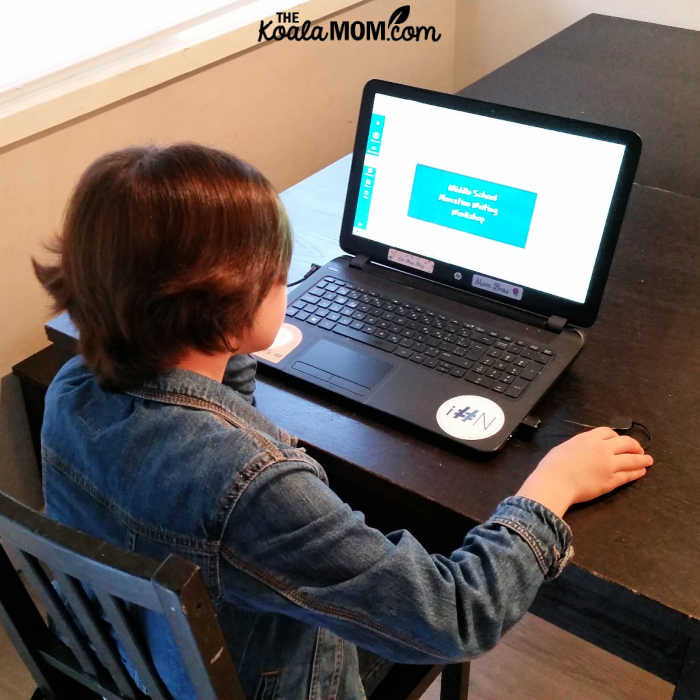 Didn't I say she's a writer? I think I'll have soon have a new contributing writer here at the Koala Mom. 🙂
Why Writing Courses Matter
Strong writing skills are an invaluable asset to any student, whether they plan to pursue a writing career or any other career. Even as an engineer, my dad often talked about how much writing he had to do. He was the one who pushed my brothers and I to do more writing and taught us how to write reports. He always said that no matter what I chose to do, I would do well, because I could communicate well in writing. That's a skill I want to pass on to my own daughters, and WriteAtHome takes the pressure off in this area.
…writing is vital. Students are required to write in school and in a huge number of occupations. Heck, in today's social media world, it's part of everyday human interaction. The truth is, students who struggle to put their ideas into writing—even if they are exceptionally smart—will have a hard time convincing others that they are well-educated. ~ Brian Wasko, WriteAtHome founder and president
Having your homeschooled kids complete online courses is also a great way to help prepare them for college. As I went through Lily's assignments, I noticed that she'd handed a couple in late. Whoops! I hadn't noted her deadlines myself to remind her about them, and she hadn't mentioned them to me when she started the course. Learning about deadlines in a friendly, relaxed environment like her Middle School Narrative Writing Workshop is much easier than learning about them in a first-year university course. She was also able to experience getting feedback from someone other than Mom, and learned how to access online courses and submit her assignments online.
More about WriteAtHome and Brian Wasko
Brian Wasko is the founder and President of WriteAtHome. He graduated from the University of Virginia with a degree in English, then taught for ten years in the public school system. After working with local homeschoolers and discovering an effective and engaging way to teach writing, he launched WriteAtHome in 2001. Brian is the creator of the WriteAtHome curriculum and writing coach training materials. He is a frequent featured speaker at homeschool conventions. Brian and his wife Melanie homeschooled their four daughters, now all in college and beyond. They live in Virginia Beach, Virginia.

Subscribe to the WriteAtHome email list to stay in the loop about future courses and also get a copy of Brian Wasko's ebook, Ten Mistakes Teen Writers Make and How to Avoid Them (the Mistakes, Not the Teens). Drop by the WriteAtHome website to check out all their courses or enroll your teen in a course.
Has your middle or high school student tried an online writing course? Which WriteAtHome course do you think your child would be most interested in taking?