I was in love with Sing as soon as I saw the koala on the poster. An animated musical starring a koala and a host of other cute animals? Yes, please! Sing was a huge hit with my whole family and we've been super excited to see its sequel, which hit theatres this spring. Sing 2 is now available to own at home and we planned a family movie night to celebrate! (Enter to WIN a copy of Sing 2 for your family and plan your own family sing-along music night!)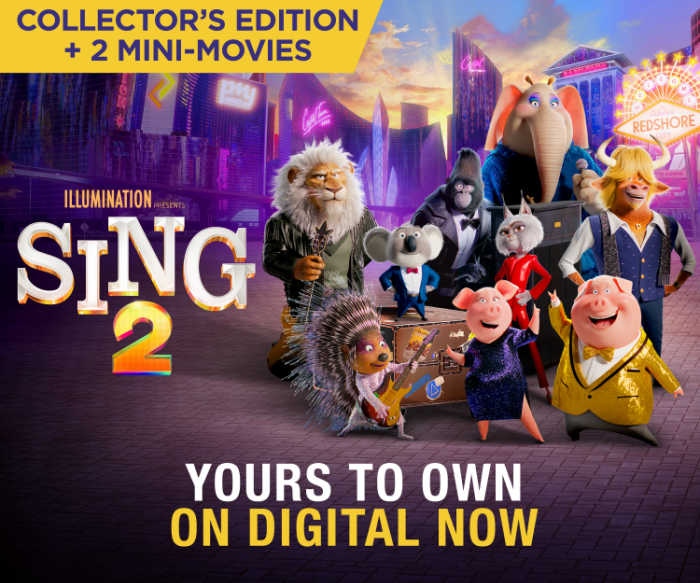 I received compensation for this review; all opinions expressed are my own. This post contains affiliate links; as an Amazon associate, I earn from qualifying purchases.
Sing 2 synopsis
Now that the New Moon Theatre is a local hit, Buster Moon sets his sights on a new goal. He wants to debut a new show at the Crystal Tower in the Redshore City. He and his performers have no connections there, so they sneak into the offices to debut their act for mogul wolf Jimmy Crystal. When the hard-to-please wolf won't even listen to them, Gunter spouts off a crazy idea—their new show will star rock legend Clay Calloway.
Buster runs with the idea, despite the fact that he's never met Clay Calloway, who has shut himself off from the world. He also underestimates Jimmy Crystal, a ruthless showbiz owner who doesn't appreciate being lied to. Gunter and Buster dream up a fantastic stage show that once again pushes his performers to their limits. With time running out, and threats from Jimmy increasing, Buster needs to find Clay in order to save his show—and his life.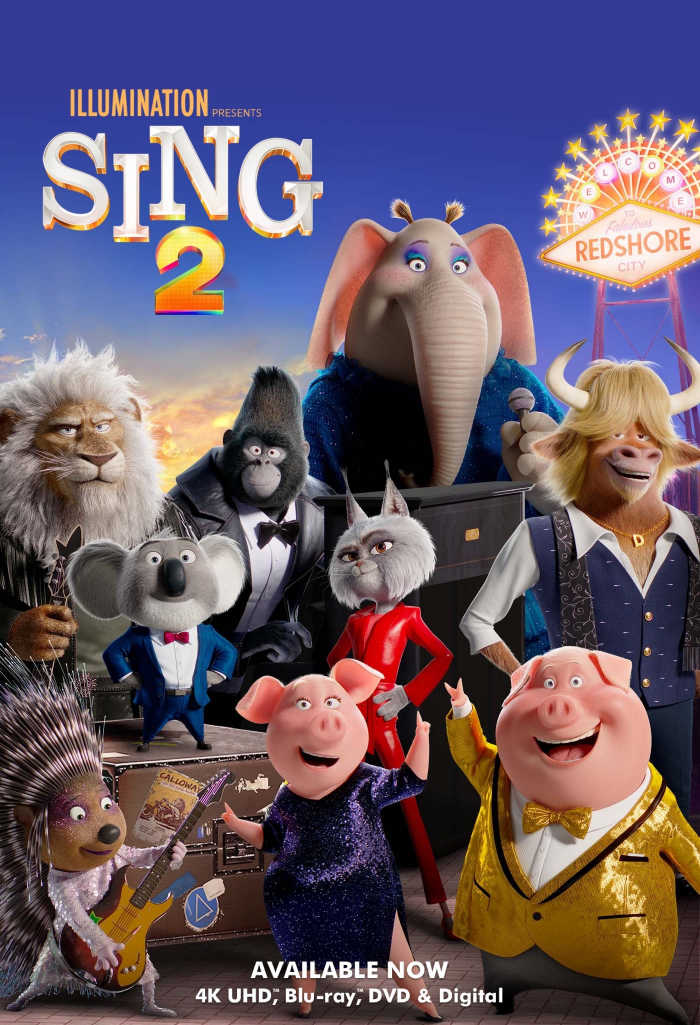 Sing 2 features an all-star cast, with Matthew McConaughey playing Buster, Reese Witherspoon voicing Rosita (one of my favourite characters—a fellow mom trying to juggle kids and dreams), Scarlett Johansson as Ash (the rockstar hedgehog), and Taron Egerton as Johnny (the gentle gangster gorilla). Global music icon Bono makes his animated debut in Sing 2 as Clay Calloway.
Sing 2 combines dozens of classic rock and pop hit songs, electrifying performances, breathtaking artistry and Illumination's signature humor and heart into the definitive feel-good cinematic event of the year.
My Thoughts on Sing 2
It's rare that a sequel movie meets the expectations created by the first movie, but Sing 2 has done that. Each character faces new challenges to overcome, new ways in which they must grow to chase their dreams. There's a really scary bad guy and a feel-good story about the power of music and tons of super fun songs and once again, Buster Moon shoots for the impossible and actually manages to make it happen.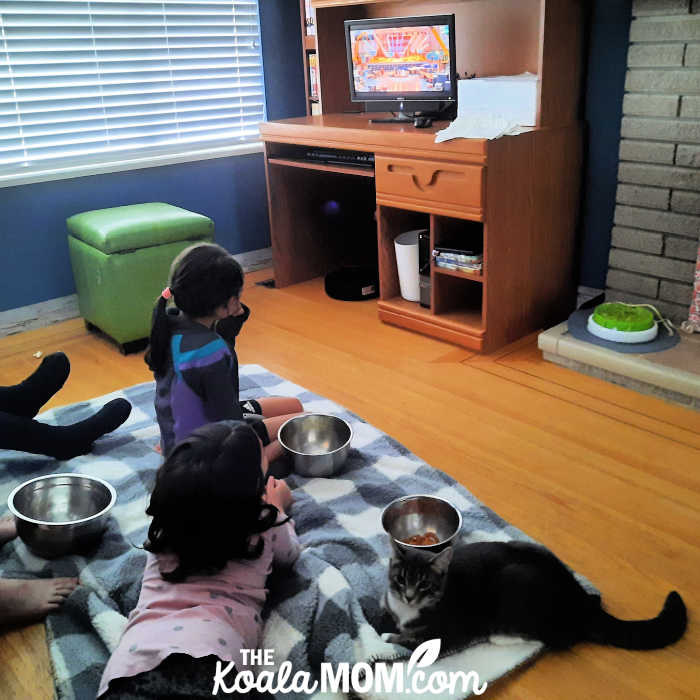 We laughed all the way through this movie. There were so many hilarious moments between the characters. I also loved the character development that happens in this movie. Rosita discovers she has a fear of heights and nearly steps out of the show. She's a typical mom who is willing to take backstage and let someone else have the role that was written just for her… but when Buster's life is in danger, she leaps to the occasion (literally).
My kids absolutely loved the music. Yes, there's great animation and a great story, but the music is really what makes this show. I don't listen to enough pop music to recognize any of the songs, but they were fun and upbeat and I'm pretty sure I'll be hearing them a lot now. The DVD has a sing-along at the end that pops the words on the screen like karaoke, so the kids had fun doing that together after the movie ended.
Plan Your Family Movie Night
So, what are you waiting for? Grab your favourite movie snacks and drinks, pop in the DVD, snuggle under some fuzzy blankets, and let the show begin!
Your 4K Ultra HD / Blu-ray / DVD includes two mini-movies, super sing alongs, how to draw, and more special features to keep the fun going after the movie has ended. We love getting up and having a dance party to the credit music after the movie—it's a great way for the kids to stretch after sitting for two hours!
Watch the trailer now or drop by the Sing website to download an English or Spanish activity kit for your kids. You can also find Sing 2 on Facebook, Twitter and Instagram for more fun movie clips and trivia. Sing 2 is available from Amazon or your favourite entertainment store. Use the Rafflecopter form below to ENTER TO WIN one of TWO copies of Sing 2 for your family!
Giveaway open to residents of Canada and the US over the age of 18 except where prohibited by law. Two winners will be selected by Rafflecopter and notified via email. The Koala Mom is not responsible for the prize or shipping.
Who is your favourite Sing movie character?