A must-visit destination for you is Hollywood, as it is a star-studded place. This is a destination that will be loved by the whole family, even if they are not star-struck. But if you (or your kids) are fascinated with the famous personalities of cinema, it is possible to rub elbows with the icons of Hollywood. Most visitors to Hollywood Boulevard generally come across some of the charismatic residents of the tinsel town. 
The summers in Hollywood are cloudy, wet, oppressive, hot, and long. On the other hand, the winters are mostly clear, windy, humid, comfortable, and short. The weather in North Hollywood ranges from 61 degrees Fahrenheit to 89 degrees Fahrenheit. The temperature has never gone over 92 degrees Fahrenheit or dropped down below 48 degrees Fahrenheit. This makes winter the perfect time to visit (especially for us Canadians who need some sun in the midst of the dark winter!).
You will not mind seeing Johnny Depp enjoying his coffee in Starbucks or Angelina Jolie having a bite in McDonald's. Hollywood still has many great sites to visit that you cannot afford to miss. Here are the must-visit attractions in Hollywood Boulevard (gather the family and start planning your trip!).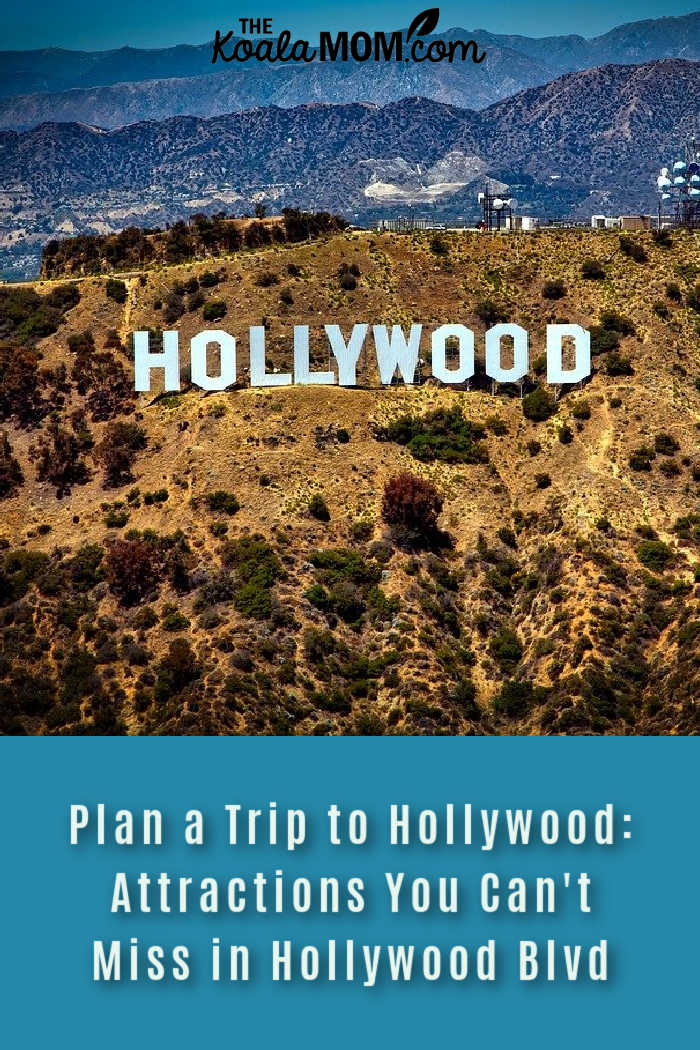 Pssst… make Hollywood part of your Great California Road Trip!
TCL Chinese Theatres
You cannot visit Hollywood without stopping at TCL Chinese Theatres, known for its massive movie premieres. Built by Sid Grauman in 1927, this theatre boasted the most spectacular opening in motion picture history. The US government gave special authorization to import artifacts from China to decorate the theatre. Chinese Theatres was declared a historic-cultural landmark in 1968, and there has always been a restoration program in process to maintain the theatre's beauty.
The theatre attracts celebrities from both past and present to visit and leave their mark forever. Outside the well-decorated theatre, the Chinese Ming Heaven dogs guard the main entrance of the theatre.
Madame Tussauds Hollywood
Another attraction that you would not like to miss is Madame Tussauds Hollywood. This original Hollywood Wax Museum got inaugurated in 1965. It is devoted to celebrities and has more than 180 wax statues of movie stars and eminent personalities of television. Madame Tussauds is a great place to take a selfie with the lookalike wax statue of your favorite celebrity.
Hollywood Walk of Fame
The Hollywood Walk of Fame is an internationally-recognized Hollywood icon. Roughly 24 new stars are added each year, keeping excitement high for this attraction. The first eight starts were unveiled in 1958, after several years of planning and discussing the idea. Four committees, including famous members such as Cecil B. DeMille, Samuel Goldwyn and Walt Disney, were established to represent the four different aspects of the entertainment industry at that time – motion picture, television, recording and radio. In 1984, a fifth category for live theatre was added.
The Walk of Fame was declared a Historic-Cultural Monument in 1978. There are now more than 2,600 stars on the Walk of Fame. Fans can nominate a star and nominations are voted on every June. It may be fun, before or after visiting the Walk of Fame, to submit a nomination for your family's favourite star!
World of Illusions
In the heart of Hollywood lies the World of Illusions, which is a fun place for the whole family. Here you'll find 4 unique experiences: Giant's House, Museum of Illusions, Upside Down House, and Smash It will all transport you to a world of fantasy and imagination! Flash photography is not only allowed, but encouraged, as this is a place to let your imagination soar. New exhibits are being added regularly.
El Capitan Theater
The Disney fans in your family will want to stop by the EI Capitan Theatre while in Hollywood. This theatre was opened in 1926 and is now operated by the Walt Disney Company. It is the venue where most of the premieres of Walt Disney Pictures takes place.
Museum of Hollywood
The Hollywood Museum is the official museum of Hollywood and has the most extensive collection of Hollywood memorabilia in the world. Here, you'll find more than 10,000 authentic show biz treasures—costumes, props, photographs, scripts, stars' car collections and personal artifacts, posters, and vintage memorabilia from favorite films and TV shows. The Hollywood Museum is housed in the historic Max Factor Building where Max Factor, Hollywood's makeup specialist, created the looks of Hollywood's Golden Era stars. Inside this exclusive salon, Lucille Ball received her popular red locks and Marilyn Monroe got her blonde hairstyle!
Hollywood: a Perfect Destination
Hollywood is a perfect USA travel destination and is a dream holiday for many. It has a rich history of cinema and entertainment. Most of us are fascinated by the lifestyle of Hollywood celebrities, and visiting Hollywood Boulevard will be the icing on the cake. There are many activities to do besides wishing to see where your favorite star does reside.
Your Hollywood trip can give you memories to cherish for a lifetime. Enjoy Hollywood Boulevard on foot or take a bus tour to explore further. Whatever you do, you'll make fantastic memories together.
Is Hollywood Boulevard on your bucket list? What places would you most love to visit?