As parents, we continually worry about our children's safety. Social media and news reports deluge us with all the bad things that could happen to our kids. Whether we're out for a walk or a drive, I'm monitoring my children to make sure they're as safe as I can keep them. In my minivan, that means checking that everyone is buckled up and keeping the younger kids in good car seats. Safety in the vehicle is a big reason why I was excited to test out the Britax Emblem convertible car seat
for two-year-old Pearl.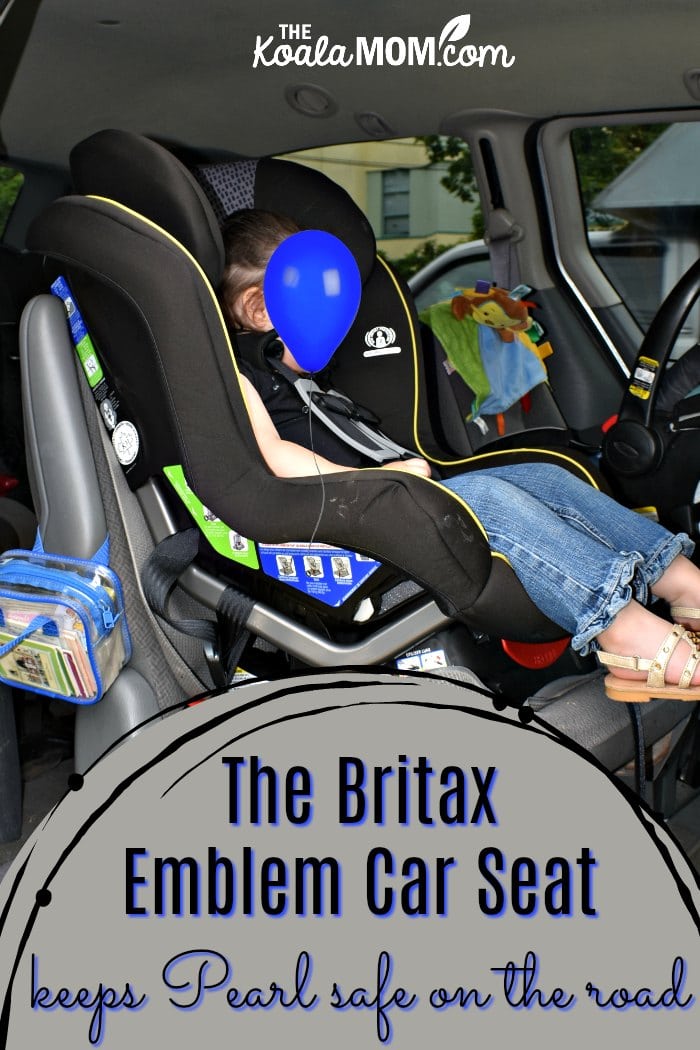 This post contains affiliate links; as an Amazon Associate, I earn from qualifying purchases.
Installing the Britax Emblem Convertible Car Seat
In the past decade of parenting, we've used several different car seats for our girls. I'm usually the one who installs and moves the car seats around the vehicle or between vehicles. I've developed a system of kneeling in the car seat while hauling on the UAS straps to get it tight enough that it doesn't wiggle. Let's just say that I think twice about moving car seats once they're installed. So the tether system on the Britax caught my attention right away.
The Emblem has LATCH connectors, which lock into place with a click and are released at the touch of a button. No more wrestling with a hook that won't come off the UAS points on your vehicle seat. Just press the LATCH connectors onto the UAS, and then press the button to get them out again. It was just as easy to pull the strap tight once the UAS was clicked into place.
I also liked the fact that the top tether has two attachment points on the car seat, rather than one. Usually the top tether strap runs from the middle of the top of the car seat down to the UAS hook on the back of your vehicle seat. The Emblem has a V-shaped top tether, which attaches on either side of the top of the car seat. Clip the bottom hook into place, then tighten the tether strap.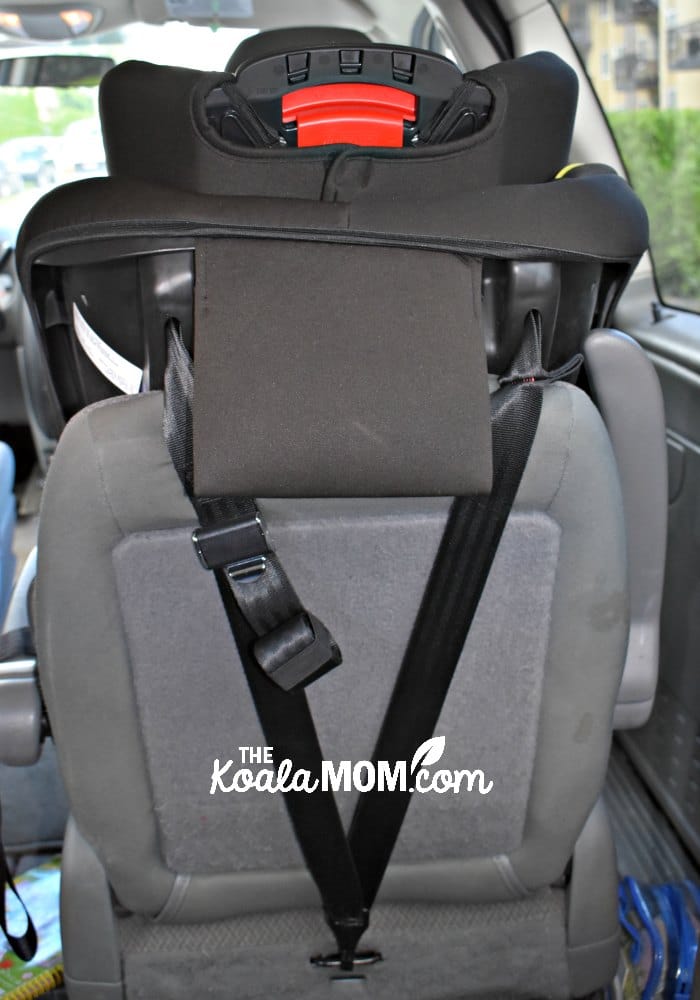 An elastic on the end of the strap lets you coil it up when it's tight enough and tuck it out of the way. (Do loose car seat straps annoy any other moms, or just me?)
If you do take the Emblem out of your vehicle, the LATCH connectors can be clipped out of the way onto the base of the car seat. That means there's no loose straps hanging around if you're traveling or just switching the car seat between your minivan and Grandma's car.
Buckling Your Child into the Britax Emblem
Okay, it's nice that the Emblem is easy to install in your van… but that's something you only do once in a while. Buckling the child in likely happens multiple times a day (if you spend as much time taxiing kids around as I do!). How easy is it to buckle your child into the Emblem? Let me rave once again. There are several things I really like about the Emblem's buckle system.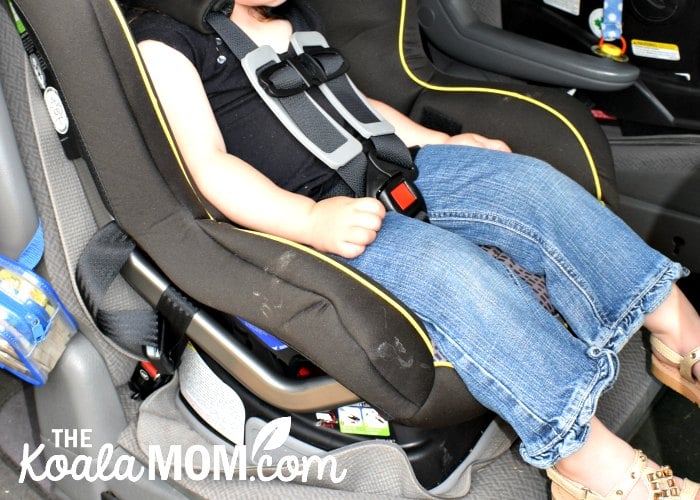 The five-point harness on the Britax Emblem includes two neat features on the straps. The first is a pair of soft, black strap covers that sit on your child's shoulders, beside their neck. How often have you gotten your child out of their car seat to notice that the strap has left a red mark on the side of their neck? Sometimes I've put my kids in shirts with collars when I know we're going to be driving lots. Or I try to pull their shirts or coats up between the car seat harness and their neck to prevent this. Well, with the Emblem, you don't need to worry about that.
At your child's chest level, the Britax Emblem harness as two grey plastic guides. These help keep the harness from getting twisted and make it easier for your child to slip in and out. The guides slide easily up and down the straps, and allow the chest buckle to do the same, so you can adjust them to where your child needs them after they're buckled.
Finally, there are two pieces of Velcro on the harness and on the side of the car seat. (You can see it in the image above, just above Pearl's wrist.) When she pushes the straps off, the Velcro usually attaches the strap to the side of the car seat, keeping the straps open. Next time she gets into her car seat, she's less likely to sit on the straps and have to fish for them.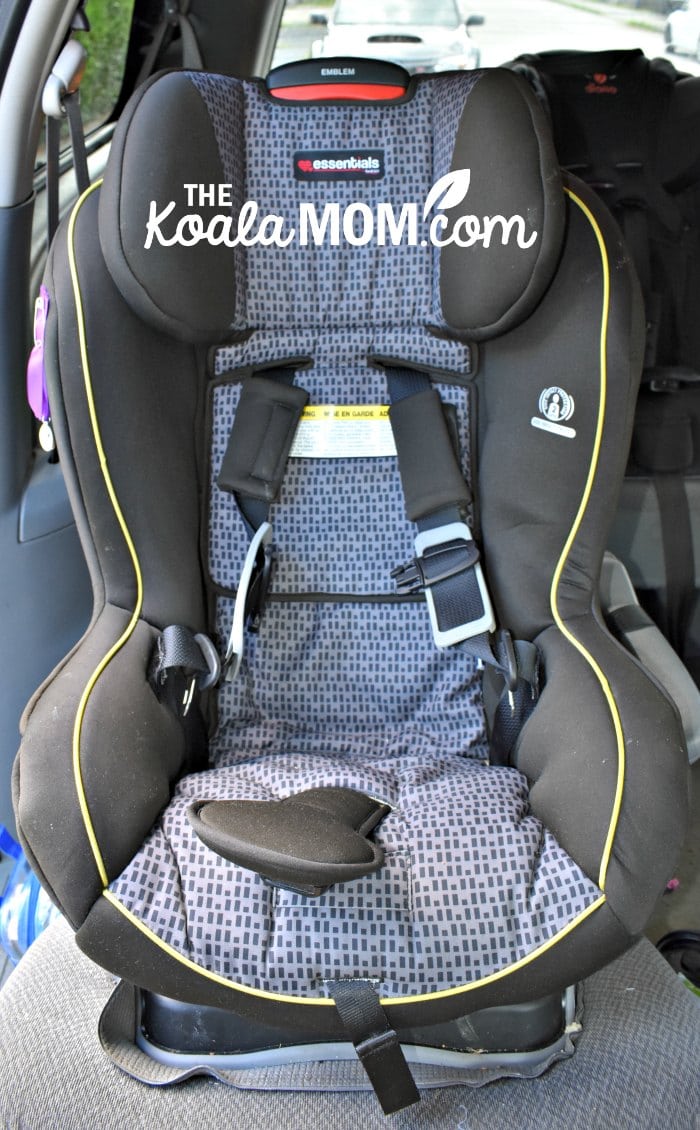 If you're using this car seat for a younger child, whom you'd be putting into the var asleep, the Velcro keeps the straps out of the way while you settle the little sleeper. No more trying to hold the straps out of the way while holding a baby (easy peasy if you have four hands!), or fishing the straps out from underneath a sleeping baby without waking them up. Those two little Velcro pieces are pure brilliance. (A mom must've suggested them.)
Let's talk about the buckles next. I have five kids—two in booster seats, two in convertible car seats, and one in an infant bucket. That's a lot of time spent buckling kids in and out. I encourage my older two girls to help their younger sisters, and encourage the younger two girls buckle and unbuckle themselves as soon as possible. Whether or not they can do that really depends on the car seat buckles. The Emblem has a lovely, short buckle that's easy to line up and fasten, and just as easy to click open again.
If you have a child who is prone to getting out of their car seat while the vehicle is moving, this may not be great. My girls have never tried that (in fact, they remind my husband to do up his buckles, and yell if one of them isn't buckled and we start driving). Pearl isn't yet buckling or unbuckling herself, but her older sisters can help her with the buckles here easily and that's a win in my books.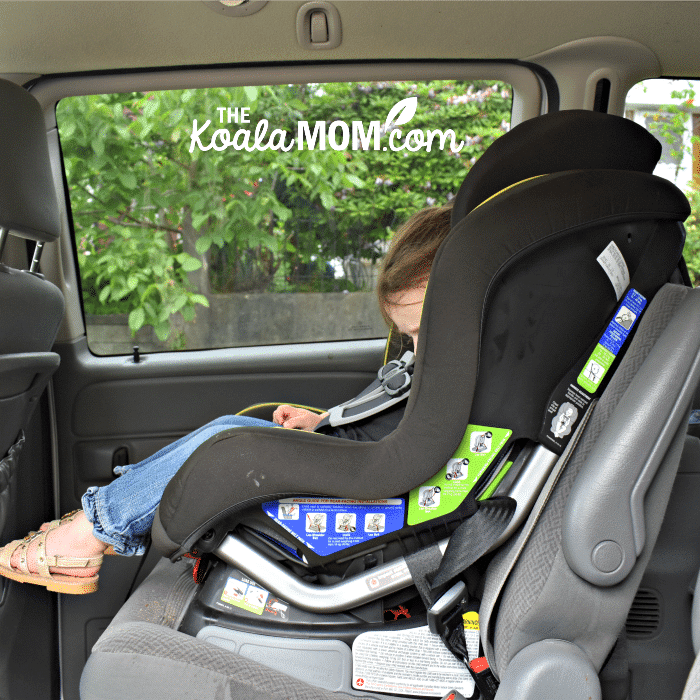 Finally, the buckles are really easy to adjust in the Emblem. To raise or lower the shoulder straps, just grab the red handle at the top of the seat and move it up or down. You don't need to unthread and rethread the buckles through the car seat. (I need to do this in Joey's infant bucket seat, and I keep putting it off because it's such a hassle to take apart the car seat harness!) The tighten the harness, just pull the strap between your child's leg (or press the button to loosen the harness). Out of all our car seats, this is the easiest to adjust.
Safety in the Britax Emblem
It's easy to think that a car seat is a car seat, and as long as our child is buckled properly, they'll be safe in the vehicle. The truth is that car seats vary greatly between brands and perform very differently during crash tests. The Britax Emblem contains SafeCell® Impact Protection – a system of patented safety features designed to help keep your baby or child safe and sound. These include the impact-absorbing base, impact stabilizing steel frame, and the V-shaped tether that I already mentioned.
The Emblem also has two layers of side impact protection with a deep, foam-lined shell. The adjustable head rest provides side impact protection (plus extra support for your child's head when she falls asleep, as Pearl often does when we're out for a late afternoon drive!).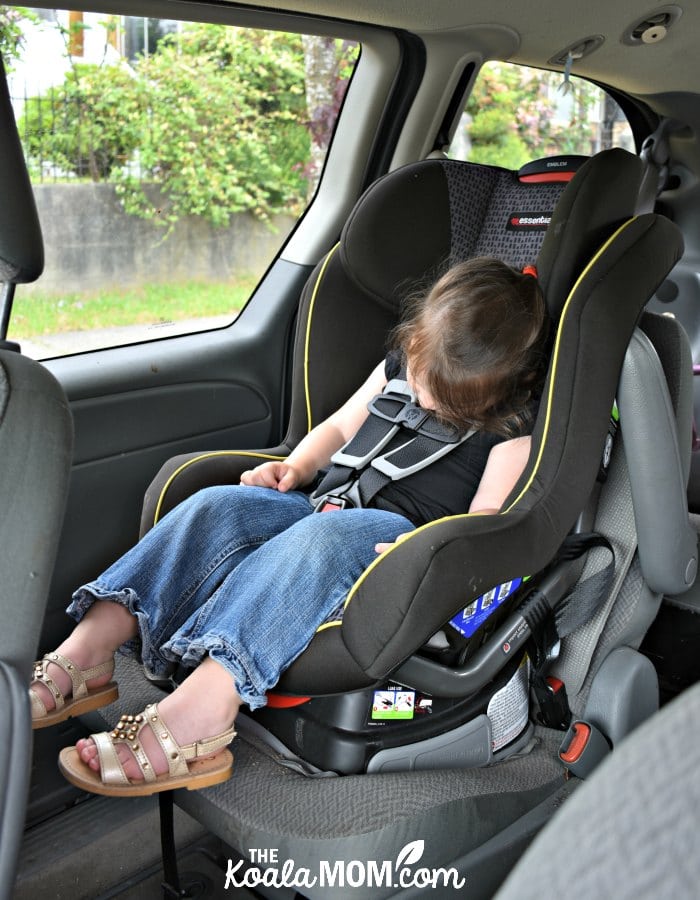 I definitely noticed that this car seat seems to "surround" Pearl much more than her previous car seat. From the side, you can see that the car seat basically covers Pearl. If we were to be hit from the side, the car seat should shelter her from any blows. (I don't really want to test that out.) According to Baby Gear Lab, "the crash test results are just below the high indicating it provides an additional margin of protection over the average seat." That's a win my books.
One thing I've noticed about the Britax Emblem, when Pearl is riding in it, is that she has a much better view from it. The Emblem car seat has a huge base, which boosts her up several inches higher than her previous car seat. This gives her a great view out the van window. In the past, my husband and I have noticed that our kids are happier when they can see out the windows better. And chatting about things out her window (like blue cars or SkyTrains) does help keep Pearl happy and awake (if I don't want her to nap yet).
Why You May Not Want the Britax Emblem
So far, everything about the Britax Emblem has been great for us. Here's a couple reasons why this car seat may not work for you.
First, it's big and heavy. Like I said, I've installed and moved a lot of car seats in our vehicles over the last decade, and the Britax Emblem has got to be the biggest, heaviest of the bunch. If for some reason you do frequently switch your car seat between vehicles, or travel with it, then I'd recommend finding a different seat. This seat doesn't fold or collapse in any way.
This seat works because we've got it in the captain's seat in the middle row of the van. I don't really want to try it in the back seat, as I don't think we'd fit more than two kids back there with the Britax. If possible, I do recommend trying a car seat in your vehicle before buying it. Most stores have a display model, which a sales person can help you take out to your vehicle if you ask. You can then see how it fits in your vehicle or which position is best for it.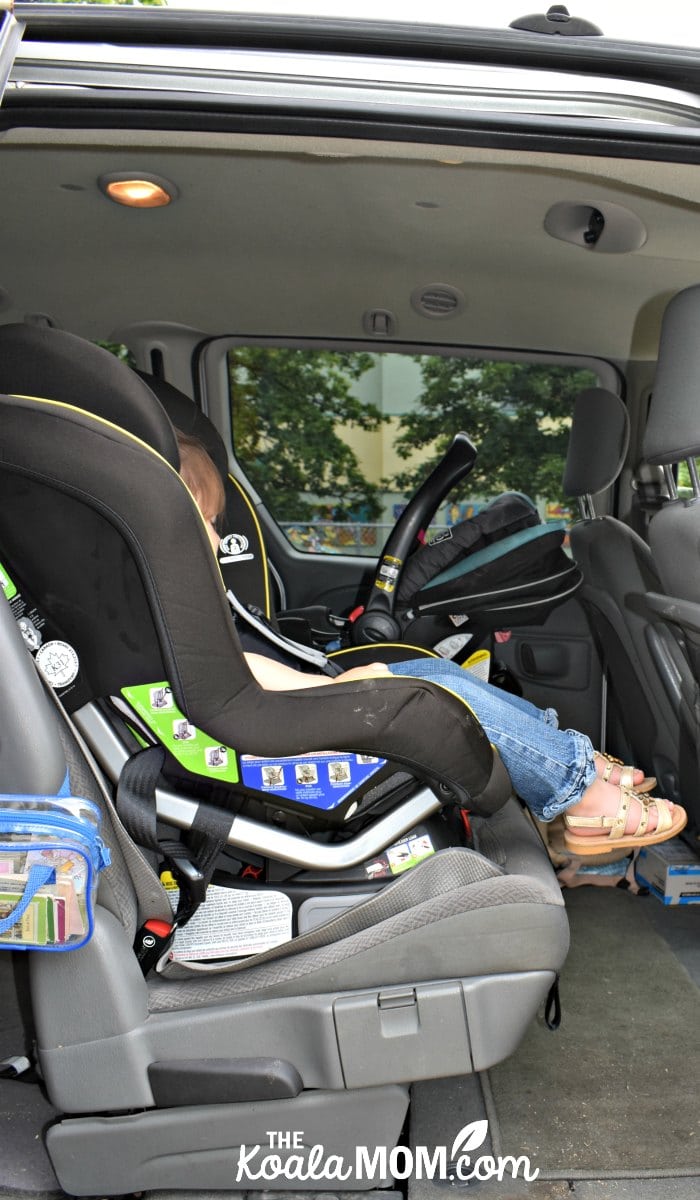 Baby Gear Lab also noted that this car seat is harder to install with the vehicle lap belt. Because the UAS in the captain's seats are easy to access, I just used the LATCH system and haven't tried the lap belt. If your vehicle doesn't have a UAS hooks (or doesn't have them in the best position in your vehicle), you may want to look at other car seats (or test installation with a demo model from the store before buying).
The Essentials by Britax car seat covers are also not machine washable. They can be removed and spot cleaned, but if you have a child who is prone to car sickness (or is just generally messy), this might be an issue. We've had one car seat where the cover wasn't even removable for cleaning, and I was very happy when it hit its expiry date and I could toss it out. I'm hoping the Emblem is easy to spot clean. When we next go on a road trip, I might consider switching which car seats Jade and Pearl sit in, as Pearl is more prone to throwing up at this point than Jade is (and less likely to warn me that she's going to puke).
Otherwise, we love the Britax Emblem and have been super impressed with it.
Welcoming the Britax Emblem into Our Minivan
In the midst of the excitement of a new car seat, I always feel nostalgic about the old car seat. Out of all the baby items our kids have gone through in the past decade, I find it hardest to let go of the car seats. This seems weird to me, since there's nothing cute about a car seat. Yet our children spend so much time in their car seats, and these car seats protect them and carry them for so many years. I'm looking forward to a long and fond relationship with the Emblem, as Pearl can ride in it until she 65 pounds (which is a milestone none of my kids have hit yet!).
To find out more about the Essentials by Britax, including the Emblem convertible car seat, drop by their website. The Emblem is available at your favourite baby stores and on Amazon.
I received the Emblem™ Convertible Car Seat from Britax for the purposes of this review; all opinions expressed are my own.