Often when we're eating supper, four-year-old Pearl will rattle off a long sentence about her day. My husband will glance at me, one eyebrow up. What did she just say? Sometimes, because I've spent the day hanging around her and have some context for what she's saying, I can translate her "Pearlisms" into English. Sometimes one of her sisters can help translate. Sometimes she has to repeat herself several times before we catch on to what she's saying.
Toddler speak can be pretty cute. There are plenty of memes on Facebook about things toddlers have said that crack us up as parents. Other times, it can be frustrating to have your toddler insisting vehemently that they want SOMETHING and all your guesses about what they are trying to say are met with "no, not that." I've often tried to remember at what age my older girls learned to speak clearly. Did they still mess up their L's and R's at four years old?
That's why Speech Blubs caught my attention. It's a fun, easy-to-use app for kids ages 1 to 8. With speech language pathologist-approved activities, this app helps improve your child's language skills by using videos, imitation, and fun activities. Pearl and two-year-old Joey have been testing this app out for the past month. Here's what we think about Speech Blubs.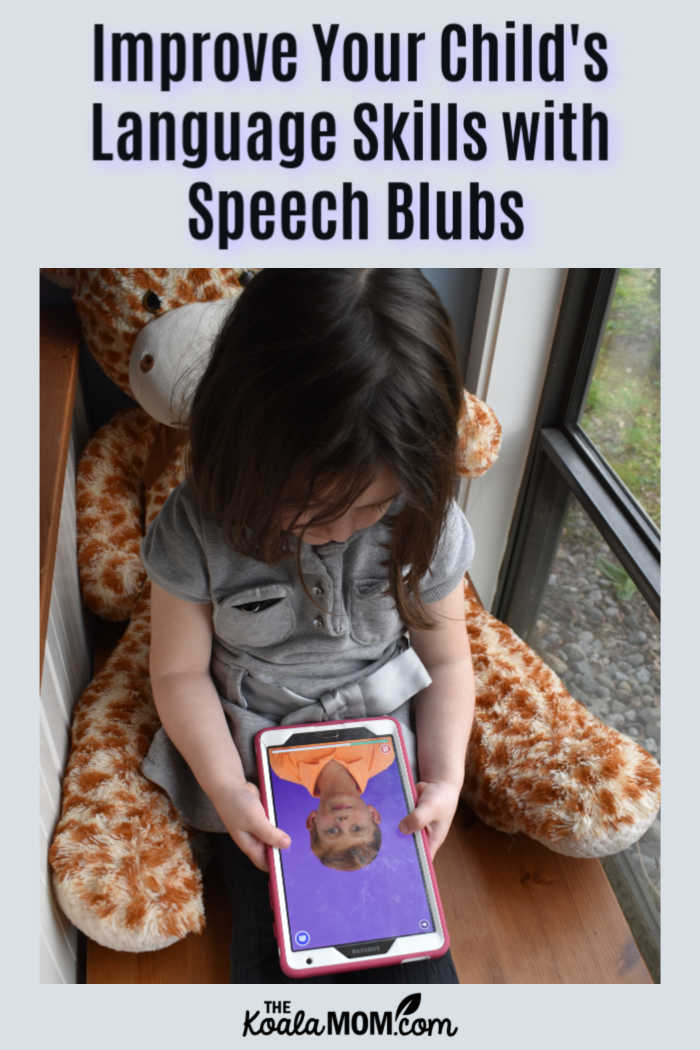 This is a sponsored post brought to you by Speech Blubs; all opinions expressed remain my own.
Getting Started with Speech Blubs
Speech Blubs is easy to download onto your tablet or device from your favourite app store. You can get a 7-day free trail before subscribing for an annual or a monthly fee. Once you've downloaded the app, you can complete a 3-minute speech assessment for your child.
I found this speech assessment very helpful for Pearl. The app asks a variety of questions about your child's listening and speaking skills. These questions helped me realize Pearl is really quite good at a variety of language skills. It also helped me identify concretely which skills she needs to work on. I'd never before stopped to ask myself exactly which letters she has troubles pronouncing; rather, I just had a general sense that sometimes she's hard to understand.
Now your child is ready to play the app—and the fun begins!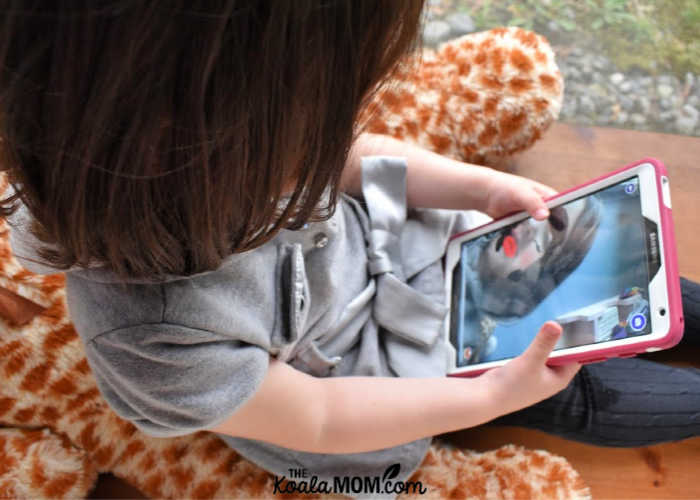 Speech Blubs is easy enough that my two-year-old can navigate it, yet also engaging enough that my older kids have been peering over his shoulder to watch . Children can pick from a variety of topics that move from easy sounds (like ch-ch-ch) to harder words (like dinosaur). Parents can guide their kids to sounds they need to work on, or just let them explore and play to improve their language skills.
Here's the dashboard for the app, with bright colours and attractive images to draw kids into playing: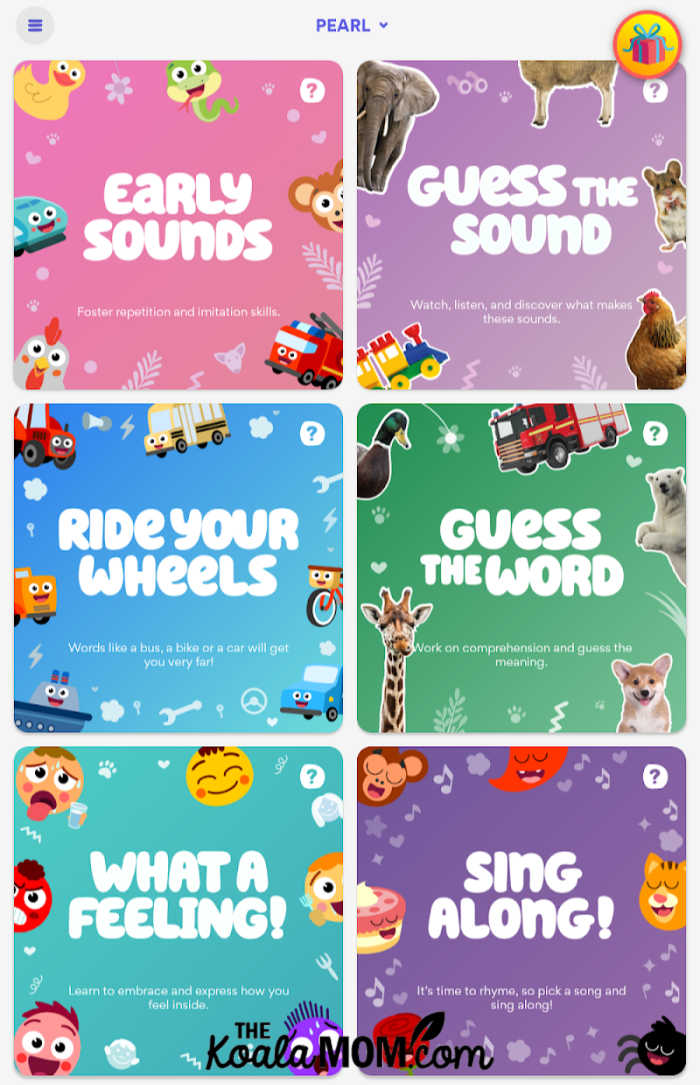 Kids can scroll down to find many more categories! I was really quite impressed by how much there is to do in this app.
How Speech Blubs Work
Kids learn by imitation. Sometimes, that imitation drives us nuts. Right now, Pearl is in a stage where she likes repeating anything her sisters say. Then Daddy will get involved and have fun making her say things like, "I'm getting ready for bed now." Speech Blubs uses this knack for imitation to help improve your child's language skills. Video modelling allows your child to see how other children say sounds and words.
For example, your child picks Yummy Time and then clicks on the icon for tea. They watch a video where a girl says, "Tea. Teeeeaaa. Tea." Each word is repeated several times, first normally, then stretched out, then normally. After the child has watched this, a sticker appears which they can click on to access a funny picture. For the tea, it's a child drinking a cup of tea while imagining their favourite snack to go with it—Oreos? brownies? cookies?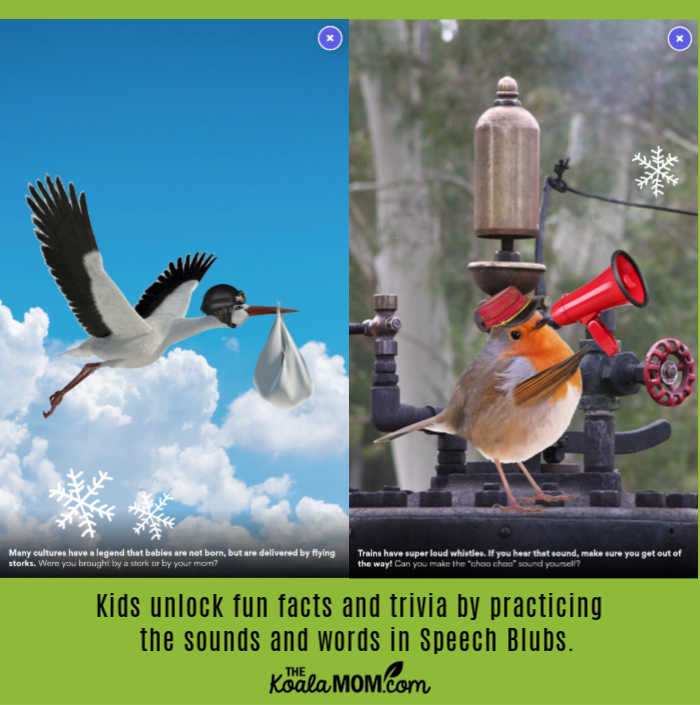 Your child can also tap the camera icon to watch themselves saying the word. My kids love watching themselves on camera, so this encourages them to practice (or at least make funny faces at themselves—but that's working their face muscles, right?). The app really offers many different ways to improve your child's language skills.
My thoughts on this Speech App
When I saw the first few kids repeating sounds, I wasn't totally sure how the app would improve Pearl's language skills. Surely she'd get bored of watching kids say the same words over and over again, and want to play something else instead. I've been amazed at how many times either Pearl or Joey watches the same video. The kids in the app are happy and engaging and clearly having fun saying each word (one of the girls almost dances as she says "ch-ch-ch-ch").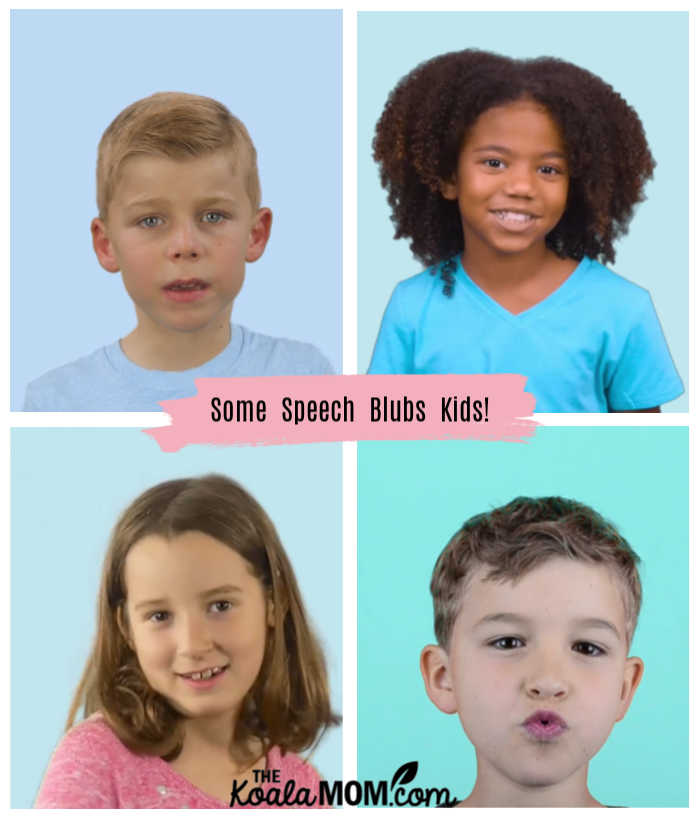 Speech Blubs also made me realize something about the way we interact with our kids. We don't often speak to them face-to-face. For example, if I'm reading Pearl and Joey a story, then they're sitting on my lap (or right beside me) while we look at a book together. If we're building blocks or colouring, then again, we're focused on the activity in front of us. At the dinner table, I sit between them so I can help them with their food and conversations often happen while we are looking at our plates. There are so many activities we do in which we are talking with our kids, but they can't see our faces.
Speech Blubs helps kids see how we move our lips and faces as we talk. Repetition of each word helps kids to see over and over again how to form those sounds.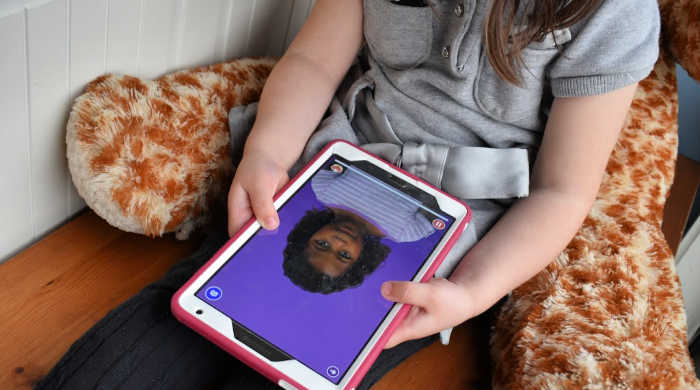 It's also easy to see in the app what your kids have been practicing. Icons within each category start grey, and then become brightly coloured once your child has tried the sound (see below). The grey icon invites kids to tap on them to see what's behind that icon. Pearl and Joey also have some favourite words to practice, so they'll go straight to the words they already know.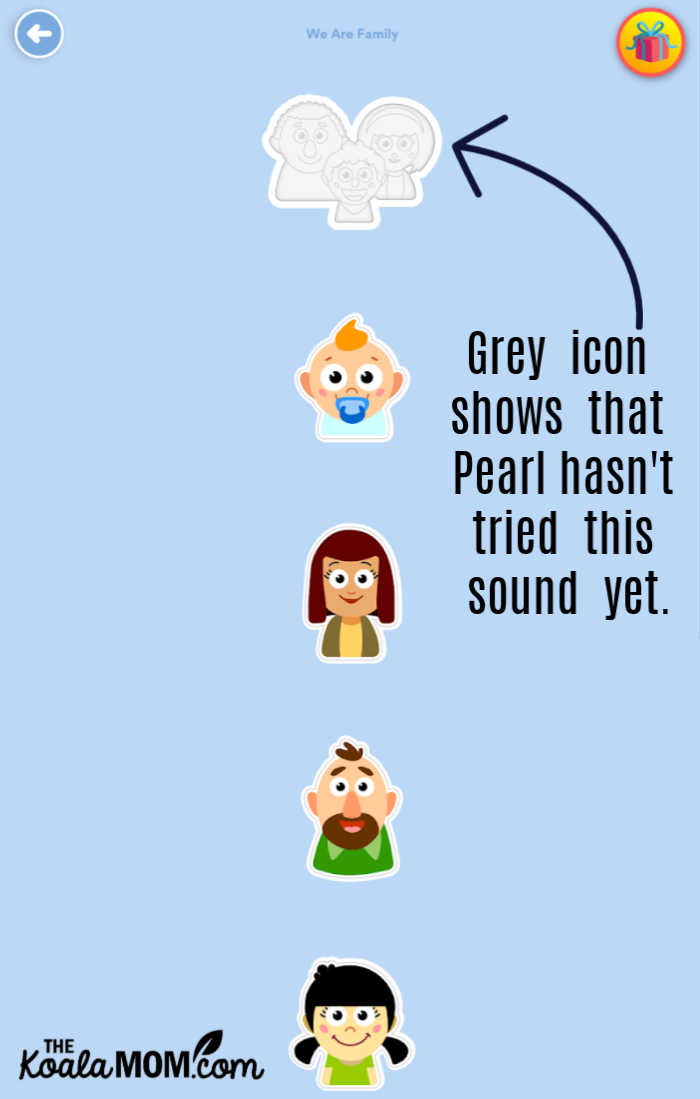 As I write this, Joey is sitting beside me playing Speech Blubs. He saw the pictures I was editing and ran off to his room to grab the tablet, then came back to sit next to me and open the app. He watched "ice" multiple times before proudly telling me, "ICE!" Then he learned rain and run.
His words have been exploding lately as he tries to say more and more. Not all of his speech is clear, but I'm amazed at the sentences he manages to put together to express his wants. While he repeats a lot of things that we say to him, I think it's good that Speech Blubs is also helping him improve his language skills and reinforce things we say.
That Screen-time Question
I know in discussing an app that the question of screen time is going to come up. Am I worried about how much time Pearl and Joey are spending in front of a screen? Honestly, not really. I've made sure my tablet has fun yet educational apps on it, like Speech Blubs. I also figured out Kids Mode on my Samsung tablet so I can let them both explore safely, without accessing any apps I don't want them to play. This facilitates self-led learning; it's up to them to discover and explore.
Kids' mode does allow me to set time limits on the tablet, but I haven't used that. I've noticed that for the most part, Joey will play on the tablet for fifteen to twenty minutes and then he's off to check out something else. He's a typically busy boy who doesn't sit still for very long (unless he's tired, and then he'll fall asleep watching one of the Speech Blubs kids saying, "Baby. Baaaabbbeeee. Baby."). Pearl is more likely to sneak away with the tablet and play for hours on end, so I do try to watch her and encourage her to switch activities if she's been doing something for too long.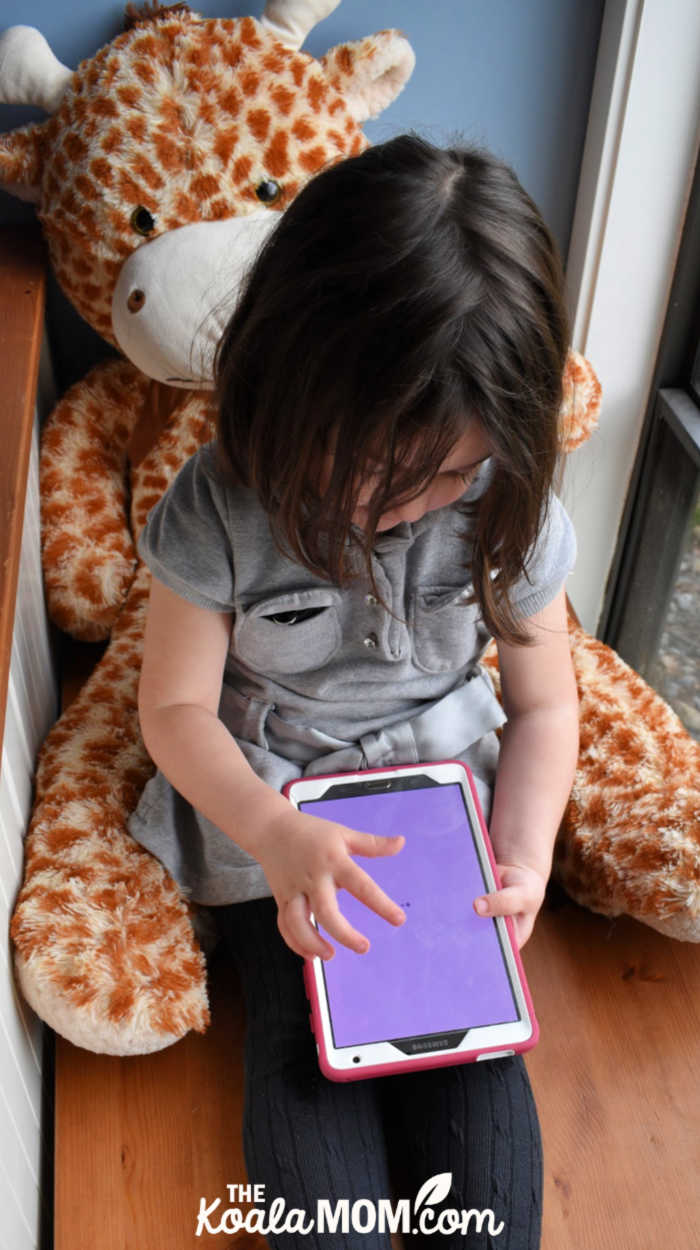 I think the screen time question depends upon each family and child. Does your child need the extra support and learning opportunities that an app like Speech Blubs can offer? Then maybe spending time on the tablet practicing sounds is better than other activities. Assess how your child reacts when the device is taken away or they don't get a chance to use the app, and decide whether limits are helpful or whether they can be allowed to play as much (or as little) as they want.
More about Speech Blubs
Speech Blubs was created by four men who were once boys with speech problems. They wanted to create a speech therapy tool that kids would love. Speech Blubs was born and grew with feedback from parents, speech therapists, teachers, and kids. One in four kids needs help with their speech and language development, but parents may not be able to afford speech therapists or may have to wait a long time to access a therapist. Speech Blubs can help kids right now, right here.
To check out Speech Blubs for yourself, drop by the website. You can also get a free report on your child's speech progress there. Follow Speech Blubs on Facebook and Instagram for parenting tips and kids activity ideas.
Looking for more information about speech development and milestones? Check out the Speech Blubs blog, where you'll find articles written by speech language pathologists. There are videos, infographics and more in this amazing library of resources for parents (with more being added regularly!).
Plus, check out my YouTube video for a demonstration of the app. I'll walk you through the app but Pearl also demonstrates her favourite parts of the app.
Have you wondered how to help improve your child's language skills? Do you think Speech Blubs would help him or her?