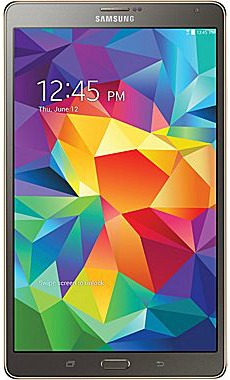 It's silver. It's sleek. It's a Samsung Galaxy Tab S and it's my new toy.
When it arrived on my doorstep earlier this month, I felt like Christmas had arrived early. Every chance I get, I'm pulling out my tablet to play with a new app or just scroll through Pinterest and Twitter. The Internet is now at my fingertips! (That's probably dangerous…)
One thing I really like about the Samsung Galaxy Tab S is the size. At 8.4 inches, it's small enough to be easy to hold or to tuck into my purse or diaper bag. Yet the tablet is also big enough to make it easy to scroll through Pinterest or read my email. I also like how quickly it turns on; with a touch of a button, I can look up a recipe on Pinterest or search for the hours of a business I want to stop at.
How has my Samsung tablet been helping me?
I received the Samsung Galaxy Tab S, stylus and power bank from Staples for the purposes of this review; all opinions expressed are my own.
Holiday Baking with a Tablet

I've been on Pinterest for a few years now. I have boards for baking and crafts and Christmas. But a lot of the great ideas I find there stay there because I don't want to be running from my computer to my kitchen to do baking, or from my computer to my craft area to help the girls make something. Now with the tablet, turning those Pinterest ideas into reality is so much easier.
Last week, I wanted to make a pumpkin cake to use up some frozen pumpkin before our move. I knew I'd found a recipe on Pinterest, so I turned on the tablet, opened the Pinterest app (LOVE it!), scrolled down to find the recipe, popped it open, zoomed in a bit to read it better, and started baking.
Doing all that took about as long as it took you to read it—or about as long as it would have taken me to find the recipe in one of my cookbooks (but now I've got the gorgeous pictures on the blog to inspire me!). The cake, by the way, was a huge hit at my moms group.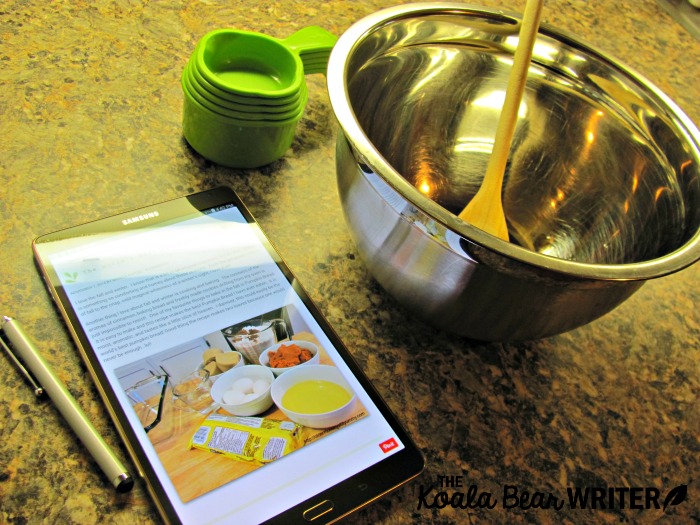 Reading with a Tablet
I am, you may have noticed, a voracious reader. The problem with going away on holidays is the stack of books I usually take with me. I like having at least one self-help book and several fiction books. No problem this year!
With the reading apps on my tablet, I've got an entire library at my fingertips. For years, I've been downloading free Kindle books which I haven't read because I don't like sitting at my computer to read my book. Well, now I can sit comfortably anywhere I want and still access all those books.
Travel with the Samsung Galaxy Tab S
When we drive back to Alberta in the winter, we stop periodically to check whether reports and let our families know we hadn't slid into a ditch. Or when we're traveling in a new city (like Vancouver), we use Google maps a lot.
Now, checking either the map or the weather is so much quicker with the tablet. No more hauling a heavy laptop into the cafe and waiting for it to turn on (waiting… waiting… waiting…). I've got the tablet in my bag and I can probably find the weather and the directions before my husband has finished ordering our coffees.
And so much more…
The Samsung Galaxy Tab S also has both a front and rear-facing camera. Like any digital camera, it has troubles with action shots (Jade just moves too fast!) but otherwise I was quite impressed. The rear camera is 8 megapixels and allows you to set the focal point. And I had a lot of fun with the photo editor: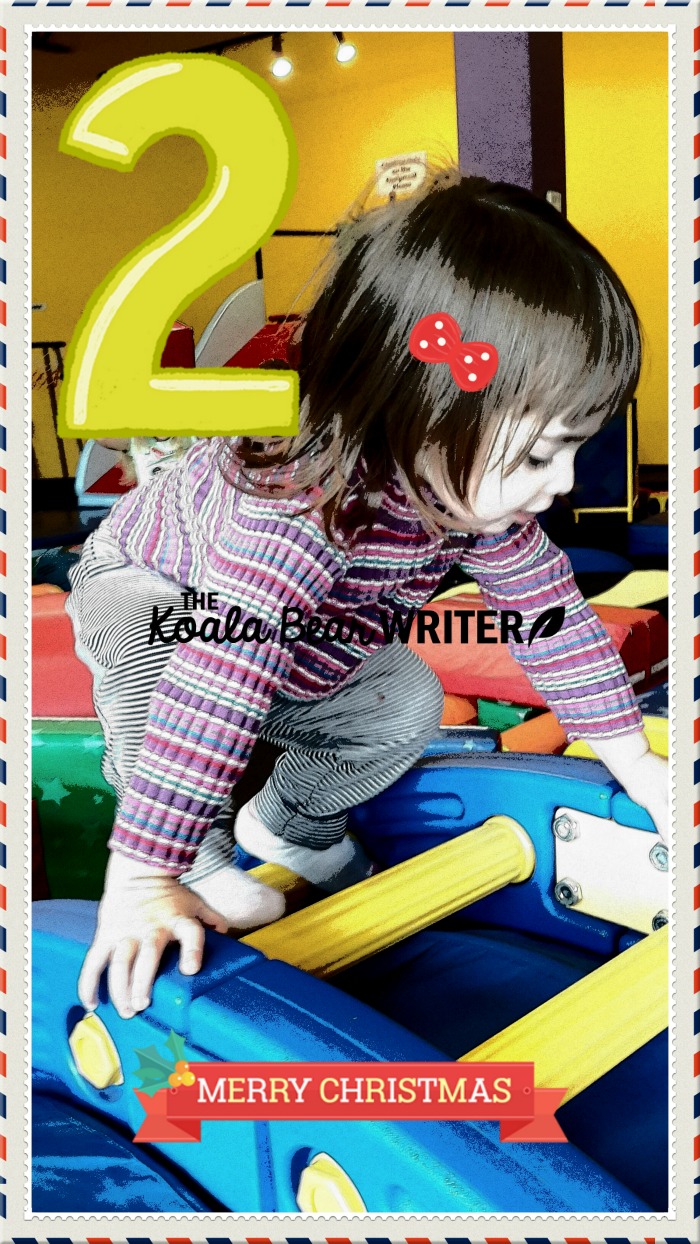 That's Jade playing at an indoor playground, where I recently met a friend of mine for coffee. Jade was, of course, going full-speed the entire time she was there, making it hard to get good pictures of her. The effects, frame and stickers were done entirely on the Tab; I uploaded it into PicMonkey merely to add my watermark and resize it for my blog. (As I write, Sunshine is editing a photo I took of her…)
Which brings me to the next point: kid-friendly. Not that I've really tested that feature yet (did I mention it's MY toy?) but Sunshine has had her eye on it. I know there are quite a few educational apps I could download for the girls to play with, and I might do that before we take off to Alberta for Christmas. The tablet includes Kid-Mode, so I know that the girls will be safe while using it (and won't mess it up!).
Staples sent me a stylus and a TP-Link Power Bank along with the tablet. Both are super useful. I prefer the stylus to using my fingers on the screen, because then I'm not leaving fingerprints all over my device. (I've seen too many tablets that have half the screen covered with fingerprints where the owner was typing.) It's also better for hitting smaller icons than my fingers (and it's sleek and silver).
And while the Tab has a fairly long battery life, it's nice to know that I can take the Power Bank along with me and don't have to worry about finding a plug-in to recharge the batteries.
Overall, I'm having so much fun with my tablet and there's still so much more I could do with it!
Check out the great selection of tablets and accessories at Staples.