So I did a thing this year. I wrote a book and I published it. It's been pretty exciting, as writing a book has been my dream for over two decades. I never expected that my first book would be a kids' book, or a saint book, or nonfiction, but it is! If you're curious about my book or the writing process, here's how to write a kids book in a year (or less).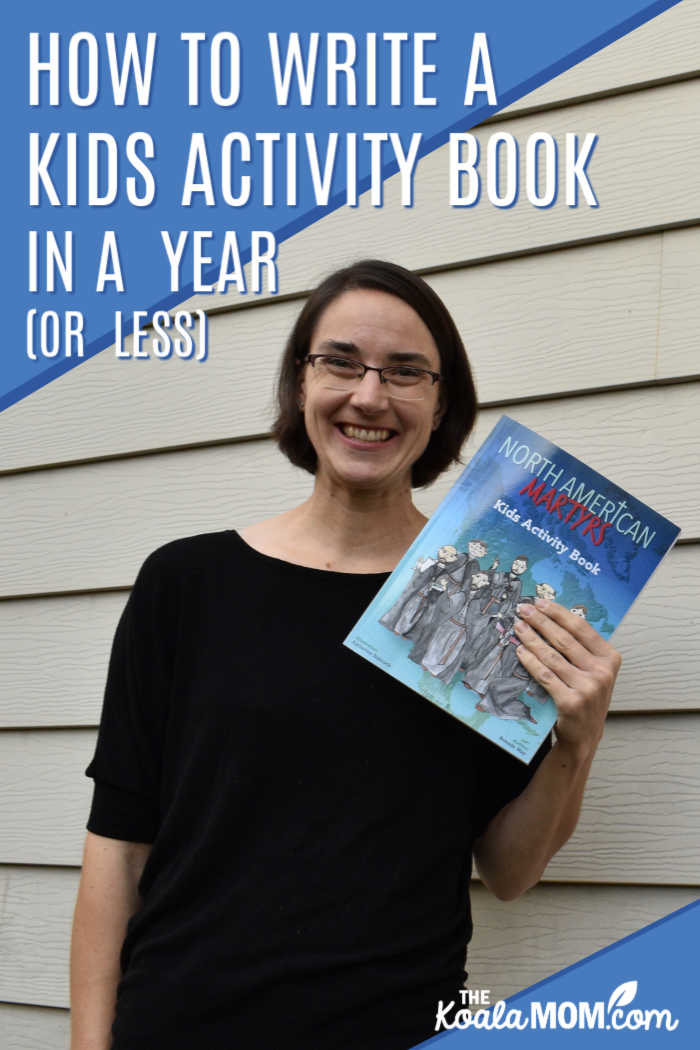 Do Your Market Research
The idea for my North American Martyrs Kids Activity Book came out of a need. Last October, I helped organize a Canadian All Saints' Day Party with some other Vancouver families. All the kids drew the name of a Canadian saint or blessed and dressed up as that holy person.
As our party approached, I went looking for activities for the kids to do at the party. And I found… not much. There were a few colouring pages for St. Andre (a recent saint) and St. Kateri Tekakwitha (a popular saint), and that was it. I scoured the Internet for anything for kids about the Canadian saints and came up empty.
So I spent the days before the party making my own word puzzles for our party. I also made a Canadian saints Bingo game for the kids to play. The activities were a hit with the kids at the party. After, I turned those activities into a printable download for other families to use (you can grab it when you subscribe to my email newsletter!).
The whole process had put an idea in my head, though. I couldn't be the only Canadian parent who wanted to teach my kids about our rich faith heritage. Here was a clear need, a gap in the resources available to Catholics. Aside from a few YA novels, there's very little written about Canadian saints for kids. So I began thinking about what kids saint book should look like.
Tip: if you have a book idea, take a quick look on Amazon to see what's already available on the topic. If there are already multiple books about your subject, you'll want to think about how you can bring a creative new take on the topic—or if you need to find a new topic. If nobody else has written about your idea, then your book could fill a need!
Find out more: 6 Simple Steps to Effective Book Market Research
Write a Kids Book
Years ago, I'd started researching the Canadian martyrs out of my own interest. Their stories fascinated the history buff in me, especially because I'd done several Canadian history courses as part of my minor in university and never heard about them. Then life intervened, and I forgot about the martyrs for a time. When the idea for a Canadian kids saint book started percolating in my head, I decided to start with the martyrs.
These eight Jesuit missionaries lived and worked in New France in the early 1600s. They all knew each other, which made it easy to start with the story of one saint and then build upon it with the other saints' stories. Because they are also known as the North American Martyrs, I figured they would have a wider appeal (and larger market!) than the other Canadian saints.
We already had several books about these saints, so researching was easy. I bought a few extra books as I continued reading and writing. I also dug through online records, including the Jesuit Relations and Wyandot (modern-day Huron) archives.
Writing a book may seem like a daunting project. I started by breaking it down into 8 sections, one for each saint (and I later added another section, for Friends of the Martyrs). Focusing on one saint at a time made the project more do-able. I could sit down for an hour or two to write about one saint, and then another.
Slowly, one biography or activity at a time, the book came together. I researched while the kids did their schoolwork, wrote while my husband took them out to a movie or a playground on a Saturday morning, made crosswords in the evening if they went to bed early. In little bits of time, page after page was added.
Tip: set reasonable goals for your book idea. Break it down into chapters or sections and then work on those one at a time. This gives you a sense of accomplishment (YES! I wrote another chapter!) while also building towards your final goal.
Best-selling author Jeff Goins offers aspiring authors 10 Ridiculously Easy Steps for Writing a Book.
Jerry B. Jenkins of Left Behind fame also has a FREE guide on How to Write a Book: Everything You Need to Know in 20 Steps.
I also recommend Sterling Jaquith's Shine Goals Planner to help you set your goals (writing and otherwise!) and achieve them!!!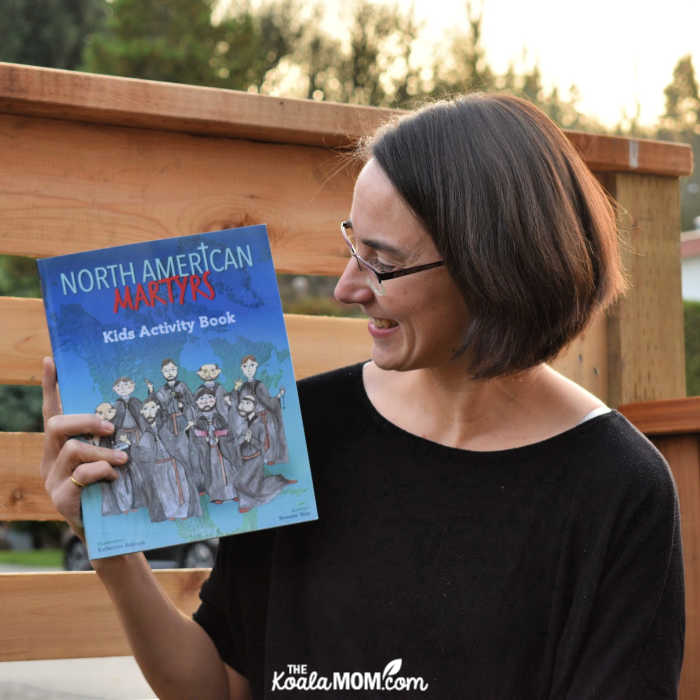 Find an Illustrator
From the beginning, I wanted to include pictures of the saints in North American Martyrs Kids Activity Book. Kids (and even adults!) are very visual, and a picture has a way of solidifying ideas in our heads. However, I long ago accepted that I am a writer and not an artist.
Soon after I began writing, I saw some drawings on Facebook by a friend of a friend. She's a Catholic artist and so I quickly reached out with my idea. Would she be willing to draw a colouring page for each of the martyrs? She responded with an excited yes! I began sending her information about each of the martyrs.
Having someone else come on board with my idea was really fun. We messaged each other back and forth. I kept in touch with her about my own progress and she sent me her sketches. Life events got in the way of writing and drawing for both of us, but we kept coming back to the project. She not only drew all eight martyrs, but also water-coloured them for the front cover art.
Tip: would your book idea benefit from a co-author or illustrator? Think about your own strengths and limitations. Don't let a lack of skills in one area hold you back from your idea; if you don't know someone yourself whose skills complement yours, you can probably find them via networking.
Be Professional
As a grammar nerd, writer, and semi-perfectionist, nothing bugs me more than a poor quality self-published book. I've read books from traditional publishing houses that have grammatical or spelling errors, but it's far more common to find those in self-published books. As a writer, I wince whenever a self-published book with a poor cover or bad grammar gives other self-published authors a bad name.
Even as I was writing North American Martyrs Kids Activity Book, I found an editor. Yes, I've worked as an editor, but I know I can be blind to my own mistakes. (My husband likes to point out spelling errors in my blog posts for me!) My editor went through the book and gave me some great feedback.
I also asked another friend of mine to do the cover for me. She's the talented graphic designer behind my blog logo. And while I've learned a lot about graphic design in creating images for my blog posts, I know it isn't my strong point. Creating a beautiful, eye-catching book cover was even more daunting than the idea of writing an entire book!
Tip: create a high-quality book that you're proud to share. Hire help when you need it.
Find out more: Do I really need an editor for my self-published book?
And Hit Publish!
The day the writing was done, the edits finished, the colouring pages inserted, and the cover ready to go was a very exciting day! I uploaded my manuscript to Amazon's Kindle Direct Publishing service and hit PUBLISH! Then I had to wait a few days for them to approve the book… and a few more weeks before I finally held the first copies of my book in my hands.
Now, I'm learning the ropes of book marketing. Writing a kids book was just the first step—it won't help any parents if they don't hear about it! So far, my marketing efforts include launching an Instagram channel for my kids saint books, getting book reviews, and setting up interviews about my book.
Tip: getting book reviews may be the best way to market a book, as people are more likely to buy a book if they see a recommendation from someone they know and trust. You may be able to get fellow authors or others to review your books for free, but it can also be worth it to pay for book reviews to reach a larger audience.
Have you written a book for kids, or thought about it? What tips would you share on how to write a kids book?