The first few times I heard the Canadian Martyrs mentioned, I didn't really stop to think about them. Recently, they came to my attention again and I began asking questions. Who were these men and what did they do? As I began researching, I turned—as usual—to writing, wanting to share what I learned with others who might also be curious.
I've always enjoyed researching. Maybe it comes from doing undergraduate studies in history—or maybe my love of research lead to choosing history as a minor. To me, it is always about the story. Digging for information is just a way to piece together a story in my mind, and history is full of interesting stories. The problem is finding them.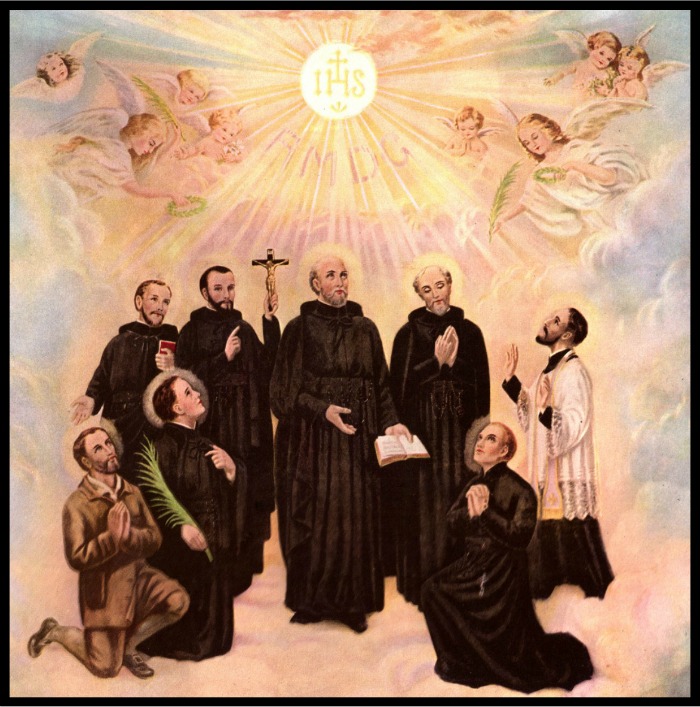 As I researched the Canadian Martyrs, I encountered that problem again. A couple of the martyrs were easy to research—Saint Isaac Jogues and Saint Jean de Brebeuf were both Jesuit priests who wrote detailed letters to their superiors or family members. Other researchers have put these letters into books or even on the Internet.
I might personally have been interested in more details about their early lives (for example, Saint Isaac Jogues was raised, from what I can find out, by a faithful, prayerful Catholic mom) but their writing provides almost more detail than I want to know about what they endured as missionaries and martyrs.
For others in the group, there is barely any information. Saint Rene Goupil was "only" a layman with the Jesuits who doesn't seem to have written anything himself. Most of what I can read about him comes from his time spent working and traveling with St. Isaac Jogues. There's tidbits of information that his superiors wrote about him, but that's merely a skeleton of information.
I was intrigued by a suggestion in one article that he was deaf, but had to dig long and hard to find any confirmation of this (and I'm still not sure whether he was deaf for his whole life or whether it was somehow a temporary infirmity that, like Saint Jean de Brebeuf's health problems, later cleared up).
It seems that the more research I do, the more questions I have. The stories are there, hiding, waiting. The Canadian Martyrs are an intriguing group of men, leaving me wanting to know more about them, yet feeling that four hundred years have raised this huge wall to really knowing them. There is likely more information hidden in letters in the Jesuit archives somewhere, waiting for a researcher to find them.
From what I can see, however, there's been little interest in the Canadian Martyrs since about the 1930s, when they were canonized.
While finding the facts and writing articles is fun, what I really want is the story—like the one that Susan Young di Biagi weaves around Saint Anthony Daniel in her novel Cibou. Maybe some parts of it aren't totally accurate… but she took the facts that she knew about him and the place the he was, and wove them together to recreate this giant of the faith and make him live again for a new generation of readers. That, for me, is what researching and writing are about.
UPDATE: I turned my interest into these martyrs into a book for kids! North American Martyrs Kids Saint Book has 135 pages of biographies, crossword puzzles, mazes, word searches, colouring pages, and other activities to help kids get to know and love these saints.