Word puzzles are a fun way to test or review a child's knowledge. Sunshine and Lily enjoy doing crosswords and word searches in their spelling and language workbooks. Recently, I discovered two online word puzzle makers to let me make my own crosswords and work searches for them. We've had fun using these for science and history!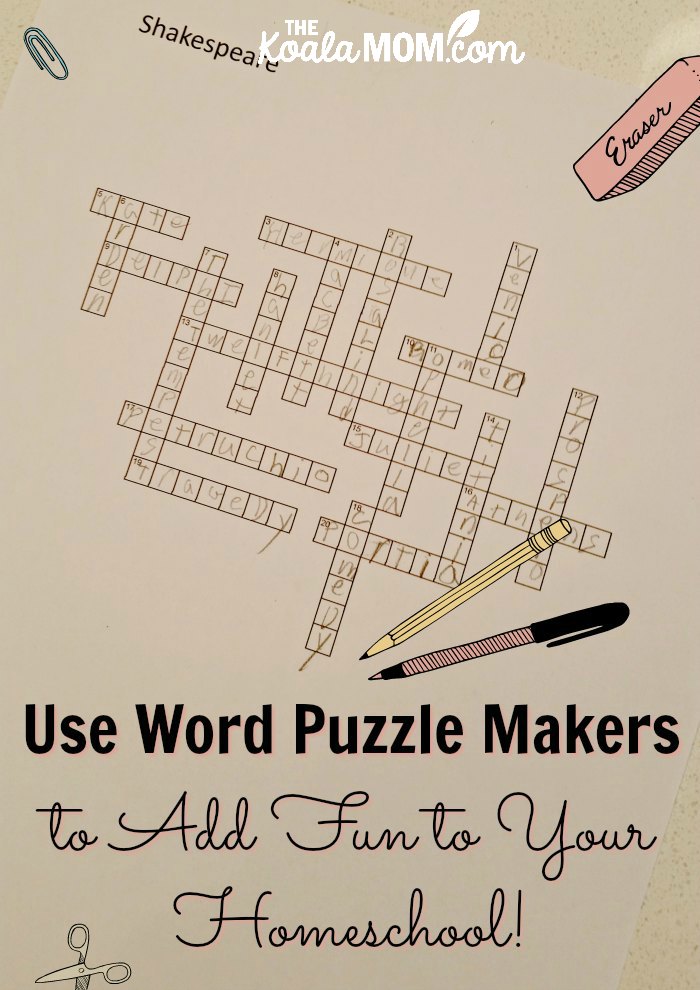 I received compensation for this post, but all opinions expressed are my own.
Create Your Own Crosswords with Crossword Hobbyist
Crossword Hobbyist is an easy-to-use website that allows you to create your own crosswords. We had just finished reading most of Shakespeare's plays for a unit in history, so I decided to make a crossword to test the girls' knowledge.
I used titles and characters from the plays to create the crossword. I just had to type the words and clues, and then the website arranged them into the crossword. In a few minutes, I'd saved my crosswords as a PDF and then printed it for the girls.
With Crossword Hobbyist, you can adjust the size of your puzzle to suit your audience. If you have a young child who likes crosswords, make a small puzzle about their favourite things. For older children, make a larger, harder puzzle. You can also include the solution to the puzzle if you want.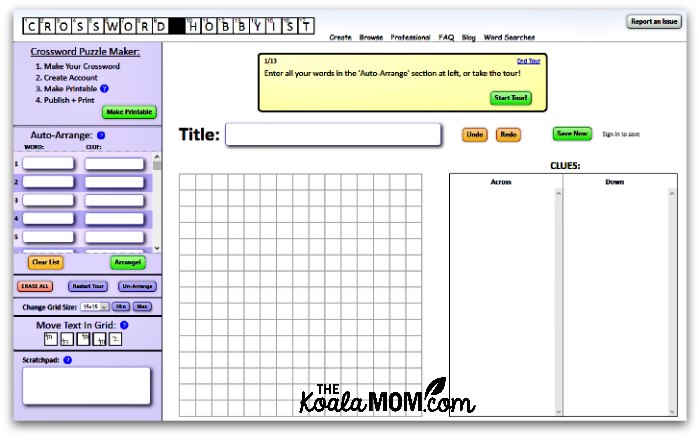 It was fun to listen to Sunshine and Lily trying to solve their Shakespeare crossword. We got talking about the plays again and what they remembered about each. The clues were a great way to jump start some discussions. It was also a good way to test their reading comprehension. For example, they easily answered the clues about characters from the play, but had apparently paid less attention to settings.
With your Crossword Hobbyist account, you can save your puzzles to find them again later. You can also share puzzles online. This would be great if you're part of a homeschool co-op or know another mom teaching the same subject that you are. Each of you could create and share puzzles to do with your kids on the subject or unit you're currently studying. Your homeschool friends can either solve the puzzles online or print them to solve.
Sign up for a free 30-day account to try out Crossword Hobbyist for yourself. After that, it's only $5/month for unlimited puzzles.
Design Your Own Word Searches with My Word Search
My Word Search is the sister site to Crossword Hobbyist and offers another option for word puzzle makers. I used this for our Shakespeare unit as well. First, I chose the word search size, shape and word direction. Then I came up with a list of words from the Shakespeare plays we'd studied, and typed them into the list. Then I saved it as a PDF and printed it for the girls.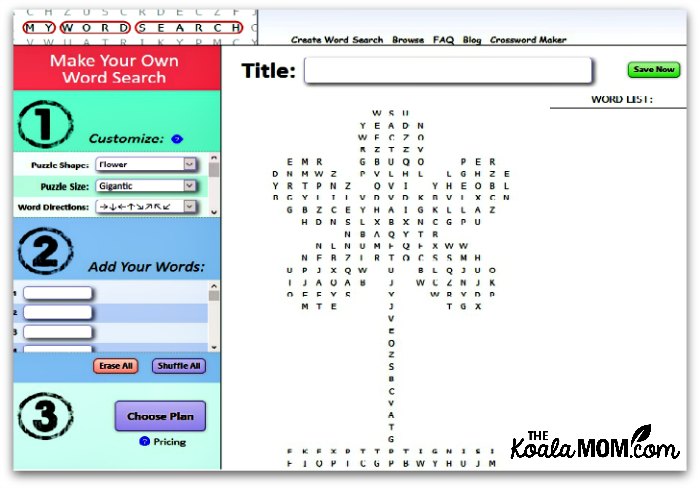 While crosswords function more like a quiz (with clues and answers), crosswords are mostly fun. Again, the girls chatted about the plays as they searched for MacBeth, Hamlet and other names. It's also a good way to help them remember how to spell these names, as they have to study the word list and then find the right words in the puzzle. This will be handy when we wrap up a science unit, where I want them to remember some of the terms we've studied.
Like Crossword Hobbyist, My Word Search lets you save your puzzles and share them online. You can browse word searches that other word puzzle makers have published. If you subscribe to both sites, you'll get 20% off your account.
Let Your Children be the Word Puzzle Makers!
Your children may have fun being the word puzzle makers themselves! Both websites are easy enough for a child to use. Children can practice their typing, learn to customize the puzzles, and then be proud to share their work. You could assign your students to make puzzles for each other or for younger siblings. Or start a word puzzle club with other homeschoolers!
Have you used word puzzles in your homeschool?