Our family loves watching movies, whether in theatres or at home. However, it can be hard at times to find good, family-friendly movies. I was very excited to see that the Kendrick brothers have a new movie hitting theatres this summer. Overcomer is an absolutely amazing story of two families facing challenges that make them question what they allow to define themselves.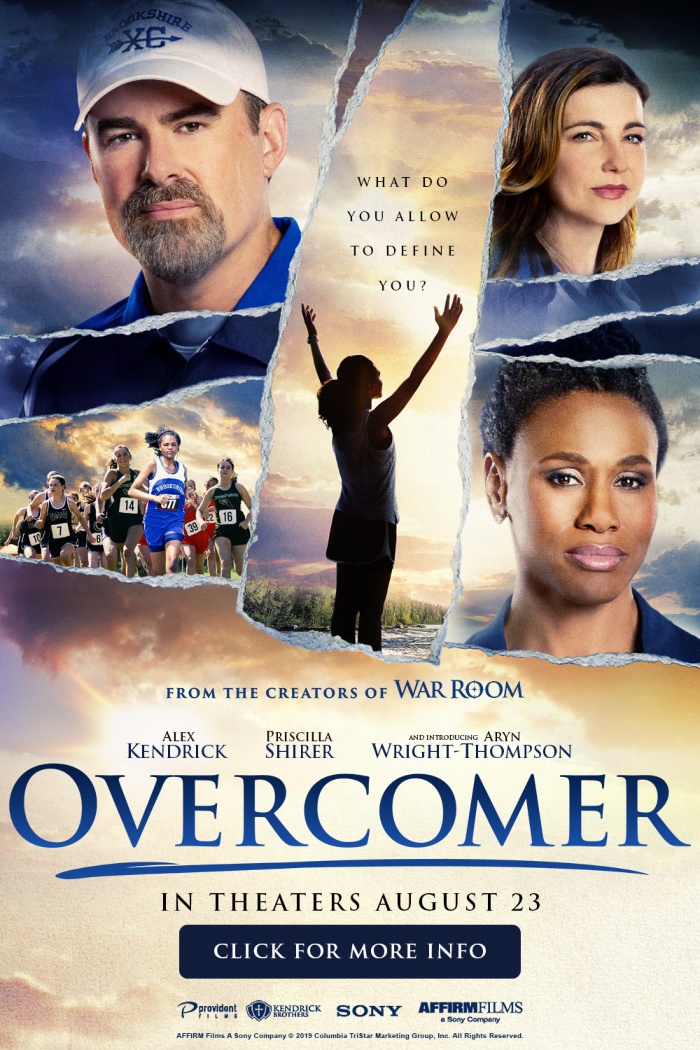 I had the opportunity to preview this movie in exchange for this review; all opinions expressed are my own.
Overcomer plot summary
John Harrison (played by Alex Kendrick) is a high school history teacher and basketball coach… that is, until the local manufacturing plant shuts down and hundreds of families move away from town. Then he's a high school history teacher and a cross-country coach with only one runner. John knows nothing about cross-country running and doesn't even consider it a "real" sport like basketball.
Hannah Scott (Aryn Wright-Thompson) is a high school student being raised by her grandma. She has asthma and a compulsive stealing habit. The only thing she's good at is running. But when she finishes thirty-sixth in her first race, she and John doubt she'll ever really compete.
Then a chance encounter at the hospital leads John to a new friend, Thomas. As he talks about cross-country running with Thomas, and gets tips for coaching Hannah, he also learns about his faith. John has always thought about himself as a basketball coach, husband, and father. Thomas challenges John to see himself as something more…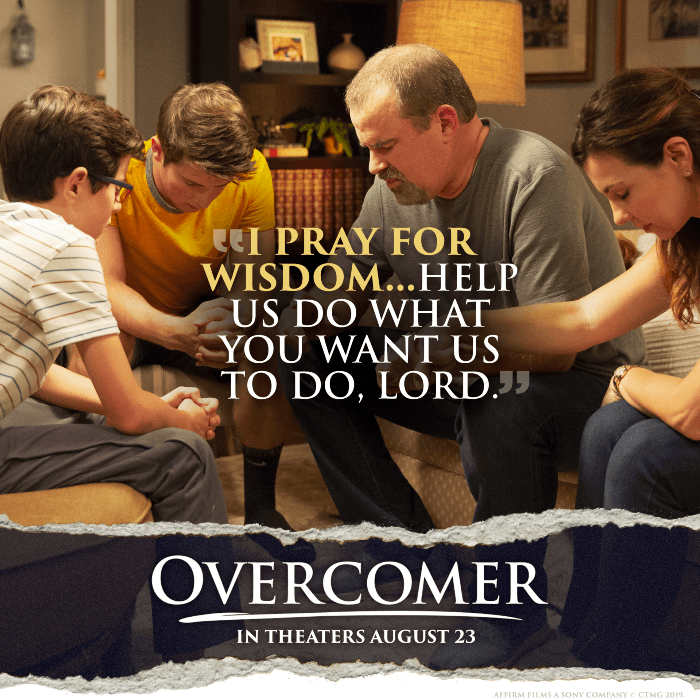 My thoughts on Overcomer
I cried so many times during this movie! Overcomer is the Kendrick brothers' best movie yet, I think. The story grabbed me from the first scenes introducing John and Hannah, and I couldn't wait to find out what happened next. My husband and I have faced a lot of transitions and "changes in plans" such as John deals with when his basketball team moves away, so I could identify with his struggles.
"Overcomer hits a central issue in marriages, families, church and culture — Identity. When we find our Identity in Christ, we don't look for it in other places." ~ Dr. Gary Chapman, Author, 5 Love Languages
I watched this myself (while also playing with Joey, as he wouldn't nap) but I wish I'd let the girls watch it too. Overcomer is a family-friendly movie that will speak to tweens and teens just as much as to parents. My 9-year-old loves running, just like Hannah, and so I think my girls would really identify with her.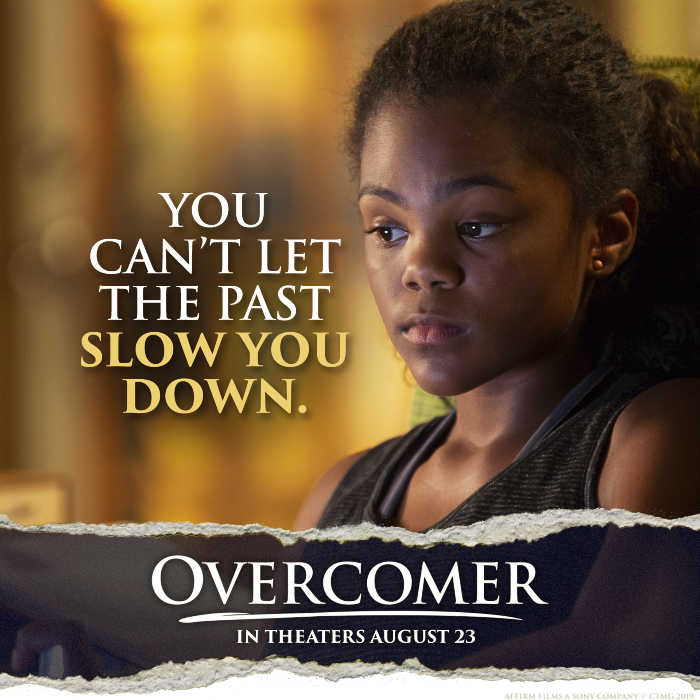 I absolutely loved the interactions between John and his wife Amy. It's hard to find movies that portray real marriages—marriages that aren't either "happily ever after" or heading for divorce. John and Amy both teach at the school and are both affected by the town's recession and job losses. There are tense moments (to be expected!) between them as they deal with the changes, yet they come back together and make up. They are a great example of a real, God-fearing marriage.
"OVERCOMER makes you feel like stopping the excuses and getting on with doing what you need to do to become the person God called you to be. Take the whole family, it will be a powerful experience." ~ Stephen Arterburn, Founder/CEO, New Life Ministries
Overcomer also shows the value of community. Despite his own struggles, John accompanies his pastor to the hospital to reach out to others. His wife and sons show up to cheer Hannah on at her practices and races (and even try running 3 km themselves, to hilarious results…). The school principal, played by Priscilla Shirer, becomes a mentor to Hannah. I've appreciated the way our community has come around us, in good times and bad, and loved seeing that portrayed in little ways in this movie. God doesn't leave us on our own; He puts the right people in our lives for the right times.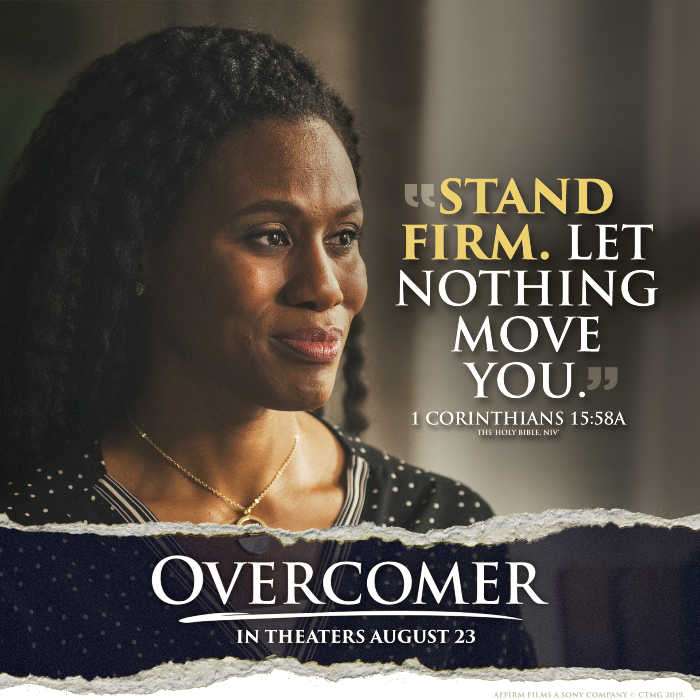 More about the Kendrick brothers
Alex, Stephen, and Shannon Kendrick are the filmmaking Kendrick Brothers, based in Albany, Georgia. For Overcomer, Alex co-wrote, directed, and plays the role of Coach John Harrison. Stephen co-wrote and produced the movie. Shannon serves as the movie's executive producer.
Overcomer is the Kendrick brothers' sixth movie. War Room, released in 2015, hit number one in box offices across North America. Their other movies include Courageous and Fireproof. Alex and Stephen are also the authors of several books, including The Resolution for Men, written to complement the themes of Courageous.
The Kendrick Brothers exist to honor Jesus Christ and make His truth and love known among the nations. By prayerfully blending engaging stories with doctrinal integrity, the Kendricks seek to encourage and inspire viewers and readers with resources that impact their spiritual lives and strengthen their families and personal relationships.
More about Overcomer
Overcomer hits theatres on August 23. As with any family-friend, God-fearing movie that comes out, I highly recommend trying to see it in theatres. This sends a strong message to theatre and movie makers that people want movies with solid values.
Drop by the website to browse more great resources to accompany the movie, including a Bible study, novel, soundtrack. T-shirts, wall decor and more. If the themes of identity in Overcomer speak to you, you may also want to check out these books:
Have you seen any other movies by the Kendrick brothers? Are you excited to see Overcomer?