God is able.
I know that.  Looking back on my life, I can point to multiple times when He was there.  I've seen Him work in big ways and little ways.  Somehow, though, I've forgotten that recently.  Or maybe I've just been too busy.  For the last several months, I feel like I've been head down, trying to survive each week, each day, and not looking ahead at the bigger picture, at what God could be doing for me.
Because He is able.
He is able to help me finish this degree without losing my sanity.  He is able to help me be a good mom even when I'm overtired and stressed out.  He is able to restore relationships.  He is able to help my husband find a job when he graduates this spring.  He is able to give us a home and provide for our needs.
This is the promise I've been grasping lately as I read Priscilla Shirer's book God is Able.  I picked up the book because I enjoyed her book The Resolution for Women so much.  The title itself didn't really grab me.  God is able?  Yeah, I know that.  Then I started reading.  And started realizing I hadn't really been trusting that God is able lately.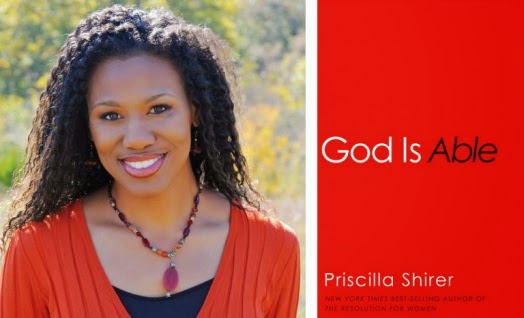 As I read, I felt like Priscilla was sitting right beside me, like a good friend, telling me that yes, God really is able to take care of all those things I've been worrying about lately.  She talks honestly about times in her own life when she's doubted Him—and times when He's come through in ways much more amazing than she could have imagined.
Priscilla spends the book diving into Ephesians 3:20-21, breaking the two verses down into phrases and digging into what each phrase, each word, means to us.  I've read this verse before many times, but I guess I've never slowed down to read it before, to understand what Paul is saying to me.  Now, I want to put this verse where I can see it everyday to remind me to trust God—and to turn to Him when I'm stressed, rather than to chocolate or worry.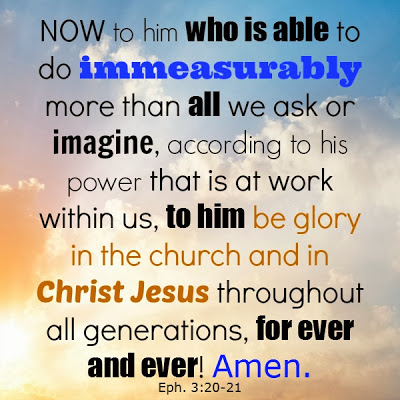 God is Able is a fairly short book and each of the chapters seemed quick as I read them, yet there is so much packed into it!  Priscilla left me with a lot to think about each day—and the feeling that yes, God IS able to do so much more than I can imagine in my life!  She helped me to remember that God sees the big picture, and maybe He's not answering my prayers the way I want now because He has something better in store for me down the road.
Priscilla is a wife and mom of three boys.  She has a master's degree in Biblical studies (which shows up in the way she's able to spend a whole book diving into just two verses of the Bible) and a passion for serving women by drawing them into God's word.  To find out more about her and her other books, visit her website (where you can also follow her on social media).
Can you also look back on times in your life when you've seen God's ability at work?  Or are you struggling, like me, to trust that He is able to help you with something?
I'm linking up with Womanhood with Purpose and Missional Women.