My ensuite bathroom is one of my favourite rooms in our condo. If that makes you laugh, let me explain why. I'm an improver. I'm always looking for ways to improve our home, my blog, etc. The problem with this is that some improvements are easier to implement than others. An ensuite bathroom, because it's small, is an easy room to update. I thought I'd share my ensuite bathroom makeover with you, to show how a few little changes made a big difference in this room.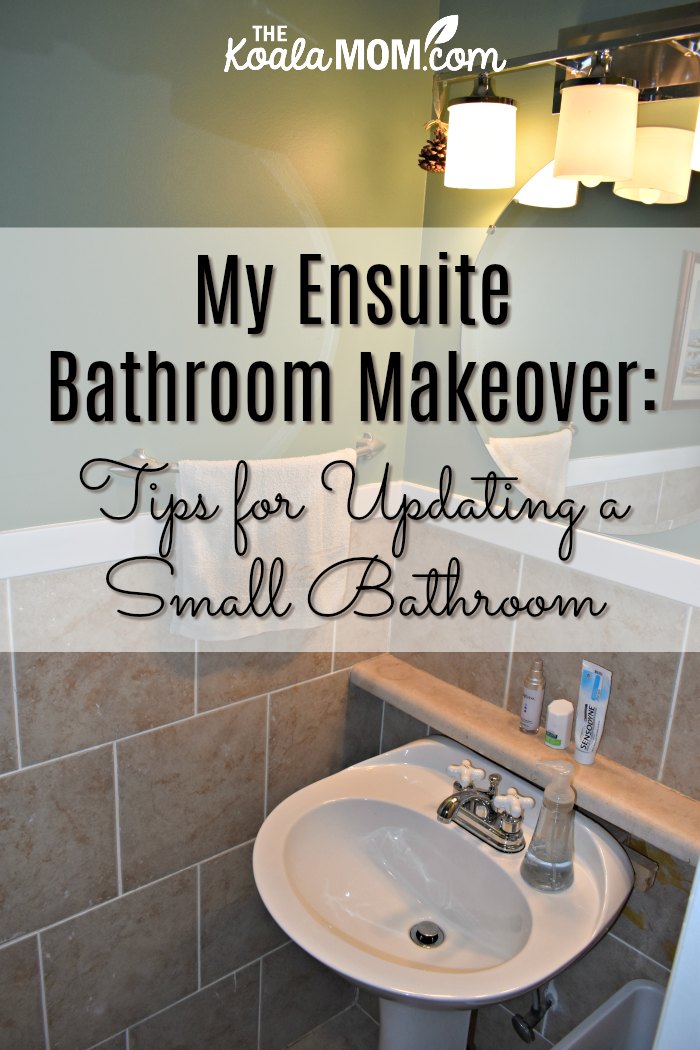 This post is brought to you by BuildMyKitchen.com; all opinions expressed remain my own.
Before the Ensuite Bathroom Makeover
Our ensuite bathroom is a half-bath or two-piece bath off the master bedroom. It has beige 12×12 tiles halfway up the walls all around. There's a sliding pocket door, a small toilet, and a pedestal sink. This is the only picture I took there when we moved in: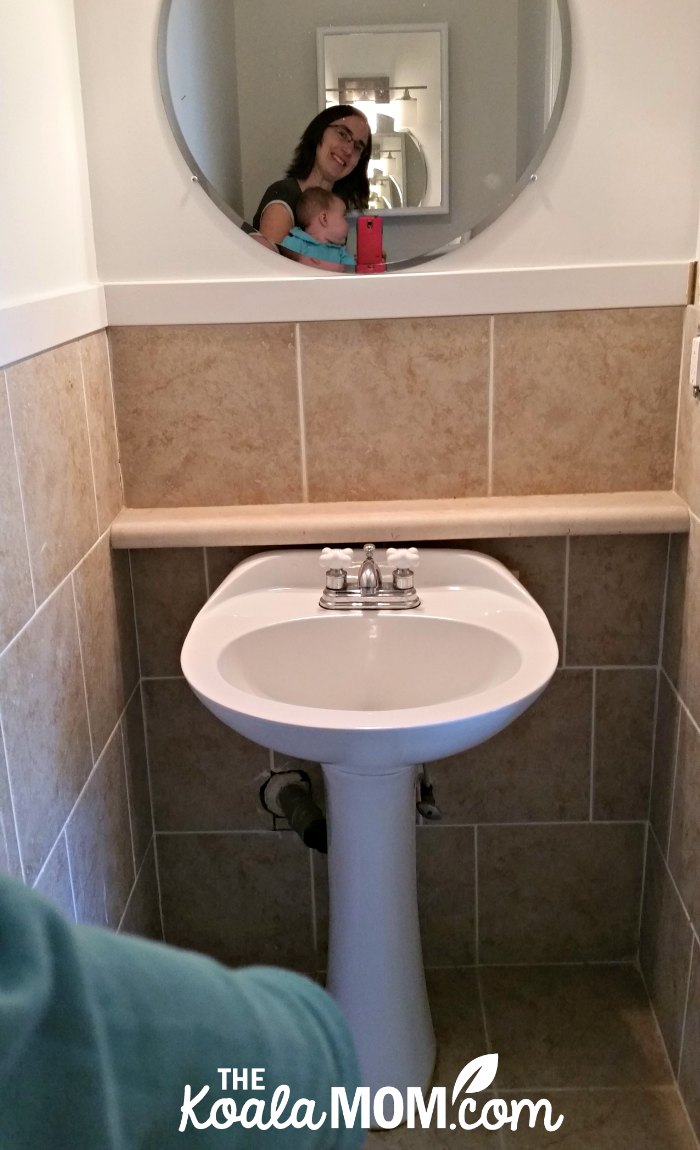 I was so excited to start my ensuite bathroom makeover that I didn't think of taking any other "before" pictures until I was halfway done!
What I wanted to fix:
A piece of molding to the right of the sink was missing
The plate over the plug was missing
The mirror was attached with screws, not proper mounts
The medicine cabinet was tiny and plastic, so things fell out of it easily when it opened
The towel rack was white metal, looked like it had been installed in the 70s, and was over the toilet, not the sink
The toilet paper holder was a ceramic dish that sat on the back of the toilet (awkward in a small space)
The plain white walls were boring
All these are small annoyances, but they were easy to fix. And after years of putting up with things like this in the places we'd rented, I was excited to be able to update this room in our first home. On their own, each was a small job. Put together, they made a big difference in the appearance of our ensuite bathroom (which is what makes it my favourite room!).
What worked (and didn't need to be changed):
Thankfully, the major fixtures in the bathroom (lights, vanity and toilet) didn't need to be changed or updated. The bathroom vanity isn't my favourite (I'd prefer something that hides the plumbing better and offers storage underneath) but it is fashionable and functional. The light fixture is also modern, with three lights hanging on a classic square stainless steel mount.
If you are doing any plumbing in your ensuite bathroom makeover, you can expect it to take longer and cost a bit more. If you're not comfortable with doing plumbing yourself, you'll have to hire someone to do this. For example, maybe someday we'll replace the toilet with a water-saving model like the one in our other bathroom.
Gathering Ideas for Your Small Bathroom Remodel
Before starting to our ensuite bathroom makeover, my husband and I discussed what we wanted to change. Even though we were working with a small space, it was exciting to talk about creating our bathroom oasis. We made a list of what we had (paint) and what we needed (hardware and accessories).
Depending on your space, you may spend more or less time on the planning part. One fun way to dream is to create a Pinterest board. You can browse small bathroom organization ideas from other bloggers and save your favourites. You can also shop home decor places online and pin hardware and accessories that you like, then begin deciding which ones work best in your bathroom.
For us, choosing the paint colour was easy. The medium green that I'd painted our master bedroom went well with the beige tiles in the bathroom. I just had to pull out the leftover paint and painting supplies.
Picking up mirror hooks and molding was a quick, cheap trip to the hardware store. My husband found a sleek, stainless steel towel rack at a local thrift store, which matched the rest of the stainless steel accessories in the bathroom. We found a new toilet paper holder while browsing home decor at a local store.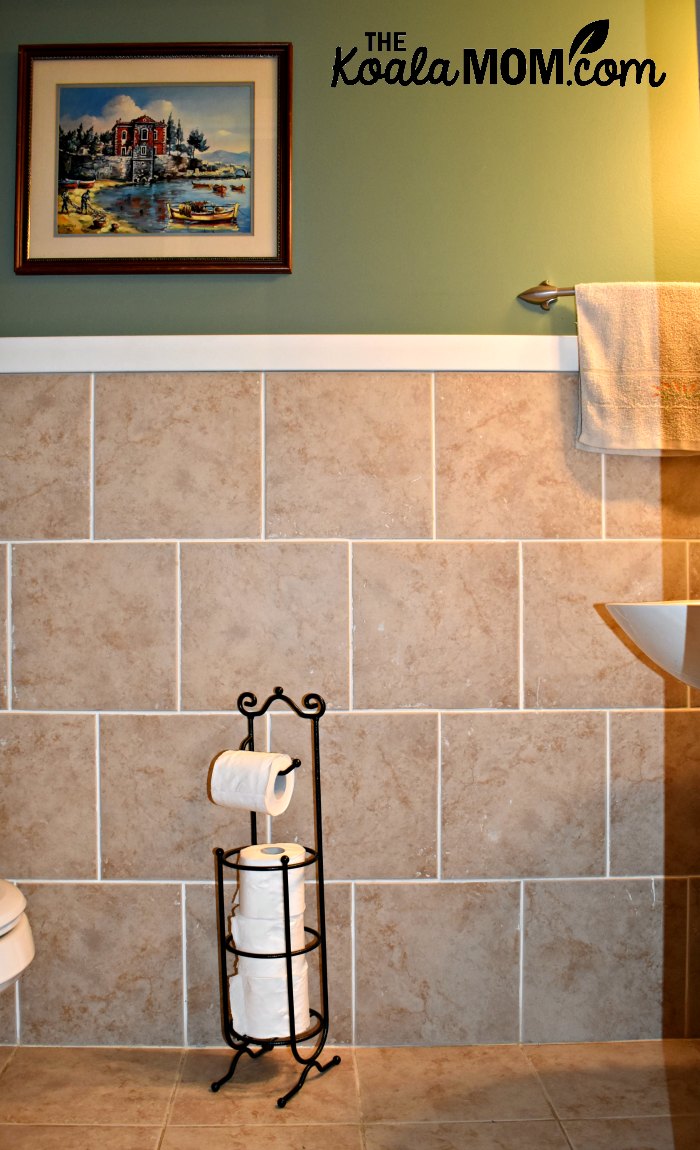 You can also choose to place a clawfoot tub in your bathroom because they look more classic. They are called nostalgia tubs because they have been around for a long time and give a vintage look. Clawfoot tubs are made equally in terms of size and give an appealing look to the bathroom. Make sure you also have other bathtub accessories that suit the clawfoot tub, so that you make the most out of your bathing experience.
The biggest, most expensive item for our ensuite bathroom makeover was the medicine cabinet. Because there isn't much other storage in our ensuite, I wanted a fairly large medicine cabinet. However, medicine cabinets are expensive.
After shopping around various websites, I remembered that my brother has gotten into wood working again lately. I sent him a quick text asking him if he needed a project idea. About a month later, he dropped by for a visit with my new medicine cabinet.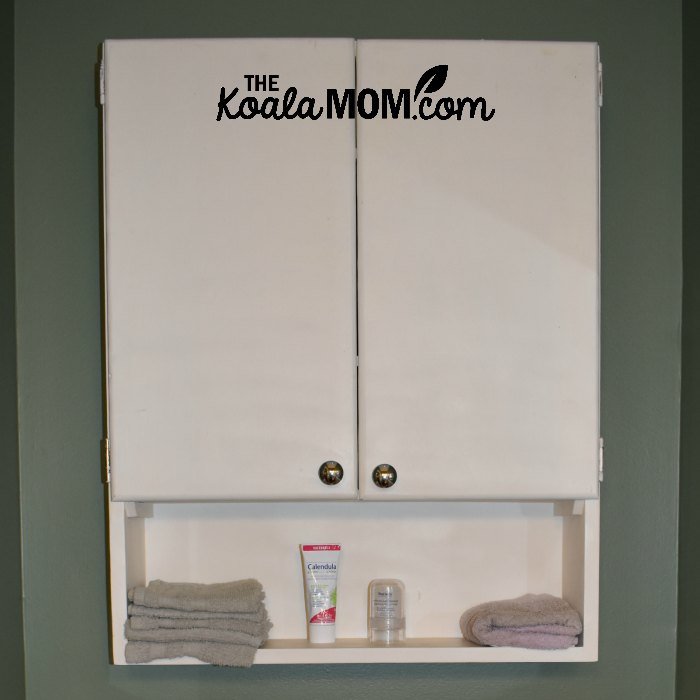 Once we had all the pieces and supplies, it was time to get down to work on updating a small bathroom.
Starting Your Ensuite Bathroom Makeover
The first step in updating a small bathroom is to take everything out. For our bathroom, this meant taking off the plates around the light switch and plugs, removing the mirror, and taking down the medicine cabinet. I decided to tape the trim, rather than removing it. I debated whether to remove the light fixture or to tape it as well, and finally decided to take it down.
My pro tip: if you're dealing with anything electrical in your bathroom, make sure you turn the electrical breaker off first. Somehow I didn't think of that until I was standing on a stool, holding a light fixture and a screw driver in my hand, and staring at the live wire that connected said light fixture to the wall. My husband was out with the kids, so I couldn't even yell for help.
He and my dad both shook their heads at me when I told them about this. My dad is a DIY electrician and I've spent enough time helping him with various projects that I should have known better. Thankfully, I managed to disconnect the wires without electrocuting myself and moved on.
Repainting an Ensuite Bathroom
Once everything was out of the bathroom, I used some spackling to fill in the old screw holes in the walls from the previous towel rack, medicine cabinet, and mirrors. While it dried, I taped around the ceiling, trim, and electrical outlets. Then I sanded my spackling and got my paint supplies ready to go.
All the corners in a bathroom mean there's a lot of cutting in to do. The small space means it's still a quick job, especially since I was just painting the top half of the walls. I painted the first coat in the morning. I was able to go back in the afternoon and put the second coat of paint on. If you're painting a light colour over a light colour, or dark over dark, you may be able to get away with one coat of paint.
My pro tip: keep a wet rag handy for wiping paint smears. I managed to get a dab of paint on the ceiling and another swipe on the door frame. Unfortunately, I didn't notice them until the paint had dried, so they're still there.
After the paint has dried, check for any spots of paint where they don't belong. Give your walls a close look from various angles to check for any uneven or thin spots that need a touch-up. Sand and repaint any necessary spots before moving on to installing fixtures and accessories.
Just a new coat of paint can make a big difference when updating a small bathroom. I like bright colours in small spaces, and find that the green and beige colours in our bathroom gives it a cozy feel.
Accessorizing Your Small Bathroom
The next day, we re-installed all the bathroom accessories. My husband turned off the breaker and helped me put the light fixture back in. He hung the mirror properly, with silver brackets instead of chunky screws. We put in the piece of missing trim and the new towel rack. And we hung the medicine cabinet from my brother.
My pro tip: make sure you've got all your toolkit essentials assembled before you start the job. It's frustrating to find the time to get to work on a project, only to realize that you don't have the right screw driver or pliers to get it done.
My Ensuite Bathroom Makeover Completed!
That's why my ensuite bathroom is my favourite room in our condo. It's completely ours. I painted it my favourite colour. We updated it to meet our needs, with a family-sized medicine cabinet and a towel rack in the right spot. Everything in the bathroom is properly finished. We chose accessories we like.
Overall, my ensuite bathroom makeover took only a weekend. The longest part of that time was waiting for the paint to dry! If you're thinking about updating a small bathroom, it's an easy DIY job for a quiet weekend.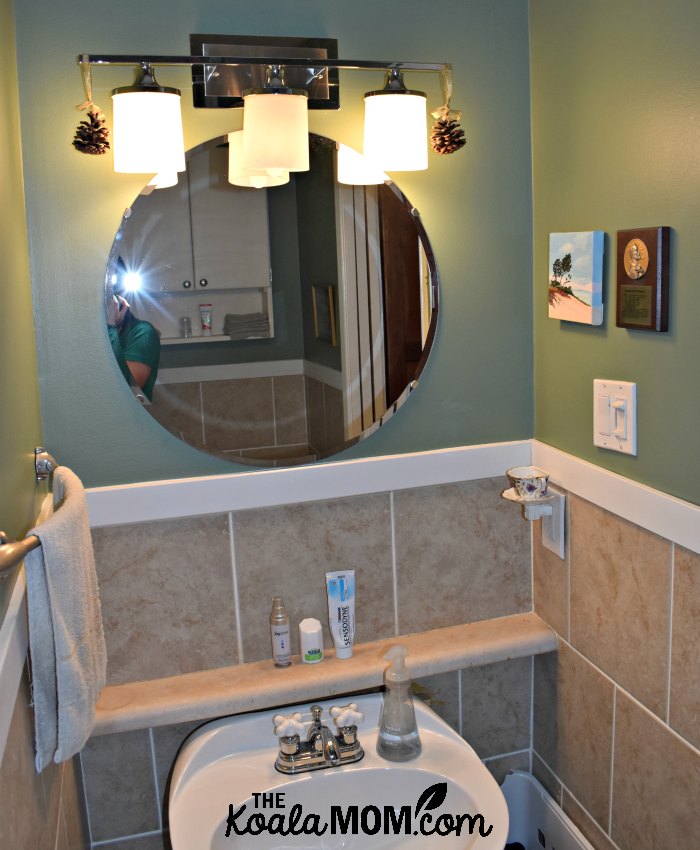 Have you tackled an ensuite bathroom makeover? What tips would you share for updating a small bathroom?