With all the moves my husband and I have made over the past ten years, we've also done a lot of furniture shuffling. While some pieces of furniture have stayed with us for a long time, others have come and gone as they fit. Now that we own our home, we've had fun finding furniture that will last a lot longer. We are not getting things to fit "for now" anymore, but looking at pieces for the long-term.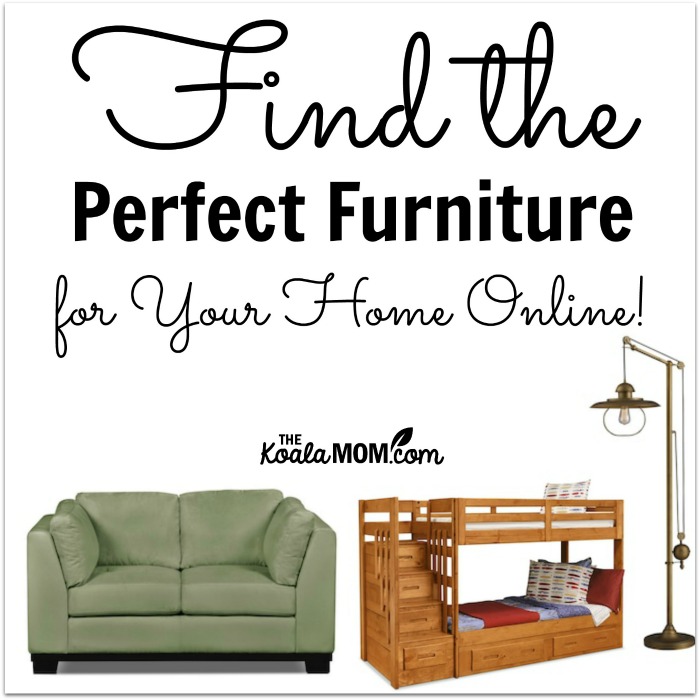 Looking at furniture online has been a great way to find ideas and discuss what might work in our home. It's easy to browse a few websites after the girls to go bed (so they don't ask endless streams of questions or try to convince us to buy bright pink bean bags for them). Furniture.ca is one website with great selection—plus they have Canadian prices and shipping options!
When shopping online for furniture, I recommend keeping your tape measure handy. We've often looked at a piece of furniture and then gone to measure the space. Dimensions for the furniture are usually listed on the website. With our tape measure, we can see if the furniture we like will fit in the space we need it. This is especially important if you have a small living room. You don't want to get a couch that takes up half the floor space or an entertainment unit that overshadows the entire area.
While finding furniture online usually means some assembly is required, it can also make it easier to move the furniture in. My mom recently bought a triple bunk bed for the girls to sleep in when we visit. The bunkbed arrived in three boxes—easy to fit through the doors. She and my brother had fun putting it together. If she wants to move it out of the room now, she'd have to take it all to pieces again. So make sure, when you assemble something, that it's in the room you want it to stay for a while!
Shopping for furniture at Furniture.ca and other websites also makes it easy to price compare. You can also watch for sales, as a friend of mine did before buying bunk beds for her kids. You may also be less likely to make impulse purchases. If you find a piece you like, you can bookmark it and come back to it a week or two later to make sure it's still just a nice as when you first looked at it.
What tips would you share for finding furniture for your home? Do you shop online or in person?