My brother came over a few weeks ago to be my handyman for the weekend (while my husband works out of town). Thanks to his tools and skills, we changed a leaky bathroom faucet, built a Pinterest-inspired shelf for the back of the stove, caulked the bathroom, took out a fence, and more! All the jobs were fairly small tasks that I could have done on my own, but his know-how saved me some googling and his toolkit made all the work easier. Here, Adam aka the Healthy Handyman is sharing his toolkit essentials for the handy mom (for those times when your brother can't help…).
Everyone knows that the world is run by moms. From managing brilliant careers to handling the household there is nothing that a mom can't do. That includes home improvement and repairs. If you are a mom who wants to do it yourself, more power to you! But before you get your hands dirty, make sure you have the right gear to handle any task.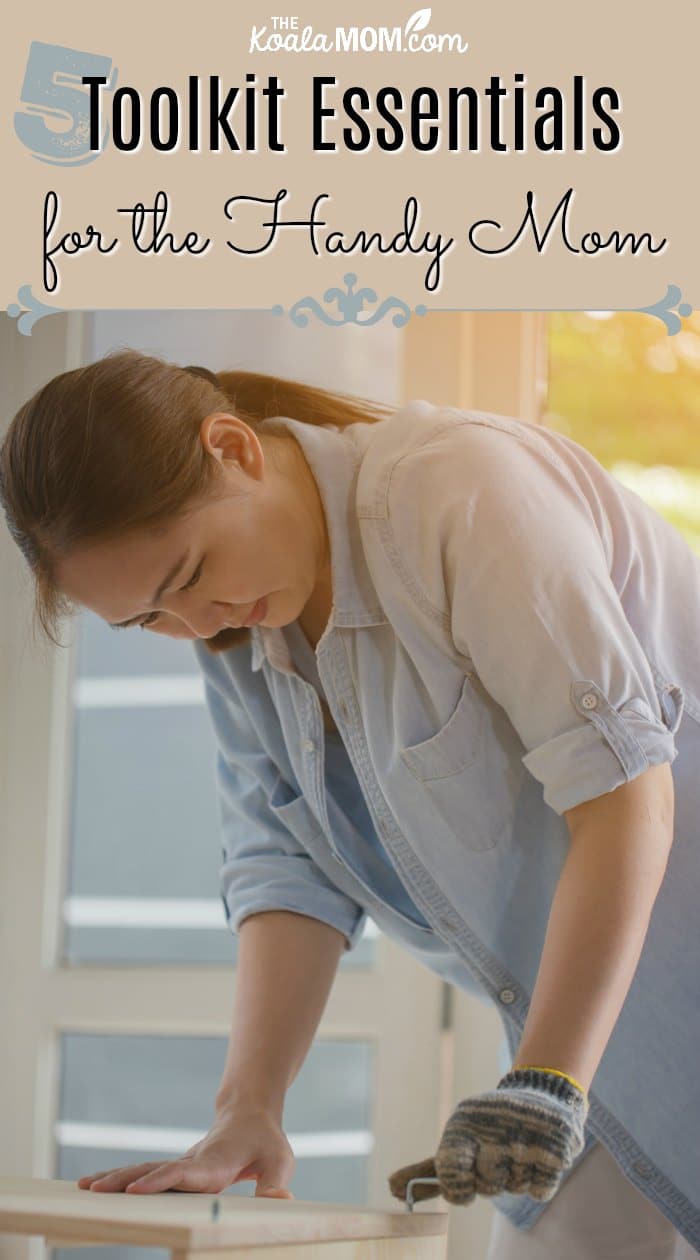 Here are 5 essential tools for the handy mom!
1. Hammer
If you don't have a hammer, frankly you don't really have a tool kit. A good claw hammer should be versatile enough to handle pretty much any task, from pulling out nails to hammering them in.
Some people like to stock up on a couple of different hammers so that they are truly ready for everything. The truth though? You will probably be fine just getting one. A 16-ounce claw hammer will help you hang a picture, hammer finishing nails into loose trim, or even pry boards off broken fences. The best part is that they are cheap enough to suit any budget.
Bonnie says: After breaking my hammer while trying to dismantle a very old fence in our yard, I'd recommend getting a fiberglass handle rather than a wood handle.
2. Screw Drivers
Every handy mom at least needs a Phillips (aka star or plus) and flathead screwdriver. However, for access to a wider range of jobs, you might think about getting some Allen wrenches as well. If you have any Ikea furniture in your home (or plan to get some), Allen wrenches come in handy for taking it apart and re-assembling it.
You can hand pick these screwdrivers yourself but you'll likely get more value by buying them in a set. Basic sets will give you access to the majority of screws you will come across. You can get a pretty comprehensive set for under thirty dollars.
Bonnie says: We have a multi-screwdriver that has a hollow handle to hold various tips, which you can then switch out as you need them. This is my go-to screwdriver for most tasks (I keep it in my desk drawer) as I can just open the top to pick whichever head I need.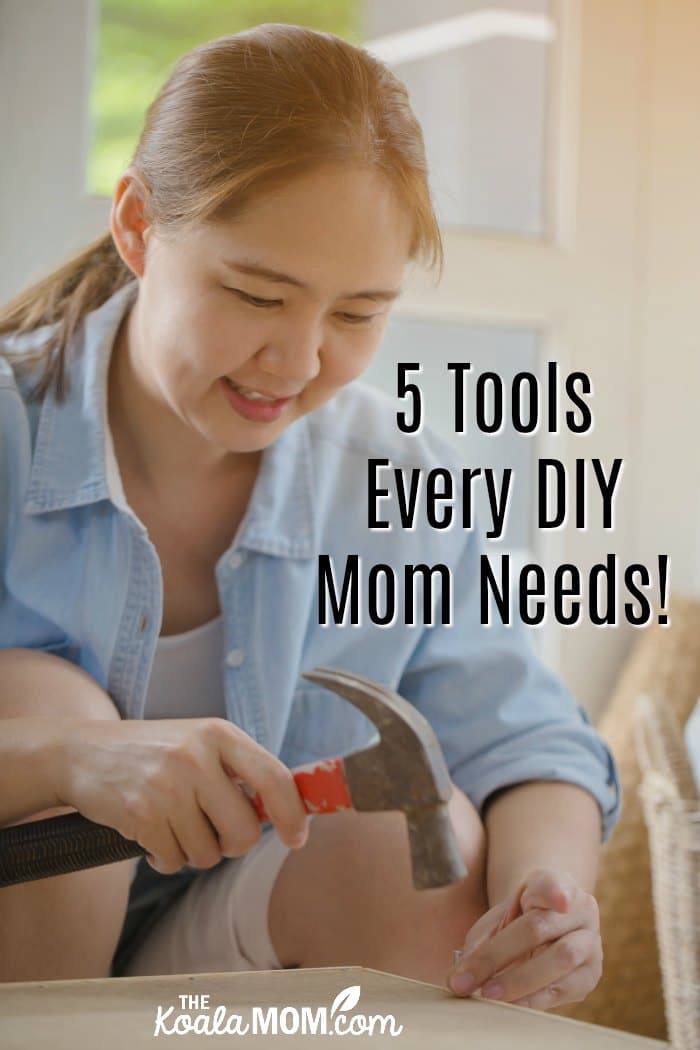 3. Tape Measure
Tape measures are a simple but indispensable tool you will use for hanging window coverings, buying the right furniture, and, well, anything that requires some measuring. Tape measures come in a variety of different sizes. Bigger tape measures (around 100 feet) are mostly used for building work.
If you're repainting, you'll want to measure your walls to estimate how much paint you need. If you're redoing flooring, again, you need to measure. Tape measures also come in handy when hanging pictures or rearranging your current furniture. If you're installing new storage or shelving, you'll want to measure how wide the shelves need to be and where to place them.
The standard home do-it-yourself projects will probably only require a 25-foot tape measure. You can also get digital tape measures that may be easier to use.
A great place to start is with this pink 9-piece Stalwart tool set, which includes a hammer, screwdriver, measuring tape, and pliers in a neat little carrying case.
4. Ladder
While a ladder won't literally fit in your toolkit, it should certainly be toolkit adjacent. This handy tool is essential for cleaning gutters, washing windows, painting your house, getting up in the attic, or even gaining access to the roof if need be. Peter from Paintsprayermag helps you find one here.
Bottom line is that any homeowner, even if they aren't handy, should have a good ladder.
How big should you go? It really depends on where you will be using the ladder. Ideally, you want something tall enough to reach any surface you might need access to without being too big to store.
5. Safety First
Last but not least, doing it yourself can be a little bit rough. Remember that safety always comes first. Gloves and safety glasses will keep you protected for most basic jobs.
Bonus Toolkit Essentials for the Handy Mom
If you've already got these toolkit essentials for the handy mom, I'd also recommend adding a few more items to your collection:
level (useful for hanging shelves, pictures, etc)
stud finder (also useful for hanging pictures, installing shelves and door stops, etc.)
pliers (useful for loosening tight bolts, holding small items, etc)
If you're planning to do a lot of home renovations or fixes, or have a lot of DIY projects in mind, then the 135-piece Apollo household toolkit may be exactly what you need. This sharp pink-and-black toolkit includes a hammer, level, cordless screwdriver, tape measure, pliers, and more in a neat carry case.
Now You're Ready to DIY!
While the above-mentioned tools might not be enough to help you build an addition on to your home, they should be enough to take care of the next little problem that pops up in your home. These foundational pieces of equipment are going to be your best friend the next time your already hectic life gets a little bit crazier. It's not easy to be a mom on the go, but with the right tools, you can head into any problem situation with confidence.
What would you consider to be toolkit essentials for the handy mom? What tools do you use frequently for your DIY projects?
Adam Harris is a contributing writing for the Healthy Handyman, a resource for handyman (or handywoman) and DIY-related buying guides. He's passionate about tools, home improvement and fishing.