When I was growing up, we spent every summer camping in the Rocky Mountains. To me, summer holidays still mean some sort of camping trip, whether it's an overnight weekend at our favourite National Park, a Catholic family camp, or a group camping trip with friends. If summer also makes you think of camping, here are some great Canadian campgrounds to inspire your plans.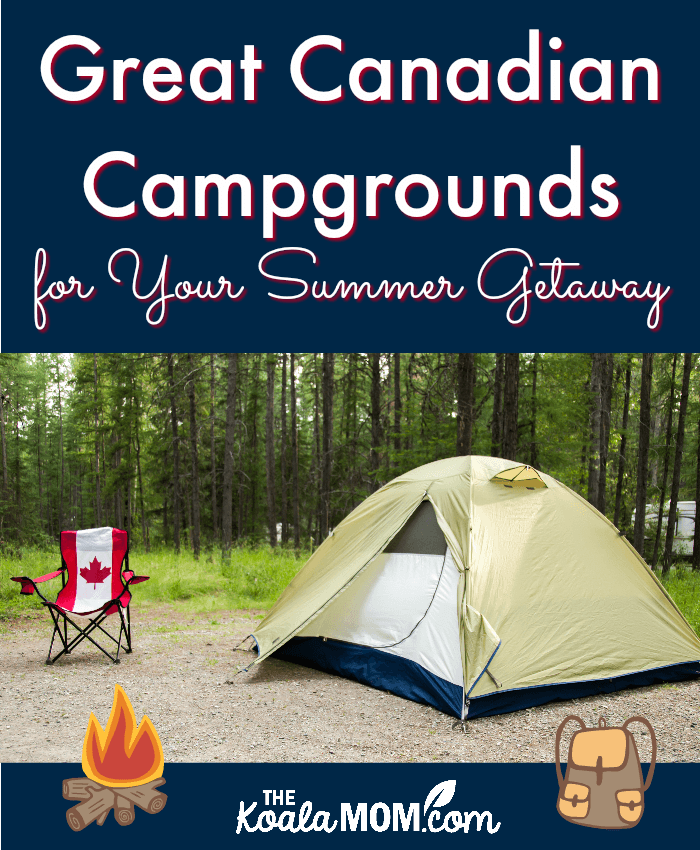 New Brunswick Campgrounds
Fundy National Park—Our family loves the outdoors whenever we have the chance to enjoy it. The very end of the 2016 season, we had the opportunity while we were in Fundy National park to try out an OTentiK site. The best way to explain one is that they are a cabin style shelter in the shape of a tent, they have a table, bunk bed style sleeping and propane heat.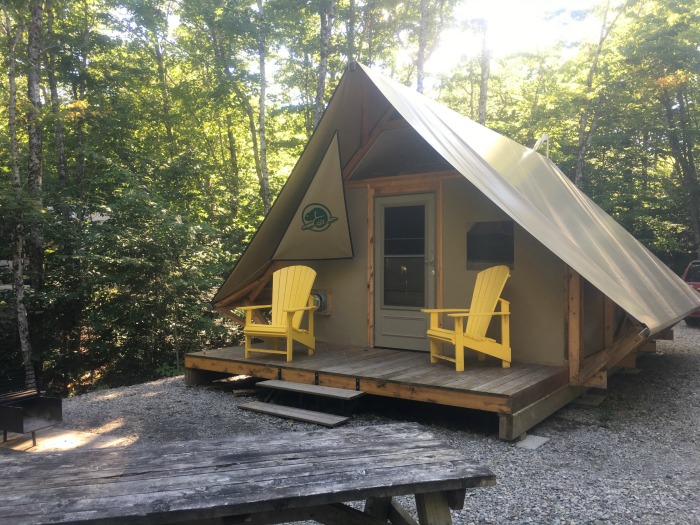 Ontario Campgrounds
Niagara Falls KOA—We love to get away and enjoy nature, which is why we were excited to spend a few days at the Niagara Falls KOA (Kampgrounds of America) in Ontario.  It didn't take long on their website before I discovered that they not only offer cabins to camp in, but they also have "deluxe cabins".. and our preferred style of camping was discovered!
Manitoba Campgrounds
Riding Mountain National Park—While my wife and 5-year-old daughter were on a vacation, my oldest daughter and I decided we should go on a cool adventure also.  So while it was still relatively cool at night (7 degrees) we went camping to Manitoba's own Riding Mountain National Park.
Alberta Campgrounds
Rocky Mountain House National Historic Site—"We're going to camp in a tipi!" Sunshine told her grandparents, aunts and uncles, cousins, friends, and anyone else we ran into. I smiled at her excitement, because I was nearly as excited as she was. Since booking our stay in the Heritage Camping at Rocky Mountain House Historic Site a few weeks before our visit, I'd been counting down the days until we arrived.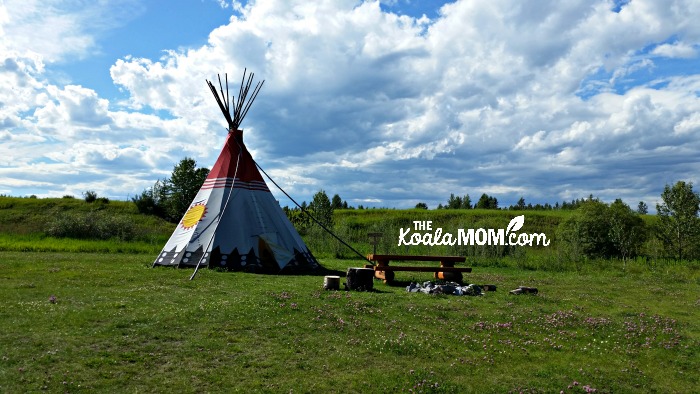 Waterton National Park—Quite a while ago, my husband was browsing through my hiking trail book and found a trail he thought I'd like. "You take a boat across the lake, then climb up into a valley, and then crawl through a tunnel and have to use a cable to get along a narrow ledge before you get to the lake," he said. It sounded adventuresome and challenging—my type of fun.
British Columbia Campgrounds
Chehalis River—Before having kids, hubby and I liked driving around in the mountains or in the Interior searching for that perfect deserted spot to set up a tent and camp for a few days. But since the girls came along, we've limited our camping trips to provincial and forestry sites where we still get cell service and can easily access services in case of an emergency. While it certainly isn't as isolated as what we used to enjoy, Chehalis River just outside Harrison Mills has become one of our favourite campgrounds to visit every summer.
Rondalyn Resort—Last weekend, we escaped to Rondalyn Resort near Nanaimo for two nights of camping. It's the first time in two years we've gone camping, so I was really looking forward to getting away for a couple days. We also had a new tent to try out and a "new" baby to take camping for the first time.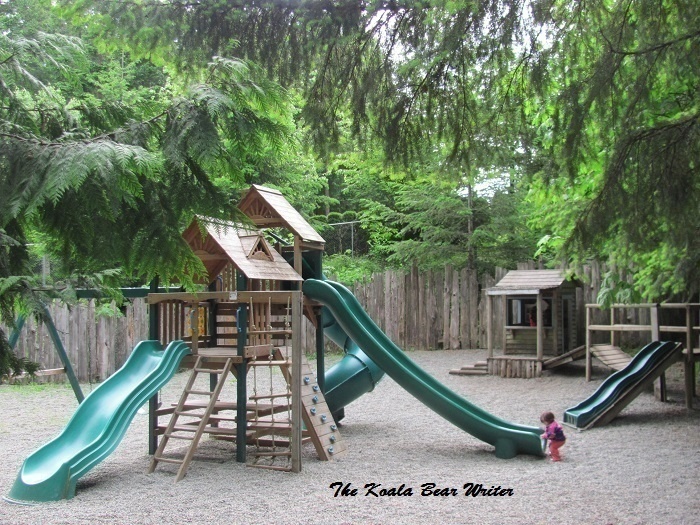 Fort Rodd Hill—My family just enjoyed a weekend away in an amazing oTENTik tent at Fort Rodd Hill and Fisgard Lighthouse National Historic Sites. The minute I heard about oTENTik tents I knew this was a place I wanted to take my kids. The oTENTik tents looked like nothing I had ever seen. They are a perfect mix between a tent and a cabin.
Sombrio Beach—Wednesday afternoon and we were en route to Sombrio Beach, just a couple hours south of Victoria. I'd waffled back and forth about this trip for most of a week, thinking about the work involved in camping—packing, unpacking, cleaning, organizing. But at 11 am, I found myself flying around our house, filling fuel bottles for the stove and debating whose backpack we should stuff all the gear into.
Nairn Falls—Nairn Falls is a cozy campground located in a bend of the river just north of Whistler, BC. We spent a weekend here last June and thoroughly enjoyed exploring the campground, as well as day-tripping into Whistler and Pemberton. If you've started considering which campgrounds to book for your summer holidays this year, here's more about what you can expect to find at Nairn Falls Campground.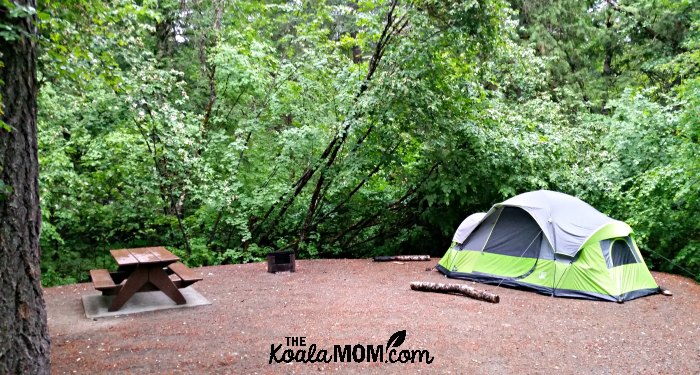 Tofino, BC—If I had to describe Tofino, BC, in one word, I'd say "surfing."  Half the shops in town seemed to be surf shops; the other half were offering tours to see bears, whales, or the hot springs.  Even in early June, the public beaches were packed with suntanners and surfers. It was still a great place to spend a weekend camping.
Wells Gray Provincial Park—Located in central BC just a couple hours north of Kamloops, this provincial park offers hiking, canoeing, horseback riding, white water rafting and more. My mom and I met here one summer to spend three nights camping, hiking and canoeing with my kids.
Herald Provincial Park—sitting on Shushwap Lake, Herald Provincial Park is a small, family-friendly place to camp. With a playground, short hike to a waterfall, and nice beaches, Herald offers a relaxing summer vacation for the family.
Cultus Lake Provincial Park—located just an hour from Vancouver, Cultus Lake is a popular lakeside destination. The park offers multiple campgrounds, cabins and day-use areas. With a waterpark and adventure park nearby, as well as plenty of hiking, swimming and boating fun, there's something for everyone at Cultus Lake.
Golden Ears Provincial Park—located just past Maple Ride, Golden Ears Provincial Park offers three campgrounds, two day use areas, multiple hiking trails, and more. We went camping in early April and enjoyed some chilly dips in the lake between relaxing at the campground and hiking to a nearby viewpoint.
For camping tips and ideas, check out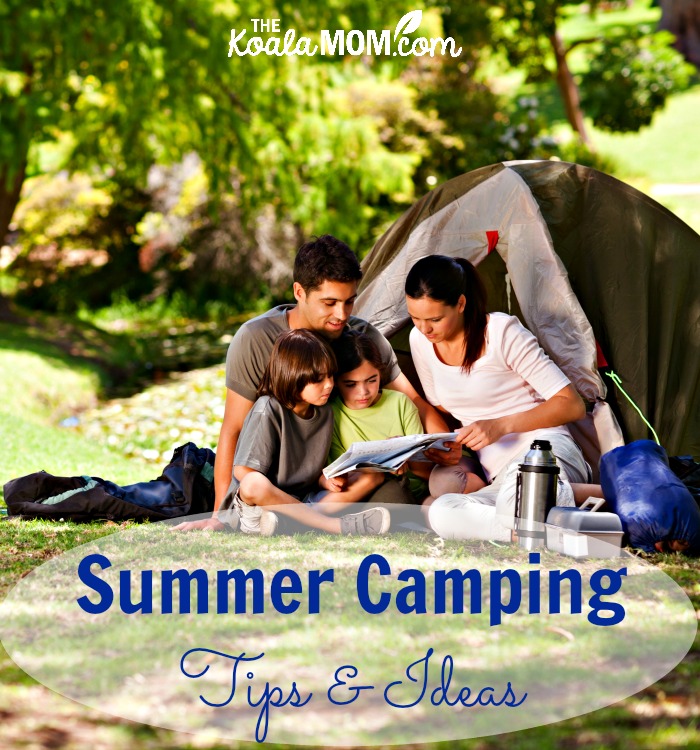 Are you planning a camping trip this summer? What are your favourite Canadian campgrounds?