Mother's Day weekend found us kicking off the camping season at Cultus Lake, near Chiliwack, BC. This popular recreation destination is located just an hour and a half east of Vancouver and offers hiking, boating, beach and picnic areas, camping, and more.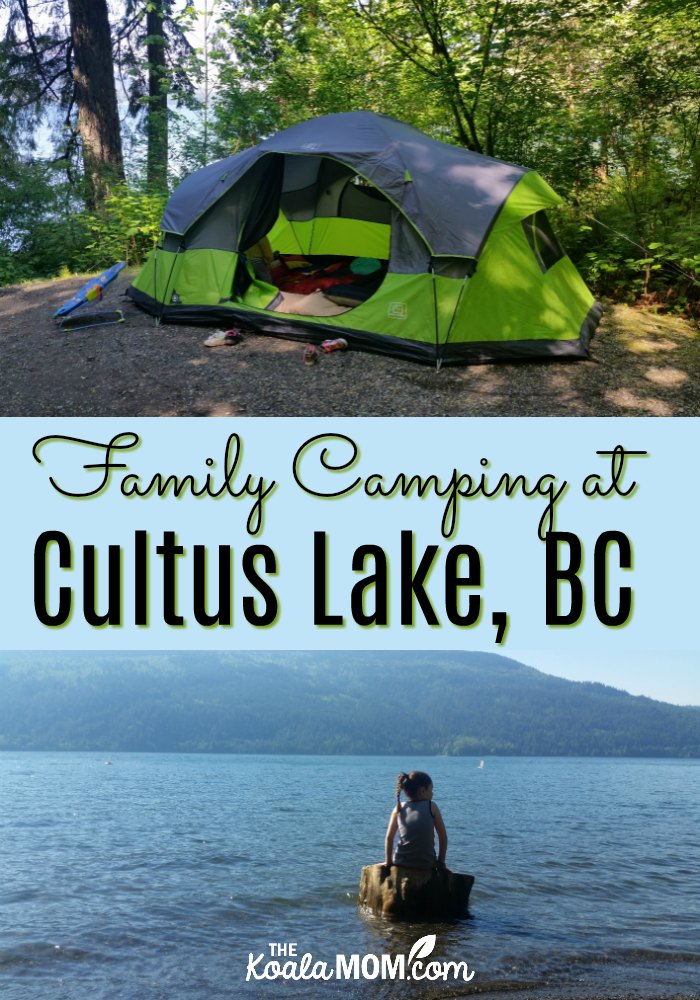 Our home for two nights was Delta Grove Campground, located halfway down Cultus Lake between the water and the highway.
Friday at Cultus Lake—Arrival
We arrived at Cultus Lake Provincial Park mid-afternoon on Friday (with only a few "are we there yet?" questions along the way). After checking in and locating our camping spot, I set up our tent while the girls explored nearby. I was impressed at the size of the campgrounds (we have a big tent!) and the space between sites.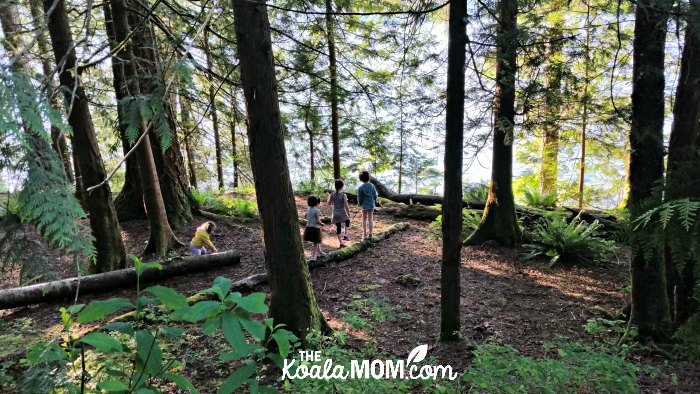 With the tent set up, we went for a walk around Delta Grove. A trail near our campsite lead us through the woods to a nearby beach area. The girls were soon busy digging in the sand and splashing through the waves rolling in (from passing boats).
I made a quick trip back to our campground to grab a water bottle and my book. While the girls played, my husband prayed a rosary and I attempted to catch up on my reading.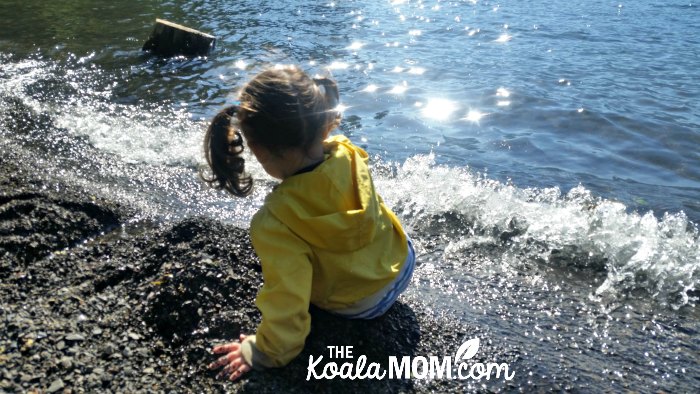 Back at the campground, I made supper while my husband went to get firewood. For our camping trips, I try to plan simple, one-pot meals that are quick and easy to cook. For Friday's supper, I heated up two cans of Chunky soup (New England clam chowder) with baby carrots.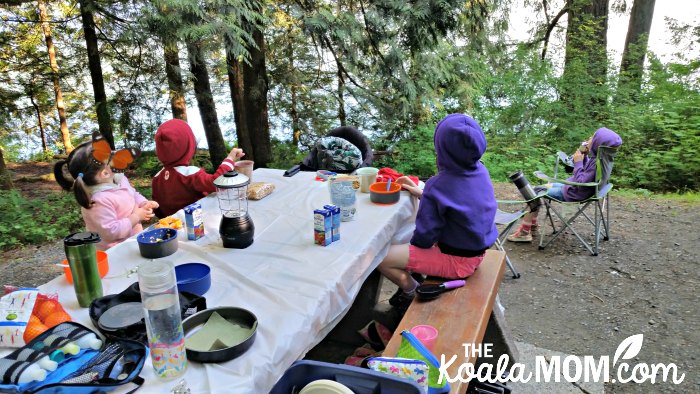 After supper, we roasted marshmallows and make s'mores. Then it was time to climb into the tent and attempt to get the kids settled down.
For this trip, I'd picked Mr. Popper's Penguins at the library to read aloud to the girls. It was one of my favourite books as a kid, but the first few chapters were a bit slow for them. Pearl didn't like it when I left the tent, so I ended up going to bed with them. Thankfully, everyone slept well!
Saturday at Cultus Lake—Teapot Hill Trail and the Beach
On Saturday morning, the girls were up around their usual time. We crawled out of the tent and made a trip to the washrooms. (There was an outhouse not too far from our campsite, but the girls didn't like it so we usually opted to run to the further flush toilets.) Then I started boiling water for breakfast—coffee for me, instant oatmeal for everyone. I also gave them oranges and apple juice.
With breakfast out of the way, we set out to hike the Teapot Hill Trail.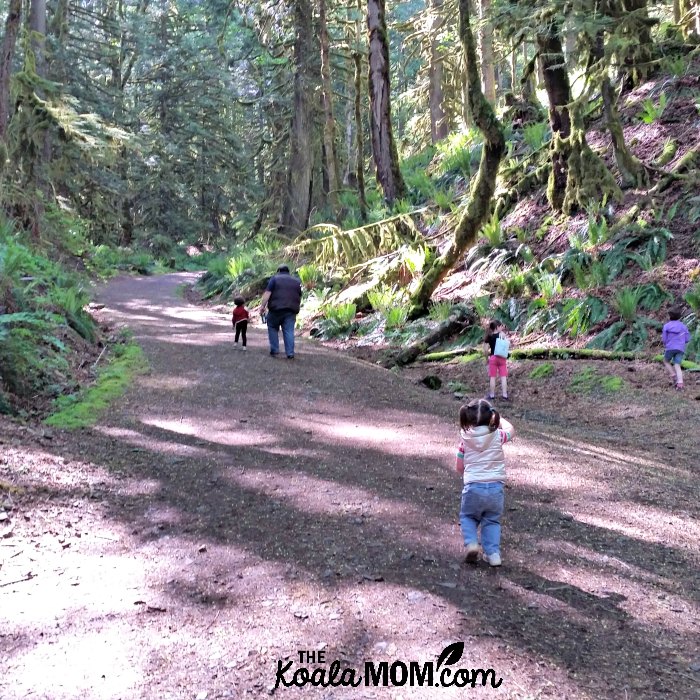 This trail took us about three hours to hike (two hours up and one hour down). It was a busy, popular trail with lots of teapots to spot along the way!
After our hike, we drove straight to the Entrance Bay day use area. We found a shady picnic table to eat lunch at (since we had all the food with us in the van!). The girls played for a bit on the playground, then they headed for the beach. My husband had a nap, the older three girls dug in the sand, and I followed Pearl around while trying to keep Joey out of the sun.
Sunshine, Lily and Jade made friends with two boys from North Vancouver who'd driven up to Cultus Lake for the day with their grandparents. They'd brought shovels and buckets, so all the kids made a long channel down the beach to the water. Then they were busy filling the buckets, dumping it in the top of their stream, and watching the water flow along to the lake—or building dams to stop it.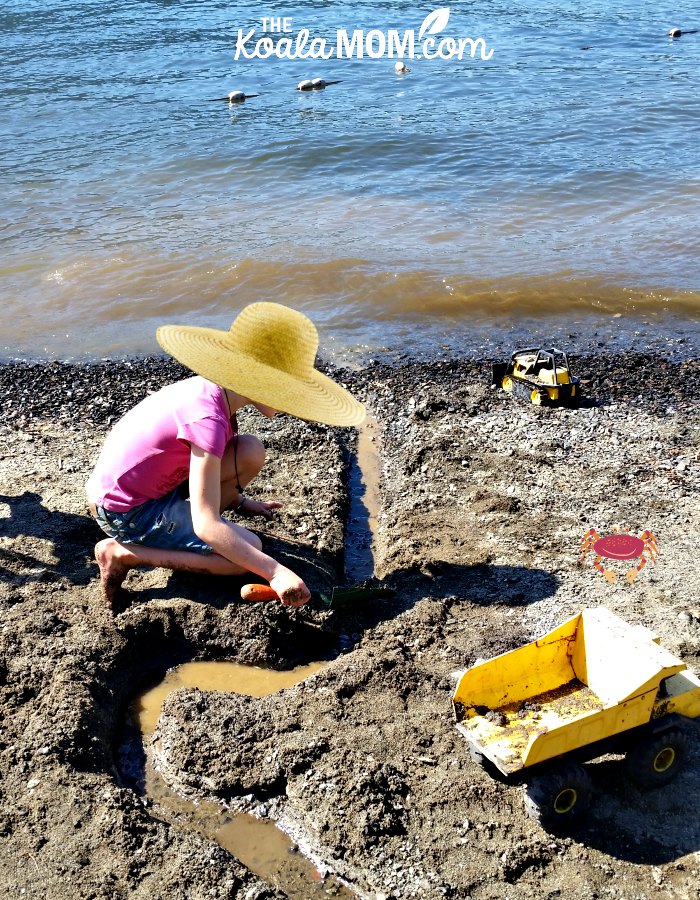 Since I was busy with Pearl and Joey, it was fun to see the girls having fun with this other family at the beach. Pearl had fun going down the slide at the playground for a while, but there were a lot of other kids there so she got upset if someone else was on the slide when she wanted to go down. I had to ask other kids to let her have a turn, and then tell her to go down. When she tired of that, I got the soccer ball out for her to play with for a bit.
By 4:30, I was feeling baked—even though I'd been staying in the shade with Joey for most of the afternoon! I convinced the girls to say goodbye to their new friends, and we headed into town for something cold. There were limited options for slushies, so we ended up at a cafe getting iced coffees and ice cream cones.
Back at the campground, my husband built the fire while I made supper. We had penne with a jar of Classico alfredo sauce and a can of ham.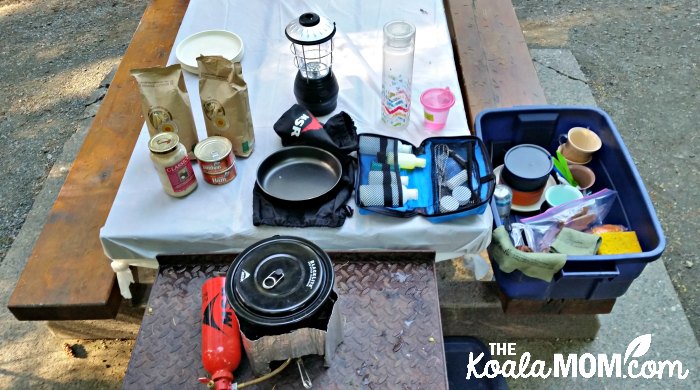 I'd forgotten that the Teflon came off my big pot last year when we were camping, so I had to cook supper in two batches in my small pot. (PSA: don't buy non-stick frying pans. I've had two lose their Teflon into our food now. Not nice.)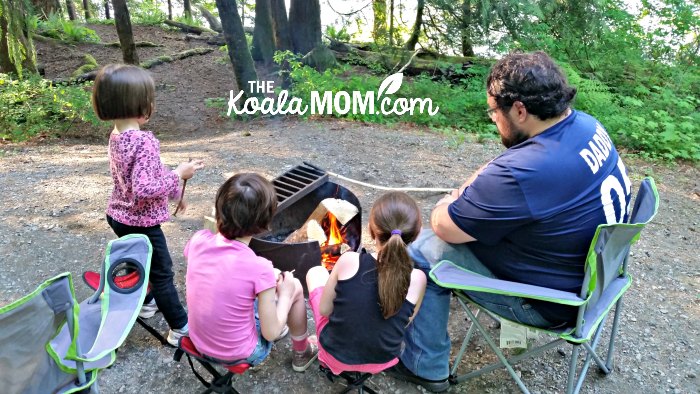 By the time supper was done, the fire was just right for s'mores. Pearl got into the idea of eating marshmallows off sticks, and was busy finding herself little sticks to poke into her marshmallows. It was also a good chance to discuss fire safety with the girls.
Then it was into the tent again—more read-aloud, white noise, and a few trips to the bathroom before everyone settled down to sleep.
Sunday at Cultus Lake—Breaking Camp and the Big Cedar
On Sunday morning, Pearl and Joey were the first ones up. Sunshine and Lily slept in, as they'd been up late with Daddy watching the fire (after a trip to the washroom). I made breakfast for myself and then began packing up our campground. The girls soon woke up and helped with the tent. In a short time, the campground was as empty as we'd found it and we were saying goodbye to our campground at Cultus Lake.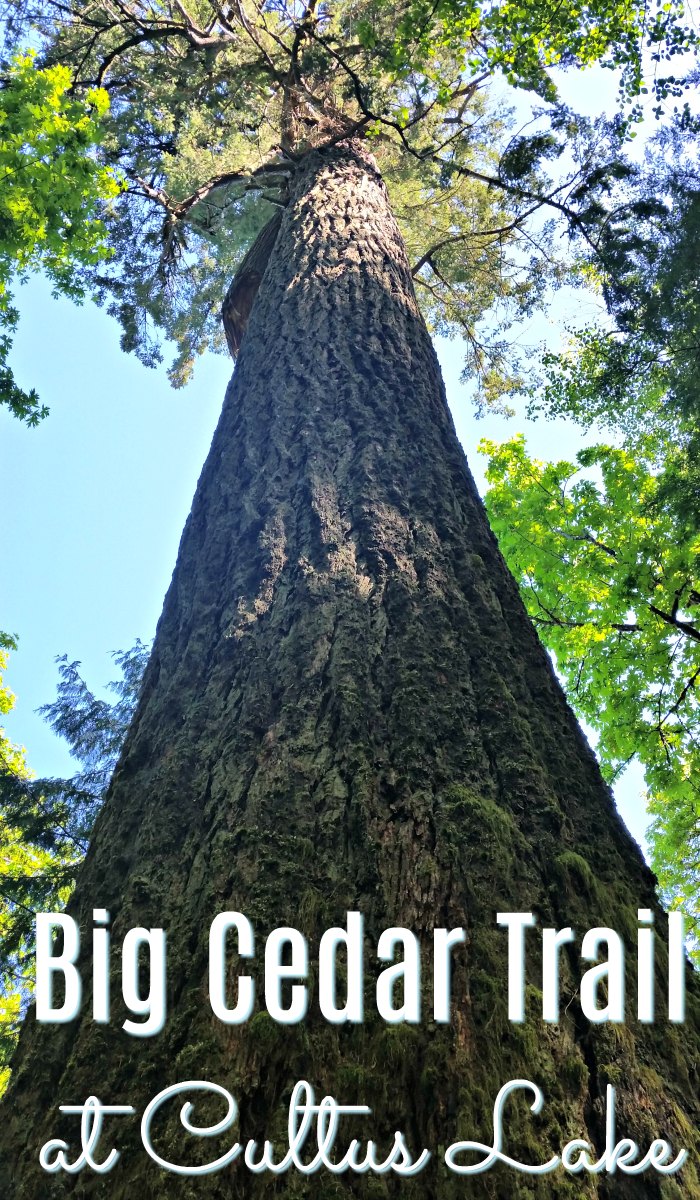 We drove a short distance to the Big Cedar Trail. Parking was in a small pull-out at the edge of the road, and then we had to hike a few hundred feet beside the road to reach the trail. This hike was less than a kilometre and took us probably only twenty minutes each way.
The Big Cedar Trail was much narrower than the Teapot Hill Trail and overgrown with stinging nettle. Sunshine had run into a patch of stinging nettle on our Teapot Hill trail. Thankfully, it cleared up mostly by the time we finished our hike, and I put some tea tree essential oil on it when we reached the van.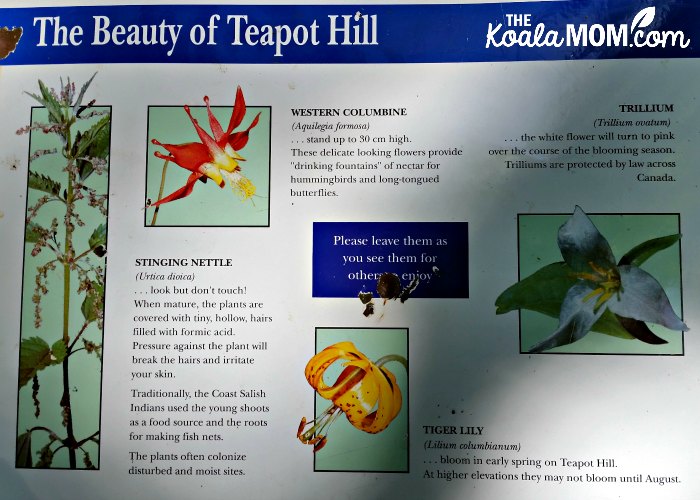 On the Big Cedar Trail, all of us except Sunshine were wearing long pants. My husband put Pearl on his shoulders again, as she was eye-level with the stinging nettle. Sunshine stepped carefully past the nettle. Once we passed the campground (closed that weekend), the trail widened out a bit and we were out of the nettle. We soon reached the giant cedar—so big that all four girls couldn't make a circle around it.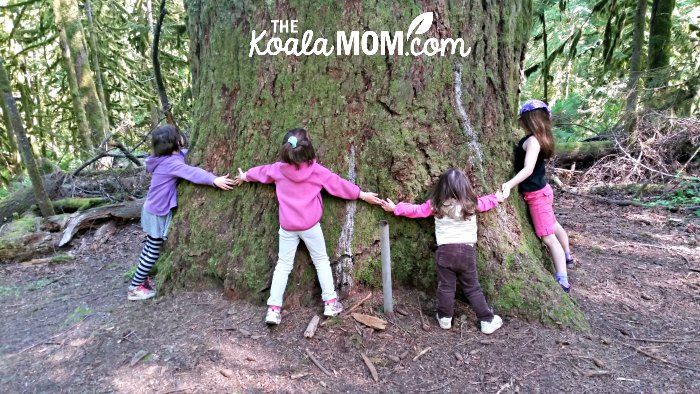 Since this was a short hike, I'd just tossed a couple diapers and a small pack of wipes into a Pampers bag, then hooked it through the waist belt on my baby carrier. My husband thought my "tail" was hilarious. We do need to get some better day packs for the girls—snacks and water are a must for kids for any hike, even one that's less than a kilometer long.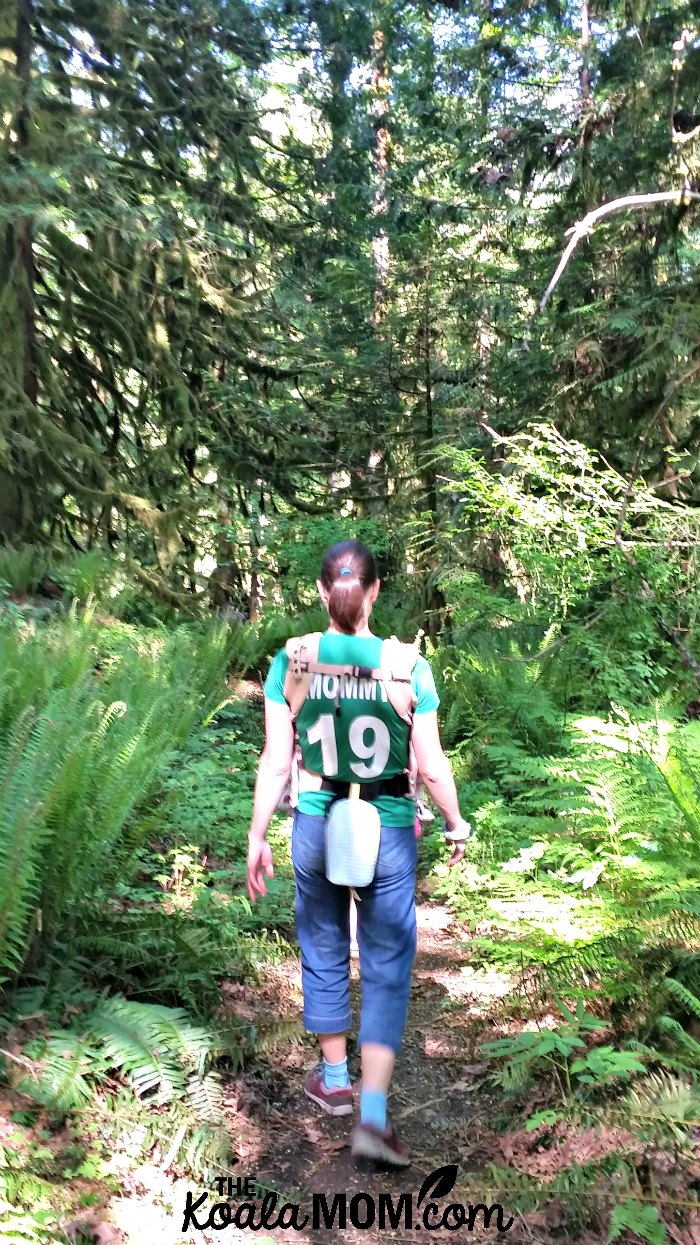 After getting some fun family pictures along the trail, we were done with our weekend away at Cultus Lake. We wanted to beat the Mother's Day traffic back into Vancouver, plus I was thinking about the laundry and dishes I'd have to do when we got home. So we piled into the van and headed for the highway.
More things to do around Cultus Lake:
kayak, canoe, stand-up paddle board, etc.
walk or jog the trails
enjoy the beaches and picnic areas
If you enjoy camping at Cultus Lake Provincial Park, you may also enjoy Wells Gray Provincial Park (just a few hours further into BC!).