As the weather warms up and summer vacation approaches, many of us start to think about getting away to do some camping. Whether your style of camping includes tents and backpacks or RVs and lawn chairs, here's a collections of camping tips, ideas and recipes for making this summer camping trip the best one yet.
As you all know, I recently spent two weeks Yurt camping in France, and absolutely loved it. I've taken part of that experience and integrated it into my home-country camping!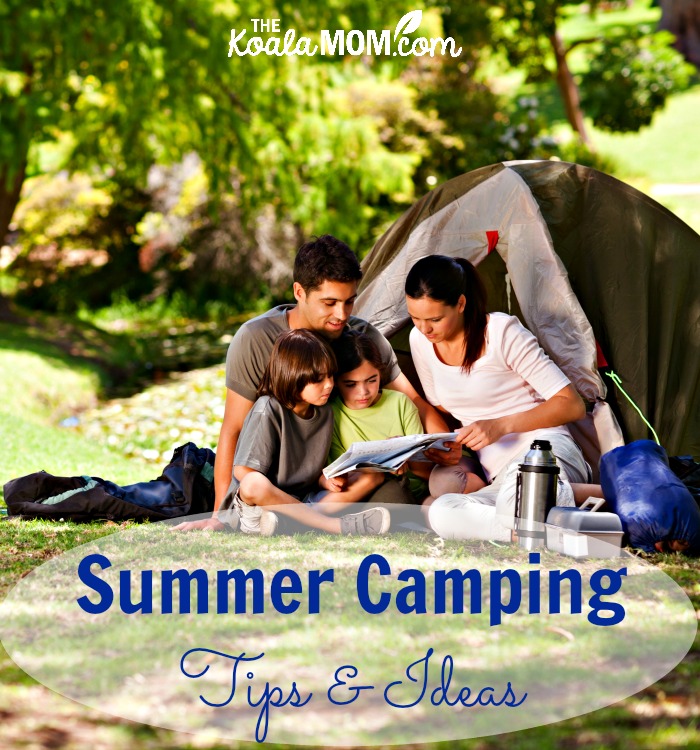 Camping Tips & Ideas
Planning a Family Camping Vacation—A family camping vacation can be a lot of fun once you finally get set up at the campground.  The hardest parts are figuring out where and when to camp and what you will need to bring with you.
Camping Season Has Arrived!—This year experienced and newbie campers across the country will hit the wilderness with enthusiasm to the max. But before you get all bright eyed and bushy tailed about your excursion, there are a few key factors to take into consideration. If you are a newbie camper and want more information on camping (and the essentials that are needed for camping), then you should check out a site like https://campingcooks.com/, where you can also buy your camping gear as well.
Into the Woods: Camping & Kiddos—Last week I neglected the blog and took off for four days of camping. It was glorious. I love to camp. I love to hike and fish. Yet it's something I hadn't done since becoming a mom over five years ago. So I was excited to go, and I knew I would enjoy it but I worried about taking the kids. Taking a two year old camping? What the heck was I thinking?
RVing Across Canada—RVing across Canada can be a lot of fun, especially when it comes to choosing a great RV destination. Once you have decided on a destination for your RV vacation, you can then start to plan the rest of your trip.
Camping with Cloth Diapers—My family went tent camping for three days and two nights earlier this week, and we did it with Kay in cloth diapers. This isn't the first time we've gone camping with a little one in diapers, though the last occasion was two years ago and things were easier simply because there was only one kid in the mix. But if you've ever wondered whether taking your cloth diapers camping with you is doable, here's how I did it.
Camping Checklist with Free Printable—I love camping! I am going to give you a downloadable camping checklist. Just remember: these are suggestions. You may not want to bring everything on the list, and you may want to bring things from home that are not on the list.
Easy Backyard Campout—A couple of years ago, we went camping as a family. It was a lot of fun, a lot of work, and we slept terribly. When I asked the girls at the beginning of the summer what they hoped to do this summer, camping was one of the first things on their list. So we came up with a plan to camp in the backyard. This year was different. We invested in a good set of Camping Beds for me, the husband and the kids. No way were we suffering with a lack of sleep again.
Make the Most of Summer Camping with My Simple but Awesome Tips—My family is planning as much time as possible to reconnect with each other and make the most of the time we have this summer! One of our favourite ways to do that is by camping. We love getting in the great outdoors. Fishing, building sandcastles on the beach, making S'mores, singing around the campfire, and just enjoying each other's company. What could be better than that?
Camping Company: Bugs & Bears
Being Aware of Ticks While Hiking and Camping—Hiking and camping can be a lot of fun, but people need to be aware of the possibility of a tick getting on their skin.  These little bugs are more than an annoyance, as they can transmit Lyme disease to a person.
Wild Animal Safety Tips—As summer approaches, many of us flock to campgrounds across the country, looking to experience the great outdoors with our families.  One of the highlights of a camping trip is seeing wild animals, but we may not always consider the safety concerns involved in such sightings.  A little bit of preparation can keep everyone safe on the family camping trip.
Camping Recipes
Campfire Pizzas—Use pie irons to make yummy campfire pizzas!
Fire Roasted Sweet Potatoes—When you think of camping food, there's the usual hot dogs and s'mores, but there are plenty of other yummy meal ideas. On our second night camping I made fire roasted sweet potatoes for everyone. It's a well-known fact that everything tastes better when you're camping, but these tasted even better than that! Plus you don't need a camp stove to cook them, and they don't create dirty dishes or pans to wash. Yay!
Campfire Banana Boats—Camping is a time to explore, have fun, be outside and an opportunity to cook food in a different way. You don't usually have access to a stove unless you have a camper. Banana Boats are fun, easy and always a great treat for the young and old.
Grilled Stuffed Mushrooms—Our camping friends always try to out do each other with newer and tastier foods every time we go. This past trip I decided to get in on the fun and make some kind of appetizer. This recipe got raves!
Wise Company Delivers Delicious Meals—prepackaged food has never tasted this good! No need for pots, pans, or fridges; just boil hot water and eat!
Books about Camping for Kids
Scaredy Squirrel Goes Camping—Reading Melanie Watt's book Scaredy Squirrel Goes Camping
, young readers are taken through the steps as Scaredy gets ready to head to the campsite to plug in his TV. That's right, he isn't even going camping, just finding a plug for his electrical cord so he can watch "The Joy Of Camping" on TV.
Do you plan a summer camping trip with your family? What camping tips would you share?