Last weekend, we escaped to Rondalyn Resort near Nanaimo for two nights of camping. It's the first time in two years we've gone camping, so I was really looking forward to getting away for a couple days. We also had a new tent to try out and a "new" baby to take camping for the first time.
We arrived mid-afternoon on Friday and received a warm welcome from the resort staff. In a few minutes, we'd chosen a spacious camping spot, halfway between the two washrooms, with the sound of the creek behind us to lull us to sleep.
A row of cedars on one side of our campsite separated us from our neighbours. Big spruce trees on the other side provided most of a wall between our other neighbours. The girls explored our camping site while my husband and I got the tent up. Everything was new and wonderful to them. It was fun to see their excitement.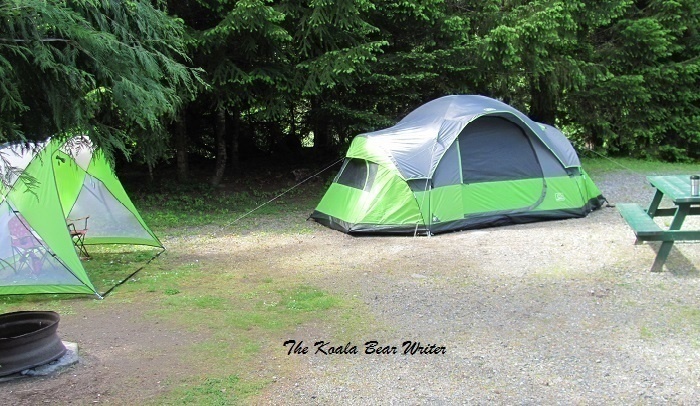 The girls' favourite part of Rondalyn Resort was definitely the pool. We sent swimming as soon as we'd set up camp on Friday. They all had a blast splashing around while the sun played hide-n-seek behind some clouds.
We had the entire pool to ourselves. Lily did laps up and down in her water wings while I pulled Jade around in her floatation device. Sunshine could barely stand up in the shallow end of the pool and I could barely stand up in the deep end of the pool.
The smell of cedars from the surrounding hedge drifted past us as we played. My husband got some studying done in the nearby deck chairs. While he supervised the girls' showers, I popped into the hot tub (adults only) for a few minutes—aaaah! 🙂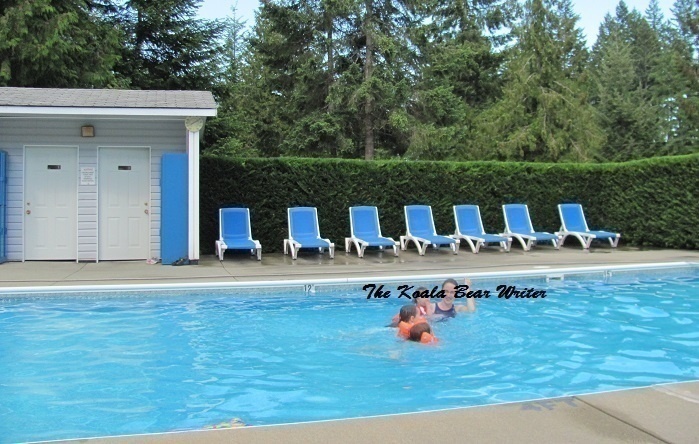 When we were getting ready to go camping, Sunshine had asked if we'd have a fire. I said I didn't know, but when we arrived, there were fire pits and firewood. So as soon as we finished supper, my husband started a fire. They were all fascinated by the "fire making." Of course, roasting marshmallows was lots of fun too.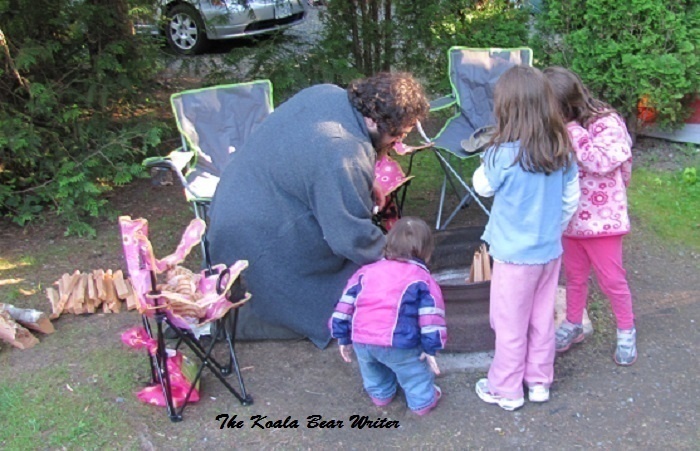 On Saturday morning, we had a relaxing start to the day. I boiled water for coffee and instant oatmeal, and then the girls and I explored a trail along Haslam Creek. Sunshine and Lily ran ahead, eager to find out what was around the next bend in the trail, while I snapped pictures and tried to juggle my coffee mug and Jade. Huge trees and ferns flanked the trail, making it seem like we were in our own little world. Small flowers dotted the underbrush and the creek gurgled and frothed over the rocks.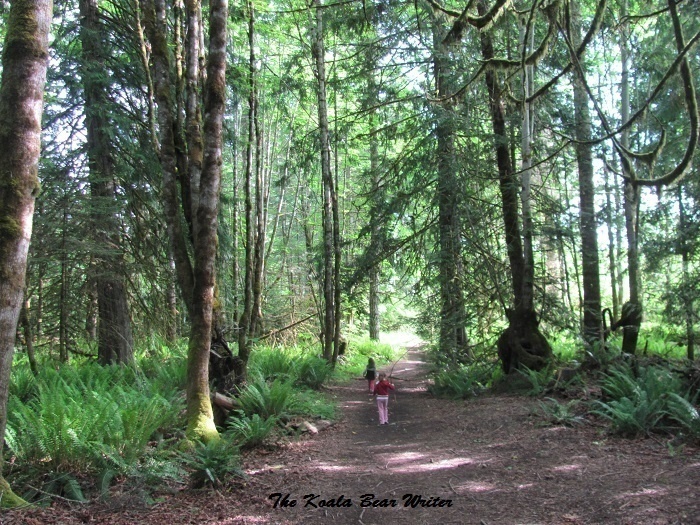 As we hiked, I thought about how lovely it was to have a weekend "unplugged." There was WiFi available near the pool, and I'd seen some teens hanging out there with their phones. I don't have a phone and didn't even pack my Netbook for the trip. After a busy week, it was nice to have two days just to spend time with the girls. To follow the trail, watch the fire, smell the flowers, take silly pictures, and rescue caterpillars.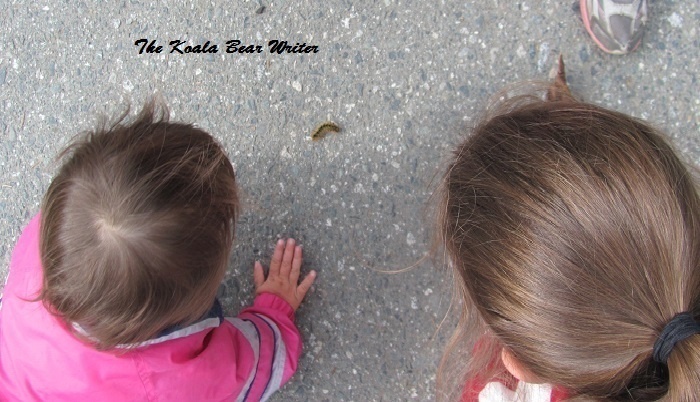 The girls also had fun playing at the playground, located near some horsehoe pits, a volley ball net, and a basketball court. Our girls were a bit too young to take part in the sports, but they loved the slides and swings at the playground.
I liked the fact that the entire playground was fenced. A couple chairs were installed nearby for parents to relax while watching the kids. Silhouettes of horses and people lined the fence. Sunshine and Lily enjoyed playing "house" while Jade thought the swinging bridge was for bouncing on.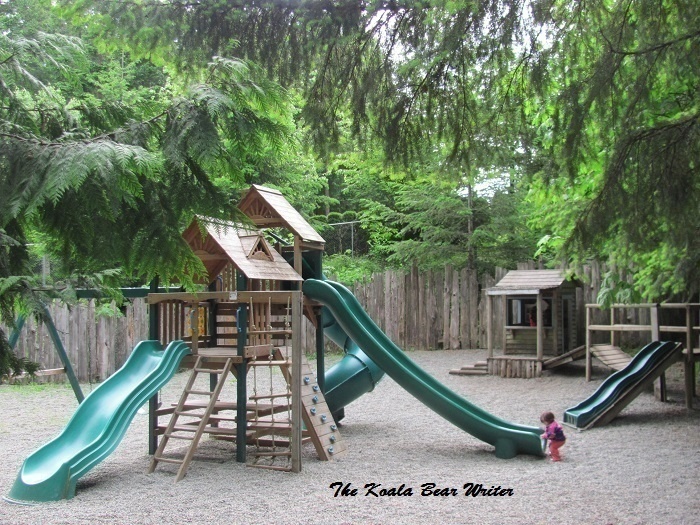 On Saturday, my husband and I took a look at our map book and found some local places of interest to check out. We drove toward Nanaimo and explored the Morden Collieries trail and Petroglyph Park. We ate lunch at the playground in Nanaimo before visiting the museum and heading back to camp. The girls wanted another swim and I was happy the pool was heated because the weather hadn't gotten as sunny as I'd hoped. Then we had supper and another fire before crawling into our tent again.
On Sunday morning we woke up to rain pattering against our tent. Even so, I was sad to leave. Rondalyn Resort had been a wonderful getaway, a perfect place to camp with kids and escape the busyness of our daily lives. It took us less than two hours to drive there and then home again, even with a couple stops along the way. It got us far enough from Victoria that we had some new parks and places to explore while we were there.
A few more notes: when I'm camping, I expect outhouses or very basic washroom facilities. Rondalyn Resort's washrooms were more what I'd expect of a nice hotel. There were flowers on the big counters, a huge mirror, and heat (which is very nice when the sun goes down and the air gets cool).
We had a water tap right at our campground, which I was very excited to find because I hadn't thought of bringing a bucket for carrying water. One night while I was making supper, Sunshine offered to get water for me. She had looked at her new water bottle and the tap and noticed both were meant to screw together. So she screwed her water bottle on the tap and turned it on. When water spurted all over, my husband and I quickly turned the water off, unscrewed the water bottle, and explained to her what was supposed to be screwed on there.
Whether you're looking for a weekend or longer escape this summer, I recommend Rondalyn Resort. For more information about visiting, visit their website.
Check out these other great places we've visited on Vancouver Island.
I received our weekend away courtesy of Rondalyn Resort in exchange for my honest review; all opinions expressed are my own.