When do you start the countdown to Christmas? after Thanksgiving? after Halloween? in Advent? in January? I tend to start thinking about Christmas around now—the beginning of November. The weather is getting cooler. Holiday treats are starting to appear in the stores. And Christmas shopping needs to get done, if it isn't already. To make that easier for you, I've compiled a Christmas Gift Guide with ideas for everyone in the family!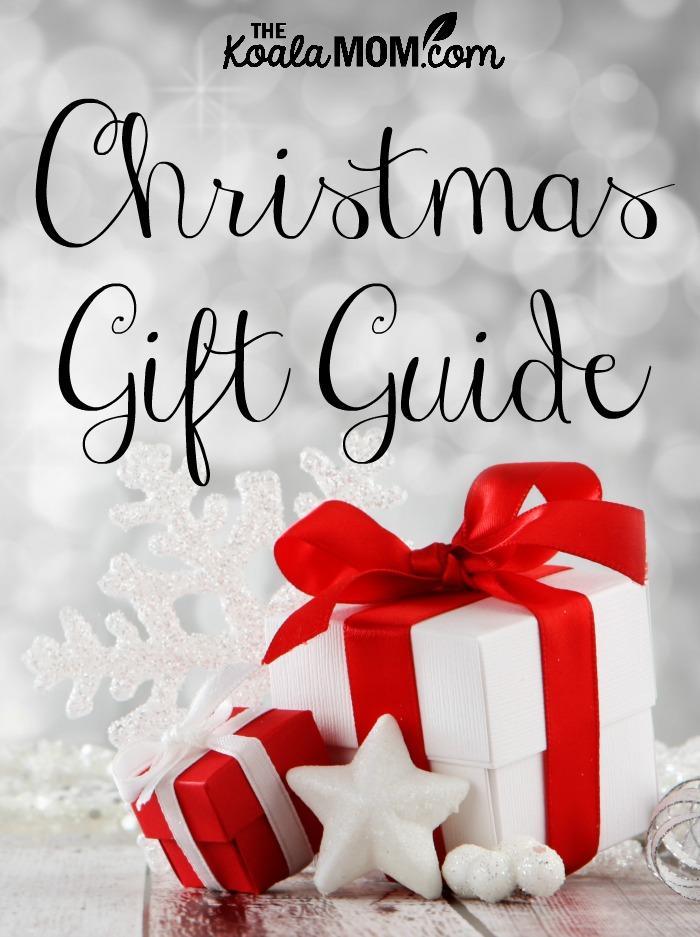 All items in this Gift Guide are sponsored or affiliate links, but all opinions expressed remain my own. I've vetted every item in the Gift Guide and only promote gifts which I'd get for my own family.

Pure Hazelwood Anti-Inflammatory Jewelry
World leader & Canadian company Pure Hazelwood has developed a complete line of therapeutic jewelry made with 100% natural hazelwood for the whole family.
Hazelwood necklaces are inspired by the Native Americans who used small hazel twigs to relieve several symptoms including baby teething pain. For nearly 20 years, Pure Hazelwood has collected many testimonials from satisfied customers for numerous ailments, mostly caused by inflammation: teething pain, arthritis, eczema, psoriasis, heartburn, colic, mouth sores… This display of trust has encouraged the company to invest in scientific research in order to better understand the properties of hazelwood.
Today, the Pure Hazelwood product line includes teething necklaces, adult necklaces and bracelets. Scientific research revealed the anti-inflammatory, antioxidant and antibacterial properties of the hazel wood when in contact with the skin.

Kidsworld Pass to Vancouver Attractions
Give your child the gift of year-round fun and memories with a Kidsworld pass! With a different Vancouver attraction to explore every weekend, plus special events and deals, this gift is the best deal going. Each pass gets one child ages 4-13 plus their parent into the Event of the Weekend. Upcoming 2017 events include EcoDairy, WaterMania, Vancouver Art Gallery, Maplewood Farm, Healthy Family Expo, and the Abbotsford Tulip Festival.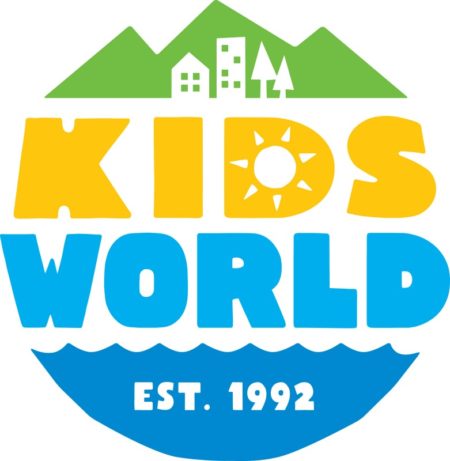 Just Add Milk Science & Art Carton
Create art using materials from the fridge! This low-cost art experiment is the ideal stocking stuffer or small gift for extended family members. Just Add Milk is a kit for all children—boys and girls—and mom and dad, to express themselves in an educational way. Create your own natural science experiments with some at home ingredients. Just add the milk!
Learn a brief introduction to surface tension and experiment with other ingredients around the house such as food coloring, soda pop, vinegar, and glue! Kids love watching what might happen when you add food coloring to milk. Once their creations are complete, they will have a fun story to explain how to create milk art.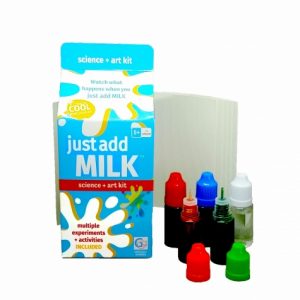 5-Minute Bedtime Treasury
Children of all ages will delight in hearing stories and scriptures from the International Children's Bible® along with words of praise and wisdom, all illustrated with colorful Precious Moments artwork. Custom pages for a family tree, church record, hand-written prayers and more are sure to make the 5-Minute Bedtime Treasury one that will become its own family tradition.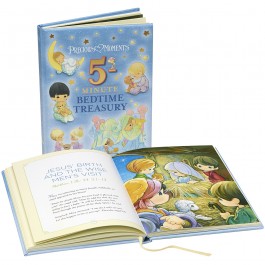 Hexbug Cuddlebots
HEXBUG is expanding into the realm of innovative toddler toys with HEXBUG® CuddlebotsTM. These robo-buddies are soft, durable, and completely child safe. Their squishable bodies vibrate and scurry across the floor, instigating playtime, anytime. Available in two styles—Betty Bumblebee and Freddy Firefly—HEXBUG Cuddlebots are packed with character and cuteness. The girls have so much fun chasing these around our floors!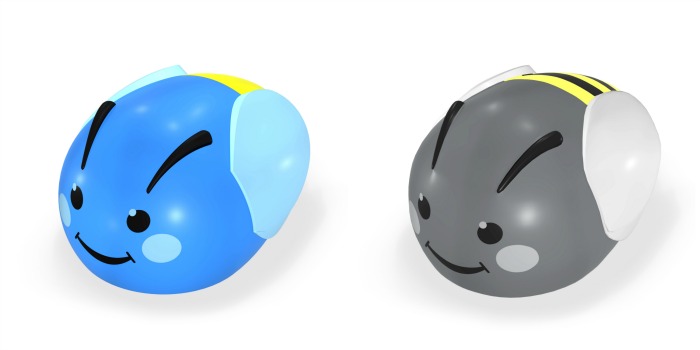 Colouring Book Set
Colouring isn't just for kids anymore, it's for everyone! While coloring can be a wonderful form of artistic expression, it's also a great way to exercise brains—colouring requires focus, logic, and coordination. Much better than hours of television, as much as we like our stories—and far more calming. Inspire your child to explore their creative side, and discover the fun and relaxing benefits of colouring! My girls and I really like Millie Marotta's colouring books.
The Shaughnessy Shoe
Timeless, practical and beautiful, the Shaughnessy Shoe is made from genuine leather with baby resistant Velcro. Soft suede soles offer some protection but are also flexible enough to encourage the development of strong ankles and flexible feet bones. These adorable red shoes have a classic t-bar design and come in three sizes for babies 1-18 months. Each of our girls has received a pair of baby shoes as a gift over the years. They are a beautiful, lasting and treasured baby present.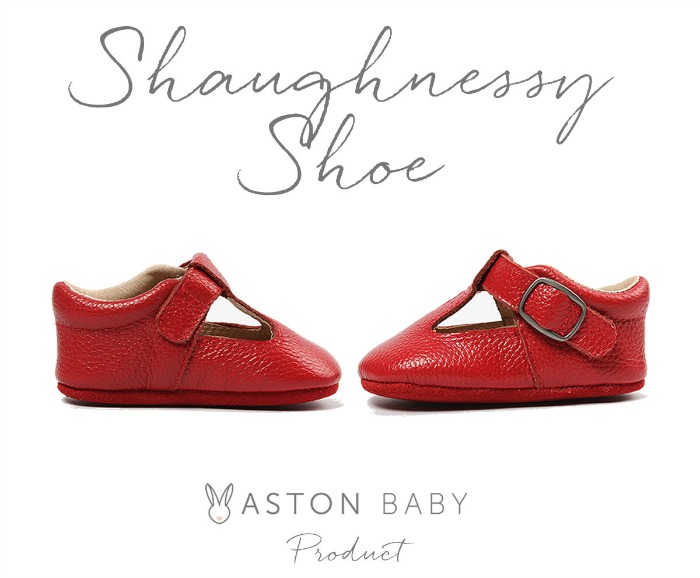 Magic School Bus: Science Club STEM Kits
This is the perfect gift to inspire and encourage the kids who ask "why?" The famous Magic School Bus series took hold in the 90s and has been getting kids excited about STEM ever since. The Science Club Kit takes the story-based learning to the next level with comprehensive, hands-on kits. This is a great choice for families with multiple children and just a fun, educational activity for a rainy day!
This set includes 12 monthly kits with hands-on projects that encourages STEM learning for ages 5+ . Each kit includes a colorful magic school bus themed 12-page manual with 7 experiments and a supply bag to perform the experiments (common household items not included).
Adventure Bag
Every little nature explorer needs an adventure bag to hold his gear! These bags, made of genuine leather, are sturdy and durable to withstand even the most rough and tumble adventurer! They even come stocked and ready to go with a hand stitched leather bound journal, watercolors, compass, magnifying glass, and binoculars.  Leather bound journals are also sold individually.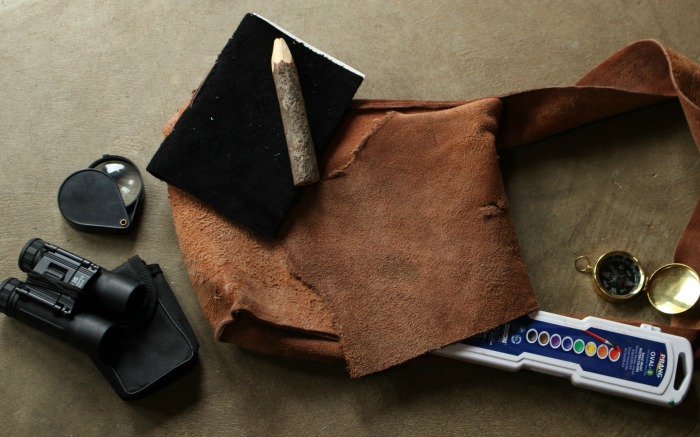 VTech DigiArt Creative Easel
Learn to draw, write and more with the interactive DigiArt Creative EaselTM by VTech®! This fun, interactive easel can be transformed from a light-up dry-erase board to a chalkboard and drawing table for more ways to play, combining learning and creativity. Explore the learning activities and learn to draw more than 100 objects and shapes step-by-step by following the lights using the magic pen. Then learn letter and number stroke order for uppercase letters A-Z and numbers 1-20 stroke-by-stroke. Children can also explore their creativity and draw anything they want while listening to 10 classic songs.

What a Color World Poster from Pirasta
It's a wonderful world. And this giant coloring poster is just what the doctor ordered for quiet creative time this winter.
The huge poster map (63″ x 36″) gives scale and context to our globe. Details include a delightful celebration of cultural diversity, from traditional dress and historical landmarks to iconic foods and natural wonders. It's definitely a conversation starter. You can lay it on the ground and invite friends to join in, hang it on the wall with painter's tape, or even tape it to the ceiling or under a table to unleash your child's inner Michelangelo.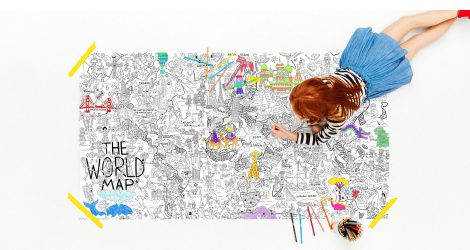 Rosary Chews
Get a Rosary Chew or Teething Rosary for the little person on your list. Not only can babies and toddlers teethe on Rosary Chews, they get used to having this important part of their Catholic faith close at hand. RosaryChews are available in a variety of sizes and colours. They are handmade in the USA with food-grade silicone.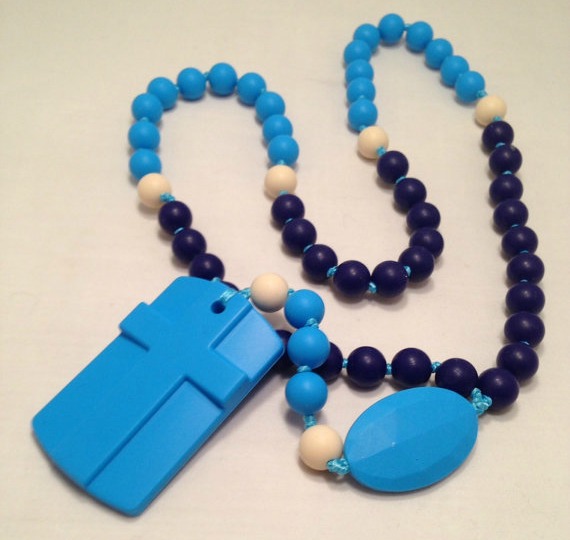 American Girl Doll
Dolls are a girl's best friend. Any of these beautiful dolls will be sure to catch your daughter's imagination! Celebrate a special moment in your daughter's past year with a doll or pick one that matches her personality. My girls each have a doll and love playing with their dolls, either together or on their own. Sunshine (my oldest!) frequently brings her doll along to Mom's Group and other outings. American Girl dolls also come with their own story, which encourages kids to read and makes their dolls come alive!
Maestro Classics Complete Set
Dive into the depths of music appreciation and storytelling with the Maestro Classics 12 CD Music Collection. The high-quality collection includes 12 CDs, each with a 24-page activity book, that feature classic musical tales such as The Nutcracker, Peter & the Wolf, the Story of Swan Lake, and the Tortoise & the Hare. In the activity books, your child have fun solving musical puzzles and games while learning important musical concepts and vocabulary. Good practice for parents, too!
Pair listening to classics with the coloring above, and you have cozy, enriching plans for the whole family for months—and an appreciation for the arts that will last a lifetime. (Plus if you're doing any traveling this holiday season, these stories will be great for the road!)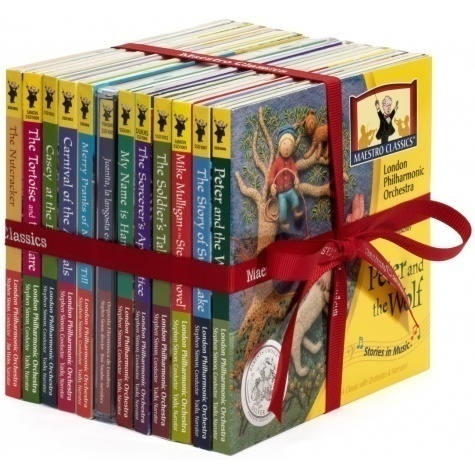 VTech Kidizoom Action Cam
This gift is perfect for the budding photographer or videographer in the family. The Kidizoom® Action Cam by VTech® brings parents' technology to a new generation of active kids who can now capture their outdoor and underwater adventures on-the-go with videos and photos! It features a robust, durable design, a waterproof case and mounts for attaching to a bike, skateboard or scooter.

Vancouver Puppet Theatre
With more than 10+ years experience working with children, the folks at Vancouver Puppet Theatre are experts in what delights and entertains kids. Whether you are hosting a party in your home, or you are looking to book the Puppet Theatre for a preschool, daycare, summer camp or elementary school, the puppet-professionals can customize their show to any venue and audience.Contact Vancouver Puppet Theatre to book your next party. Prices for Vancouver Puppet Theatre performances are negotiated at the time of booking.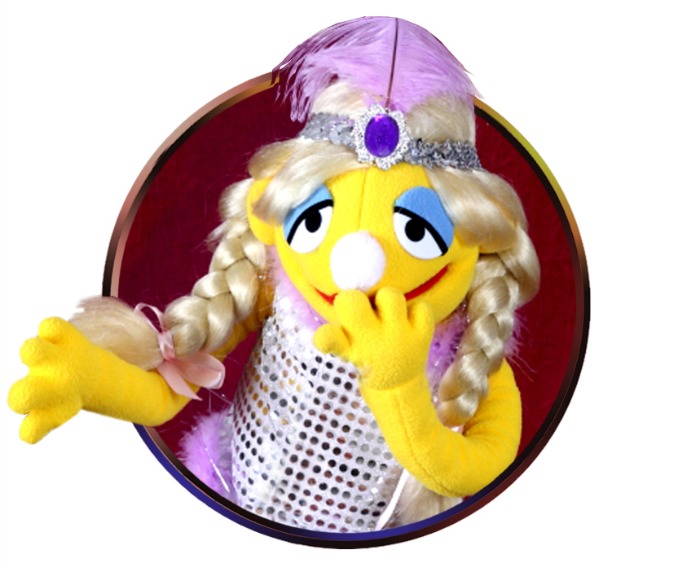 Marching Band Set
All kids love making music and dancing! Encourage your child's rhythmic abilities with this fun set of rattles, maracas, castanets and more. Dance the dull days of January away!
TIP: Shop online to make it a surprise! You can browse for gifts while the kids are playing or in bed (or hubby is out!) and compare prices at various stores before ordering. When boxes arrive, whisk them into hiding to wrap them later and slip the presents under the tree.

Handmade Wine Bags and Charms
These handmade wine bags with coordinating charm sets are a great way to dress up a bottle of wine *and* the table decor! Each wine bag is made with a lux fabric on the exterior and complimenting tones line the interior of the bag. The triple layer bag, lined with a layer of dense batting, will keep your bottle cool *and* safe whether it's on the go or just dressing up the table.
Each wine bottle bag comes with either a 6- or 8-piece charm set. Unique from each other, each bears a fruit charm and is hand-stamped with one of the fruits of the Holy Spirit!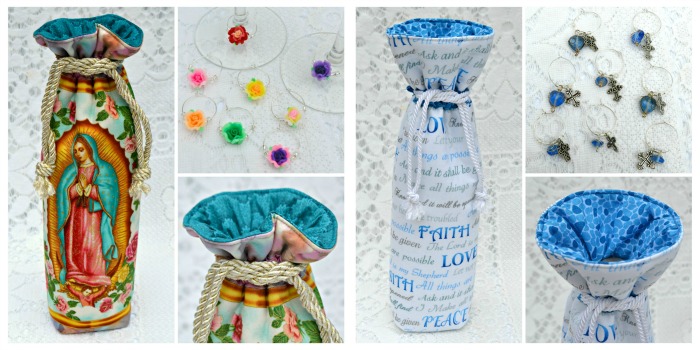 Teething Necklaces and Accessories
These modern teething necklaces and accessories from Tiny Teethers are made from food-safe silicone and free from any harmful chemicals or metals. Nobody but you will know that statement piece is also a safe teether for your little one! Orders over $50 ship FREE to Canada and the US.

Custom Watercolour Portraits
These portraits are playful, vibrant and always make a wonderful gift. Portrait includes the number of figures requested on a clean, plain background. Family name is optional. Choose from family portrait, maternity portrait, or wedding portrait. Use code KOALAMOM to get 10% off your order.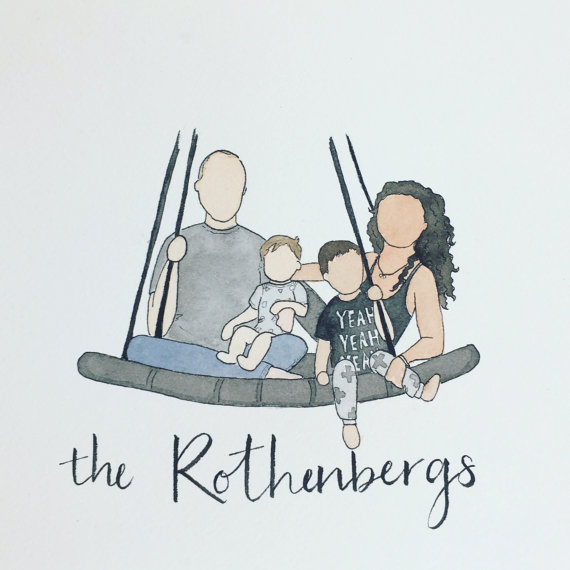 Speculaas Spice Mix & Biscuit Molds
Based on a Dutch grandmother's sweet tasting spice mix, the Speculaas Spice Company introduces the definitive spice mix—vandotsch speculaas spice mix. With no artificial flavours, colours or preservatives, the vandotsch speculaas spice mix consists of a perfectly-balanced mixture of nine organic spices including real, high grade cinnamon from Sri Lanka, cloves and ginger and six other spices to give our spice mix that unique kick.
The vandotsch speculaas spice mix delivers deliciously warm, sweet and spicy layers of taste in such a way that will delight bakers when preparing any of our recipes. We had a lot of fun making and eating these yummy cookies! It's a perfect holiday tradition.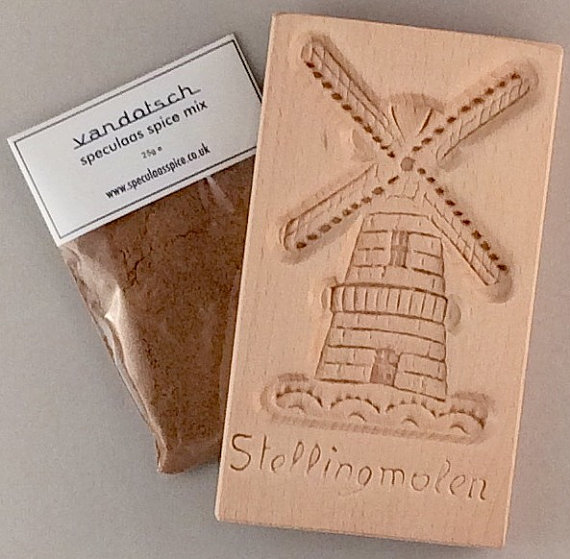 Boiron Winter Survival Kit
As any mom knows, winter is cold and flu season. And the only thing worse than the kids getting sick is Mom getting sick. Stave off winter illness with the Boiron Winter Survival Kit including Stodal, Coryzalia, Sinusalia, Roxalia, Oscillococcinum, and Cicadermine. These homeopathic remedies will help everyone in the family stay healthier.

Liturgical Calendar
Bring the liturgy home with these beautiful wall calendars. Let the arts strengthen and support you in your daily journey of faith. The calendars include works from 7 current fine artists and 6 classical artists as a way to help support and promote their vocations. In addition to fine art, our 14-month liturgical calendars include the liturgical seasons, feast days, and daily readings.  Each calendar also includes short biographies and websites for each artist so that you may see more of their work. For the month of November, buy one monthly calendar, get an Advent poster free.
Love Rebel: Reclaiming Motherhood
Love Rebel: Reclaiming Motherhood is an anthology that aspires to encourage today's moms in their vocation of motherhood. From beautiful poetry to practical tips, essays that capture the small moments of motherhood and reflections on mothering in today's world, this slender anthology brings together a wealth of wisdom from five ordinary yet inspiring moms.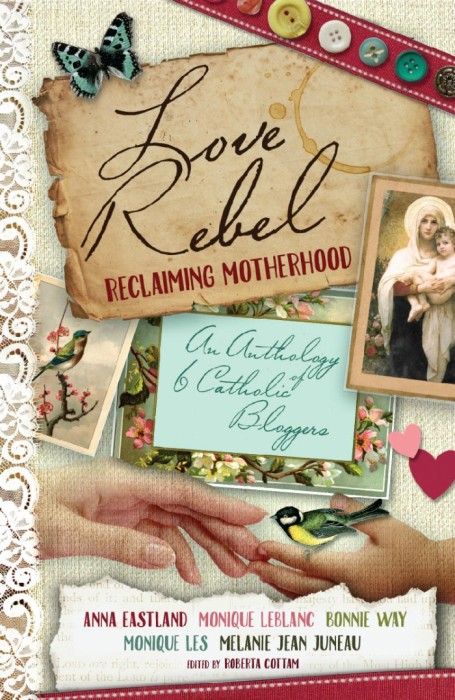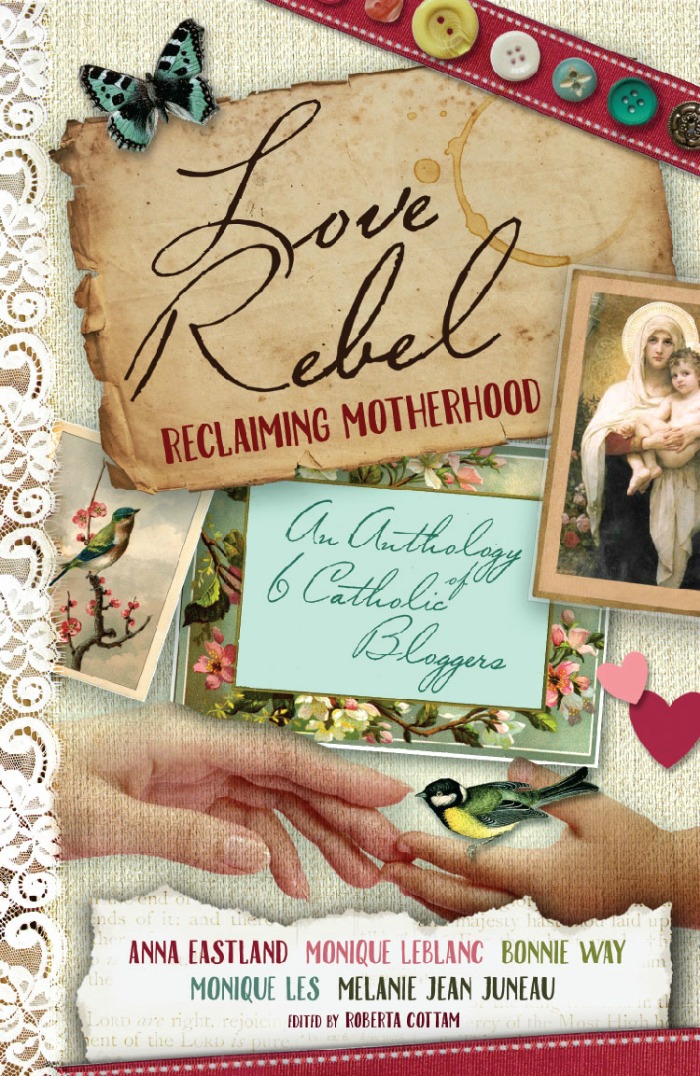 TIP: Gift cards are a great gift for relatives and friends who live in other cities or provinces. Choose a gift card to their favourite store or restaurant and pop it in the mail to them with a nice card. If you are traveling over the holidays, gift cards also make it easy to take presents for everyone without taking up a lot of luggage space. Pack some flattened boxes or gift bags and tissue paper and wrap the gift cards when you arrive—the box or bag will hide the size of this "small" gift.

Blessing for Beer Stein
Has Dad been drinking UNBLESSED beer? Well, no more. Here's the official Catholic Blessing for Beer from the Rituale Romanum. Get him this 22 oz. ceramic stein with gold trim to heft a cold one. A great "usable" alternative to the trophy. Dad can make any day Oktoberfest whether with this impressive stein on the shelf or in-hand. Cheers!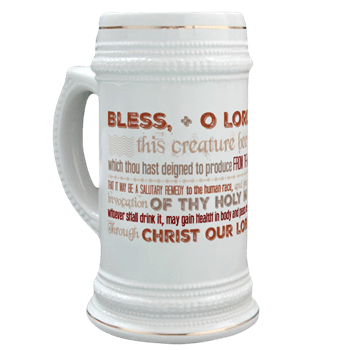 Leather-Bound Journal
This leather bound journal is perfect for tossing in your bag to take along on your adventures! Each journal is hand stitched with durable cord and contains 24 pages of heavy watercolor paper. Pages are about 6″ x 3.5″. Due to the nature of leather, color and textures of the journal will vary. All journals are made with care and will be quite durable. Colors range from brown to black.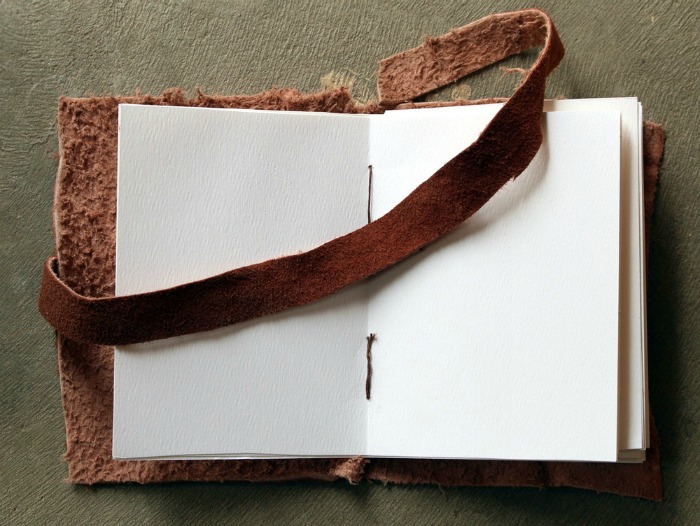 Manly Jerky Gift Box
My favourite treat is chocolate; my husband is more likely to go for something salty and hearty, like beef jerky. The Manly Man has an awesome selection of gift baskets for men, including jerky gift boxes. Get him a gift he can chew on for a while!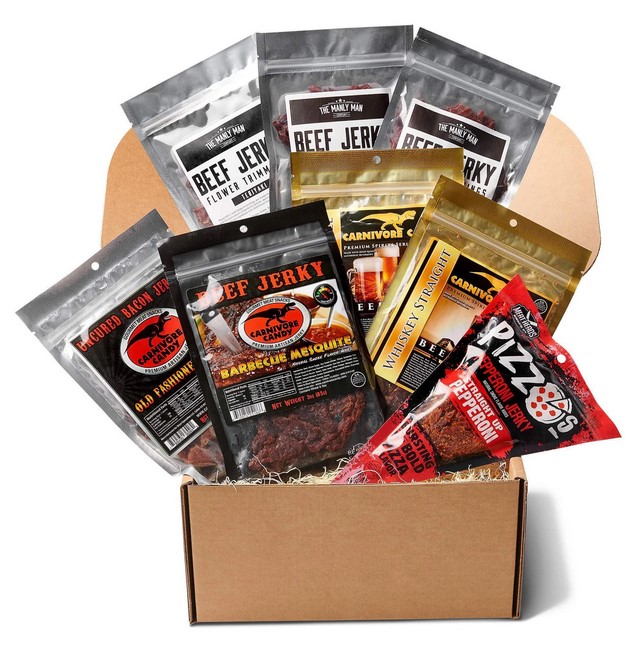 TIP: Make a list! Write down all the people you need to buy gifts for. Then write down any gifts you've already bought, any ideas you have, and a price range for each gift. Make sure to include teacher gifts and office white elephant exchanges. Keep the list handy while shopping to stay organized and on budget.

Christmas Morning Puzzle
Piece together some simple family fun with this 300-piece puzzle that features a blue-eyed girl hugging her favorite new doll, surrounded by presents and a delightful outdoor scene on Christmas morning. Your loved ones will thank you for bringing them together in the midst of the busy holiday season while they create this charming picture of a happy Christmas. Makes an ideal Christmas or holiday party gift for anyone who treasures time with each other.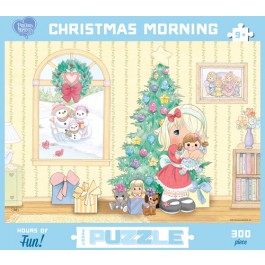 Our Family's Jesse Tree
Take the stress out of Advent for you and your kids with this easy-to-use book! Each day, your little ones can color an ornament from the book. You'll have daily activities, readings, and games right at your fingertips that tie into the ornament. Pick and choose what works for your family and enjoy an easy yet faith filled Advent season. Use coupon code WHOLE15 to get 15% off your whole order.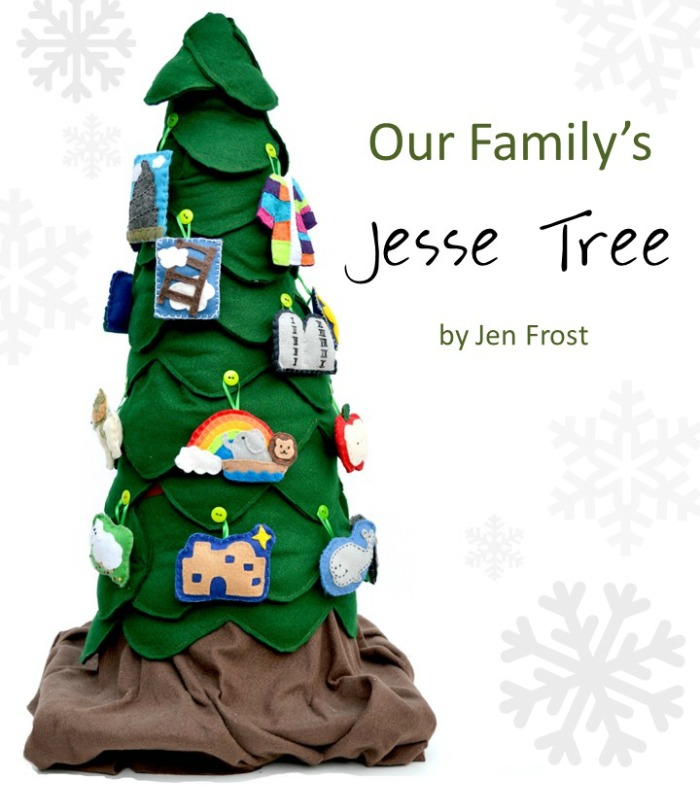 Personalized Family Wall Calendar
Give the gift of year-round memories with a personalized photo calendar! Every year for more years than I can remember, I've chosen 13 favourite photos from the past year to create a calendar. Minted offers tons of beautiful, unique designs you can personalize with your photos and dates. It's quick and easy to create a calendar—plus you can order multiples and take care of more than one person on your gift list! (Hint: I send calendars to aunts, uncles and grandparents.)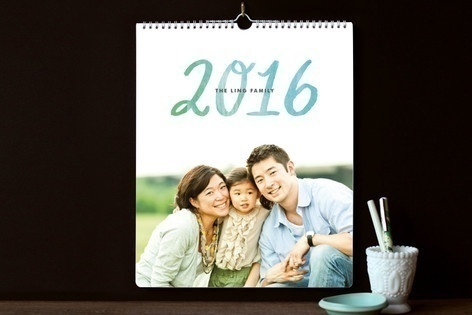 TIP: Is giving gifts your love language? Maybe it's not, but it's the love language of your child or spouse. Figuring out the love languages of those you are buying gifts for can help you choose the right present for them. For example, a child whose love language is quality time may enjoy an experience gift in which you do something together (like the Kidsworld pass above). If your spouse's love language is acts of service, they may appreciate a note saying you'll do something they've been asking you to do—with a date when you are actually going to do it!

Hand-Stamped Metal Bracelet or Necklace
Looking for unique gifts for godmothers, grandmothers, wine lovers, and more? A unique, just-for-you hand stamped metal bracelet creates the perfect stocking sized gift! The wide variety of bracelets and necklaces are stamped onto aluminum, the most hypoallergenic metal available, making them perfect for sensitive skin. With both faith and fun messages like "prayer  wine  chocolate", "count your blessings", and "carpe quiltem", you're sure to find something for everyone on your list! Use coupon code WHOLE15 to get 15% off your whole order.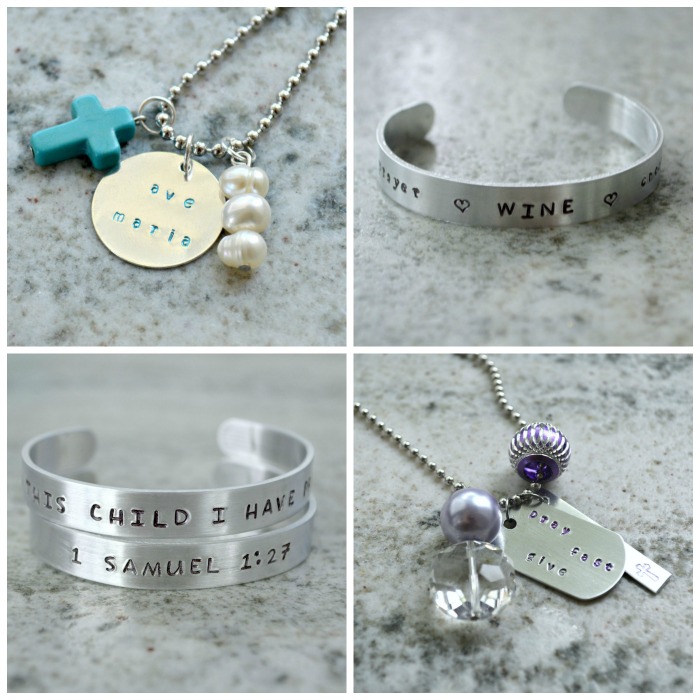 Hand-knotted Rosaries
I make hand knotted rosaries (full, one decade, & wrist) made with twine, wood beads, and a unique metal cross from Rome, Italy. All rosaries are made to order with a quick turnaround. Customers may choose twine color, bead color, and crucifix. Use code KOALA15 to get a 15% discount.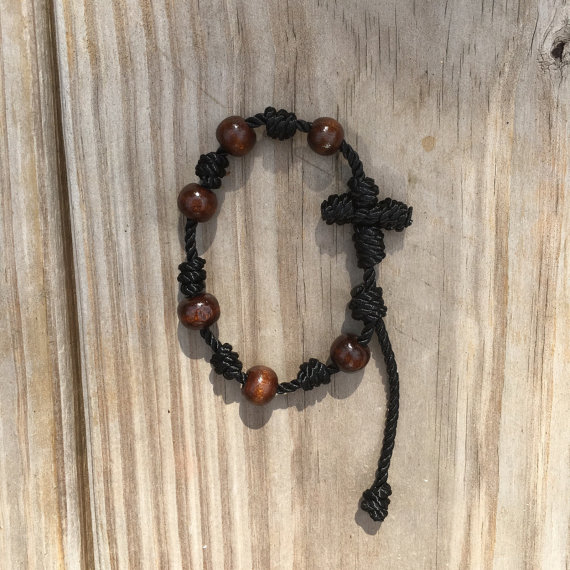 Have you started Christmas shopping yet? What tips would you share? Which items in this gift guide are your favourite?