"Green goobers!" Sunshine yells, hauling Pearl over to me. Sure enough, Pearl's nose is dripping with green snot. She smiles happily at me while her sisters holler, "Gross!" I reach for a tissue to wipe her nose, which also wipes the smile from her face. Then I head for the bathroom to grab a more effective goober treatment—my favourite Boiron homeopathic cold remedies.
Cold and flu season is definitely here. Most of my mom friends are either down with colds themselves or trying to keep their kids from spreading it around the family. I'm thankful that I stocked up a few weeks ago with Boiron's cold and flu remedies. They've come in handy over the past few weeks.
The Goober Cure: Coryzalia
Coryzalia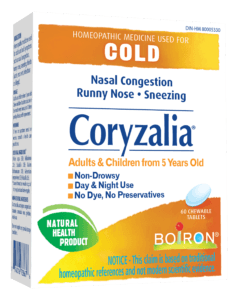 is my most important homeopathic cold remedy for the cold and flu season. There's nothing worse than kids sneezing all over the house, sniffling through schoolwork, and wiping snot across their faces. What I love about Coryzalia is that it's easy for kids of all ages to take—and its effective.
Coryzalia comes packaged in single doze units. Simply pull off a dose, twist off the seal, and squirt it into the child's mouth. Three-year-old Jade calls it "water" but it takes away her runny nose. One-year-old Pearl has been taking these doses for months now, and knows to open her mouth and swallow it down.
I tend to give them this remedy during the day. It helps reduce the symptoms of their cold, meaning that they are less likely to spread it to each other—or their friends. I also give it to Pearl before putting her down for naps and bedtime, to help make sure that a stuffy nose doesn't wake her up at night.
The Coughing Cure: Stodal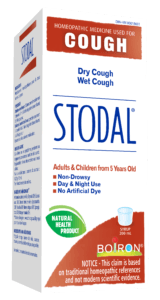 Stodal was the very first Boiron product I tried. It's still one of the staples in my medicine cabinet. There's nothing worse than laying awake listening to your child coughing—unless it's laying awake coughing yourself.
Stodal to the rescue! This cough syrup not only tastes great, it also works great.
Stodal is a homeopathic cold remedy that can used for wet or dry coughs. It is available in three types. Stodal Honey can be taken by adults and children from age 1 and up. That means I just need to keep one bottle in the medicine cabinet, because it works for everyone in the family. Stodal Regular is recommended for adults and kids over five.
Stodal Cough & Cold is your all-in-one cold medicine. It treats nasal congestion, runny nose, sneezing; minor sore throat, dry or productive cough, or chest congestion. This remedy can also be taken by children from age 1 and up. It's non-drowsy, so you can take it anytime.
The Achy Shaky Cure: Oscillococcinum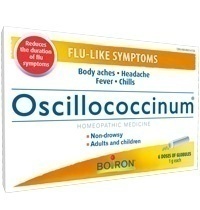 Don't ask me to pronounce this medicine, because I can't. My homeopath says she calls it Oscillo. I just know it works. I don't often get super sick, but this November I did. I spent two days with no energy, aches and chills, and a pounding headache. That's when I remembered the Oscillo in my cupboard. It was a lifesaver.
I took my first dose Monday night and immediately fell asleep. When I woke up, I realized my achy head felt much better. I took a couple more doses on Tuesday, to keep the aches and headache away. By Wednesday, my energy levels had returned to normal and the aches were gone. I still had a runny nose, so I moved onto Stodal.
More Homeopathic Cold Remedies
Boiron offers even more homeopathic cold remedies for every symptom and ailment. Roxalia treats sore throats and hoarseness (which is usually how a cold starts for me). Sinusalia relieves congestion and sinus pain. These can be found at your local pharmacy or health food store. (If they don't stock it, ask for it!)
My medicine cabinet is also full of Boiron remedies for other common ailments. I frequently use Arnicare Gel to treat my daughters' sore legs. This also works great for sore muscles after strenuous outdoor activity (like skiing or shoveling snow!). Cicadermine is great for minor cuts and scrapes that kids always seem to get, no matter where they play.
I received these products for review courtesy of Boiron; all opinions expressed are my own.