I had the chance to meet Rebecca Aston, the mom behind Aston Baby Online, at a Vancouver Mom Top Blogger party. I'm super excited to be featuring her Shaughnessy Shoes in my Christmas Gift Guide. Most of the shoes my girls have worn as babies have been gifts. First shoes are special for a baby—how much more when they are a gift from someone special! Aston Baby is also offering a GIVEAWAY of a pair of these beautiful shoes for one lucky reader!

All About Aston Baby
We are an online baby gift shop and shoe manufacturer focusing on handmade and heirloom pieces for babies.  Our guiding product principles are to be classic, stylish and always with a little something special so that you can give good gifts to those you love.
Our passion is to encourage people to be lavish with their love, time and support for friends and family who have just had a baby, and to us giving a good gift is just giving the best of whatever you've got, whatever that may be.
About Aston Baby Shoes
Our shoe range was born out of a gap we found when trying to source classic baby shoes for pre- and early walking.  We wanted shoes that were built to last and span generations of changing styles and trends.  We felt the following qualities were of the utmost importance and needed to be inherent in the shoe.
Genuine leather for increased longevity
Baby resistant Velcro to keep the straps done up and the shoes on
Soft suede soles with some protection but also flexible enough to encourage the development of strong ankles and flexible feet bones
The Shaughnessy Shoes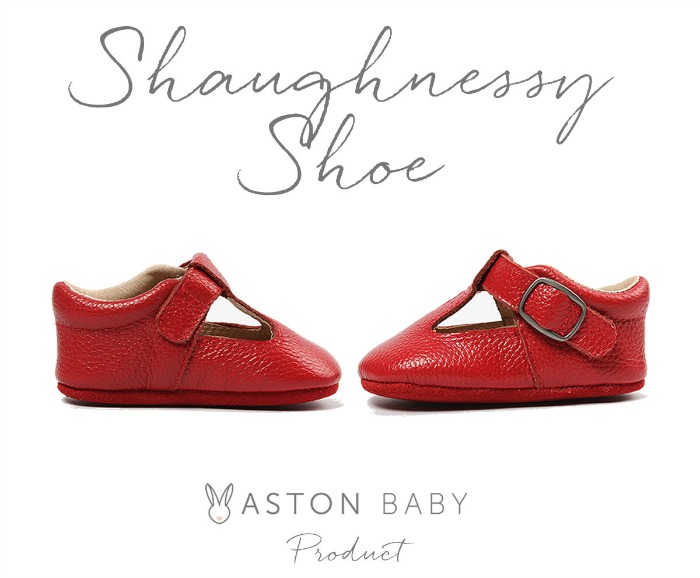 Shaughnessy Shoes are made with leather upper and suede soles. They are red and available in three sizes (0 – 6 months: 11 cm, 6 – 12 months: 12 cm, and 12 – 18 months: 13 cm). Here are some more reasons we love the Shaughnessy Shoes.
Baby Resistant Velcro
We wanted velcro as it is so much more practical than a clasp when you are putting a shoe on a squirmy baby. However, it needed to be strong enough so they can't undo it and take it straight off. We have sourced the strongest velcro we can and have had the most rambunctious babies test them.
Soft Suede Shoe
We looked at a couple of different soles, including a more structured sole and a leather sole and, in the end, we went for a flexible sole that is suede and slip resistant. There is nothing worse than learning to walk and feeling like you are on ice (at least we imagine!). We also decided not to go for a hard sole as we focus on the 0 -12 months age group and we believe soft soles are best for the development of babies' feet.
Classic Design
Our first design is a classic t-bar shoe that spans generations and all styles. Everything we do at Aston Baby is classic and heirloom, which are our guiding principles. Shaughnessy Shoes are built to last and built to span generations of changing styles and trends!
What's in the Name?
We live in beautiful Vancouver, British Colombia. There are so many neighbourhoods that are all beautiful in their own way.  Shaughnessy is full of old world beauty, something you don't often get in Vancouver.  It was build to last, with detail in every inch of the beautiful homes and big mature gardens.  Things there are just different, and even though it's not the scenic mountain and skyscraper scene that Vancouver is known for, the classic beauty, craftsmanship, and detail are what we love!  Great qualities and standards to hold our beautiful baby shoes too!
Now it's giveaway time! Just use the Rafflecopter form below to enter to win a pair of Shaughnessy Shoes for your baby!
Giveaway open to residents of Canada over the age of 18. The Koala Mom is not responsible for the prize or shipping. One lucky winner will be chosen randomly via Rafflecopter on December 21 and notified via email.