Margarita Ibbott is a blogger whom I've only met online (so far). For a long time, I've followed her blog DownshiftingPRO and appreciated her tips on organizing and downsizing. This year, she joins me as one of the co-hosts of BloggersFete. Today, I'm delighted to get to know more about her and introduce her to you.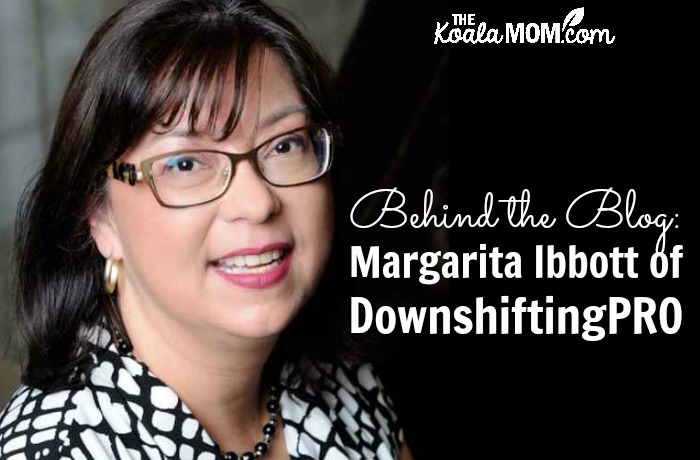 TKM: First, tell us a bit about yourself.
Margarita: I'm a mother of 3, professional organizer and now newly minted travel blogger. I also help small business owners understand how to use social media. That has since changed and I focus much more on blogging about organizing, my family and my travels.
TKM: When and why did you start blogging?
Margarita: I started my professional organizing business in 2005. I was a small business owner in a very unique niche. People couldn't even wrap their heads around paying for this service. 11 years later, there are many pro organizers that specialize in just about every type of organizing solutions.
So I started to blog for marketing reasons. I wanted to get my name out there and to be able to write about what I loved. Eventually, DownshiftingPRO rolled into a family and lifestyle blog and now is transitioning to a travel blog (all in good time).
TKM: How did you come up with DownshiftingPRO for your blog name ?
Margarita: I started to blog because I worked as a professional organizer. I knew I did not want to work with anyone that did not want to do the work. Downshifting is the precursor to the slow movement. It means to VOLUNTARILY simplify your life. So you have to want to make your life more simple (i.e., declutter and organize) so I loved the word. PRO was added later because I was a PROFESSIONAL organizer so it seemed a good fit.
TKM: Do you have a blog schedule or do you post when you feel like it?
Margarita: Both. I am fairly busy with kids and an out-of-home job so I blog when I can sometimes. Others times, it is very structured. I have a dedicated home office that I have always had for my businesses. That is very helpful as it keeps all the "stuff" I get to review in one place. I can also close the door and make it a sanctuary when it is chaotic outside.
But I have to admit, I love going to Starbucks and working there. The noise, chaos and people all make me hyper-focus on the task at hand.  Weird, I know but it works for me.
TKM: What is your favourite part of blogging?
Margarita: Truth be told: I love to tell people what to do and how to do it… hehe… so as a professional organizer, most people read my posts to find out tips and tricks on how to organize.
The other part I love is being a sharer. I love to write about my family and my travels. Not to brag but to share. Maybe by reading one of my posts you'll go to that restaurant, that art exhibit, that hotel.
Lastly, I love when my kids write on the blog. They all have unique voices and I love how they find a way to express themselves. They don't really think about it since blogging is such an important part of our lives.
TKM: Your least favourite part?
Margarita: Looking at my google analytics! Sometimes my page views are not as high as I want them to be and I get discouraged but then I have a banner week and I'm in it and forget all about pageviews!
TKM: What advice would you offer to other bloggers?
Margarita: Be consistent. Commit to writing x-amount of times a week and stick to it (do what I say, not what I do :)).
Lastly, don't be afraid to blog about what you want. I run the gamut of different topics and I love it. It makes DownshiftingPRO interesting and my family brings interesting voices to the conversation.
TKM: What is your favourite social media channel and why?
Margarita: Oh… that is tough. So many that I use and for different reasons. I love LinkedIn to keep track of my professional contacts and to profile myself with brands and sponsors.  I love Instagram for travel and food.  I love Facebook for keeping in touch and family.  I also get a lot of info on a daily basis from Facebook.  Twitter is the best for quick conversations or parties… always fun.  See, I told you it would be hard!
---
If you enjoyed this interview with Margarita, you may enjoy my interview with Monique Les from Hard of Hearing Mommy.