Mental illness is an unseen illness that is often also unacknowledged. It can be hard to talk about a problem that even those closest to us can't see, and even harder to ask for help. Fiction and movies are a great way to open conversations about this issue by showing what it's like to deal with a mental illness. Wildflower is a psychological thriller
that tackles this topic.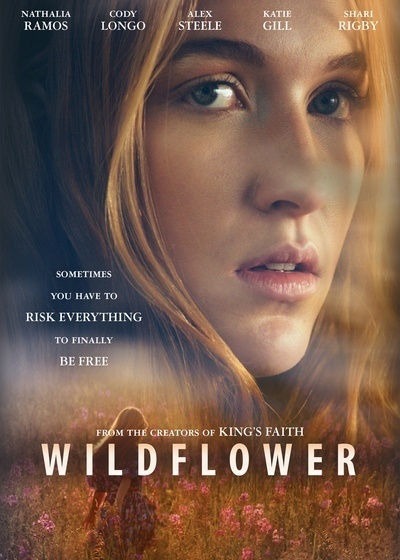 Chloe Moray lives in a small town where everyone knows everyone—and she trusts no one. She buries herself in her art, but a recurring dream and accompanying blackouts begin to get in the way. When one of her blackouts results in a trip to the hospital, the local authorities want to place her under mental health arrest. Neither the police nor Chloe's mom believe what she's seeing, so Chloe runs and hides.
The only person who believes Chloe is Josh, the local pastor's brother, who is dealing with his own grief. He begins looking for clues, but his efforts open up a cold-case murder that nobody wants to talk about. The police wrote off the murdered girl as a run-away foster child, just as they're writing off Chloe as mentally incompetent. It's up to Josh and Chloe to prove them wrong—and bring healing to the town.
Wildflower stars Nathalia Ramos (House of Anubis), Cody Longo (Not Today), Shari Rigby (October Baby), Benjamin Ashbrook (World's Greenest Cities), and Kevin McCorkle (Cold Case). Writer and director Nicholas DiBella also wrote and directed King's Faith. Learn more about the talented cast by visiting the website.
I enjoyed this movie. It's refreshing to watch a clean, wholesome movie that also talks about faith without being preachy or wishy washy. Faith isn't presented as a band-aid solution to either Chloe's dreams or Josh's grief.
Chloe's childhood traumas (hinted at but not glorified or overdone) and following mental health problems also raise a big issue. At times, I wanted to cry because of the way Chloe is treated; instead of being given compassion and a listening ear, she's accused to doing drugs or basically being crazy.
"In the movie Wildflower, I had a safe platform from which to start a meaningful conversation with my daughter. She didn't have to personally endure such grief in order to empathize with Chloe." ~ Dianna
The Dove Foundation rated this movie as "Family Friendly" and suitable for ages 12+, and gave it a 5-Dove rating. If you're considering watching this movie with your kids, check out their review for more details to help you decide if it's appropriate for your child. I won't be watching it with our girls yet, but as they get older and advance beyond animated movies, it's great to have a resource that I trust to help me decide which movies they can watch.
Wildflower is now available on DVD. To find out more about the movie or watch the trailer, drop by the website.
I received this DVD for review courtesy of Icon Media; all opinions expressed are my own. This post contains affiliate links; as an Amazon Associate, I earn from qualifying purchases.