Mother's Day is a great time to get out and enjoy some fun as a family. Many businesses and communities host special events for moms and their kids (both young and old!) on this weekend. Here are a few special Mother's Day activities in greater Vancouver this year.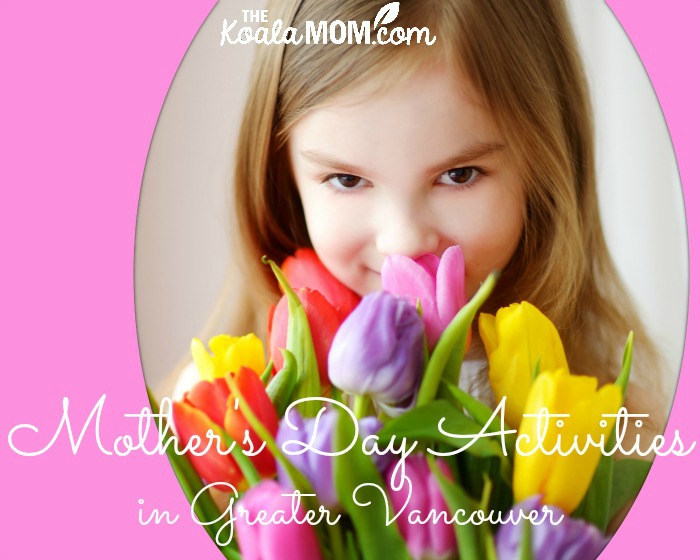 Vancouver
Plant Sale at the UBC Botanical Garden
If mom loves gardening, take her to the plant sale at the UBC Botanical Garden on Sunday from 10 am to 4 pm. Admission is free and experts will be available to answer any questions. You could also join a garden tour. This year's event will be focusing especially on plants that attract birds and bees to your garden. You can also get mom some gardening supplies or accessories at the shop. For more information, drop by the website.
Mother's Day Brownies at Rocky Mountain Flatbread
Rocky Mountain Flatbread will be treating all moms who visit our restaurants for lunch or brunch with a complimentary brownie. Purchase any entree at our Kitsilano, Main Street or Park Royal Food Court locations during lunch or brunch on Sunday, May 8, to be eligible for this sweet Mother's Day treat. Rocky Mountain Flatbread is a child friendly restaurant and we'd love to have your whole family join our whole family on this special day.
Kids Market on Granville Island
The Kids Market on Granville Island knows just how hard mothers work. This Mother's Day, they want to help kids show their appreciation for all Mom does. On Friday, May 6th, bring them in for some play time, pick up a few necessities and let them spend some time making something just for you. The Kids Market is oOpen Sunday from 10 am until 6 pm as well.
New Westminster
Create a Hanging Basket
This 2-hour course will teach you how to create a beautiful hanging basket and includes all the supplies you need. Take your mom with you and make a beautiful basket together or surprise her with a basket you made yourself! Cost is $64-74. Class happens at the Queen's Park Green House on May 7 from 2-4 pm. To register, call 604-777-5111.
Mother's Day Tea at Irving House
Grab your sisters and your mom, or some friends and their moms, and book a table for high tea at Irving House. A table costs $114 for six people or $19 for individuals (on Saturday at 3 pm only). Tea includes scones, sandwiches and desserts plus a costumed tour of Elizabeth Irving's house. Call 604-527-4640 for more details or to register.
Enjoy a Show at the Anvil Theatre
Take mom to a show and dessert at the Anvil Theatre on May 8th. Bridget Ryan's Cabaret "Here's To The Ladies Who Laugh" is part musical theatre and part stand-up comedy and sure to delight every mom! Drop by the Anvil Centre website to learn more or book tickets.
Port Moody
Mother's Day Paddle
Take mom for a relaxing, guided 2.5-hour paddle around Burrard Inlet! (My mom would totally love this if she lived close enough!) The tour includes your rental, gear, instruction and ice cream afterwards. You can take kids as well. To register or find out more, drop by the Rocky Point Kayak website.
Tea on the Train
Enjoy tea, live entertainment, and a stroll through the Port Moody Station Museum. There are three seatings for tea and the cost is only $10 for adults and $5 for kids. To find out more or register (required), drop by the Port Moody Station Museum website.
Looking for more Mother's Day activities and ideas? Check out this post for gift ideas and other special ways to honour mom this year! And don't forget about your mother-in-law too!