If you're planning a party for children, it can sometimes seem like you've got your work cut out for you. Children live in a world that is related to ours but freer and more prone to flux. This means that what children were enjoying last month, they might not be enjoying this month. It can be hard to plan a party when their interests may change before the party happens, but here are a few ideas for you. The focal point is children aged four to ten, but some of these ideas might well carry over into older age groups.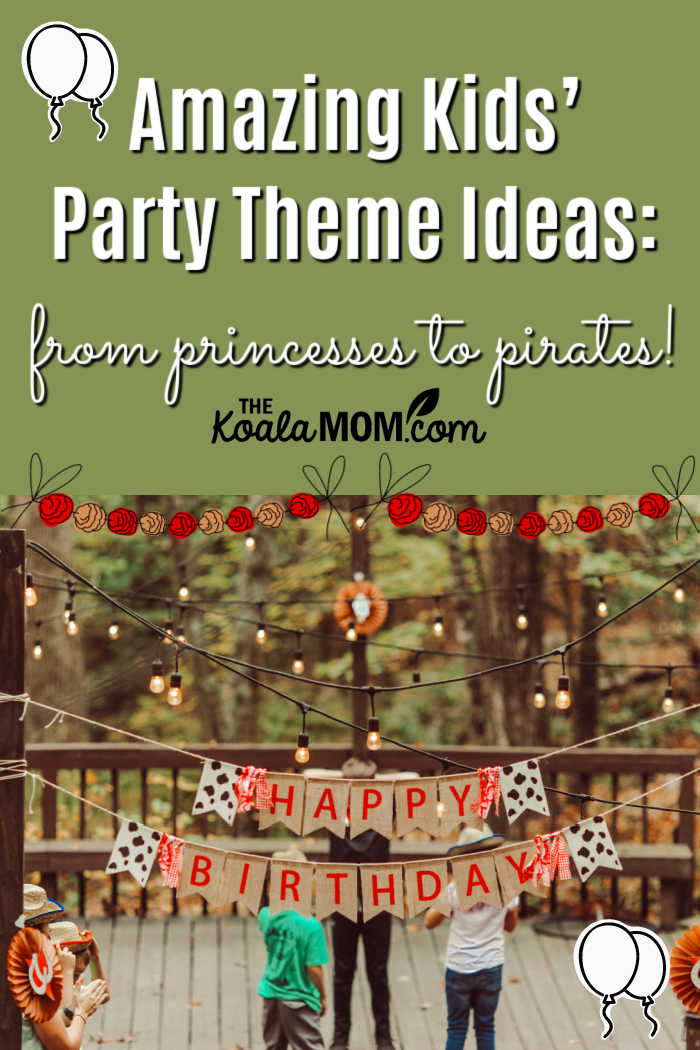 Speak to Your Child
Before diving into all the thematic wonder, it's important to note every child is different. Just because a theme might appeal to many children (or to you) doesn't mean it will appeal to your child. Studies have shown that adults are consistently terrible at planning leisure activities for kids; what we think is restful and fun is often an obligation for them. This means that whenever possible, you should include your child in the planning process.
I've always involved my children in the process of planning their birthday parties. Sometimes they have an idea they really want to do, and sometimes we spend time together brainstorming ideas and looking at Pinterest to find something that catches their attention. I've found that parties get a bit harder to plan as they get older and some of the tried-and-true games they used to love (like pin-the-something-on-someone/something) no longer work. However, as they get older, kids are also more able to help with the planning process.
You might want to speak to other parents about what their children are interested in as well. Just like with adult parties, when children host social gatherings, there can be stress or anxiety associated with wanting everyone to have a good time.
Video Game References
The world of children's video games has changed drastically since you were young. Games are now places where children can play socially even while apart; they encourage group problem solving and motor skills and have even been shown to help boost memory. Take stock of your child's favourite games and see if there's a way to plan a party around them. You might want to consider Super Mario party ideas or Minecraft. It might be fun to figure out what foods are eaten or featured in the came and see if you can reproduce those for the event.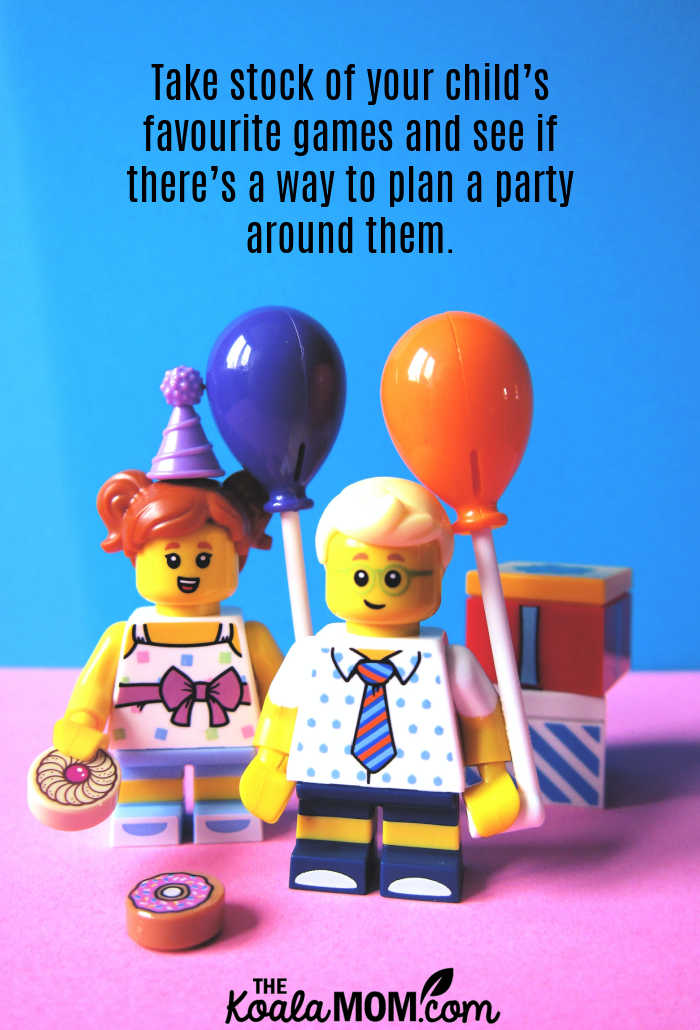 Classic Princesses
Princess parties are classic for a reason; every generation, there are a handful of kids who adore the idea of sparkly fairy princess dresses, tiaras and pink frosting. Given the popularity of this theme, it's also pretty easy to gather all the supplies needed in a relatively quick period of time. This party also works well for any age; even teens and young women love dressing up as a princess. While Disney princesses often jump to mind first, you could also focus this theme on a more specific princess, such as pirate princess or medieval princess.
Dinosaurs
Another classic childhood obsession is dinosaurs. These mighty creatures tend to be popular among younger children and open the event up to some really fun decor as well as twists on popular party games. A dinosaur pinata or a pin the tail on the dinosaur game are excellent options. You might even want to fill a sandbox with dinosaur bones and have a little dig.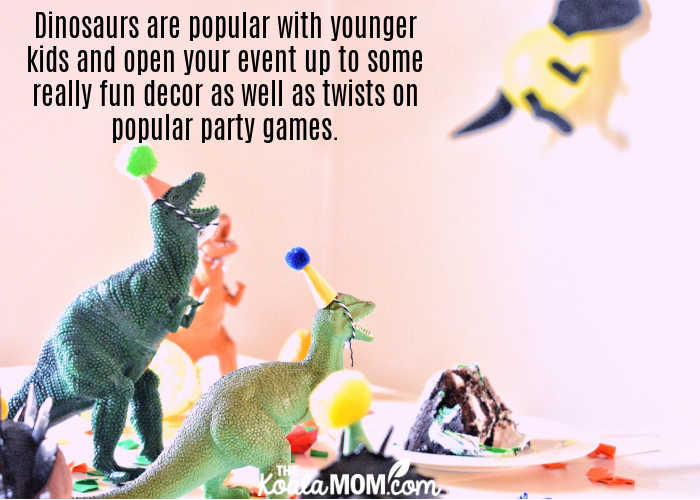 Pirates
Pirates will probably always inspire the imaginations of children and adults alike. There are plenty of ideas, from Jake and the Neverland Pirates for younger kids to Pirates of the Caribbean for older kids and everything in between. This theme lends itself to easy face painting (eye patch and moustache and then done) for those of us who lack artistic abilities. A scavenger/treasure hunt is a must; create some faded, tea-stained treasure maps and send kids out into the yard. This party theme is great for getting kids outdoors. Chocolate coins are also ideal.
Art Project Themes
Kids are natural-born artists, and some of them are obsessed with creating works of art as a result. Art-themed parties surrounding pottery, painting or crafts can be an excellent way to celebrate your creative child. If the kids are particularly young, be prepared for the inevitable mess that will come from eight children all using glitter glue at the same time. If the weather is nice, you can plan to have the art happen outside (or at a local art studio). You might even be able to find a local artist or craftsperson to lead the event and teach children new techniques.
Child's Favourite Thing
When kids are particularly little, choosing a theme for their party can be tough since their conception of a party is very limited, and they can't outright explain what sort of event they want. Many parents find success when simply picking their child's favourite thing and building a theme around it; it might be unicorns or avocados, frogs or magic tricks, nachos or the moon.
Given the availability of on-demand printing, you can simply find clipart of cute little nachos or mermaids and print them on balloons, napkins and plates. Things can be ordered from all over the internet inexpensively and quickly to help you put together the perfect party for your child.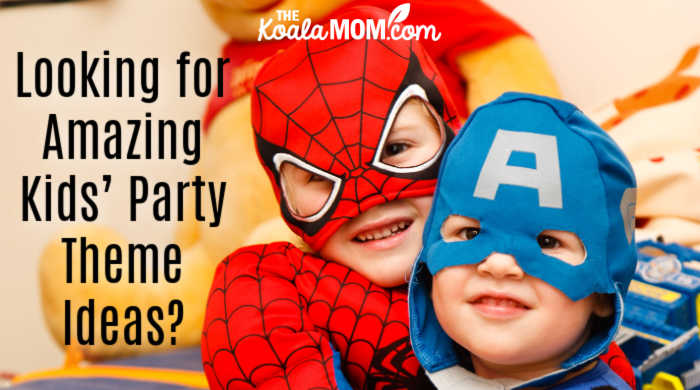 The above tips should have given you a few ideas of themes for children's parties. Again, wherever possible, run choices by your children. We all remember the pain of an adult trying really hard but presenting us with something we didn't like as a child. Do your best to avoid this by communicating as often as you can.