Lily's 5th birthday party was on Friday, and she's been talking about it for months. Hers is the last birthday in our family birthday season, which kicks off with Sunshine's in February. Lily has been very patient, but she was very excited to finally have HER special day arrive.
Since it's usually nice in May, I like to do her birthday party outdoors. This year, we took it down to our favourite park. I thought that would be easy (less cleaning before and after the party), but we ended up doing a lot of running back and forth between our house and the park for various things we'd forgotten. Next year, I need a better to-do-and-take list!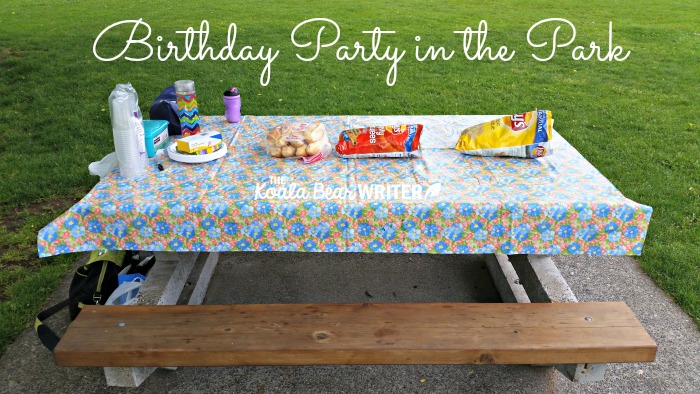 The girls and I headed down a few minutes early to set the table. I did remember a table cloth, but forgot anything to hang balloons with. We started the party with hot dogs, chips and a veggie tray for lunch. We had a Merida-themed party, but it was hard to find Merida-themed birthday supplies at our local dollar store (unlike, say, Frozen or Sofia the First or other Disney characters), so I just grabbed regular disposable plates and cups.
After lunch, we had an "archery competition" for the girls, using a dollar store bow and arrow set. They were quite excited to try it out and attempted to form a line while my husband tried to explain how we were going to do this.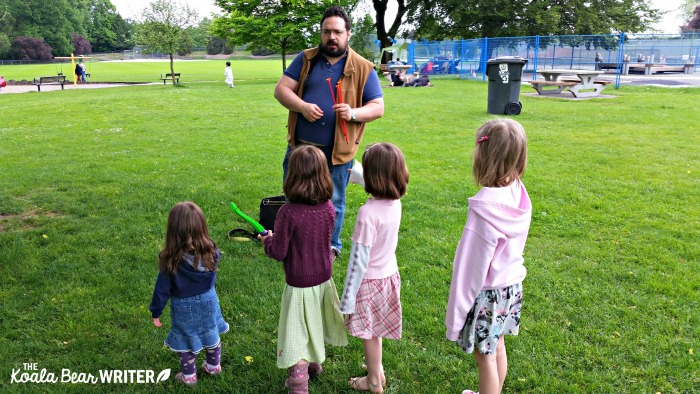 We didn't really need to worry much about safety, because the first few shots only went a few feet (and the arrows had suction cups on them), but I kept trying to herd Jade back behind the front of line and reminding her (and others) not to walk in front of the shooter. Here's the birthday girl taking her turn at the archery: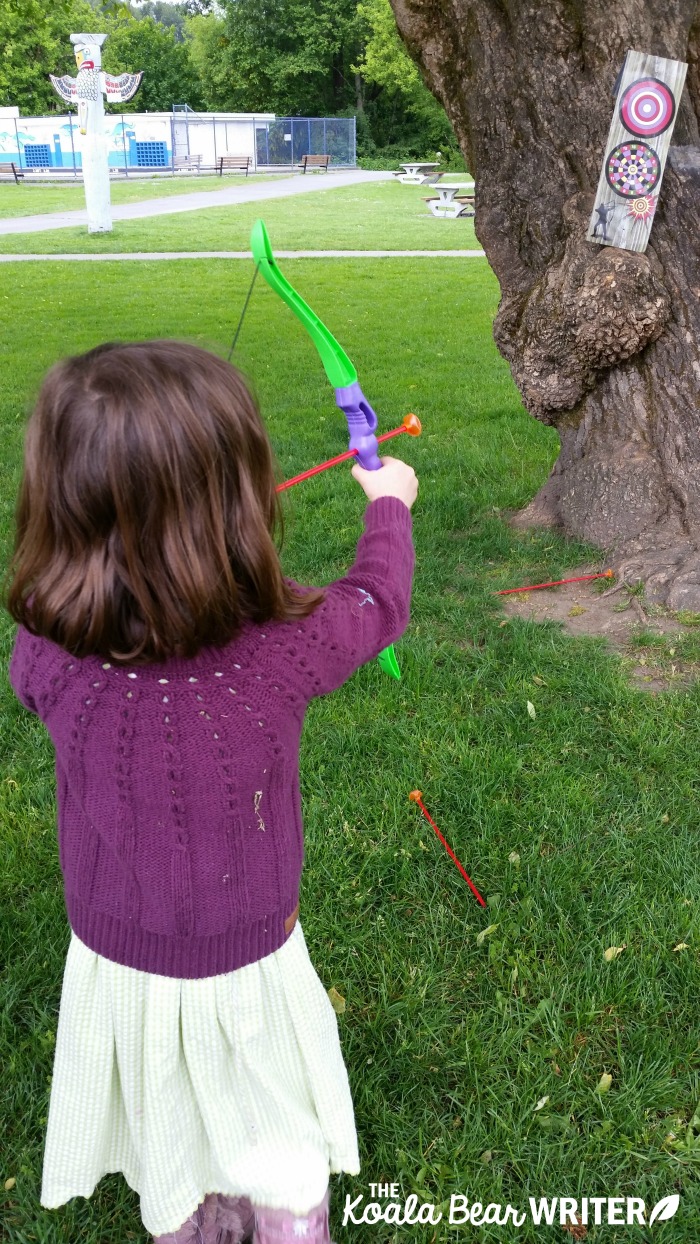 The girls really got into the archery, and kept going back to the bow and arrows in between other activities. Even Jade wanted to give it a try, when the others had moved on: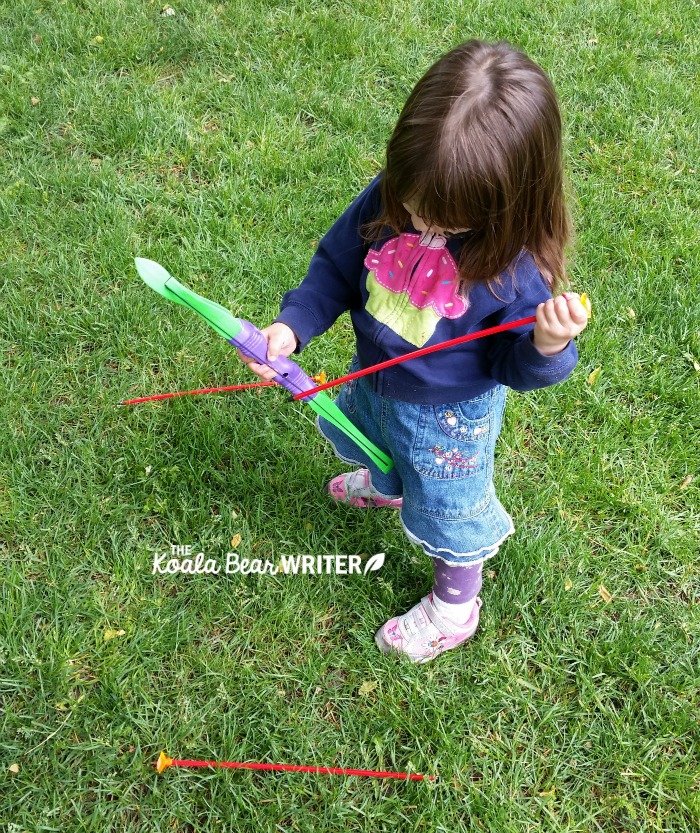 As the archery wrapped up, the face painter arrived. The girls love getting their faces painted when we're out at summer festivals, so I've always thought it would be a fun activity to have for a birthday party. I have done face painting (way back during one of my summers at university, when I volunteered for the company's family picnic) but I'm not super great at drawing or painting. So when my babysitter mentioned that she'd done face painting at the Aquarium, I knew just who to call.
She came prepared with a sheet of cute little Brave pictures to put on the kids' faces, from little bears to a will-o-the-wisp to a bow to Merida's face. Each girl had one cheek painted, then went back to get their other cheek painted as well, since there was extra time. Jade got a little bear on one cheek and looked absolutely adorable, and kept sweeping her hair off her shoulder to show off her cheek. Lily picked Merida and a will-o-the-wisp.
While one girl was getting her face painted, I got the others started on our craft: decorating little wood magnets (also from the dollar store). I'd gone looking for something with a wood theme, to fit with the wood carver whom Merida finds in the forest, and thought the magnets were cute and practical. The girls each got two to colour with markers and decorate with glitter.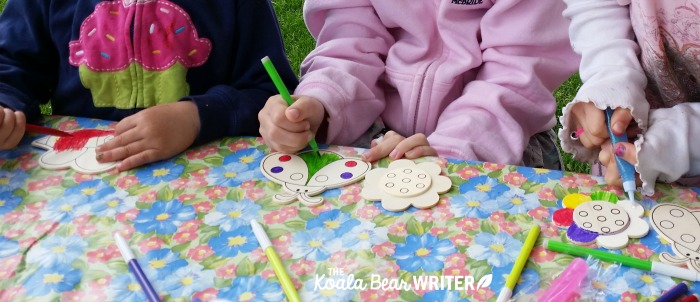 While the girls were all busy with their craft, I grabbed my bag of "will-o-the-wisps" (a blue pool noodle sliced into one-inch sections) and ran around the park hiding them. When the girls were all done their craft, I told them they had to go find the wisps. They had a blast running around, filling their arms with as many wisps as they could find.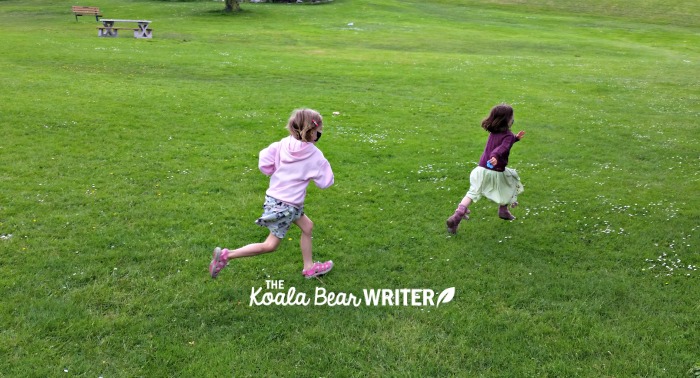 When they were done, they wanted to play with the wisps again, and to make their own path to follow. So a couple of the girls made the path while the others did some archery and finished their crafts. Then they set off after the trail of wisps: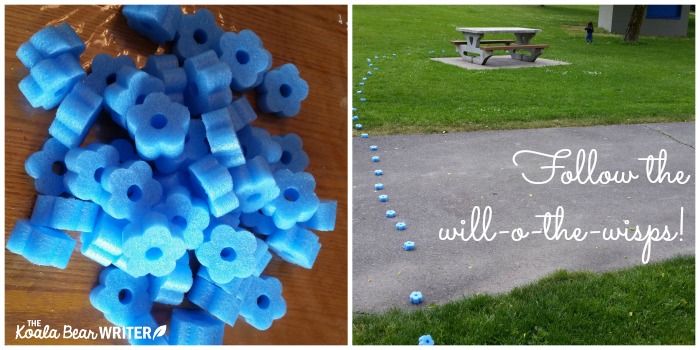 Then my husband made another trail of wisps for them to follow, this one past the playground and along a path in the park, then back through the playground (he tried to leave a trail up the rock climbing wall in the playground, but other kids playing there accidentally knocked them down so the girls didn't really follow it) and back to the table for birthday cake.
We just got a simple ice cream cake at Dairy Queen for Lily's party. It was getting a bit soft by the time we sliced it, especially after we put a sparkler "5" on it and sang "Happy Birthday." The girls each devoured a big slice of cake, however, and then went back to chasing wisps or doing archery until it was time to go home.
Overall, we had fun with our birthday party in the park. The weather co-operated with a cloudy yet warm day and the simple activity ideas I found for the girls were a huge hit. (I love it when simple activities make them so happy!) I'm glad the park was so close to our house, for the sake of fetching lighters for candles and knives for cutting cake, but otherwise it was an easy party to plan and throw.
Have you ever done a party in the park? What sort of theme did you plan?
For more birthday party ideas, check out my Pinterest board: