Sunshine has always been our social butterfly. She loves dancing, singing and acting. So when I showed her the trailer for the Family Channel's new show Backstage, she asked, "Are you signing me up for that?" I laughed and explained to her that it's a TV show about talented kids at a performance-oriented high school (and she's not in high school yet, thankfully!).
Yesterday, Sunshine and I picked up her best friend from school and headed over to the H. R. MacMillan Space Centre for a special screening of the first episode of Backstage, as well as a meet and greet with two of the stars. Victoria Baldesarra (who plays Michelle in another Family Channel show, The Next Step) taught us a new dance, which had me lost after the first three moves, but the girls loved it. Then Aviva Mongillo (who plays Alya) and Josh Bogert (Miles) sang a couple songs from the show for us.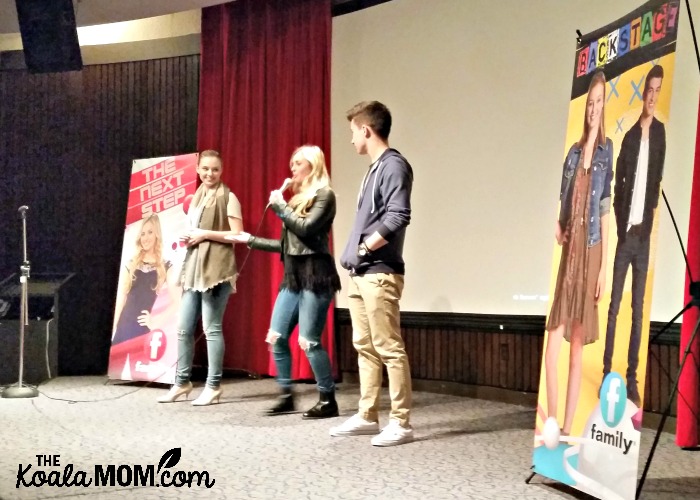 Then we got to sit back and watch the first episode of Backstage, which airs this Friday, March 18th, on the Family Channel. Sunshine and her friend are now making plans to have a playdate every Friday afternoon to watch the rest of it. I thoroughly enjoyed it as well. Alya and Miles are both in the music program and meet at the school, so we see the start of their friendship. Two other girls, Carly and Vanessa, are in the ballet program and already best friends, but I suspect this school is going to test their friendship.
Here's a video of the dance and song:
After the screening, Aviva and Josh came back to answer questions from the audience about Backstage. The kids attending (mostly girls!) came up with some great questions. One asked what it was like to watch yourself on TV. Both Victoria and Aviva said it was weird because "it's me but it's not me but it's me." Another girl asked Victoria about an injury she received on The Next Step. Victoria said, "Dancing is my biggest passion. Not being able to dance last season was really hard but I found a different confidence in myself to push through the season and stay part of the family."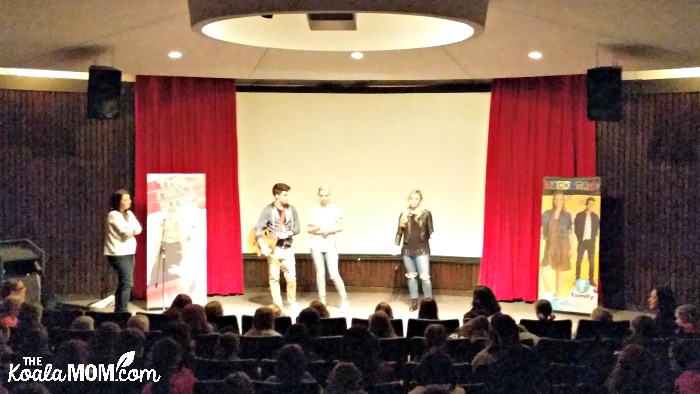 All three stars seemed down-to-earth and fun. Josh got a huge round of applause when he mentioned that Vancouver is his hometown. Backstage and The Next Step are both filmed in Toronto. Get to know more about the stars and catch a sneak peek of the show by watching the trailer and visiting their website.