When you are planning to purchase your first family home, the process can seem overwhelming. There are so many things to consider – from the down payment and mortgage payments to monthly expenses and home repairs. How can you ensure that you budget efficiently and make the best decisions for your family? Follow these six tips.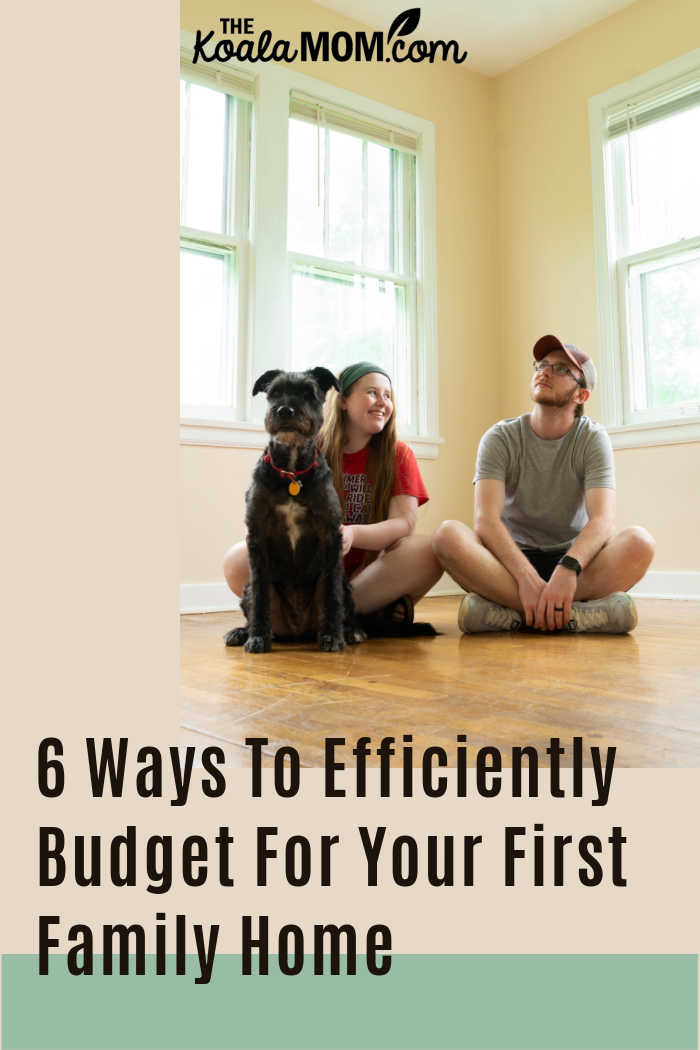 1. Getting a Mortgage
The first step in budgeting for your first family home is to get pre-approved for a mortgage. This will give you a clear idea of how much money you can borrow and what your monthly payments will be.
It's important to compare interest rates and terms from different lenders before making a decision. Talk to both your bank and a mortgage broker to see what options are available to you. According to Mynd Mortgage, you can even get financing for investment properties. This includes homes that you plan to rent out or sell in the future.
Additionally, getting a mortgage with a fixed interest rate can help you budget for your new home since your monthly payments will stay the same over the life of the loan.
2. Funding the Home Down Payment
One of the most difficult aspects of purchasing a home is coming up with a down payment. For many families, this can be a substantial amount of money. Fortunately, there are a few ways that you can save for your down payment.
If you have been diligently saving for a down payment, you may want to consider using some of those funds. However, you will need to make sure that you have enough saved for other expenses, such as closing costs and repairs.
Another option is to get creative with your financing. If you have family members who are willing to help you with the down payment, you may be able to get a gift loan. This type of loan does not have to be repaid and can help you come up with the money for your down payment.
Another option is to pull money out of your RRSP to use as a down payment. This is how we purchased our first home. Again, this is part of the discussion you'll want to have with your mortgage broker when considering what you can afford.
3. Estimating Home-Related Expenses
In addition to your mortgage payment, there are a number of other expenses that you need to factor into your budget when you purchase a home. These include things like property taxes, homeowners insurance, and utility bills.
Property taxes can vary considerably depending on the location of your home, so it's important to research this before making an offer on a property. Here in Canada, the annual property taxes are usually part of the home's for sale listing.
Homeowners' insurance is another important expense to consider. This will protect your home in the event of damage or theft. The cost of your policy will depend on the value of your home and the amount of coverage you select.
Finally, you need to estimate your monthly utility bills. This can be done by contacting the utility companies in your area and asking for estimates. You'll also need to consider your annual city utility bills, which can vary (like property taxes) from city to city.
If you are buying a condo or a townhouse, you'll also have to consider strata fees. Strata fees often cover some home maintenance, so you'll need a smaller budget for the next point, but strata fees also vary greatly. Make sure you know how much you'll have to pay in annual strata fees and if there are any big assessments (for example, for a new parkade or roof) coming up in the strata.
4. Setting Aside Money For Repairs
Another important aspect of budgeting for your first family home is setting aside money for repairs and maintenance. No matter how well-built or new your home is, there will always be the need for occasional repairs. It's a good idea to have an emergency fund that you can tap into when these unexpected expenses come up.
You may also want to consider setting up a monthly allowance for smaller repairs and maintenance items. This can help you avoid having to dip into your savings every time something needs to be fixed.
Depending on the home you buy, you may also need to budget for renovations. When we were buying our first home, friends told us to buy for location because you can always update the kitchen or bathroom later. You may also need to budget for renovations to meet specific needs in your family, such as an aging parent or a child with disabilities.
5. Decorating on a Budget
Once you have moved into your new home, it's time to start decorating and finding the right furniture. This can be one of the most fun – and expensive – parts of purchasing a home. If you want to stay within your budget, there are a few things that you can do.
First, take inventory of the things that you already have. You may be surprised at how much you can reuse or repurpose from your current home. A tape measure comes in handy here as you figure out what furniture will fit where and what just won't work in the new space.
Second, shop around for sales and discounts. This is especially true if you are looking for big-ticket items, like furniture or appliances. I like watching for deals on secondhand websites, as I can usually find great furniture for very cheap prices (or even free, if I can pick it up myself).
Finally, don't be afraid to DIY some of your decorations. There are many easy and inexpensive projects that you can do to personalize your new home.
6. Saving For The Future
One final tip for budgeting for your first family home is to save for the future. This includes things like setting aside money for a rainy day fund and investing in long-term savings plans, like a college fund for your children. Having a solid financial foundation will help you weather any unexpected expenses that come up down the road.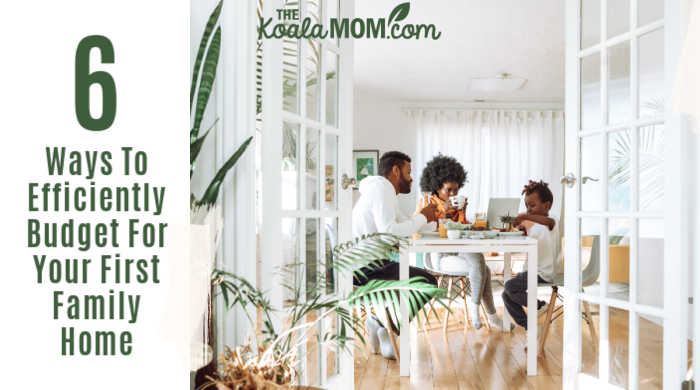 Purchasing a home is a major financial milestone for any family. It's important to carefully consider all of your options and create a budget that will work for you in the long run. By following these tips, you can be sure that you are prepared for the challenges – and expenses – that come with owning your first home.
Once you've got your budget set, it's time to contact your realtor and start going to open house viewings!