When my oldest daughter was about a year old, my husband and I started an RESP for her. My parents had done the same thing for me when I was a baby, so I had personally reaped the benefits of that investment during my university days. And since my husband and I now have five degrees between us (and two of their grandparents have two degrees each), we're pretty sure our girls will be heading to a post-secondary institution sometime.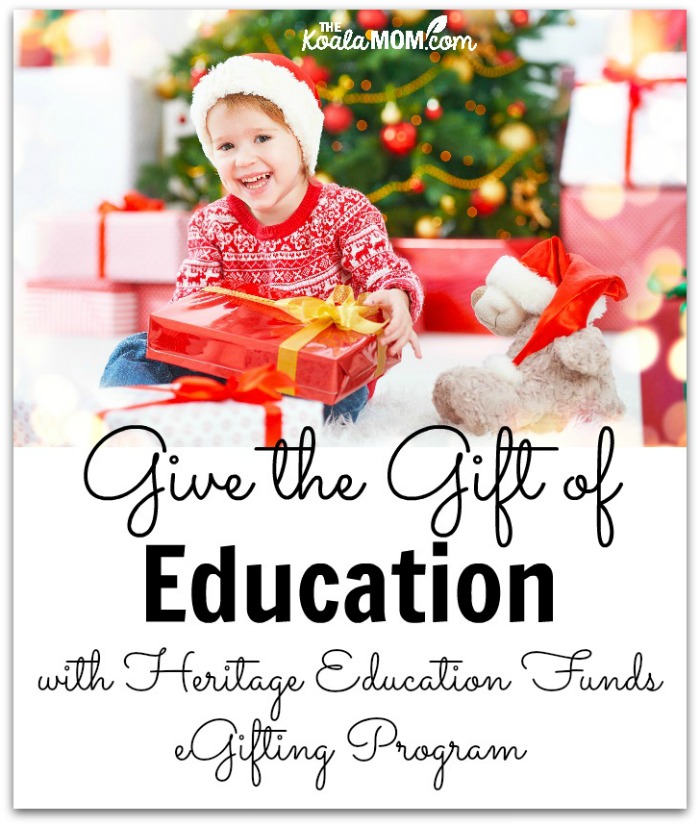 Every Christmas, I've thought it would be neat if there was some way that our family members could contribute to the girls' RESPs for them. Whenever I'm asked what they need, I ho and hum. They don't really need anything. They could use an RESP contribution to help them go to university in another decade or so, but the only way for family members to do that would be to give me cash or cheque and trust that I invest it for the girls.
Until this year. This year, Heritage Education Funds launched their eGifting Program. This unique and innovative program uses FundRazr, the leading Canadian crowdfunding platform, to allow parents to electronically collect funds towards their child's RESP. Parents simply share a link with family and friends, who can click on that link to contribute directly to the child's RESP.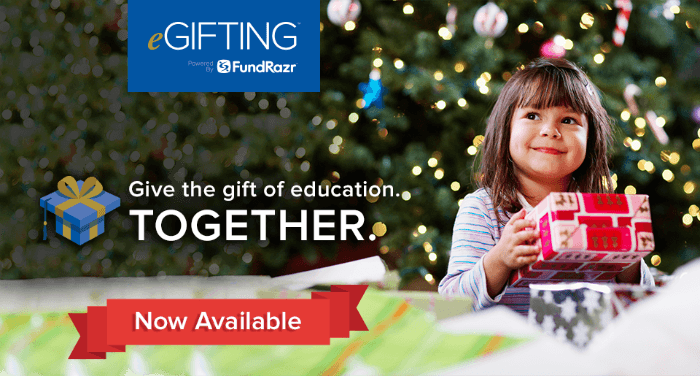 This is such a great idea. I know many parents who worry about the cost of post-secondary education and putting their kids through university. Because my husband and I have already started saving for our daughters' educations, we're a bit less worried about that—but we also contributed less to their RESPs during the years we were in school ourselves. While I know its important to start the investment early to allow it to grow, it's also important to keep contributing regularly to it—even just a small amount every month makes a difference over a decade. Or some extra funds every Christmas.
This might seem like a gift that kids themselves would be less than excited about. However, only a few weeks ago, Lily (my five-year-old) commented (without prompting), "I have enough toys. I don't need more toys." In fact, she even talked about giving away some of her toys to someone else who could use them. And because our girls have seen my husband and I studying, they understand a little bit about what university is. They'd be excited to get a card explaining that someone gave them money to help them go to university someday—and when they're university students, that card will mean even more.
Gift idea: buy a cheap scrapbook for the child and title it "My Future Adventures." Paste in some pictures of university life and encourage the child to dream about what they want to do with their future, as Ellie does in the Disney Pixar movie Up. Or share some pictures and memories of your own university days—I still remember my dad and uncles sharing their stories on Christmas and leaving us all holding our sides laughing with their escapades.

Heritage Education Funds has been in business for fifty years and is one of Canada's leading providers of RESPs. Their objective is to encourage families to save for a child's post-secondary education through registered education savings programs. They are the only Canadian RESP provider to offer crowdfunding solutions like the eGifting Program and have long been a digitial pioneer in the RESP industry. For more information about Heritage Education Funds or the eGifting program, drop by their website.
Have you started an RESP for your child(ren)? Are you worried about saving for their university education?