About a month ago, Lorraine from Created for Healing sent me a starter kit of Young Living Essential Oils. I have used tea tree oil since my trip to Australia ten years ago, so I've been very curious about the benefits of other essential oils. However, I didn't know where to start or what oils to try. There's a lot of information available on essential oils but it seemed a bit overwhelming.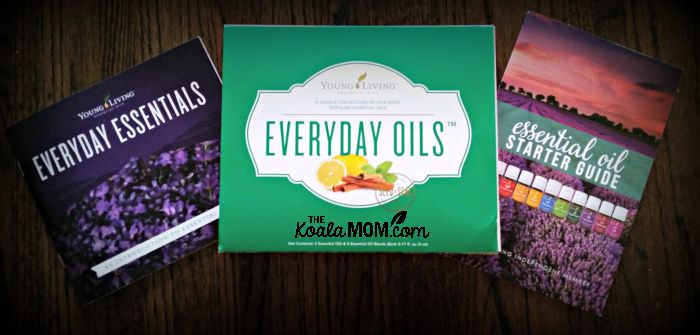 The Young Living collection of Everyday Oils contains five essential oil and five essential oil blends. Lorraine sent it with two little booklets containing a wealth of information on essential oils. "Everyday Essentials: An Introduction to Essential Oils" includes some basic information about essential oils and how to use them, as well as notes about each of the oils included in the collection and an application chart. "Essential Oil Starter Guide" has similar information, and has become my go-to guide when a problem comes up and I'm wondering what oil to use for it.

I haven't tried every oil in the collection yet, but I've been quite impressed with the oils I have used. This collection includes tea tree oil (or melaleuca alternifolia), which is still one of my staple oils. It's been handy this summer for treating itchy bug bites (the itch goes away within minutes of application, and swelling disappears as well). I also apply it to the girls' feet to boost their immune system when a cold seems to be going around. And it works as an antiseptic for cuts and scrapes. Tea tree oil is also useful in preventing or treating lice, though I (thankfully!) haven't had to deal with that problem.
Purification is an essential oil blend that I've actually used up entirely. It can also be applied to help relieve discomfort from bug bites (and Lily doesn't like the smell of tea tree oil, so I use this one with her instead). It works as a natural bug repellent as well. It also helps neutralize bad odors, so I've put a few drops on a cotton ball in the bottom of my diaper pail and bathroom garbage.
Thieves is another essential oil blend that smells lovely. It helps kill airborne bacteria and boost your immune system. So when Sunshine began throwing up one night, I applied a few drops of Thieves to the bottom of each of her feet. It helped to get rid of the smell of sickness in her room and she only threw up twice, so I think it did help her to recover more quickly from the flu. I also applied it to Lily's and Jade's feet to help keep them from getting sick. Jade shares Sunshine's room and she did later throw up a couple times as well, but the flu was definitely much lighter than other bouts we've had in the past.
Two oils I've used once or twice are Lavender and Joy. Like other oils, Lavender can be used to treat skin problems and boost immune function. It also promotes relaxation and restful sleep, so one night when Jade was particularly restless, I applied a bit to her feet and rubbed her back for a few minutes and she was soon asleep. Joy is a blend of oils meant to improve moods or inspire romance. Jade is usually a pretty happy toddler, but she was having a bad day once when I remembered Joy. Again, I applied a bit to her feet and noticed a huge improvement in her mood within minutes.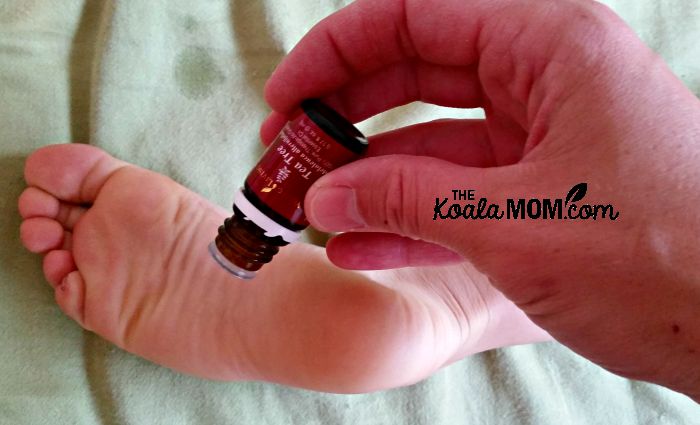 You may have noticed that my theme is "apply oils to feet." There are other ways to use the oils, but because I'm using them with kids (who have more sensitive skin) and while pregnant, I've been more cautious with the oils. I'm also, I'll confess, too lazy to find a carrier oil and apply it with the essential oil to dilute it, so I prefer the oils that can be used "neat" (or without dilution). I've never noticed a reaction in myself or the girls to the oils; in fact, they're now used to getting stuff on their feet when they aren't feeling well.
My husband, whose mom is allergic to many flowers and fragrances, doesn't like strong scents. I use a lot of unscented products in our home (from laundry detergent to diaper wipes) as a result. While I like the smells of the essential oils and blends, he's found some of them a bit overwhelming. And Lily doesn't like the smell of tea tree oil but is fine with other oils. Lorraine also mentioned having a smell aversion during pregnancy and being unable to use some of her favourite oils as a result. If you are also sensitive to strong smells, you may find it hard to use some of the oils but many have similar benefits so I recommend trying them anyway to see which ones work for you.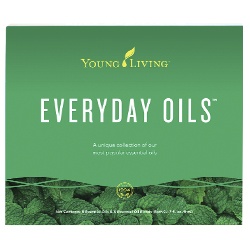 The Young Living Everday Oils collection also includes Lemon, Frankincense, Peppermint, PanAway and StressAway. It includes a lovely little box that holds each 5 ml bottle, making it easy to find and store.
For more information about essential oils, check out Lorraine's website or like her on Facebook. Her website contains tons of advice on how to use the oils. I've also emailed her questions more than once about the oils and found it helpful to have someone else to ask specific questions (rather than googling information).
Do you use essential oils? What are your favourites? Or what questions / concerns do you have about essential oils?
I received the set of oils mentioned for the purposes of this review from Lorraine; all opinions expressed are my own.