As moms, we are notorious for not taking care of ourselves. We insist that our kids eat well and go to bed on time, without doing the same for ourselves. That's why I was super excited to hear about Simply Earth's DIY self-care subscription box. This monthly box is packed full of practical, natural self-care products and recipes for you and your home.
To give you a taste of a Simply Natural subscription box, here's a peak into the November box.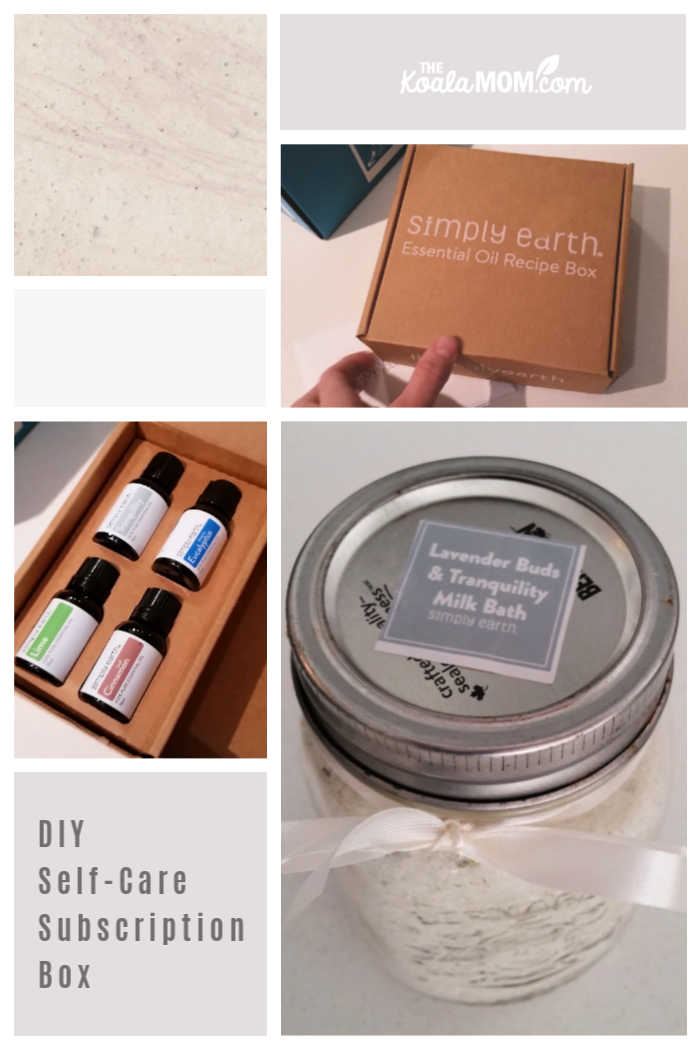 I received compensation for this post; all opinions expressed are my own. This post contains affiliate links; as an affiliate, I earn from qualifying purchases.
Four Essential Oils for DIY Self-care
Each monthly box from Simply Earth includes four essential oils. These oils can be used in your diffuser or in the DIY self-care recipes included in the box!
November's oils were Tranquility (a blend), Lime, Eucalyptus, and Cinnamon. These oils are a great addition to my collection, but are also featured in the recipes for the month. Katie from Simply Earth says, "Using this month's recipes will hydrate your skin, while the essential oils in the recipes create a stress-reducing atmosphere and further care for your skin."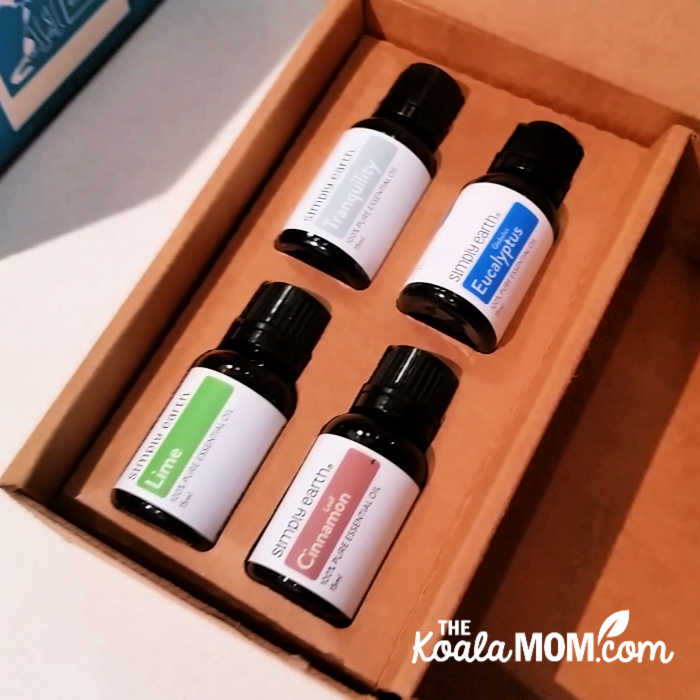 Lime is a new essential oil for me. Sunshine found the aroma rather strong, but it's a citrus oil similar to orange or lemon. Lime is calming and refreshing, great for an aroma therapeutic bath.
Eucalyptus is an essential I've used before. It has great decongestant properties and also works as an airborne antibacterial to clear the air during cold season. Diffuse it to help the whole family feel better, or use it in the shower steamer recipe (included!) when you've got a cold.
Cinnamon is warming, stimulating and energizing. I've never used it before so I'm excited to try it out this month.
Tranquility is a Simply Earth blend that contains Lemon, Patchouli, Orange, Amyris and Ylang Ylang pure essential oils. It helps calm and relieve anxiety.
Of course, if you fall in love with any of these oils and need more, you can buy them individually from Simply Earth.
Want to see exactly what you get in the subscription box? Check out my Simply Earth unboxing video!!!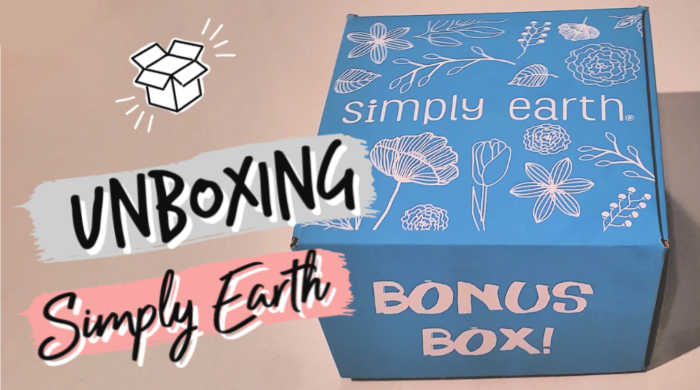 December's box will be all about making homemade gifts for your loved ones! The essential oils included are Mandarin, Pine Scotch, Peppermint and Candy Cane blend. You'll get 2 lip balm containers, tin, and a spray bottle. The recipes include a sugar scrub, salve, room spray, lip balm, Christmas-inspired diffuser blend, and congestion roll-on. DIY self-care products are great not just for you, but as gifts for your friends and family too.
Use my code TKMFREE to get the December box for FREE!!! You pay only shipping and also get the Big Bonus Box for free when you subscribe!
Lavender Buds & Tranquility Milk Bath
Each Simply Earth subscription box has a seasonal theme. For example, the June recipes had a summer theme, with after-sun blend, skin repair bath salts, summer day diffuser blend, travel buddy roll-on, etc. November's theme is self-care, with recipes to help you relax in the tub after a long day.
The girls and I really enjoy making our own natural bath products, so we were super excited to get started with these DIY self-care recipes. Sunshine helped me gather ingredients, mix and measure each recipe. Most of the ingredients for each recipe were included in either our Big Bonus Box or our November box. A few extra ingredients, such as Epsom salts, oatmeal and baking soda, weren't included but are things I have around the house anyway.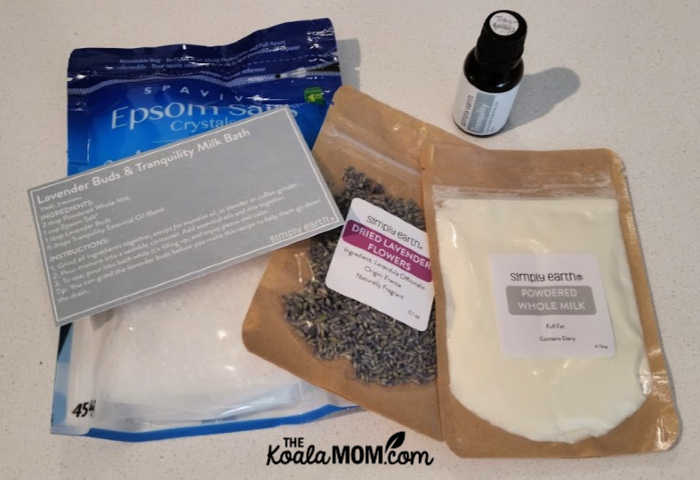 First, we made the Lavender Buds & Tranquility Milk Bath. I made the mistake of deciding to double this recipe, without noticing that we needed the lavendar flowers and whole milk for more than one recipe. While the essential oils go a long way, Simply Earth provides just enough of the other ingredients for the recipes in your box. We ended up reducing the lavender in both recipes, and I had milk powder on hand for the second recipe.
Each of the recipes was super easy to mix up. It probably took us only about five minutes to make each recipe. In about half an hour, we had multiple bath products ready to go! I like mixing up bath salts in batches like this, because once you've got all the ingredients out, it's easy to just keep mixing.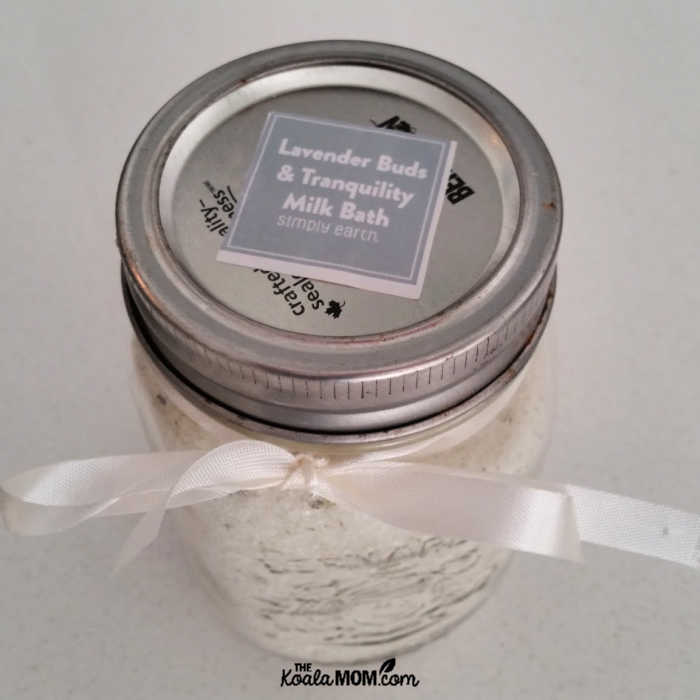 I put our Lavender Buds & Tranquility Milk Bath in a pretty little jar with a ribbon around it. Each Simply Earth box also includes labels for all the recipes in the box, which is very handy! Sunshine helped me cut out the labels to stick them on our bath products as we made them.
Now I just have to get hubby to put the kids to bed one evening so that I can spend some time taking care of myself…
Eucalyptus Shower Steamers (or Bath Bombs)
Next, we made the Eucalyptus Shower Steamers. For this DIY self-care recipe, we used the essential oils and lavender buds from our November box, the coconut oil from our Big Bonus Box, and the baking soda from my cupboard.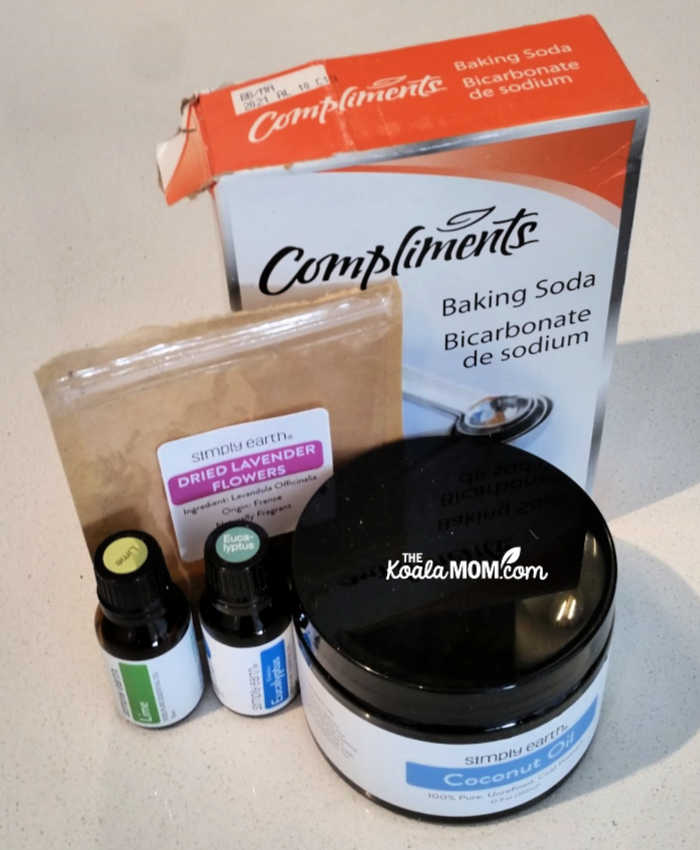 This recipe was again super easy to make, although it only made about six small steamers. I used my ice cube tray (as recommended in the recipe). Sunshine and I both tried one of the shower steamers in our showers, but neither of us found it very effective. I've tried shower steamers in the past and haven't really noticed that they make a difference in my shower, so I wasn't surprised. I think we'll use these steamers more as bath bombs.
For me, a bath is the best way to unwind after a long day. But sometimes, with the kids running around and chores to be done, a bath just isn't an option. One of the great things about this box is that if you don't have time for a bath, you can also enjoy the recipes in the shower. Just pour a couple tablespoons of the mixtures onto the bottom of your shower, and enjoy the relaxation benefits of the aroma. ~ Katie
More DIY self-care recipes
November's box included 6 recipes, all tried, perfected and loved by the Simply Earth aromatherapists. We also made an Oatmeal & Milk bath (with Eucalyptus and Cinnamon essential oils), Chai Tea Bath Salts (with Cinnamon), and the Lime and Eucalyptus Roll On. Each of the recipes is printed in pretty colours on sturdy recipe cards, making them easy to save and use again.
With the weather getting a bit colder and wetter this fall, and all of us spending more time inside, I'm really enjoying using our essential oils to brighten up the house. There's something about a fresh new scent that makes us all feel a bit perkier. My oldest loves creating these DIY self-care products with me and helping me pick a scent for the day to put in the diffuser. We're also looking forward to planning a relaxing spa day soon with our DIY spa treatments!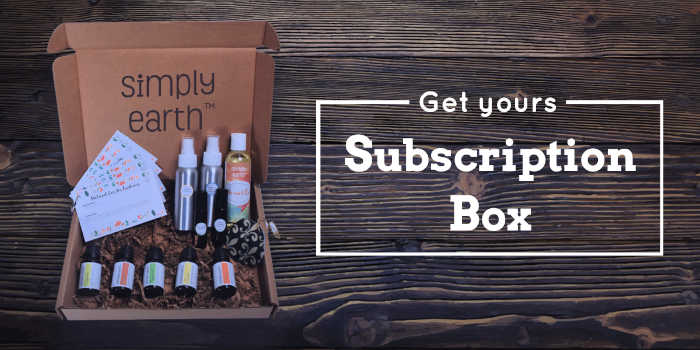 Let me know which essential oils you'd love to try or what your favourite DIY self-care recipe is!