Since we've spent a lot of time this year finding a house to rent, I thought I'd share some tips. Depending on why you're moving, finding a new house can be exciting and daunting. Hopefully these tips will help make your process easier.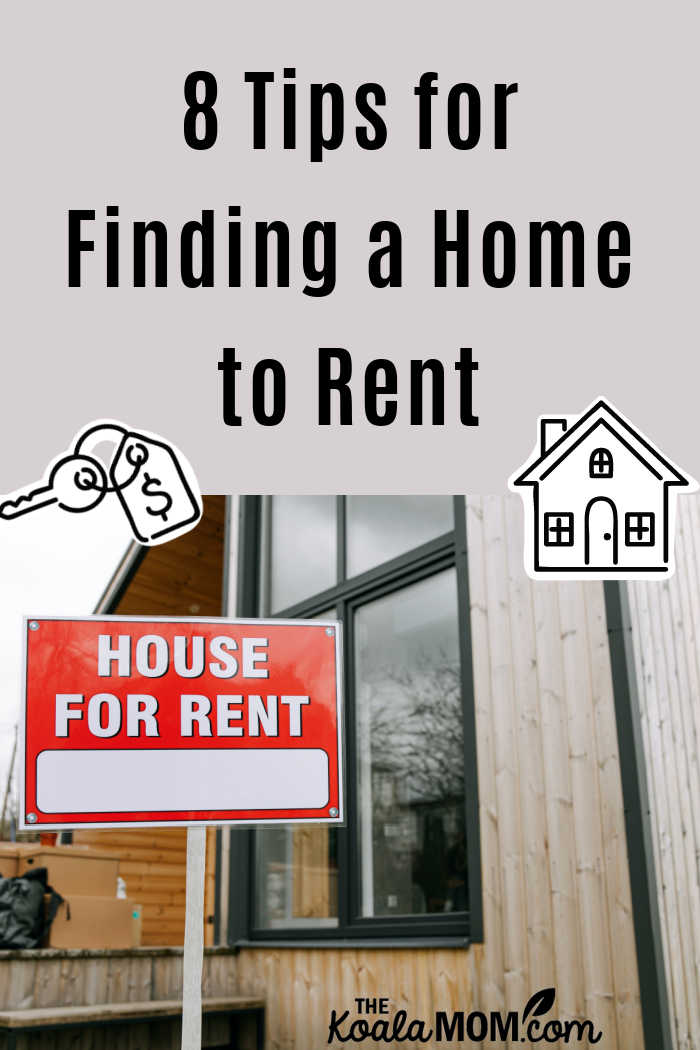 1. Set your budget for finding a house to rent.
If you are looking for a bigger place or moving to a completely new city, you might have to browse listings to get an idea about what is a reasonable price for what you need. We knew we've had very cheap rent for the last several years, so we expected an increase. At the same time, we had a rough idea about how high we were willing to go before we couldn't swing the rent (which might mean adjusting other expectations). Set your preferred budget and your max budget.
2. Calculate or estimate the square footage you are living in now.
Unless you want to do some serious downsizing, this can help you determine which places are worth looking at. For example, in July we went to look at a lovely 3-bedroom apartment. It was tiny; looking around, I knew there was no way we'd fit our furniture into any of the bedrooms (much less have all of the girls in the same room, as we do now). Later, we looked at the size of the apartment and then used that as a benchmark to rule out what wouldn't work for us.
3. Discuss your non-negotiables.
What do you absolutely need to have in the place you are looking for? One deal-breaker for me was a coin-op laundry. With three kids and a baby in cloth diapers, that's a no go. We saw one listing for a really nice four-plex, but it had a coin-op laundry onsite so we didn't even bother looking at it. If you have pets, you'll need a pet-friendly place. If you have more than one vehicle, you'll want to look at parking options.
4. Discuss what you are willing to negotiate.
I'm not a fan of having a shared laundry. We did that once (our second home), but since that we've had our own laundry machines and I really like my washing machines. However, as we started looking at places in Vancouver, it soon became apparent that nearly every place had a shared laundry. There were very few suites available with in-suite laundry (and none with laundry hookups so that we could use our own machines). In the end, I decided we could swing a shared laundry (with one other tenant) because the rest of the house is lovely.
5. Look at the keywords.
It can be easy, after you've looked at a dozen house listings, to start skimming the descriptions. Keywords are important, however. For us, that meant looking for terms like "kid-friendly" or "family-friendly" and avoiding any landlords who wanted "quiet, mature tenants" or "young professionals."
6. Beware the scams.
When we were looking in July, there were a lot of architects / engineers who'd suddenly been transferred to work in Nigeria and listed their houses for rent. They needed to know how many months' rent we could pay ahead of time. We actually responded to the first ad, and the "landlord" told us he could mail us the keys after we mailed him the rent. Um, no thanks. There are lots of other places available to rent. If something looks fishy or strange about an ad, be careful.
7. Take the kids or not?
I'd say yes. We took the girls with us on almost all of our viewings. It gave us a chance to talk about the fact that we're going to be moving into a new house. We were also able to see their reactions to the various houses we looked at (while constantly telling them that we might not rent THIS house). It also gave the landlord an honest assessment of our family; I'd rather find out before we move in that the landlord doesn't like kids. If he or she has met all of us and still agrees to rent to us, then at least they knew what they were getting into. 🙂
8. Be creative in finding a house to rent.
We checked several websites listing rental houses, including Padmapper, Craigslist and Kijiji. In the United States, try rent.com for great apartments and houses; just search your desired town name and then adjust your search filters for price and bedrooms desired.
Sometimes, houses aren't listed in the place they should be so changing the search terms can help you find a place nobody else has seen. For example, we'd often search for houses with 3 bathrooms. We don't really want three bathrooms, but that search popped up all of the bigger houses, including one 3-bedroom, 3-bathroom house that wasn't listed with all the other 3-bedroom places. Another option is to try looking for a 2-bedroom home plus a den, instead of a 3-bedroom place.
Most of all, keep trying. It can be really discouraging to look at house after house that is unsuitable in one way or another, but the right one is out there somewhere. Maybe trying another location or adjusting where you're able to rent can help you find the perfect place. Try checking apartments for rent in Bellaire or another place you've always dreamed about living. Maybe you can find your home there. Good luck!
Have you recently moved or rented a new house? What tips would you share for finding a house to rent?